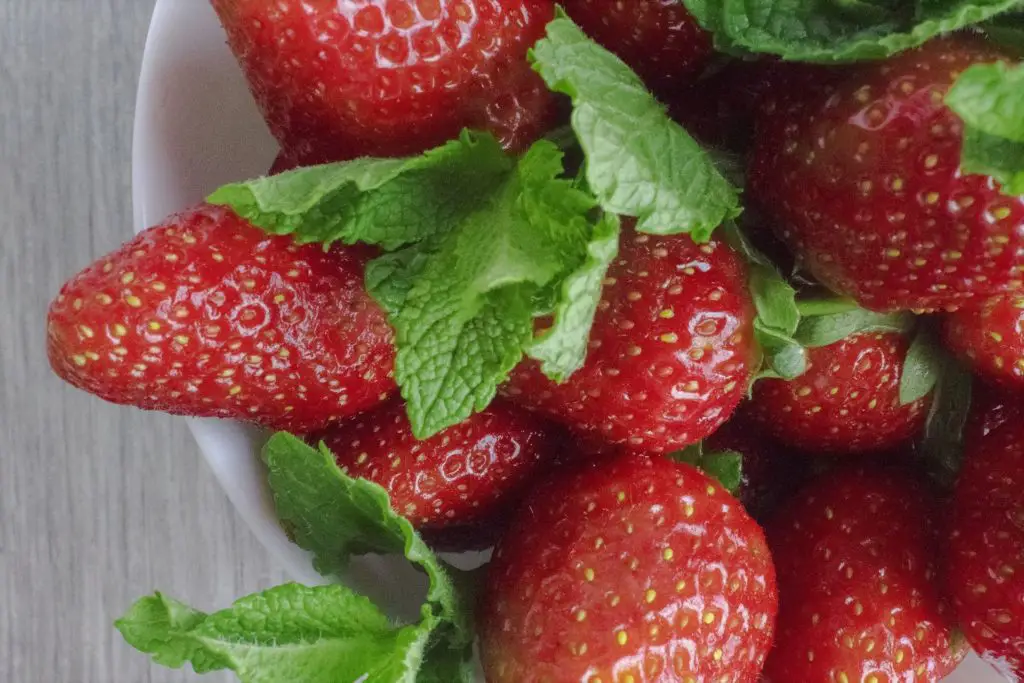 They appear so briefly—sweet local strawberries. Even though they can be hideously overpriced we surrender to the dream of lavishing them with cream, as their juices saturate buttery shortcakes.  But strawberries have a savory side, as well. Add a few drops of balsamic vinegar, pair with a salty cheese or chips, and you have a salad that can begin or end a meal. Or toss them into a blender with another vegetable to make a refreshing cold soup or coulis.
We tried six recipes that feature strawberries in unexpected ways. Let them spark your imagination to create pairings of your own.  All recipes below.
Strawberry Carpaccio with Goat Cheese and Pistachios
Just a teaspoon of balsamic vinegar transforms a plate of strawberries into an exotic, sophisticated entrée. The inspiration for this dish comes from French food magazine Cuisine Actuelle.
Strawberries are sliced ultra thin and arranged in a rosette around a mound of fresh goat cheese. Drizzle some extra virgin olive oil and balsamic vinegar over the cheese and berries, then sprinkle with crushed pistachios and some slivered mint. You can make individual plates or one large platter for your guests to share. Or you may just want to eat the whole thing yourself.
Strawberry Gazpacho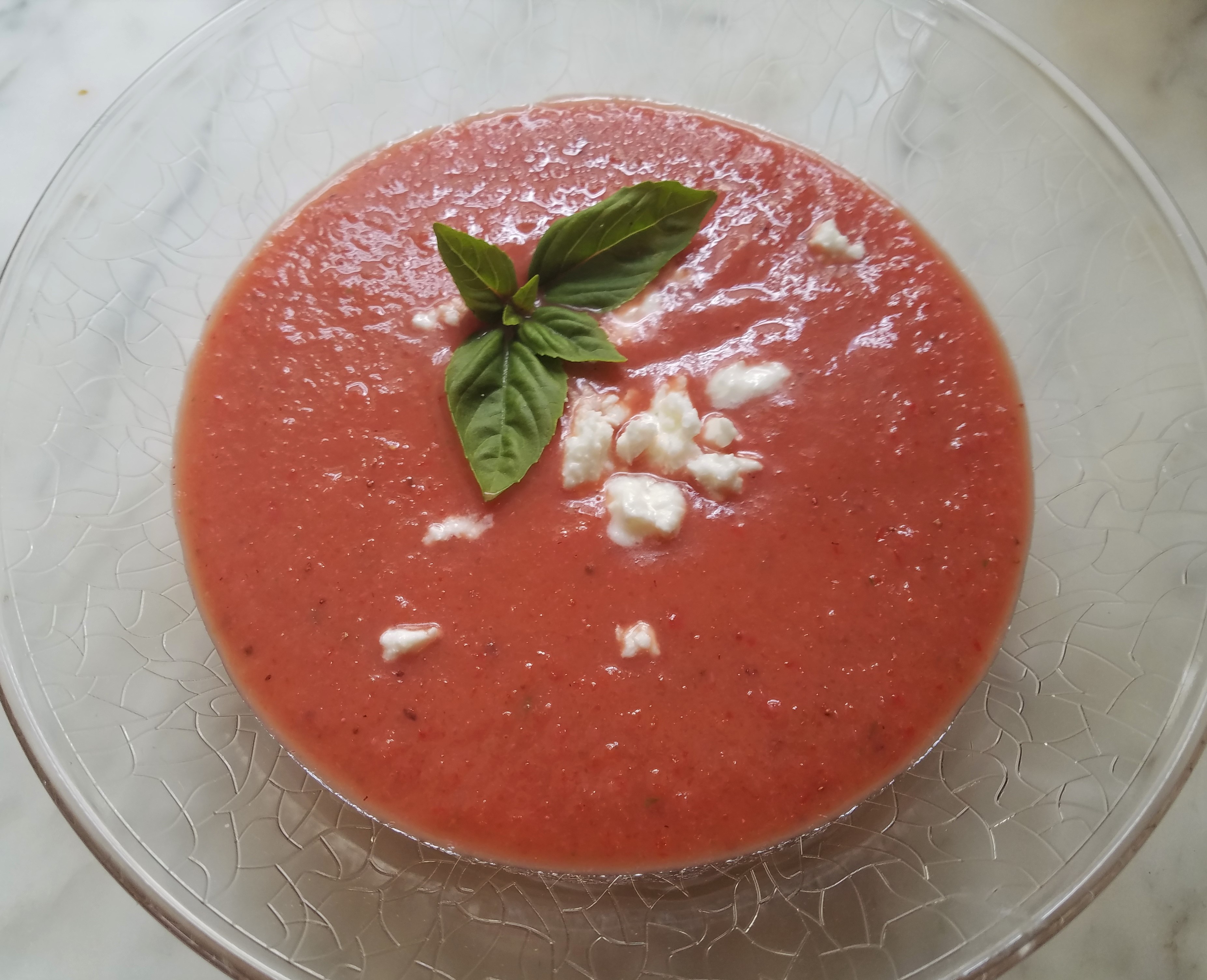 Juicy ripe tomatoes are weeks away when strawberries first appear. So why wait to make a batch of gazpacho on one of those warm early summer days?
This recipe, adapted from the James Beard Foundation, pairs strawberries with cucumber and fresh sweet peppers to make this riff on the traditional Andalusian soup. A sprinkle of feta cheese and fresh basil provide a taste counterpoint that establishes this gazpacho as its own creation.
Strawberry, Tofu, and Spinach Wrap with Balsamic Vinaigrette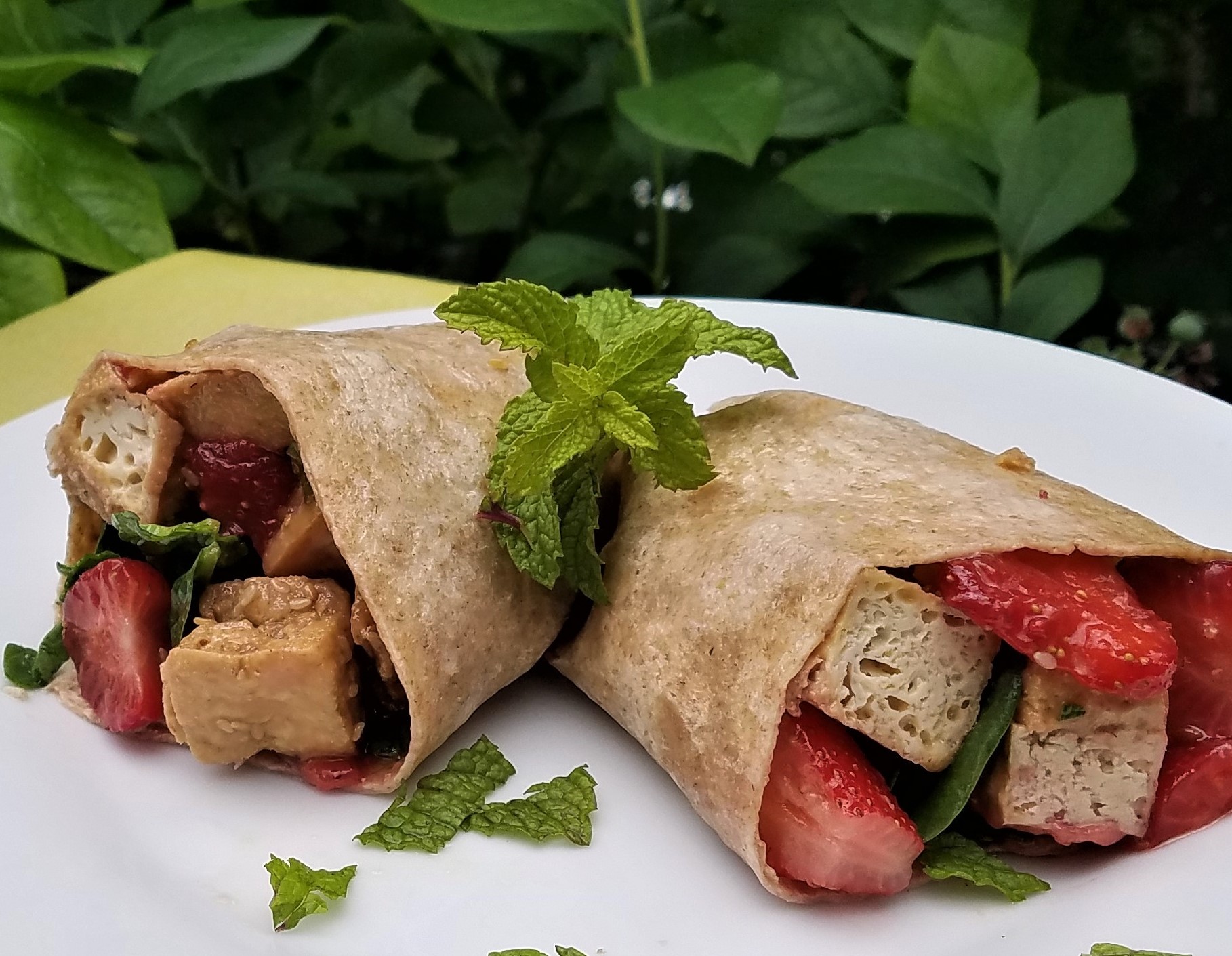 Spinach salad with strawberries is an early summer standard, since both spinach and strawberries come to market at the same time. But why limit this pair to the salad bowl?
Make a "hand salad' by wrapping them in a flour tortilla. Add some protein like tofu—we picked up some Golden Sesame Tofu from Whole Foods–or chicken to create a wrap sandwich that's healthy and captures the spirit of summer.
Strawberry Salsa

Our first reaction to strawberry salsa is, "Why not?" The sweetness of strawberries is offset by a good dose of lime juice, some heat from jalapeño peppers, and an accent of spring onions and cilantro. Let it sit for around 30 minutes so the strawberries can release their juices.
Serve with your favorite tortilla chips. We ate a whole bowlful in one sitting.  It's also good with grilled fish (a white fish is best), pork, or chicken.
Strawberry-Beet Verrines with Yogurt Cream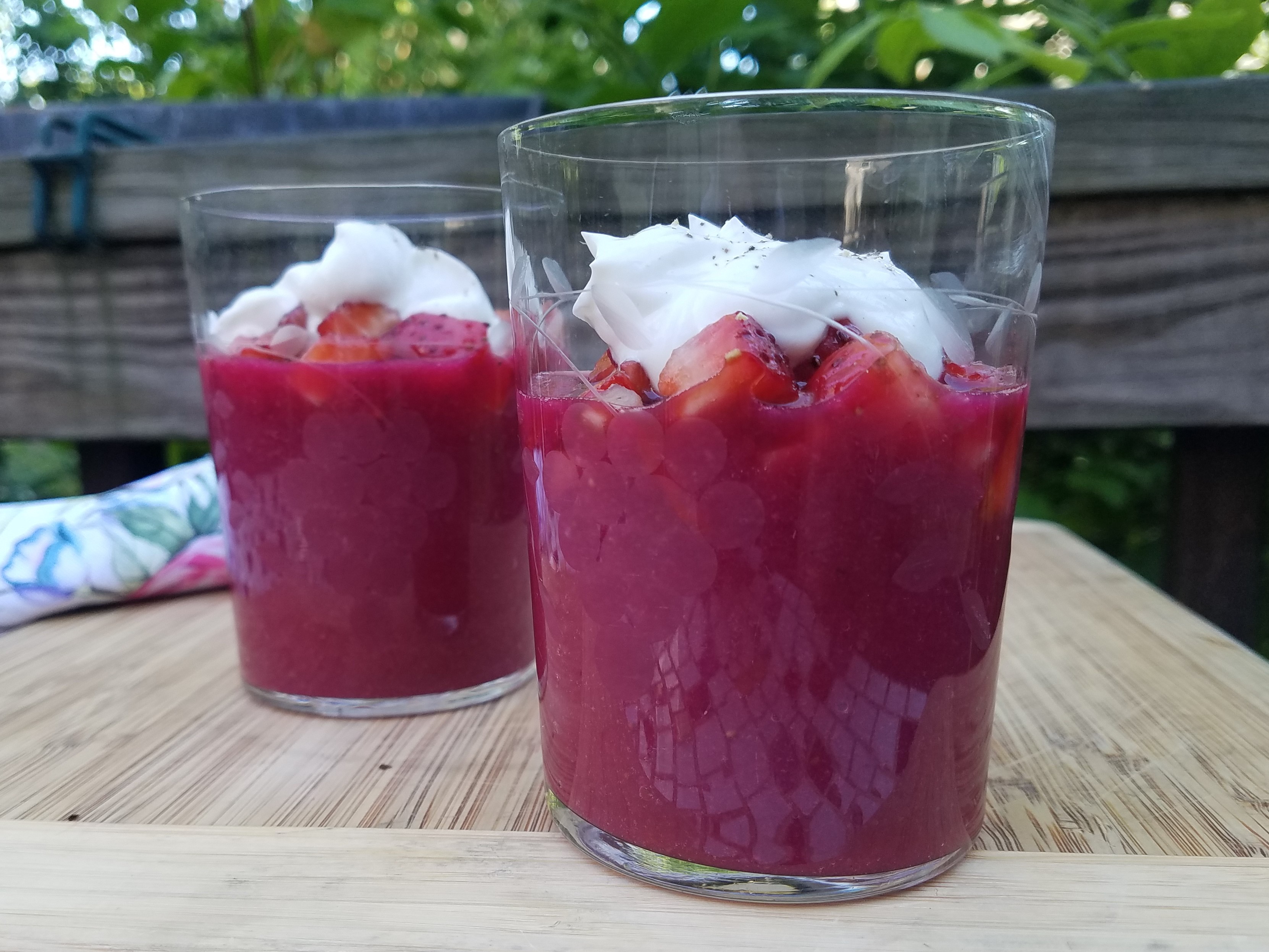 Open any French cooking magazine and you are bound to find at least one recipe for verrines. Verrine is the French word for a small, glass container that holds a solid or liquid dish, usually an amuse bouche or dessert. Verrine also means the type of dish, like this strawberry-beet appetizer.
Verrines are visually beautiful, and usually feature layers that can be admired through the glass. This puree relies on the quality of the two ingredients themselves, as there is very little added. The result is a bold encounter with essential beet-ness and strawberry-ness intertwined in a burst of earth and spring. Swirl the yogurt into the puree just before serving.
Fresh Strawberries with Black Pepper and Red Wine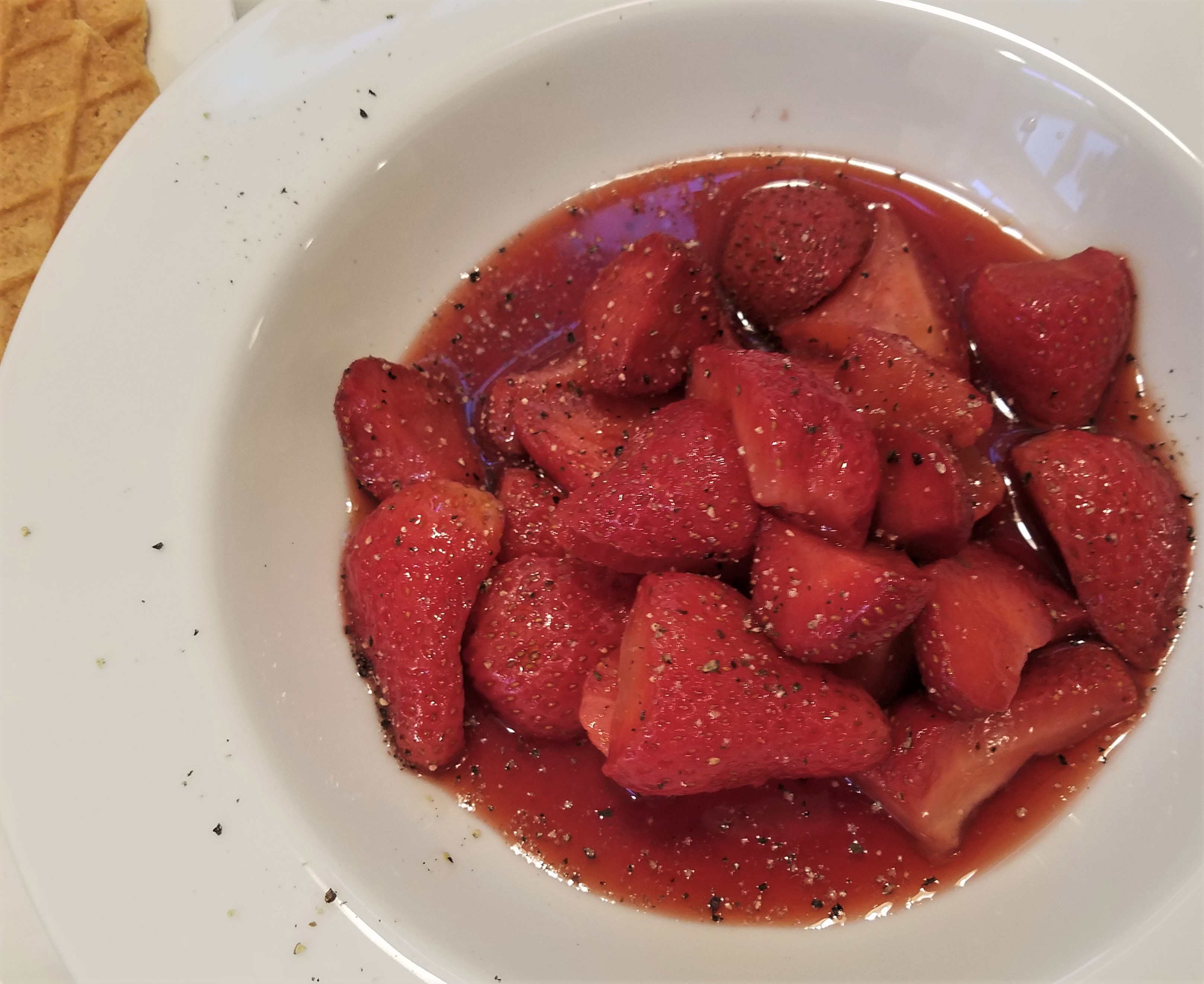 In this quick and easy recipe black pepper plays a starring role. Strawberries spend a few hours macerating under a dusting of sugar, then are dressed with a splash of red wine, a squeeze of lemon, and a healthy grind of the pepper mill.
The recipe comes from Paula Wolfert's The Cooking of Southwest France, an engaging culinary tour one of France's most memorable regional cuisines. This dessert never fails to win rave reviews. (It's also delicious served with a scoop of vanilla or coconut gelato.)
Recipes
Strawberry Carpaccio
Ingredients (per salad plate)
10 to 12 well-flavored strawberries
½-inch round of fresh goat cheese
Extra virgin olive oil
Aged balsamic vinegar or balsamic glaze
1 T. roughly chopped pistachios
2 to 3 mint leaves for garnish, cut into chiffonade
Directions
Rinse and dry the strawberries. Slice them very thinly with a knife or a mandolin. Arrange them on a plate as a rosette. Leave the center empty.
Place the goat cheese in the center of the platter.
Drizzle some extra virgin olive oil and balsamic vinegar over the goat cheese, then over the strawberries.
Sprinkle pistachio pieces over cheese and berries, then finish with the slivered mint leaves. Keep cool until ready to serve.
Yield: One serving; multiply by number of servings needed
______________________________________________________
Strawberry Gazpacho
Ingredients
2 C. organic strawberries
1 C. peeled, seeded and diced cucumber
½ red bell pepper
1 t. tomato paste
4 leaves basil
2 T. extra virgin olive oil
2 t. sherry vinegar
1 lime, juiced
¼ C. cold water
Salt and black pepper to taste
Directions
Combine all the ingredients except water, salt and pepper in a bowl and marinate overnight.
Next day, transfer the ingredients to a blender and purée until smooth. Add more water if it seems thick.
Garnish with slivered basil
Yield: Makes 2 first course portions
______________________________________________________
Wrap with Strawberries, Tofu, and Spinach
Ingredients
4 large wheat wraps
1 package baby spinach
1 bunch fresh mint
1 pint strawberries. sliced
24 Golden Sesame Tofu from Whole Foods, or other firm tofu
Balsamic vinaigrette (recipe below)
Directions
Make the balsamic vinaigrette.*
Place one wrapper on a suitable flat work surface. Brush the center of the tortilla with a spoonful of balsamic vinaigrette.
Line up some tofu and strawberries, top with spinach, and roll the wrapper up as you would a burrito. Repeat with the remaining ingredients.
*Balsamic Vinaigrette
1/2 cup olive oil
1/4 cup balsamic vinegar
1 teaspoon honey
1 teaspoon Dijon mustard
Fresh ground black pepper
Combine all ingredients together in a glass jar with a lid. Replace lid on the jar and shake vigorously until thoroughly combined.
Yield: Makes 4 wrap sandwiches
_____________________________________________________
Strawberry Salsa
Ingredients
1 pint of cleaned strawberries, hulled and diced
Juice and zest from 1 medium lime
1/2 teaspoons sugar
Pinch of fine sea salt
1 jalapeño pepper, seeded and minced (use a smaller jalapeño for less heat, or leave in some seeds for more heat)
1/2 small spring onion, finely diced
1/3 cup chopped fresh cilantro
Freshly ground black pepper, to taste
Chips for serving
Directions
Place the strawberries in a medium nonreactive bowl. Gently crush about a third of them to release their juices. Stir in the onion and jalapeño pepper.
In a separate bowl, whisk together the lime juice and zest, sugar, and salt. Pour over strawberry mixture and stir to combine. Sprinkle with salt and taste. Add more salt by pinches until you get the flavor you want. Add pepper, to taste, and mix well.
Shortly before serving add the cilantro and stir to combine.
If your strawberries are nice and juicy, you can serve immediately. Otherwise the salsa may need time to marinate, about 30 minutes. Stir again before serving.
Yield: 2 cups of salsa
_____________________________________________________
Beet and Strawberry Verrine with Yogurt Cream
Ingredients
2 medium beets, cooked, or equivalent canned
1 pint strawberries
1 C. plain whole milk yogurt
2 pinches cumin
Sea salt
Freshly ground pepper
1 T. pink peppercorns for garnish
Directions
Peel the beets and cut them into pieces. Rinse the strawberries quickly, dry, and remove cores.
Set aside ½ cup of the strawberries. In a blender, puree the beets and the remaining strawberries until it is smooth and has the consistency of a thick soup. Add a few teaspoons of water if it's too thick.
Cut the remaining strawberries into small dice.
In a small bowl, whip the yogurt until it's smooth and creamy. Season with salt, pepper, and cumin.
Divide the beetroot-strawberry coulis among four small glasses. Add the diced strawberries in another layer, then spoon some of the yogurt cream on top. Sprinkle with crushed pink peppercorns and serve well chilled.
Yield: 4 appetizer portions
______________________________________________________
Fresh Strawberries with Black Pepper and Red Wine
Ingredients
2 pints strawberries
Granulated sugar
Red wine
Squeeze of lemon juice
4—6 grinds of the pepper mill
Directions
Wash, dry, and hull strawberries; cut large berries into quarters, smaller ones in half. Place in a nonreactive dish; sprinkle with sugar. Let stand for two hours in a serving dish at room temperature.
Sprinkle with red wine and more sugar. Let stand 20 to 30 minutes longer.
Just before serving, sprinkle with lemon juice and a healthy dose of fresh ground black pepper. Don't be shy—the pepper is important to the unique taste of this dish.
Yield: Serves 4
*     *     *
You may also like
Go to the Blue Hare home page for more articles for fabulous women