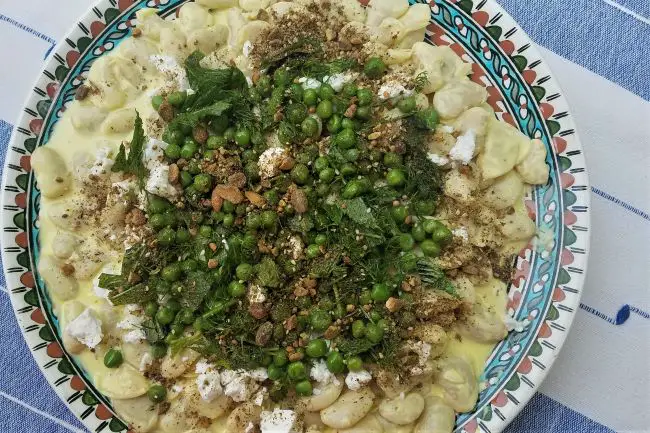 Baked beans have been a staple of picnics and barbecues throughout the U.S. and on breakfast plates in the UK for years. Bean salads, on the other hand, have not been as widely adopted, but the three we present here are poised to take center stage on your table. They're intensely flavorful, can be adapted to any season, and are healthier than potato or macaroni salad.
Beans–legumes–are among the most overlooked but nutrition-packed foods.  They contain a variety of vitamins, minerals and other nutrients while providing a moderate amount of calories. Beans provide protein, fiber, folate, iron, potassium and magnesium while containing little or no total fat, trans-fat, sodium and cholesterol.
And gas. Well, you can't have everything, (NB: legumes are not the only foods that cause gas–it is also found in foods like cabbage, broccoli, asparagus and even whole grains.) Beans contain a type of sugar that is difficult for the body to break down. However, there are steps you can take to reduce your body's production of gas from beans. And, good news for would-be bean lovers: once you start eating legumes on a more regular basis, your body naturally adjusts and flatulence should decrease.
If you made it through the previous (a digression but necessary) paragraph can we assume you're willing to try these recipes? They feature three beans that are easy to find, either dried or canned. There are crunchy elements to contrast with the softer beans. The star of each recipe, though, is the dressing. That's what takes these salads up a notch or two. Dare we say you'll want even more?
Cannellini Bean Salad with Haricots Verts and Cherry Tomatoes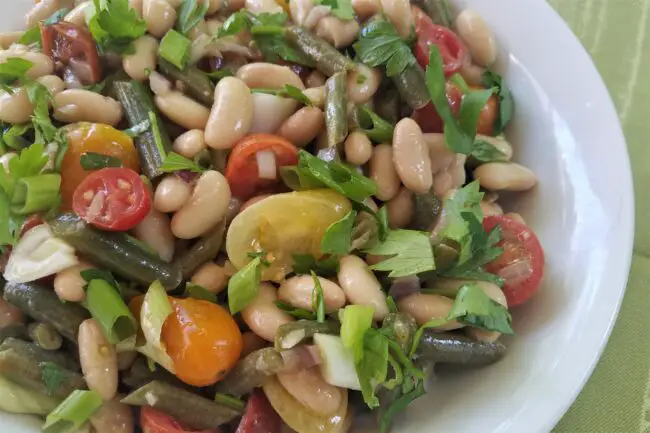 "David Tanis Loves Beans" was the headline of an article in Saveur magazine I read a few years back, so who better to recommend a bean salad than Tanis himself. The star of this salad is the cannellini bean, which should be cooked from dry, Tanis advises. The original recipe, made with radicchio and celery, was designed as a winter meal. But, as he notes, the basic recipe can be tailored to suit the season.
Here we used young green beans (you can use haricots verts) and cherry tomatoes. The vinaigrette turns this humble combo into a flavor bomb. The secret ingredient? Anchovies. We used anchovy paste, which comes in a tube and can be found in most supermarkets, and the taste was great.
You can find Tanis's cannellini bean recipe on the Saveur website.
Tuna and Chickpea Salad with Boiled Eggs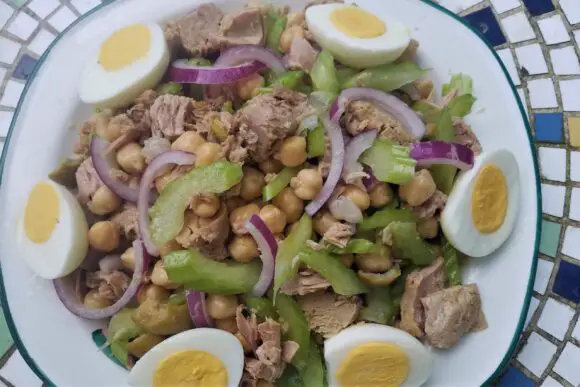 I tuned into Lidia Bastianich's PBS program as she was halfway through making this salad. It looked so beautiful and nutritious I had to make it. Chickpeas, celery, canned Italian tuna, and a surprise ingredient–Cerignola olives–form the base of the salad and are dressed with a lemony vinaigrette. The serving platter is lined with hard boiled eggs for a flavor and protein packed salad,
You'll find the recipe on Lidia's website, lidiasitaly.com.
Yogurty Butter Beans With Pistachio Dukkah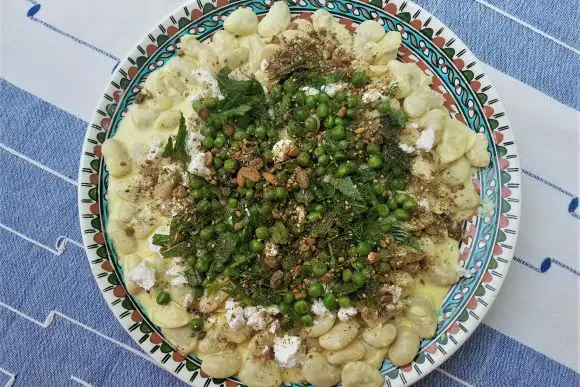 This Middle-Eastern influenced salad was developed by noted British chef Yotam Ottolenghi. Butter beans dressed in a flavored yogurty dressing are joined by peas, mint, and dill, then topped with a healthy sprinkle of pistachio dukkah. Dukkah is an Egyptian nut and spice blend that adds some zing and crunch to the final dish. This recipe is somewhat involved so plan on making the dressing and dukkah in advance. It's relatively easy to assemble after that. And it's an impressive dish to bring to the table. Many oohs and aahs will follow.
Yotam Ottolenghi's butter bean salad with peas, herbs, and dukkah is on The New York Times Cooking site.
 *     *     *
You may also like
Find more articles on food, style, health, beauty, and entertaining for women over 60 on BLUE HARE's home page.