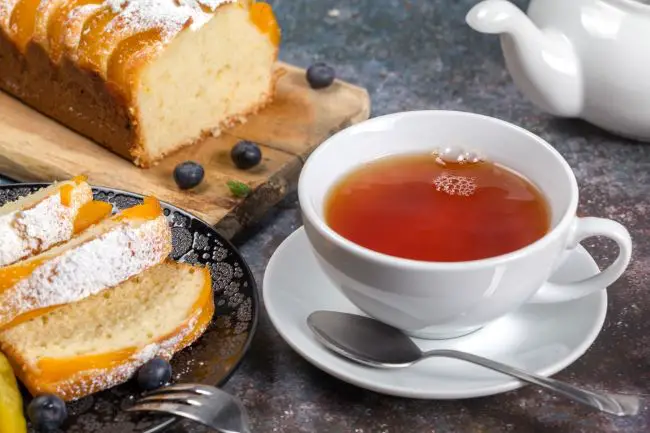 One of the pleasures of working from home is taking a break at 4 p.m. for a cup of tea and a tidbit. Most of the time the snack is store bought, a cookie or other sweet biscuit. But when friends come over for an afternoon tea it's nice to elevate the occasion with a homemade treat, as is done in Britain. And that's where I look for easy but traditional cakes and buns.
Read before you jump to a recipe
They are simple to prepare. Most can be done in around an hour, from cracking the first eggs to delivery on the plate.
Ingredients tend towards minimal: flour, fat, sugar, eggs, and some additions to define their uniqueness.
Convert metric to US measurements with the calculator on unitconverters.com.
You will find recipes that are made with self-rising flour, bread flour, and all-purpose flour. All-purpose flour can be substituted in most cases, although it might change the texture of the product. To substitute all-purpose flour for self-rising flour, add baking soda to the recipe. This formula is from the Food Network: For every 1 cup of all-purpose flour, add 1 1/2 teaspoons baking powder and 1/4 teaspoon fine salt.
Many tea cakes are made with currants. If you can't find them raisins can be used instead. However, raisins become soft in bake goods whereas currants remain firm, giving them a better bite.
Some recipes call for lard. Try it. Using lard will boost the flakiness. Butter and other fats can be substituted in most cases; the recipe will offer suggestions.
If you opt for lard, be sure to use leaf lard. Leaf lard is softer and creamier than other types of lard and prized for its smooth consistency. It's commonly used for baking. Also buy fresh, refrigerated lard, which is lower in saturated fat than butter. Shelf stabilized lards often contain hydrogenated fat and trans fats. Read more about lard here.
They can be made ahead of time, although a few, like Welsh cakes, are best served fresh off the griddle.
12 easy tea cakes, scones, and buns for afternoon tea
Clotted Cream Scones
Scones are one of the first treats that come to mind when one thinks of afternoon tea. While they are ubiquitous all over England, two regions are especially known for their cream teas, Devon and Cornwall. A lively competition exists between the two: whether the cream goes on the scone, then the jam (Devon), or the jam first, topped with a dollop of cream (Cornwall). While the scone itself is similar in both areas, we're presenting recipes from top bakers in each.
Make your own clotted cream at home
Clotted cream can be made from heavy/whipping cream in your oven or in a slow cooker. The website Curious Cuisinière offers a substantive overview of what clotted cream is and how to make it at home. Briefly, cream is heated at a low temperature for about 12 hours, then cooled. The layer on top is skimmed of and stired to make a smooth cream.
If you would rather skip the homemade process, clotted cream can be purchased from many supermarkets, specialty grocers, big box stores, and online: buy it on Amazon. Packaged clotted cram is shelf stable until opened.
Devonshire Scones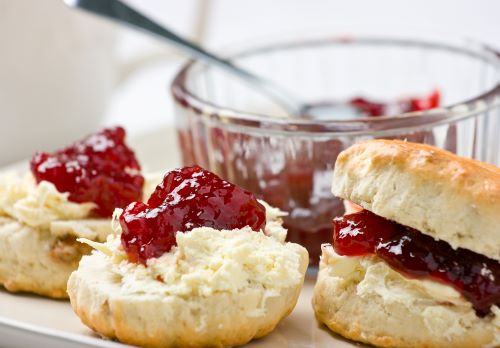 One morning over a cup of tea, Richard Hunt and Claire Bennett decided it was time to rescue the traditional Devon cream tea, which in their view was suffering with poor imitations and quality. They created the Devon Scone Company and ever since have been making award-winning handmade scones. When serving Devon-style remember to put the cream on the scone first, then the jam.
Devon scone recipe from Devon Scone Company
Cornish Scones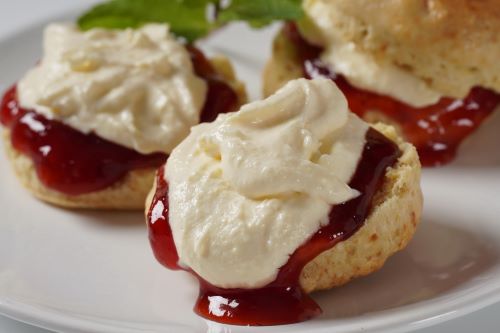 The recipe for these Cornish scones comes from Rodda's, which has crafted its Cornish Clotted Cream in the very same way for five generations. What makes Rodda's Cornish clotted cream special is the delicate golden crust on top, the product of long, gentle baking. It makes sense, then, to turn to Rodda's for what they consider the perfect Cornish scone for a cream tea (jam first).
Cornish scone recipe from roddas.co.uk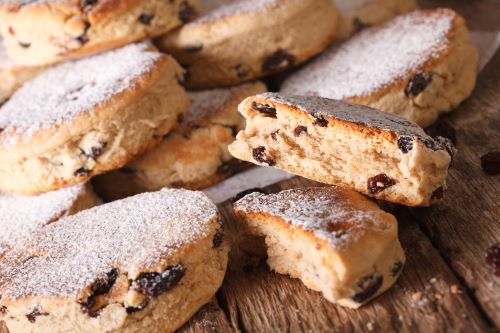 From the beautiful mountains and coasts of Wales we find Welsh cakes, a traditional sweet bread served with tea. They are also known as griddle cakes or bakestones within Wales. Welsh cakes are traditionally cooked on a bakestone, a cast-iron griddle for baking, or a thicker griddle is placed on the fire or stovetop. The cakes are made with flour, butter or lard, currants, eggs, milk, and spices such as cinnamon and nutmeg. The dough is rolled and cut into circles, then dipped in sugar when they are hot off the stove.
Lemon Drizzle Cake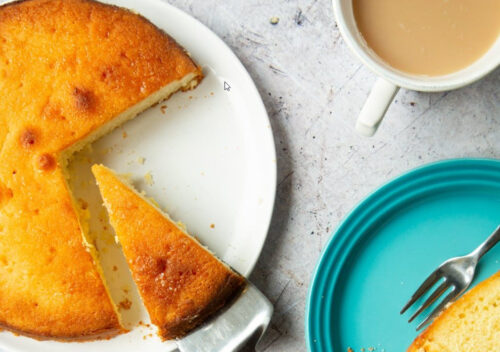 Photo from amummytoo.co.uk
Lemon drizzle cake is a traditional British cake and a staple of afternoon tea. This simple sponge cake is usually made with a combination of flour, sugar, butter, eggs, milk, baking powder, lemon zest, and lemon juice.
Emily Leary claims hers to be the world's best lemon drizzle cake (and rivals Mary Berry's) The recipe is easy to follow, and the crumb is incredibly soft and tender.
Make Emily Leary's Lemon Drizzle Cake.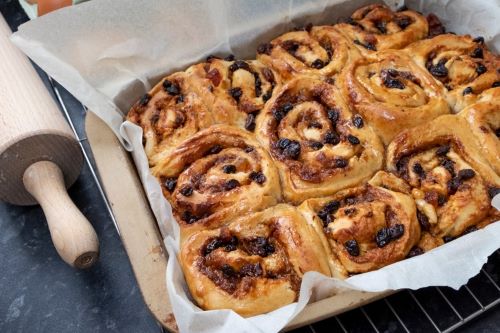 The Chelsea bun is one of the most popular teatime snacks in the UK. It's a type of currant bun that was favored by the Hanoverian kings in the 18th century.  It is made of a rich yeast dough flavored with lemon peel, and cinnamon or mixed spice. The dough is rolled out, spread with a mixture of currants, brown sugar, and butter, then formed into a square-sided log that is cut into thick slices. After it is baked the Chelsea bun is glazed with syrup.
More than 3,000 cooks voted Sainsbury's the best recipe. (Sainsbury's is the second largest chain of supermarkets in the United Kingdom.)
How to make Classic Chelsea Buns per Sainsbury. For step-by-step instructions try talesfromthekitchenshed.com  
Little Lemon-tons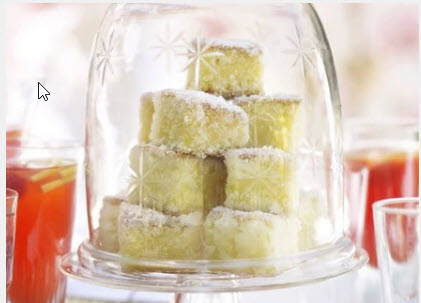 Lemon-tons are individual lemon sponge cakes with a crunchy sugar topping. They are the perfect finger food. They are delicate when baked (read the comments under the recipe). Made a day ahead, the sugar crystalizes and provides structure to the little cakes.
Make Lemon-tons with this recipe from BBCGoodFood.
Bara Brith (Welsh)
The ultimate Welsh pick-me-up is a slice of Bara Brith smothered in butter. The tea-infused bread, sprinkled with currants, raisins, and/or sultanas, dates back to the 19th century. It still holds pride of place on the counter of cafes and coffee shops throughout Wales.
Brown Butter Berry Cakes
.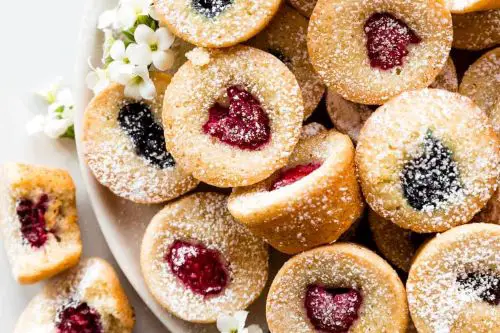 Photo: from sallysbakingaddiction.com
These brown butter berry tea cakes from one of our favorite sites, Sally's Baking Addiction, are delicate miniature sponge cakes perfect for a casual tea with friends or any gathering where you're serving coffee or tea. The browned butter gives the batter its depth of flavor, which accents the juicy berry at the heart of the tea cake. If you enjoy madeleines, these are similar—made with almond flour–but easier.
Make Sally's Brown Butter Berry Teacakes.
Singing Hinnies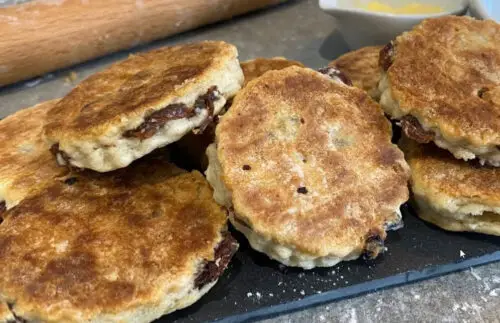 Photo: https://newcastleeats.co.uk/singing-hinny-recipe/
Singing hinnies are made in the north of England, especially Northumberland and the coal-mining areas of the Northeast. They are very similar to Welsh cakes but without the added sugar: singing hinnies take their sweetness from the dried fruits. Some recipes also call for sour milk or buttermilk. Read more about singing hinnies here.
The name, from the early 19th century, comes from the noise they're making—singing–when they're on the griddle. A gentle fry can sometimes become a high-pitched squeal. The term hinny is a regional term of endearment. According to legend, when children would clamor for their snack, mother would call out, "They're still singin' hinny!"
Cup of Tea Cake (Lancashire)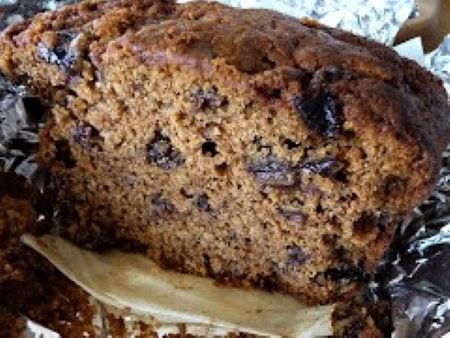 Lancashire Cup of Tea Cake is similar to Bara Brith. It's practically the same, in reality, but it is important to recognize the regions for which they are specialties. Wars have been fought for less. It is quick and easy to prepare. Try making it with black tea or Earl Grey tea.
How to make Lancashire Cup of Tea Cake.
Lancashire Goosnargh Cakes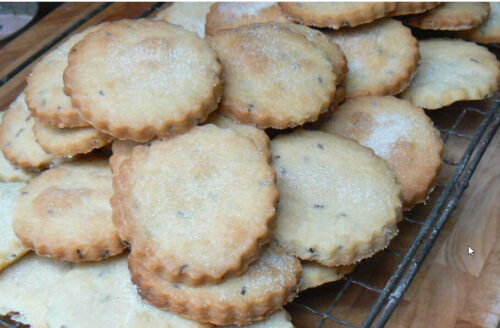 Photo from tasteatlas.com
Goosnargh cake is a traditional English cookie originating from a village north of Preston, Lancashire. They are similar to shortbread but are unusually flavored with spices such as ground coriander and whole caraway seeds. The dough is rolled out, cut into rounds, sprinkled with caster sugar, and baked until firm, but very pale. Delicious in an offbeat way.
How to make Lancashire Goosnargh Cakes
No Baking Required
Jam Pennies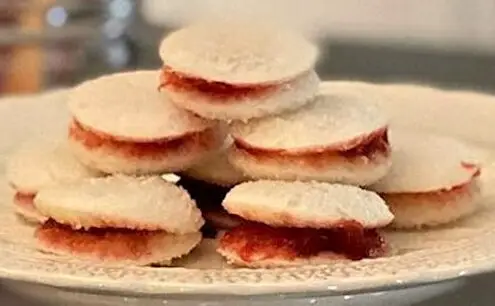 Image from tasteatlas.com
Jam pennies are made with crustless brown or white bread, butter, and jam, typically strawberry or raspberry. They're usually cut into rounds the size of an old English penny, which is about an inch (2.5 cm) in diameter. They were a favorite afternoon tea sandwich of the late Queen Elizabeth II.
Tea Sandwiches
Tea sandwiches are served at afternoon teatime when one wants something savory to complement the sweet pastries. A tea sandwich should be easy to handle and capable of being eaten in two or three bites. Use soft bread with a smooth surface, either white or wheat. Butter each slice, then add a thick layer of filling, such as:
Egg salad with watercress
Cucumber with Mint
Cheese and Chutney
Ham and Mustard
Cut the crusts off the sandwiches and slice them into fingers, triangles, or rounds. Arrange them on a platter with the sides facing up.
 *     *     *
You may also like
Go to the Blue Hare home page for more articles for fabulous women