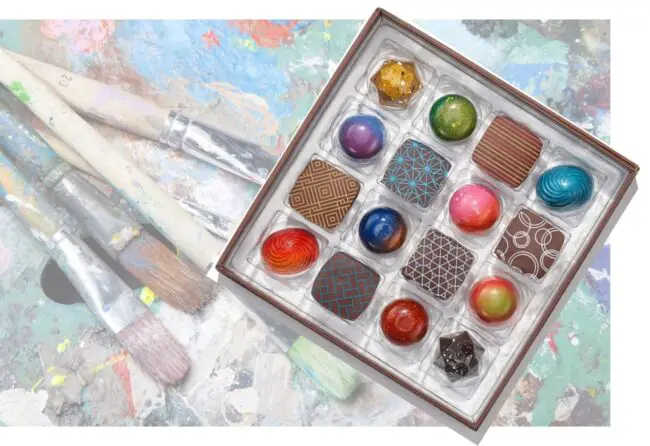 The problem with giving chocolate as a gift is not the chocolate. It's overcoming the temptation to keep them for yourself. (We're of the camp that says women like us also deserve a little treat now and then.) So whether you need a gift for a special occasion or just need some self-love, we found a selection of gourmet chocolates that not only are exquisite in taste but beautiful as well.
Our selection is chosen from some of the top chocolatiers in the world. If you don't see your favorites here it's only because they didn't meet our exacting, albeit subjective, definition of "work of art." Scroll on to see what we mean.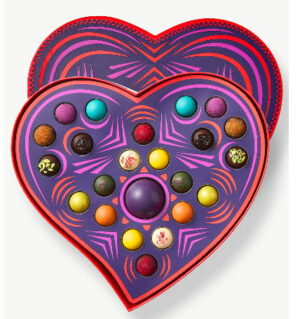 Considered some of the most unique and beautiful chocolates in the world, Vosges Haut-Chocolat founder Katrina Markoff pioneered the concept of exotic chocolate by fusing spices, herbs nuts and flavors from around the world with premium chocolate.
Owner and chocolate visionary Katrina Markoff flavors chocolates with unexpected ingredients (curry powder, anyone?) and packs them in boldly designed boxes. Their chocolates are available online as well as at their glamorous boutiques in Chicago, New York, Las Vegas and Los Angeles.  Love Frequency Ensemble Collection (shown above).  See the complete collection at vosgeschocolate.com.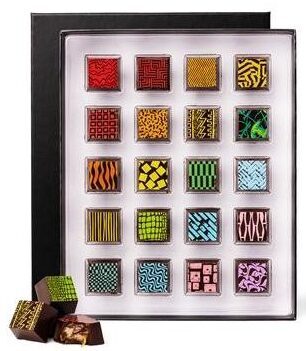 Founded in 1950 and reinvigorated by chocolate prodigy Jonathan Grahm, Compartés gourmet chocolates are handmade from scratch every day by a small team of chocolatiers and chocolate artists. They use only fresh natural ingredients from local farmers' markets in their Los Angeles chocolate kitchens and shop.
Since its beginnings, the shop has attracted celebrities, with aficionados including Marilyn Monroe, Frank Sinatra, Elvis Presley, Winston Churchill, Oprah, and Drew Barrymore. Compartés chocolates are sold online and through their trendsetting shop in Brentwood. Order them from compartes.com.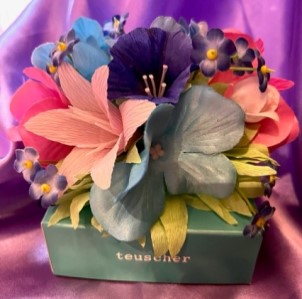 Teuscher's champagne truffles are world renowned and less really is more when it comes to their superb Swiss quality. Teuscher's champagne Truffles have a Dom Perignon Champagne cream center, surrounded by a chocolate ganache, covered with chocolate, and dusted with confectioner's sugar. What makes these chocolates even more special is the flower boxes that make the most marvelous gifts.  Find Teuscher chocolates at one of their many boutiques.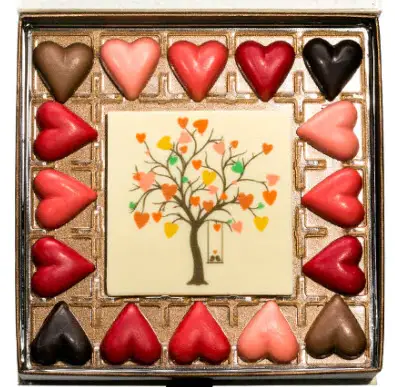 Jacques Torres was a pioneer in the bean to bar movement; he was the first artisan chocolatier in New York City to start from cocoa beans and make his own chocolate. He prides himself on specializing in fresh, handcrafted chocolates using premium ingredients free of preservatives and artificial flavors. From sourcing the perfect cacao beans to techniques steeped in tradition, Jacques combines genuine passion with handcrafted mastery to produce purely delicious, real chocolate. Shop for your chocolates at mrchocolate.com.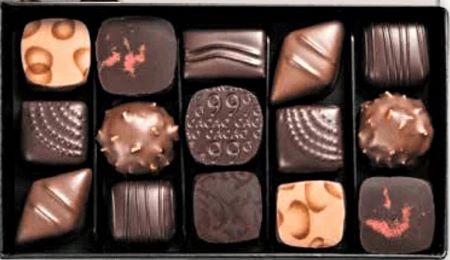 If any chocolates deserve the description bon bons, it's these. They are meaty, succulent, and bursting with flavor. In this collection, you get 15 gourmet dark and milk chocolate truffles, ganache, caramel, praliné (almonds and hazelnut), and Single Estate Plantation chocolates. All decorations and colorings are 100% natural. These are the kinds of chocolates that you squirrel away until the company has gone and then sink onto a chaise and pop them into your mouth. Order them at barandcocoa.com.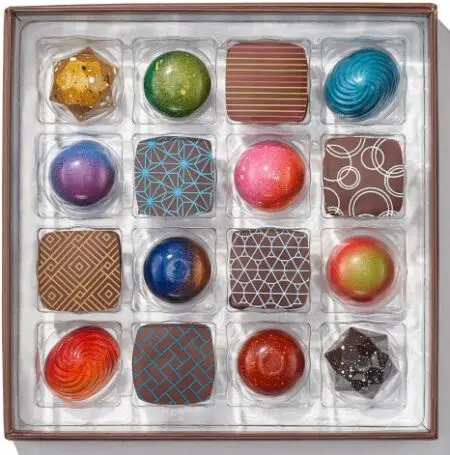 Since 2003, Christopher Elbow Chocolates has been bringing modern culinary artistry together with a craftsman-like work ethic to create beautiful, decadent expressions of flavors from around the world.
The famous chocolatier's signature collection includes gourmet chocolate bonbons with flavors like fleur de sel caramel, Aztec spice, and Champagne. Available in a variety of sizes at elbowchocolates.com.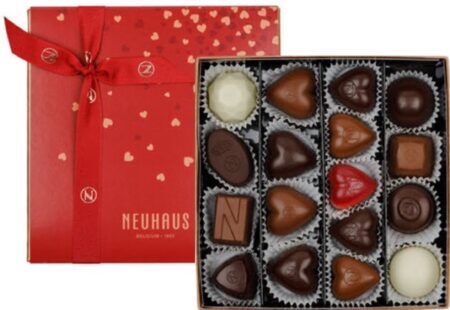 In 1912 Jean Neuhaus Jr. made history at the first Neuhaus boutique, which was and still is located in Brussels' prestigious Galerie de la Reine. It was there he had the idea to fill his chocolates with delight, and so the original Belgian praline was born.  All pralines and truffles are still made entirely in Belgium. Discover Neuhaus gifts at neuhauschocolates.com.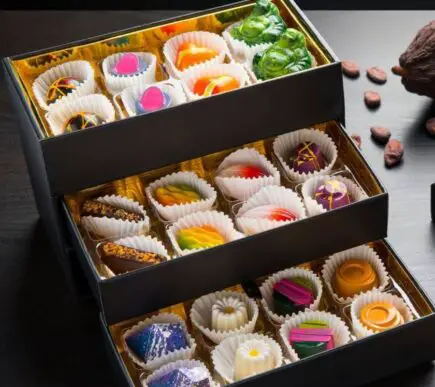 You will not believe that these beauties are actually made of chocolate. The main chocolatier at Cacao & Cardamon, Annie Rupani, of South-Asian background, infuses a rich ganache with spices–cardamom, cumin, coriander, and fennel–and encloses it in a thin shell of chocolate. A thin layer of colored cocoa butter enrobes each piece to create a work of art.  Too pretty to eat, but a perfect gift. Buy them at cacaoandcardamon.com.
As an affiliate of select retailers, Blue Hare may receive a small commission on qualifying purchases made through the links on this page. 
 *     *     *
For more articles for fabulous women like you visit the Blue Hare home page.