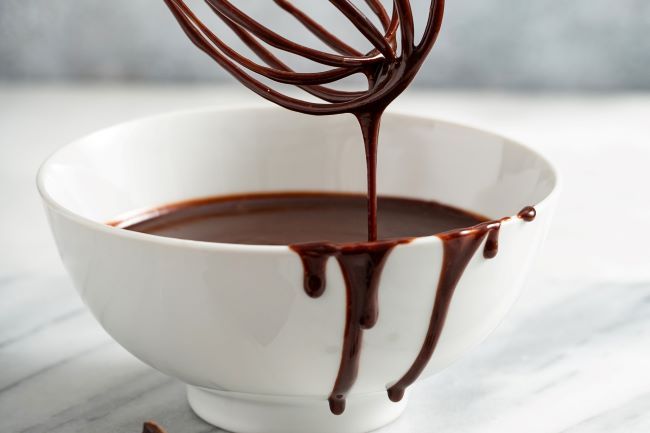 If you are craving thick, glorious, four-star hot chocolate, we have a special treat for you.  You may not be a pastry chef, but you can probably pull off a darned good cup of hot chocolate with the three recipes below.  The result will be superb hot chocolate–but be prepared to splurge on the ingredients. Best yet–you can enjoy the rich, thick hot chocolate found at exclusive European tea rooms and cafés without need of a passport.
1.

Angelina's Hot Chocolate 
Maison Angelina was founded in 1903 at 226 rue de Rivoli, a stone's throw from the Louvre. As soon as it opened Angelina became the unmissable meeting place for the Parisian aristocracy.
Angelina serves its thick hot chocolate in demitasse cups with a tiny dollop of mascarpone and whipped cream. It's easy to prepare by mixing chocolate shavings with hot water; if you want to perfectly emulate Angelina use African chocolate.  You can serve it in small cups or in 17th-century style chocolate pots and demitasse cups. Recipe courtesy of geniuskitchen.com.
Ingredients
6

ounces chocolate, chopped (fine-quality semisweet or bittersweet)
1⁄4 cup water, room temperature

3

tablespoons hot water

3

cups hot milk, divided

whipped cream, if desired (optional)
Directions
In a double boiler over low heat, combine chocolate and 1/4 cup water until melted, stir until smooth.
Remove top of double boiler pan from.
Whisk in 3 tablespoons hot water.
Pour into pitcher or divide among individual 4 mugs.
Either stir 3/4 cup hot milk into each mug or serve milk in a separate pitcher.
Pass sugar and whipped cream in separate bowls; add to taste.
2.

Parisian Chocolat Chaud from David Lebovitz
Pastry chef, food blogger, and book author David Lebovitz spent 13 years at Chez Panisse, before transplanting to Paris. On his website, davidlebovitz.com, he shares his recipe for the hot chocolate found in cafés around Paris. "One of the great pleasures is sipping a cup of rich hot chocolate, known as chocolat chaud, in a cozy café. But no matter where you live, you can easily make and enjoy the chocolatey taste of this Parisian specialty at home."
_________________________________________________________
_________________________________________________________
"Parisian hot chocolate is usually made with milk rather than cream, and gets its luxurious richness from top-quality chocolate. This cup of hot chocolate is deeply flavorful, but not over-the-top rich…so there's no need to feel guilty indulging in a warm cup whenever, and wherever, you feel the need."
Ingredients
2 cups (500ml) whole milk
5 ounces (130g) bittersweet chocolate, (best-quality), finely chopped
optional: 2 tablespoons light brown sugar
Lebovitz advises using the best chocolate you can find for this amazing hot chocolate.
Directions
Heat the milk in a medium-sized saucepan.
Once the milk is warm, remove from heat and whisk in the chocolate, stirring until the chocolate is melted. For a thick hot chocolate, return to heat and cook at a very low boil for about 2-3 minutes, whisking constantly. Be careful and keep an eye on the mixture, as it may boil up a bit during the first moments.
Taste and add brown sugar if desired.
Serve warm in demitasse cups, or small coffee or tea cups. This hot chocolate improves if it's made ahead and allowed to sit for a few hours. Rewarm before serving.
_________________________________________________________
_________________________________________________________
3. Belgian Hot Chocolate from David Lebovitz
Belgian chocolatier Whittamer & Co dates back to 1910, when Henri Wittamer opened his boulangerie on the Place du Grand Sablon in Brussels. You can still find it there today. The head chocolatier at Wittamer gave this recipe to David Lebovitz.
As Lebovitz observes, "This recipe is simple enough to make anytime you're looking for a hot chocolate fix. Which for me, is often. Especially in the winter. It uses a touch of milk chocolate, and you should seek out a good-quality one. Most of the better ones list the percentage of cacao on the label (often between 30-40%) and are likely to taste better than those bars where a small amount of chocolate is used basically as a colorant. I call them "dark" milk chocolate and they're widely available in lots of stores.
"In Paris, most places use low-fat milk for their chocolat chaud, so you could likely use it here. I use whole milk. Or for more adult tastes, one could replace some of the liquid with strong coffee or add a hit of liqueur at the end, such as cognac or Chartreuse."
Ingredients
1

quart (1L)

half-and-half or whole milk

8

ounces (230g)

bittersweet or semisweet chocolate,

finely chopped

4

ounces (115g)

milk chocolate,

finely chopped

tiny

pinch of

salt

1/2

teaspoon

ground cinnamon
Directions
 Warm about one-third of the half-and-half or milk, with the chopped chocolates and salt, stirring until the chocolate is melted.
Add the remaining half-and-half or milk, heating until the mixture is warmed through. Add the cinnamon.
Use a hand-held blender, or a whisk, and mix the hot chocolate until it's completely smooth. Serve very warm.
4. Wicked Hot Chocolate from Jacques Torres
Chef Jacques Torres was born in Algiers and grew up in the South of France. After training and working in France he moved to the United States, where he spent 11 years as Executive Pastry Chef at Le Cirque in New York. In 2000, he left Le Cirque to open a chocolate factory and retail shop in Dumbo, Brooklyn (New York). 
He was the first artisan chocolatier in New York City to start from cocoa beans and make his own chocolate. His Wicked Hot Chocolate–the Classic hot chocolate mix to which is added a secret blend of spices–is the perfect treat to warm up on a wintry day. This recipe is from the Dessert Circus cookbook.
Ingredients
1 cup whole milk
2 ounces (¼ cup) bittersweet chocolate, chopped
1 pinch of allspice
1 pinch of cinnamon
1 pinch of ancho chili powder
1 pinch of chipotle chili powder
Directions
In a small heavy-bottomed saucepan, heat the milk over medium heat. When it is slightly warm, add the allspice, cinnamon, and chilies to the hot milk before you add the chocolate, add the chilies to taste keeping in mind that the freshly ground chili can be very hot.

Then, gradually add the chocolate while whisking constantly. Cook, whisking constantly until the milk begins to form bubbles around the edge of the pan. DO NOT allow the milk to boil.

Top with chocolate shaving or a big scoop of whipped cream if desired.
 *     *     *
You may also like
Go to the Blue Hare homepage for more articles for fabulous women