When nights are long and temperatures are chilly, we long for something piping hot to eat and good company to share it with. Chinese Hot Pot is both those things–a communal dinner that, when preparation is shared, becomes a convivial experience. We got together with some friends one winter evening for our first hot pot dinner. This is our experience.
What is Chinese Hot Pot?
Hot pot is literally a "fire pot"—a heat-bearing vessel—filled with hot broth into which diners cook small morsels of food. It's like fondue, but with broth instead of cheese, and meats, seafood, and vegetables instead of cubes of bread.
The Hot pot cooking method is believed to have its roots a thousand or more years ago in Mongolia when, as legend has it, Mongolian soldiers on the move would use their metal helmets to heat broth over a fire to cook whatever was on hand. There are competing claims that hot pot originated in Southwest China, but it is the Mongolian method that spread across China and to Japan (Shabu-Shabu) and Southeast Asia.
There are four segments to a hot pot dinner.
Broth, into which ingredients are dipped
Foods for dipping and cooking in the broth
Sauces to garnish the cooked foods
Noodles, for soup at the end.
We divided the tasks up in a similar way, with one person bringing broth, another sauces, and several bringing all sorts of ingredients for dipping. We'll go into that in more detail later.
First, you'll need a hot pot
In the beginning Chinese hot pots were fueled by charcoal and were constructed in three parts: a base to hold burning charcoal, a pot for cooking, and a tube extending from the middle that acts as a chimney for the smoke. Somewhat impractical for modern living, you can still find several styles on Amazon.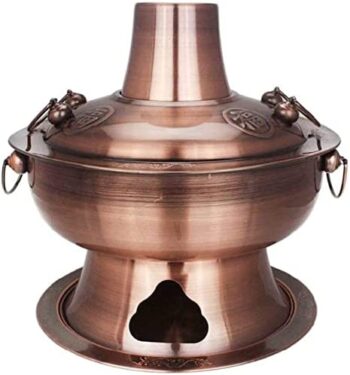 There are more practical options today. If you have a heavy stainless steel pan that's at least 3 inches deep or a cast iron pot (like Le Creuset or Staub Dutch ovens and brasiers) all you need is an electric hot plate to keep the broth hot while it's on the table.
Or you can use a deep electric skillet like the one below, which is what we used for our hot pot dinner.
Begin with a good broth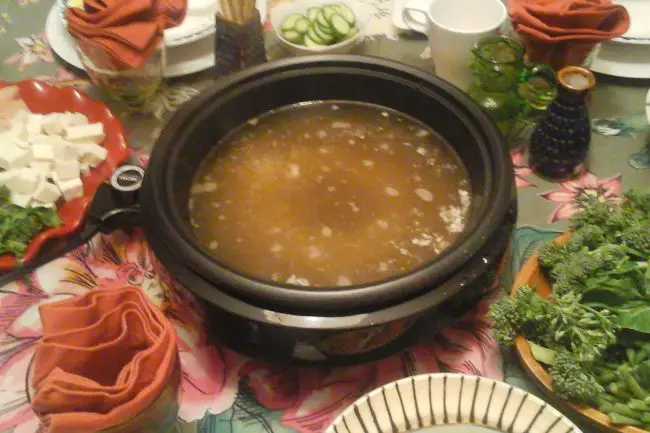 Broth forms the foundation for the meal. It begins as light and flavorful and becomes increasingly complex as a series of ingredients are cooked in it.
There are many different flavors of broth to choose from: the most common are spicy Sichuan and a mild chicken broth. Since this was the first time we were making hot pot we opted for a mild broth, made with chicken stock, ginger, scallions, and goji berries—nothing too exotic or difficult to find.
The website The Woks of Life has instructions for making a spicy Sichuan broth. Red House Spice has detailed recipes for mild and spicy sauces.  Fortunately for busy or less motivated cooks, prepared soup bases are available online and in Asian food shops. Lee Kum Kee has five varieties and are made with no artificial ingredients. You also can find prepackaged tomato and coconut broth bases.
What to cook?
Choosing the ingredients for your hot pot is where you can put an individual stamp on your meal. And it's easy to divide the shopping, washing, chopping and arranging among different members of your group. Foods can range from the prosaic to the exotic. You know your crowd and how adventurous they are.
Meats: thin slices of ribeye, flank steak, filet mignon, pork belly, lamb shoulder, chicken breast, even pre-cooked meatballs
Seafood: shrimp, sliced scallops, squid, oysters, clams, thin slices of fish (monkfish, salmon, halibut but avoid flaky fish such as flounder; they will fall apart in the broth), and fish balls
Vegetables: baby bok choy, watercress, Chinese broccoli, spinach, daikon, carrots, lotus root, white button mushrooms, portobellos, hen-of-the-woods, enoki and other mushrooms. Try thinly sliced butternut squash.
Other: firm tofu, fried tofu, small dumplings, and fresh or dried noodles. Note that dried rice noodles should be boiled and rinsed first. They're fussy things.
Slice the meats super thin so they cook quickly with a few swishes in the broth. Slice root vegetables ⅛ inch to ¼ inch thick. Small, leafy greens can stay whole but large leaves should be chopped to make them more manageable. Slice large mushrooms. Some ingredients benefit from being marinated ahead of time.
Once the foods are prepped create attractive platters separating meats, seafood, and vegetables to avoid cross contamination. This is a chance to use that pretty dishware you picked up in [your dream vacation spot].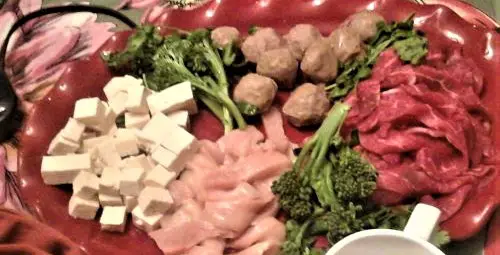 Sauces and garnishes add more flavor
The pieces de resistance of hot pot are the sauces and garnishes that accompany the main ingredients. They are as much if not more important than the broth. This is where you can be downright creative by offering a mix of sauces–salty, spicy, acidic, sweet, sour—that provide an explosion of flavor to each bite.  We had three different sauces at our dinner.
Sesame Soy Dipping Sauce: from gettysterwart.com is an easy all-around dipping sauce made with soy sauce, rice vinegar, sesame oil, and ginger. It goes particularly well with beef.
Hoisin Dipping Sauce: complex flavors from hoisin, garlic, lime and a few other ingredients, from drivemehungry.com
Peanut Dipping Sauce: full of umami from peanut butter, rice vinegar, soy sauce, ginger, and others. The recipe for this and other dipping sauces is from cookieandkate.com
Julienned carrots, Persian cucumber slices, chopped scallions and cilantro—small bowls of these are passed around for freshness and crunch.
Set a festive table
Our host had a wealth of interesting dishware and accoutrements that produced an Asian flare to the table. Small plants scattered around instead of a centerpiece—that would be the hot pot itself. Some red napkins, fans, and small decorative dishes created a warm and inviting setting.
In addition to the pot and the dipping ingredients, you will need to provide each guest with their own tools.
Medium size shallow bowl or plate with a rim
Small dish for sauces
Chopsticks
Small spider strainers (get strainers with a hook that can attach to the side of the pot)
Soup bowl
Soup spoon
Since everything is cut into bite-size pieces, there's no need for knives and forks. Chopsticks do all the work.
Finally, it's time to eat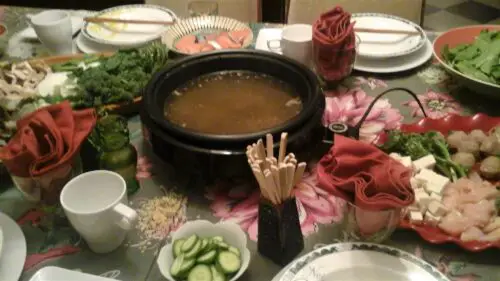 Place your pot on the table and fill it two-thirds with hot broth. Bring it to a boil on the table then adjust the temperature gauge so the broth maintains a slow boil throughout the evening.
Using their spider sieves each person can begin lowering soft vegetables, mushrooms, tofu, some of the seafood, and fish balls and small dumplings if using them. Remove them as they are done.
When the broth returns to a boil begin dipping some of the meats and fish. Hold the pieces in your sieve and move it about in the broth. The pieces are cut thin so should not take long to cook.
Continue alternating vegetables and proteins until the last person has finished. Replenish the pot with more broth or water, bringing it back to a boil each time.
Remove the cooked piece and dip it into one of the sauces.
Finish the meal with a bowl of noodles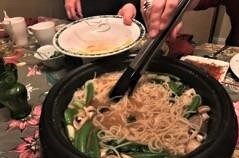 Add noodles to the broth until they are cooked to taste. Place noodles in each soup bowl, then fill it with the flavorful broth.
Now it's time for ice cream.
To learn more about Chinese hot pot these sites each provide thorough overviews and step-by-step directions.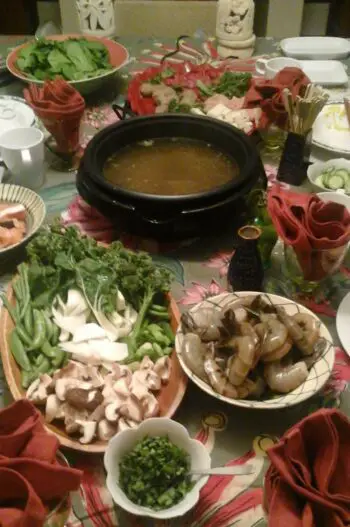 Blue Hare has affiliate relationships with Amazon and other retailers. We earn commissions through qualifying links on this page.
*     *     *
You may also like
Go to the Blue Hare homepage for more articles for fabulous women