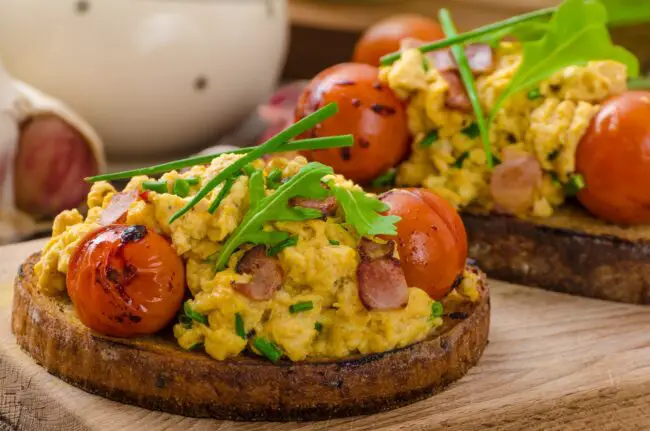 It can be a challenge to get 20g or more of protein for breakfast, the amount nutritionists recommend for women over 60. Bacon and eggs pack a good protein punch but they're not the healthiest–or quickest–choice for every day of the week.
Luckily there are a number of protein-rich, and sometimes surprising, breakfast ideas to mix up your morning routine–none of them smoothies. Each averages 20g of protein.
Avocado toast and its variations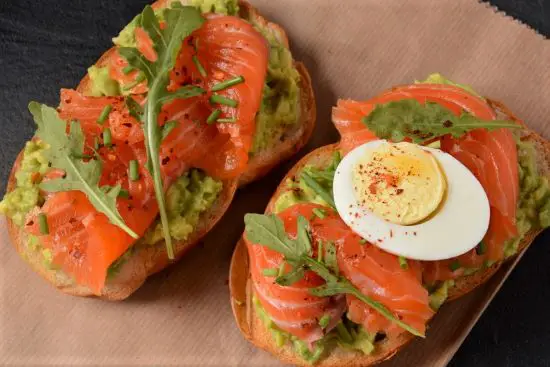 Avocado toast is super trendy these days but, while it's abundant in heart healthy monounsaturated fats, it doesn't really offer much protein. But it's easy to add protein with one or two ingredients. Using whole wheat or whole grain bread gives you a head start, with an average of 5 g of protein per slice. Here are some ideas for adding more protein to your avocado toast.
1/4 c. cooked edamame beans + 1 T. shelled pepitas
1 oz smoked salmon
A poached egg
1/3 c. ricotta cheese
Cottage cheese with fruit and nuts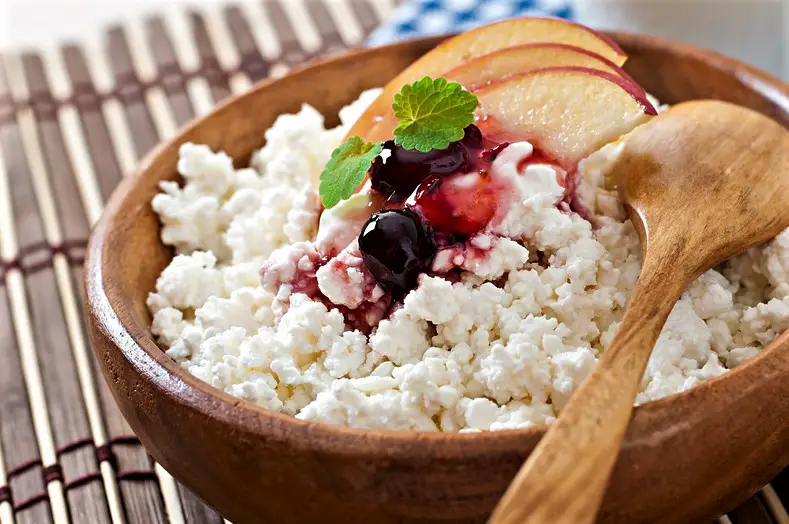 Cottage cheese is loaded with protein. Just 2/3 cup with some fruit and nuts can yield as much as 23g per serving. When in season, cantaloupe or another melon with a tablespoon of pistachios make good partners. In the winter try chopped pears, apple compote, or applesauce with walnuts.
Vegetable omelet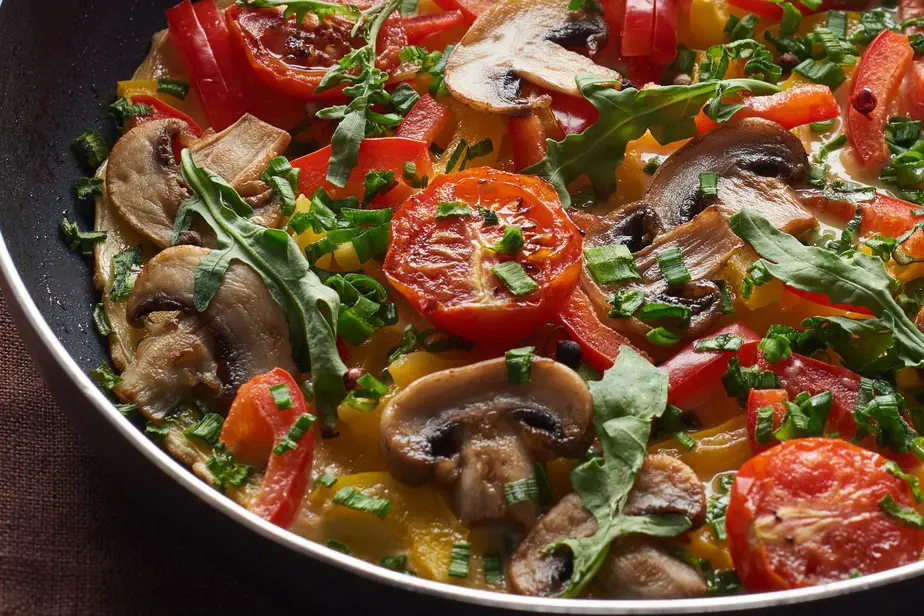 A two-egg veggie omelet averages 14g of protein, according to My Fitness Pal. Healthy additions are spinach, mushrooms, tomatoes, and herbs. Add some cheese–feta or goat cheese would be delicious–and the protein increases to 20g.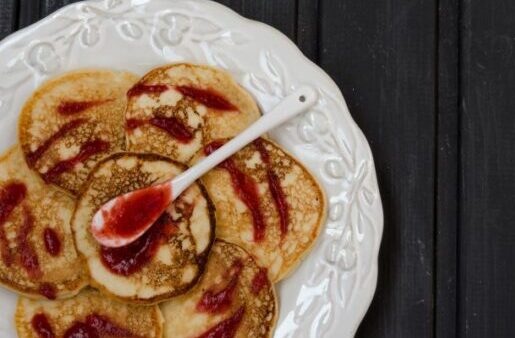 The South Beach Diet (SBD) exploded onto the diet scene in 2003, which advocated a healthy way of eating that is lower carbs and higher in protein and healthy fats. A legacy from SBD's cookbook are these protein-packed oatmeal pancakes. Comprising only a few ingredients–oatmeal, cottage cheese, eggs, and flavorings–one serving packs more than 31 grams of protein per serving. This is one of our favorite high-protein breakfasts. Double or triple the recipe and freeze the rest for a quick meal later. The recipe is on SparkPeople.
Ricotta toast with roasted grapes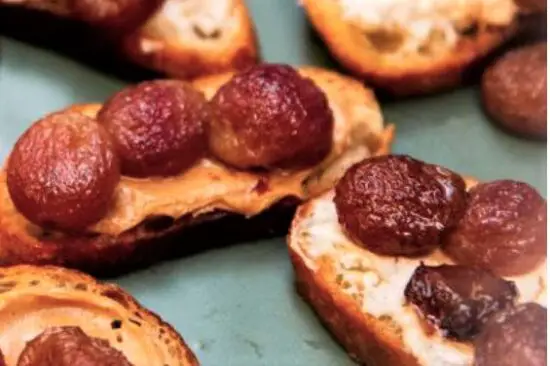 Ricotta toast became a trend in 2022 as both an appetizer and a breakfast food. The basic recipe is simple: heap a few tablespoons of ricotta cheese onto a slice of toasted whole grain bread. Then add the toppings of your choice, sweet or savory. Roasted grapes are a departure from regular breakfast fare, which is why we like them as a topping for ricotta toast. (Find instructions for roasting grapes on the Food Network site.) Add a drizzle of honey and a few leaves of thyme for a taste explosion.
Ricotta cheese is rich in protein and a good source of calcium, vitamin B12, and vitamin A.  A half-cup serving contains 10 grams with a complete amino acid profile. A nutrient-dense bread like Ezekiel 4:9 Sprouted Whole Grain Bread adds another 5g of protein per slice.
Whole grain toast with nut butter and bananas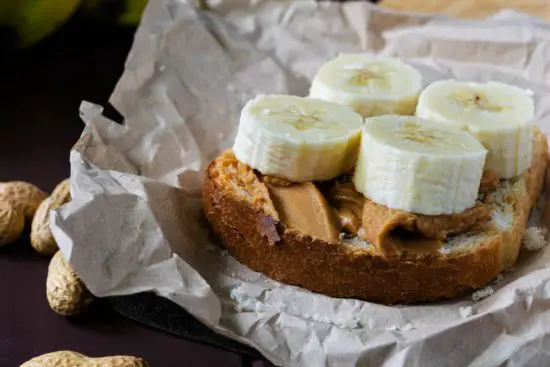 Whole grain bread, either bakery bought or something like Ezekiel 4:9 (found in the frozen aisle/health food section) gives you a head start with 5 to 6 grams of protein per slice. Add 2 T. peanut (8g) or almond butter (6.8g) and slices of banana for a good dose of protein and potassium. A cappuccino will round out the protein count to 20g total.
Quinoa power breakfast bowl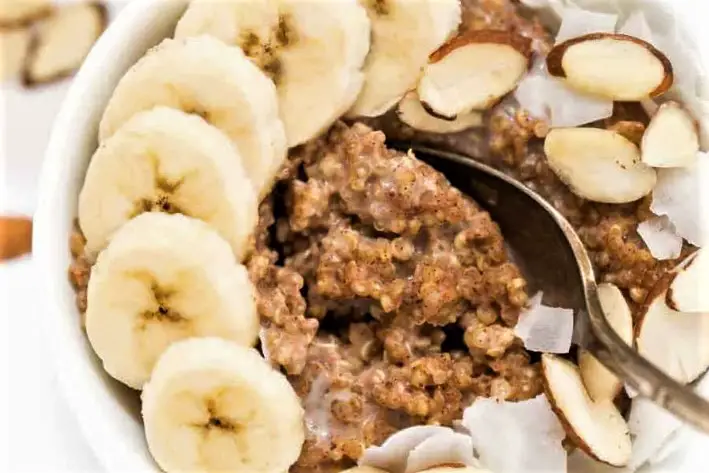 Quinoa has a ton of protein, plus fiber and vitamins, so it can keep you feeling full for hours. Quinoa contains bitter tasting compounds called saponins that are easily removed by rinsing with water before cooking, Then, just let it simmer until it's tender, about 15 minutes.
One cup of cooked quinoa can deliver 8.14g protein, according to the USDA. You can increase the protein by adding milk, nuts, and seeds to the basic bowl, and flavor with apples or bananas, shredded coconut, maple syrup or honey, and spices like cinnamon, ginger, and cardamom. An alternative to plain quinoa is Trader Joe's Quinoa and Steel Cut Oatmeal.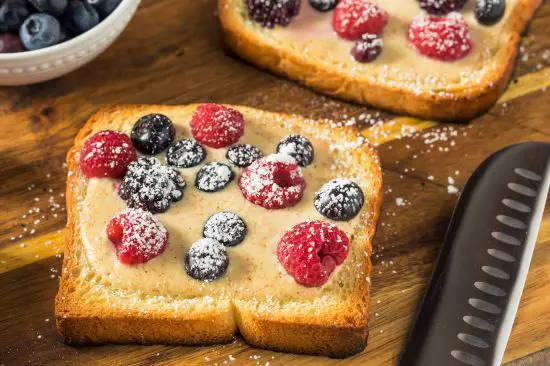 One of the biggest food trends last year started on TikTok, garnering 62.4 million views of the hashtag #YogurtToast by year end. Along the way the terminology morphed into Custard Yogurt Toast, which is where you'll find the most creative recipes. The premise is simple. Take a piece of bread (brioche or whole grain), make a three-ingredient custard, pour it into a "well" in the bread, add some fruit, and bake. Jessica Gavin, a certified culinary scientist, offers a step-by-step recipe to make it. Two slices provide 6g of protein so you will need to add another protein source to hit the 20g target. Bacon (4g per strip), almonds or pistachios (6g per ounce), two tablespoons of peanut butter (7.2g), or a 12 oz latte* (8g) add up close to 20g of protein.
[* We found (and use) this electric milk frother to make lattes at home. No need to change out of your pajamas for a satisfying cuppa.]
Make a batch of French toast when you have a slow morning. Have one slice for breakfast and freeze the rest for another day. Use whole grain bread and fresh farm eggs for the toast. Top with 1/3 c. ricotta cheese, 1/4 c. crumbled walnuts, and a drizzle of maple syrup. A high-protein recipe from No Cheat Day Needed calls for a high protein bread and a custard of eggs and yogurt. Eight slices yield a stunning 50 grams of protein.
Scrambled eggs, black beans, a spoonful of cheese, and some salsa wrapped in a whole wheat tortilla is a healthy, filling, savory breakfast with 17g of protein. Make a batch and freeze them for another morning. This recipe from Cooking Light is a good guide: Make-Ahead Black Bean and Scrambled Egg Breakfast Burritos.
Bagels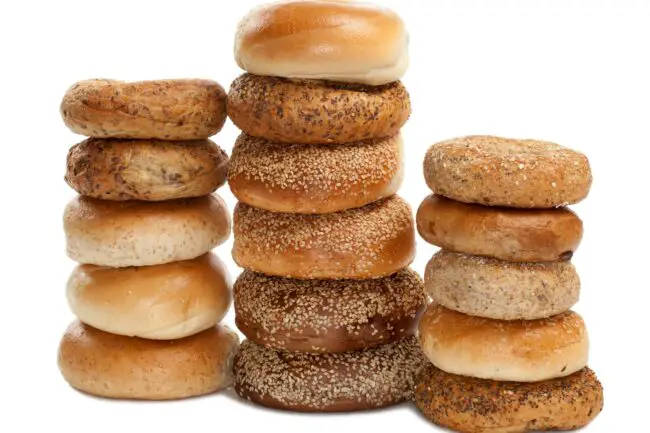 For New Yorkers a morning bagel is nearly a sacred ritual. But do bagels belong on a high-protein list? Remarkably, yes. A 2001 New York Times analysis of a classic boiled-then-baked 4 1/2 inch bagel contained 11.55g of protein. An egg bagel of the same size has 13.89 grams, according to the University of Rochester Medical Center.  Add two scrambled eggs for a 21g breakfast sandwich.
The easiest: a carton of Fage yogurt

If you have no patience for breakfast, if you're a grab-and-go-type, then yogurt is for you. Greek yogurt has a higher protein content per volume than the creamier kind. Ideally you can purchase a larger multi-serving container and spoon 8 oz. into a bowl to reduce plastic waste and save the oceans.
If you really have to run, the 7 oz. container of plain Fage Total 2 % is for you, with 20g of protein tucked into its little cup. (We checked other brands of Greek yogurt in individual containers, and they contain less yogurt, and thus less protein, than Fage. Fruit-flavored yogurts have even less protein and more sugar.) Add a complex carb in the form of berries, nuts, seeds or a whole grain granola to keep you going until lunch.
* * *
You may also like
Go to the Blue Hare homepage for more articles for fabulous women