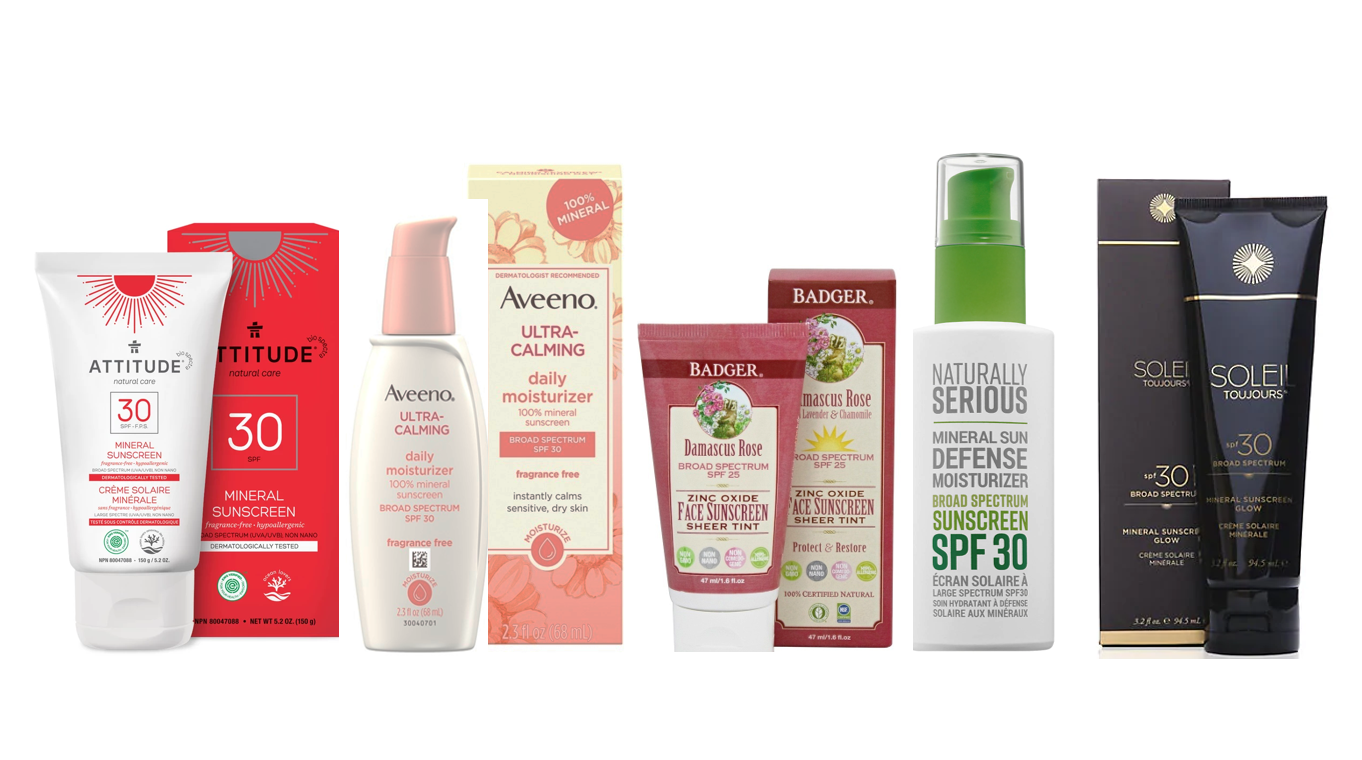 Few products are as essential to summer health and beauty as a good facial sunscreen. Fortunately, each summer brings a slew of new and improved products, and this year sees new, improved lines of mineral sunscreens, which provide a physical filter to the suns rays, and are better for us than chemical sunscreens that work through the bloodstream.
But mineral sunscreens have always had huge aesthetic and tactile disadvantages—they've typically been thick, white, and gooey.  And almost impossible to wear under makeup.  That is, until now.
As awareness grew of the dangers of chemical sunscreens the demand for more user-friendly mineral sunscreens increased and product innovation accelerated.  Unlike chemical sunscreens, which glide like moisturizer over your skin, even the new generation of mineral sunscreens take a little more effort to apply.  Mineral sunscreens are comprised mainly of zinc oxide and titanium dioxide, which are thick, white, hard-to-spread ingredients.
That problem has all but disappeared in the five mineral sunscreens recommended below, whether due to tints to neutralize the white effect or by the addition of other natural ingredients to allow a more pleasing tactile experience.
TIP: Apply your mineral sunscreen first before you use any other products then wait for 30 minutes for it to settle. 
Our picks: Five mineral sunscreens that can be worn comfortably under makeup
With this sunscreen, Attitude Living, a fast-growing company based in Montreal, has achieved the impossible. They've managed to satisfy the Environmental Working Group's (EWG) stringent requirements for sun protection while creating a mineral 'shield' that doesn't leave a white cast on our face.
We can wear this sunscreen under our favorite makeup. It spreads easily and goes on clear. We recommend the half hour wait before you apply your foundation. After that, you won't even know you are wearing sunscreen. All of Attitude Living products have been developed with EWG's strictest standards in mind. They're free of cancer-causing chemicals, mutagens, endocrine disruptors, and other ingredients of concern. About $24.95 at attitudeliving.com and $31.99 on Amazon.com
This sunscreen is from the ubiquitous Aveeno drug store line. It's oil and fragrance-free, calms fussy skin, and is truly double duty since it is so moisturizing. Despite that, it's fast-absorbing ( a nice feature if you are in a hurry). Just make sure to shake the bottle well before each use; the formula tends to separate quite easily. About $27.00 on Amazon.com.
This sunscreen is tinted and matte so it actually blurs imperfections on your skin. It's easy to spread and feels very comfortable on the skin. Of all the sunscreens, this one requires the least amount of waiting time before you apply foundation. The scent is rose; not like your-grandmother's-cologne but rather like a-sniff-of-a-perfect-bloom-after-the-rain. And if you don't like any scent at all, fear not: it dissipates very quickly. About $16.99 on Amazon.com.
The beauty of this sunscreen is that you may not need to wear a foundation. It has a universal tint that blends to match all skin tones. The company maintains that this formulation is ideal for daily wear. Apply before your make-up "without any white cast or greasiness, just a universally flattering tint that leaves any complexion gorgeous and glowing". About $34.00 at naturallyseriousskin.com.
This is not surfer paste, ladies. Along with its elegant packaging and its subtle golden tone, this is perfect for cheekbones, bare shoulders or dressing up pasty legs. There's a subtle shimmer (and who among us doesn't want that?) and the formula is moisturizing and easily absorbed. About $39.00 at Barneys.
* * *
As an Amazon affiliate Blue Hare makes a small commission on purchases made through some of the links on this page. It helps us keep the lights on. Thank you for supporting Blue Hare.
You may also like
Go to the Blue Hare homepage for more articles for fabulous women