Much as we want spring to arrive, it's still winter. So, in that "if you can't beat them join them" spirit, let's make the most of it. Sink into a comfy chair, preferably by the fire, with a cup of hot chocolate and a good book. Personally, we don't want to escape winter. We want to immerse ourselves in it—virtually. What better way than with a book from lands of ice and snow, where snow has a haunting presence, a sparkly white Greek chorus.
We selected a handful of "snow" books for reading this winter. We looked north, far north, to the Arctic Circle, to mountains, to lands of dark nights and days, places where most of us have not traveled. The books range from Scandinavian thrillers to Russian novels to nonfiction in thin air. The list begins with a travel memoir by an author appropriately named Kathleen Winter. Pick your favorite to pass a perfect snowy day.
A memoir from the top of the world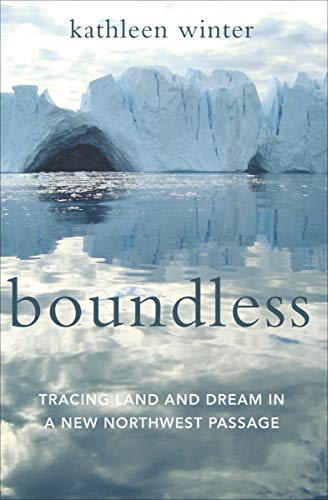 In 2010, Kathleen Winter embarked on a journey across the storied Northwest Passage, from Greenland to Baffin Island and beyond. Before you start Googling, the Northwest Passage is a sea route from the Atlantic Ocean to the Pacific Ocean. It winds through a group of sparsely populated Canadian islands known as the Arctic Archipelago.
Treacherous conditions and sea ice cover made the route impassible until climate change caused the ice cover to thin. By 2007 the passage was ice free.  BOUNDLESS, a beautifully written account of Winter's trip, records her experience and brings the landscape to life. The passage is a living and breathing entity that changes her. Her story will bring home the impact climate change is having beyond our back yards.
Scandinavian winters beckon murder
The next three books are thrillers set in the dark, unforgiving north of Scandinavia. They give new meaning to the phrase Scandinavian noir. SNOW ANGELS, by James Thompson, takes place in Finland during kaamos, the weeks between December and January when the sun does not rise at all.
Complete darkness and soul-numbing cold falls upon Finnish Lapland, a hundred miles into the Arctic Circle.  Kari Vaara, the police chief of the Lapland town of Kittilä, gets a phone call. It informs him that the body of a Somali refugee and minor film star has been found in a snowfield on a reindeer farm. Tangled small town relationships, alcoholism, lust, suicide, and murder all play a part as Kari uncovers more suspects. But is his ex-wife involved…?
While some reviewers found the plot had too many twists and turns, Thompson's portrait of Lapland in the depths of winter is stark and realistically drawn. As one reviewer noted, "…the details of the tingling and numbing of exposed skin within minutes of stepping outside makes you want to go get an extra blanket or a warm sweater." As an American who lives in Finland, Thompson makes an insular society and a forbidding landscape comprehensible for readers who have never experienced such extremes.
Next, we move to Norway, where police inspector Harry Hole is on the trail of a serial killer in THE SNOWMAN, the seventh in a series of Harry Hole novels by Jo Nesbø.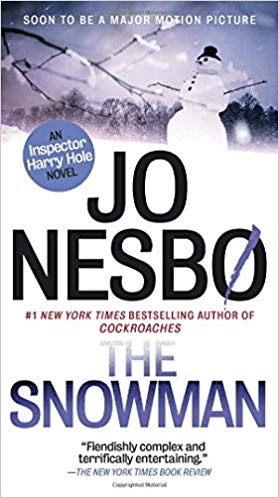 One night, after the first snowfall of the year, a boy wakes up and discovers that his mother has disappeared. The only trace that remains is the pink scarf, his Christmas gift to her, now wrapped around the snowman that mysteriously appeared in their yard earlier that day. The case deepens when a pattern emerges: over the past decade, eleven women have vanished – all on the day of the first snow. And the killer's hallmark? A snowman left near the site of each gruesome murder. Hole (pronounced Wooly) keeps getting close to the killer, but never close enough (until, of course, the end).
The novel's style is a cross between Stieg Larsson and P.D. James—graphic, dark, smart, sexy, with no shortage of blood splattered across the white snow. Don't make the mistake of reading this in bed late at night. You won't sleep a wink. It's really creepy. Yet highly recommended by more than a thousand reviewers on Amazon. As one of them noted in their review, "At one point, I actually said, 'Well played,' aloud, because I was completely duped by a plot twist. I couldn't read these action scenes fast enough."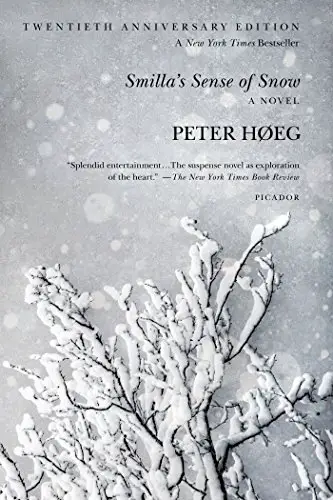 Moving down the Scandinavian peninsula to Denmark we turn to the first pages of SMILLA'S SENSE OF SNOW, by Peter Høeg. Smilla Qaavigaaq Jaspersen, the female protagonist, is part Greenlandic Inuit who now lives alone in Copenhagen.
The story begins in Copenhagen, where a boy, Smilla's neighbor, also Greenlandic, has fallen to his death from the snowy rooftop of an old warehouse. The police refuse to consider it anything but an accident—there is only one set of footprints (the child's) in the snow leading to the edge of the roof. But Smilla knows snow—and ice, and frost—and there is something about the footprints that make her think otherwise.
An Amazon review summed it up as "Beautiful writing. Intelligent plot. Never believed understanding snow, ice, tides, shipping and Greenland could result in something so thought provoking. This book gets under your skin. It finds a place in your memories."
From Russia, with love
We couldn't have a list of "snow" books without including a few that are set in Russia, where the harsh winters last for seven months.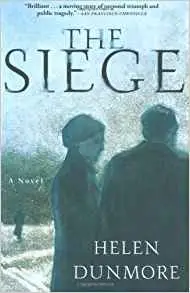 In THE SIEGE: A NOVEL, Helen Dunmore wades neck deep into the Nazis' relentless siege of Leningrad that lasted from 1941 until January 1944, 872 days after it began. More than 600,000 civilians (some estimate it at more than one million) died of cold or malnutrition. When Germany invaded Russia, Leningrad was marked for destruction.
The city's food warehouses were firebombed, its supply lines cut, and strict food rationing was imposed. Its citizens dug ditches, built defenses, worked in factories, but slowly everything grinds to a halt and survival becomes each person's imperative.
While the scope of the event is monumental, Dunmore tells an intimate story through the lives of one family—a 23-year-old art student, her father, and her baby brother. They're holed up in an apartment with a blacklisted actress and a young medical student.
Dunmore's story shows that even then, the human spirit endures and love blooms against all odds. "The novel's imaginative richness," writes The Washington Post, "lies in this implicit question: In dire physical circumstances, is it possible to have an inner life? The answer seems to be that no survival is possible without one."
A GENTLEMAN IN MOSCOW, by Amor Towles is a beautifully told story with wonderful scenes of sleigh riding through snowy Russian forests.
In 1922 wealthy Count Alexander Ilyich Rostov is placed under house arrest in the famed Metropol Hotel for his sins for being a Former Person by the ruling Bolsheviks. This genteel man, who has been living in a suite of well-appointed rooms at the hotel, is moved upstairs to a single room—or so his captors think.
The Count perseveres. He lives an absorbing, adventure-filled existence, even when he is forced to wait tables, play hide and seek with a young girl, or confront communism. He's Eloise in an elegant suit.
Ranked #1 for Historical Russian Fiction and #4 for Historical Thrillers on Amazon, A Gentleman in Moscow has more than 2 million readers. As a recent reviewer said, "Everyone should read this book. In reading it very carefully, you will learn, experience, and remember what great writing is."
And…more snow
A former communist, a secularist, a fascist nationalist, a possible Islamic extremist, Islamic moderates, young Kurds, the military, the Secret Service, the police and an actor-revolutionary might sound like the set up to "walk into a bar," but no. They are the myriad characters that populate Orhan Pamuk's novel, SNOW, which explores the political and cultural dynamics in modern Turkey. This is a book for anyone interested in getting a deeper understanding of forces at play in Turkey today.
Pamuk's protagonist, who goes by the name Ka, is a poet who returns to Turkey after 12 years of exile in Germany. He travels to the city of Kars, on the Armenian border, to investigate the suicides of girls who were forbidden to wear their headscarves at school. (The word for snow in Turkish is kar; this town gets a lot of kar.) When snow cuts off the town from the rest of the world political and religious forces clash (in a bizarre way).
Snow is not for everyone. It has been described as impenetrable, with a detached tone and dogmatic abstractions that make for tough reading. But the writing is beautiful, mystical, dreamlike and offers a rare look into the remote regions of Anatolia where Islam is inseparable from life itself. As one five-star reviewer said, "This is a very interesting novel that takes place in Turkey about 20 years ago so it is very timely in regards to what is happening politically in the world today… The writer turns out a compelling story mixing culture (Turkey vs Western Europe) politics and of course love." Plus there's an abundance of snow.
_________________________________________________________
_________________________________________________________
In THE SNOW GYPSY, by Lindsay Jayne Ashford, snow makes a dramatic appearance in the opening scenes. From there it is glimpsed from time to time on the mountaintops that appear on the horizon as Rose, a young English veterinarian, travels through Franco's post-war Spain. Eight years earlier, her brother disappeared while fighting alongside Gypsy partisans during the country's civil war and Rose is on a mission to find out what happened to him.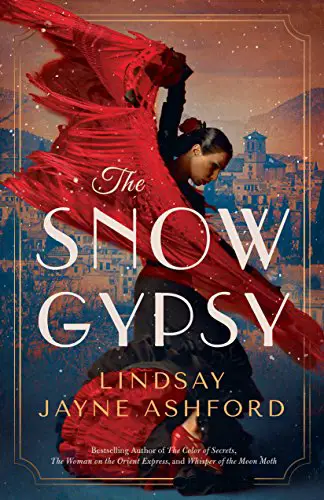 Also eight years earlier, a dying mother beseeched a young Gypsy girl to adopt her newborn daughter, as her own family lay massacred in the snow a few feet away. Now a celebrated flamenco dancer raising the child as her own, she meets Rose at an annual Gypsy festival in Provence and their journeys entwine. They travel from the marshes of the Camargue to Spain's ancient mountain communities, encountering war's long shadow, and the ongoing discrimination against the Gypsy community in Spain.
Some might disparage Snow Gypsy as a romance novel, and stylistically it would seem so. But it's more than that. Ashford offers a rare window into Gypsy culture that is compassionate and enlightening. (Did you know that most Spanish Gypsies are Roman Catholic? And that Gypsies worldwide are descended from Indo-Aryan roots?)
She uses fiction to illuminate the culture of suspicion and retribution that permeated rural Spain in the wake of the civil war and World War II. There is a good story here, well told, led by two strong women committed to defining their own lives. You will come away enriched with knowledge and a better understanding of a people most of us know only by anecdote.
_________________________________________________________
_________________________________________________________
Glaciers, blizzards, frozen rivers
On May 10, 1996, eight people—most of them elite climbers—were caught in a blizzard and died as they attempted to descend from the summit of Mount Everest. Jon Krakauer, a journalist and climber himself, had reached the summit and was on his way back to camp when the blizzard struck.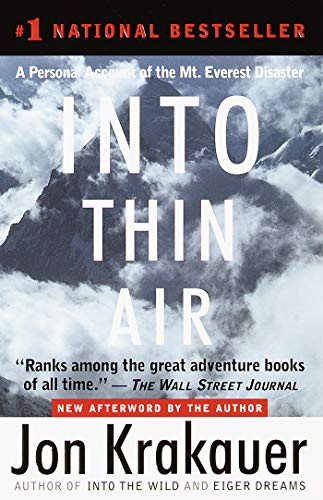 He survived, but four of his companions did not, including the tour leader, Rob Hall. Krakauer was on assignment for Outside magazine, planning to write an article about the impact of commercial tour groups on Everest. These groups, including the one Krakauer was in, charge up to $65,000 per person to lead group members to the summit. Mount Everest is the highest peak in the world at an elevation of 8,848 meters, or 29,029 feet.
In INTO THIN AIR, Krakauer writes a gripping narrative of the events of that day. He begins in Kathmandu, where the group assembled. He describes the trek to base camp and meeting indigenous people in towns and villages carved out of the steep mountain slopes, at elevations of 11,000 feet and more. From base camp—where more than 300 people are in various stages of preparing for the climb of their lives—he details every hair-raising step.
It takes more than three weeks to "summit", to scale the glaciers, ice falls, sheer rock faces, and gorges that are the route to the top. They cross fissures by crawling across metal ladders flung across the openings. The ever-thinning air plays games with their heads and hearts. And that's on a good day.
What happens on May 10th is a series of small mistakes and setbacks—waiting for rope lines to be set, traffic jams of climbers, misreading the approaching storm, oxygen tank failures. Individually this events would have been annoying. Compressed into one day the results are deadly. You already know the outcome when you open Into Thin Air. But the journey across the pages will leave you breathless.
_________________________________________________________
_________________________________________________________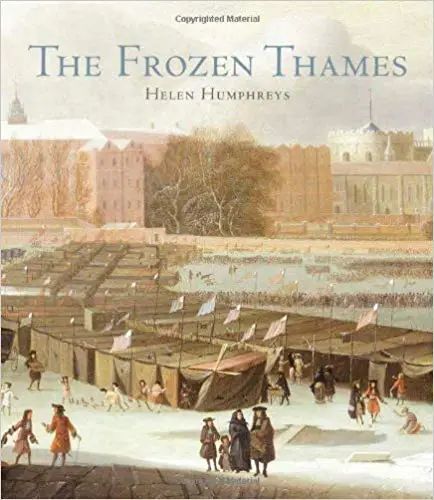 The last book on our list is certainly not the least. It may be the one you will keep by your bed to read again and again. In THE FROZEN THAMES, poet Helen Humphreys paints with prose a vignette from each of the forty times the Thames froze over, most during the Little Ice Age that affected Europe from the 15thth to 19th centuries. Beginning in 1142, when Queen Matilda escapes from imprisonment in Oxford Castle in her nightgown, blending into the white of snow and ice as she flees across the frozen Thames, through several Frost Fairs set up on the ice—with their beer gardens and roast oxen and horse races—Humphreys constructs a story that brings each scene to life. As she herself notes, "This book is intended as a long meditation on the nature of ice. Each story is a story of transformation, as ice itself is the result of a transformative process."
The last Frost Fair took place in 1814. The climate was growing milder. Old London Bridge was demolished in 1831 and replaced with a new bridge. The new bridge had wider arches, which allowed the tide to flow more freely and prevented ice from forming.
The impetus for creating this list was to embrace the winter rather than complain about shoveling the sidewalk. But as The Frozen Thames reminds us, the earth is becoming warmer, and at an accelerated rate. We would do well to capture and record the images from our own memories for future generations who may never see a pair of ice skates or feel a snowflake touch their cheeks.
*     *     *
As an Amazon affiliate Blue Hare makes a commission on purchases made through the qualifying links on this page. 
You may also like
Go to the Blue Hare homepage for more articles for fabulous women.