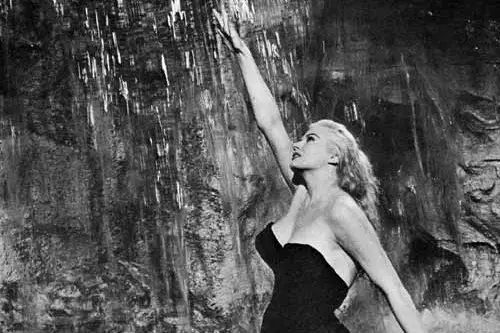 There are many lists of "summer movies" or "beach movies", but none of them included films we would like to see on a rainy summer afternoon or evening. We combed through those lists and our memories to come up with this list of throwbacks and more recent treasures. Some, like A Summer Place and La Dolce Vita, capture an era like a mosquito in amber. Others are timeless, like David Lean's Summertime and Fellini's Amarcord. And then there are movies that are just fun, because…summer.
Our collection is varied but all take place during the summer, with its long, languorous days and balmy nights. There are coming-of-age films and dealing with old age films, escapes to the country and flights of fancy. There are so many lovely films here you may be wishing for more rainy days.
You'll find them listed chronologically, beginning in the 1950s to mirror our boomer lives. Ratings are from IMDB. Some are "free" for streaming on Netflix and Amazon Prime Video, others can be rented or purchased. A few of the oldies are only available on disc. We provide a link to the films' Amazon pages, but JustWatch.com will show you all of the sites where you can rent or buy the film of your choice. Pop some corn and hit that remote to enjoy some virtual summer escapes.
 1955      Summertime  7.4/10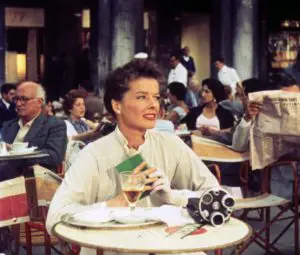 Katherine Hepburn stars as Jane Hudson who has just arrived in Venice, a secretary from Ohio who unexpectedly finds romance. Superb acting, poignant story, more than a travelogue—it is a lovely stroll through La Serenissima as well. Directed by David Lean. Oscar nominations for Best Actress and Best Director.  Rent or buy on Amazon Prime Video.
1955      To Catch a Thief  7.5/10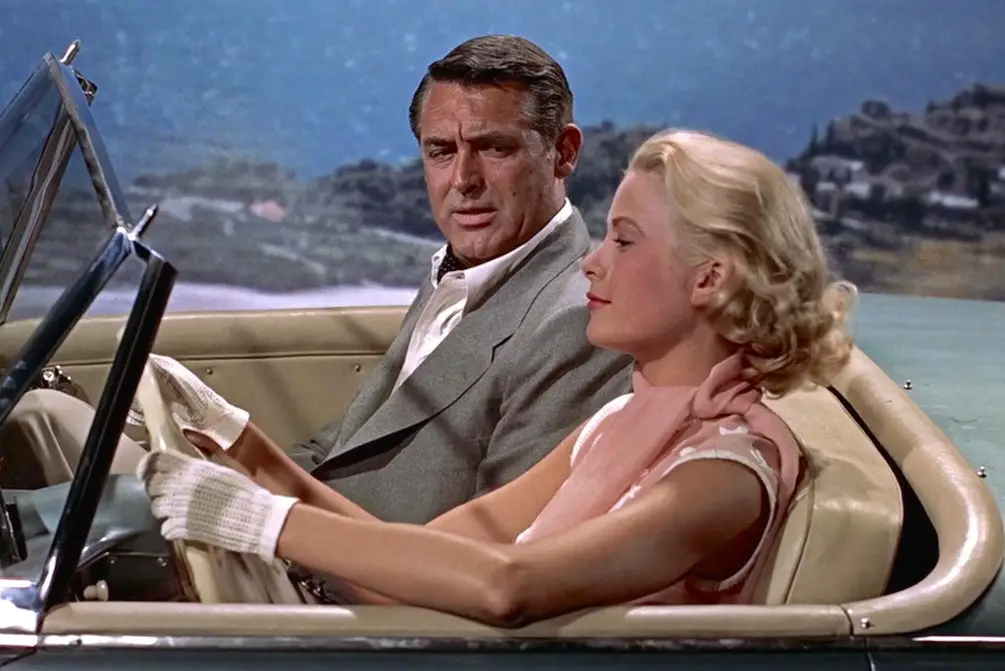 Cary Grant, former burglar, and Grace Kelly, spoiled young heiress, team up to catch a thief who has been stealing expensive jewels across the French Riviera. Switchback racing in a convertible, picnics overlooking the Mediterranean, a masquerade ball. Camera pan to fireworks is the not so subtle hint of the sparks flying between the two. A delightful confection. Oscar awarded for Best Cinematography.  Rent or buy on Amazon Prime Video.
1958      The Long Hot Summer  7.5/10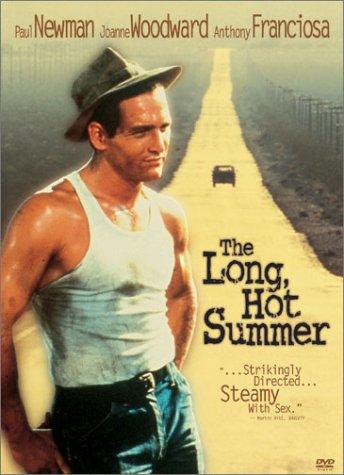 Paul Newman and Joanne Woodward sweat through the long, hot Mississippi summer in this film about a plantation owner's feckless family and the con man who enters their lives. Based on the book by William Faulkner.  Newman won the Cannes Palm d'Or for his role. Rent or buy on Amazon Prime Video.
1959      A Summer Place  7.0/10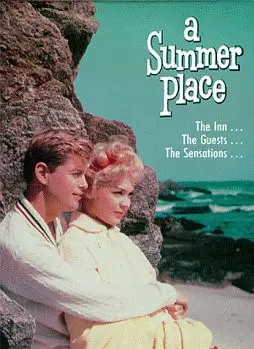 Older boomers will remember when Sandra Dee and Troy Donahue broke all the rules to the horror of parents everywhere. It may seem pretty tame 50 years later in our anything-goes era, but it was cutting edge Hollywood at the time, plastering the breakdown of 50's conformity and the youth rebellion of the 60's across the big screen. A soap at its finest. If you didn't sneak out of the house to see it then, now's your chance. Rent or buy on Amazon Prime Video.
1959      Gidget  6.7/10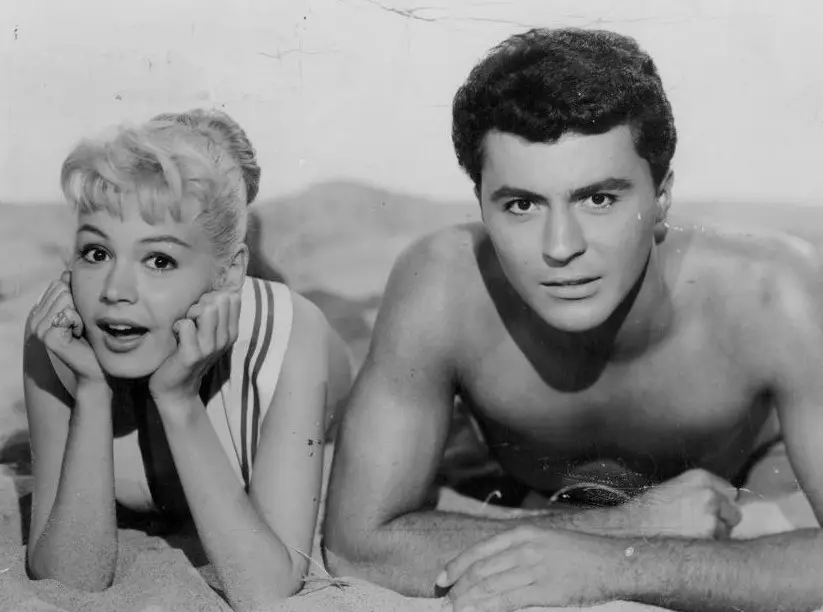 Sandra Dee again, this time with James Darren. Clean cut teen meets surfer dude. Girl learns to surf. Lots of surfing and high jinx. Pure froth and a great flashback. Rent or buy on Amazon Prime Video.
1960      La Dolce Vita  8.1/10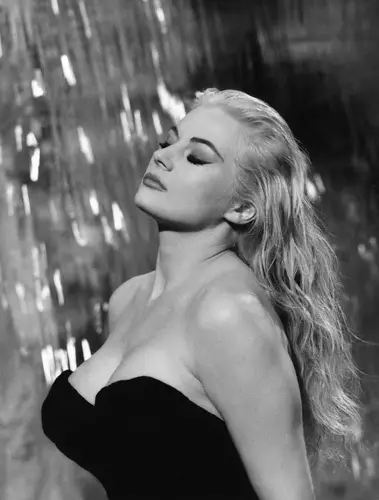 If for no other reason, watch this film to see the original gambol in the Trevi fountain, later copied in Under the Tuscan Sun. Italian drama directed and co-written by Federico Fellini. The film follows Marcello Rubini (Marcello Mastroianni), a journalist writing for gossip magazines on his journey through the "sweet life" of Rome in a fruitless search for love and happiness. La Dolce Vita won the Palme d'Or at the 1960 Cannes Film Festival and the Oscar for Best Costumes. Available on DVD, Blu-ray at Amazon.com.
1962      To Kill a Mockingbird  8.8/10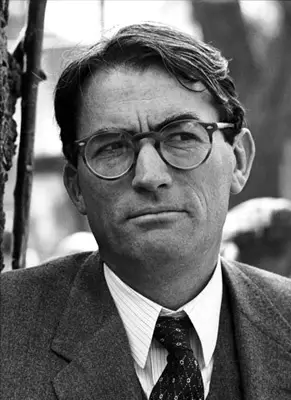 Just look at that face. Do we even need a plot summary? OK, Gregory Peck as Atticus Finch, a lawyer in the Depression-era South, defends a black man against an undeserved rape charge, and his children against prejudice. From the best-selling novel by Harper Lee. Many (good) lawyers (and life-long Peck fans) were born from watching this movie. Three Oscars and five more nominations. Rent or buy on Amazon Prime Video.
1965      Beach Blanket Bingo      5.6/10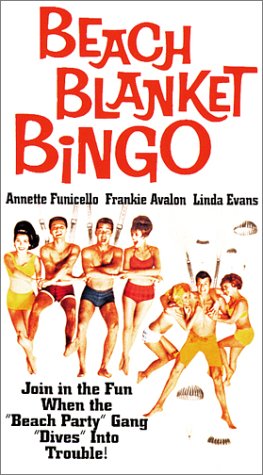 "The film opens at the beach (where else?), where Frankie (Frankie Avalon) and Dee Dee (Annette Funicello) are trying to find a particular radio station on their transistor radio. When they locate it, they sing the film's title song…" (from the IMDB plot synopsis). Hilarity ensues. The best of the Annette and Frankie beach movies. For those days when you are yearning for your misspent youth. Rent or buy on Amazon Prime Video.
1966      A Man and a Woman (English subtitles)   7.6/10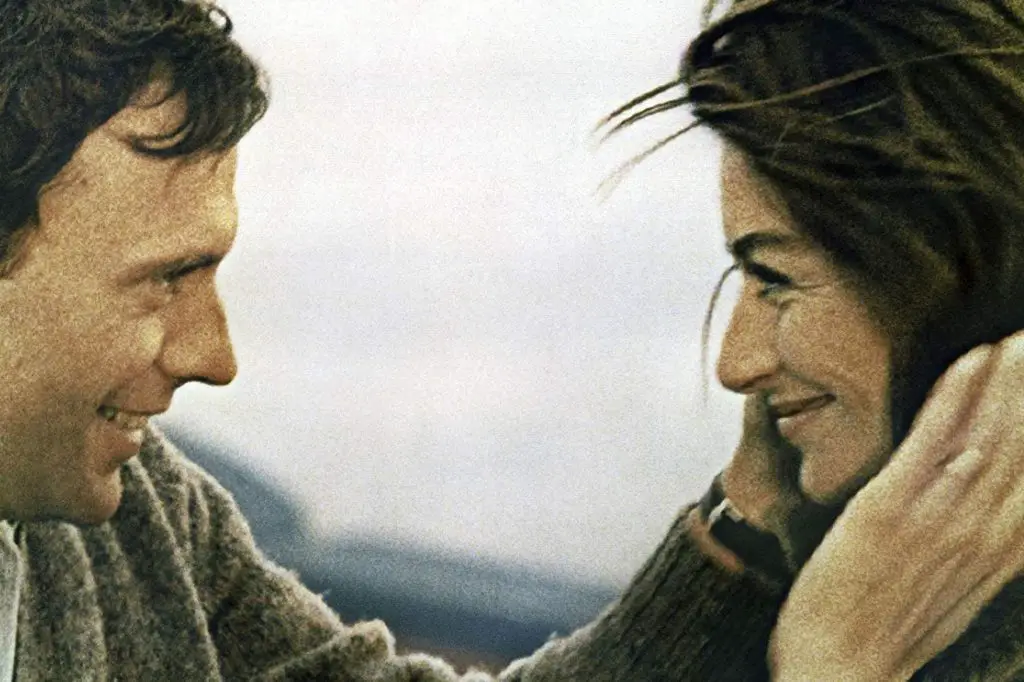 Travel virtually to Paris, Deauville, and Monte Carlo in this tender story of a widow and widower finding passionate love again. Starring Anouk Aimée and Jean-Louis Trintignant. Winner of the Golden Globe for Best Picture, Best Actress; Oscar for Best Foreign Film. Rent or buy on Amazon Prime Video.
1966      King of Hearts    7.5/10
Alan Bates is enchanting as a soldier sent into a small French town during WWI to investigate a report about a bomb the departing Germans have set to blow up a weapons cache. He arrives to find a very eccentric group of townspeople, inmates of the local insane asylum. The inmates are convinced that he is the "King of Hearts." He attempts to lead them out of town, but they are afraid to leave and frolic about the streets in gay costumes. Geneviève Bujold, as beautiful today as she was then, prances around in a yellow tutu. Rent or buy on Amazon Prime Video.
1967      The Graduate   8.0/10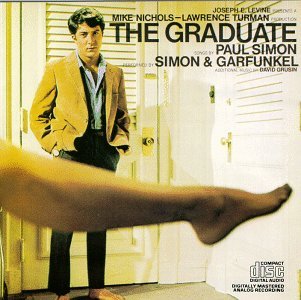 Benjamin Braddock (Dustin Hoffman) returns home from college confused about his future. Then the wife of his father's business partner, the sexy Mrs. Robinson (Anne Bancroft), seduces him, and the affair only deepens his confusion. That is, until he meets the girl of his dreams (Katharine Ross). But there's one problem: she's Mrs. Robinson's daughter. Nominated for seven Academy Awards and winner for Best Director (Mike Nichols). Score sung by Simon and Garfunkel. Rent or buy on Amazon Prime Video.
1971      Summer of '42   7.3/10
During his summer vacation on Nantucket Island in 1942, a youth eagerly awaiting his first sexual encounter finds himself developing an innocent love for a young woman awaiting news of her soldier husband's fate in WWII. Starring Jennifer O'Neal, Gary Grimes. Oscar nominated, winner best musical score. Rent or buy on Amazon Prime Video.
1973      Amarcord (English subtitles)    7.9/10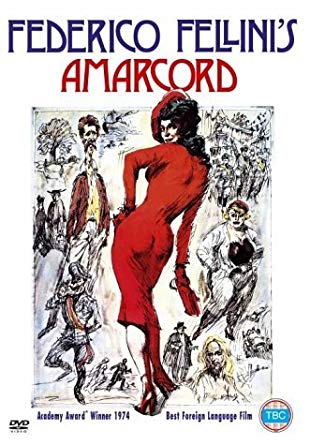 This carnivalesque portrait of provincial Italy during the fascist period, the most personal film from Federico Fellini, satirizes the director's youth and turns daily life into a circus of social rituals, adolescent desires, male fantasies, and political subterfuge, all set to Nina Rota's classic, nostalgia-tinged score. English subtitles. Oscar for Best Foreign Language Film. Rent or buy on Amazon Prime Video.
1973      American Graffiti   7.5/10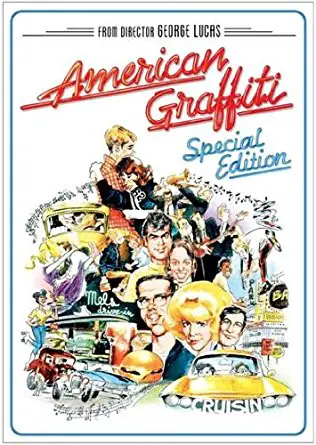 American Graffiti is a classic coming-of-age story set against the 1960s backdrop of hot rods, drive-ins and rock n' roll. Starring Ron Howard, Richard Dreyfuss, Harrison Ford, Cindy Williams, Mackenzie Phillips and Suzanne Somers in their breakout roles, this nostalgic look back follows a group of teenagers as they cruise the streets on their last summer night before college. Nominated for five Academy Awards, including Best Picture and Best Director, American Graffiti features the howling sounds of Wolfman Jack and an unforgettable soundtrack with songs by Buddy Holly, Chuck Berry, The Beach Boys and Bill Haley & His Comets. From director George Lucas (Star Wars) and producer Francis Ford Coppola (The Godfather). Rent or buy on Amazon Prime Video.
1973      The Sting   8.3/10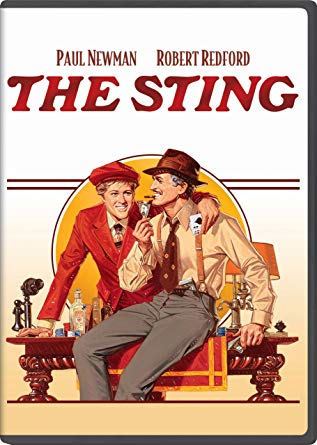 The early 70s were fractious years in America, so when this jewel showed up at theaters the country breathed a grateful sigh. The Sting stars Paul Newman and Robert Redford as two con men in 1930s Chicago. After a friend is killed by the mob, they try to get even by attempting to pull off the ultimate 'sting.' No one is to be trusted as the twists unfold, leading up to one of the greatest double-crosses in movie history. The con is on. Winner of seven Academy Awards, including Best Picture. Scott Joplin's ragtime music sets the scene. Buy or rent on Amazon Prime Video.
1975      Jaws   8.0/10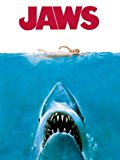 Just when you thought it was safe to go back in the water. An early gem from Steven Spielberg. A local sheriff, a marine biologist and an old seafarer team up to hunt down a great white shark wreaking havoc in a beach resort. It never loses its edge. Best tagline:  See what you missed the first time…after you closed your eyes. Winner of three Oscars and 11 others. Rent or buy on Amazon Prime Video.
1977      Close Encounters of the Third Kind   7.7/10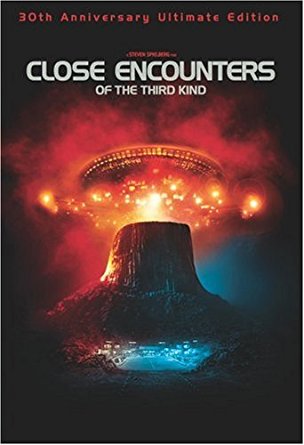 We are not alone… Universally considered the best film ever made about alien visitation to Earth, Steven Spielberg's Close Encounters of the Third Kind was nominated for eight Academy Awards, winning for Best Cinematography. An ordinary family man, after an encounter with a bright light, has strange visions and five musical notes keep running through his mind.  He—and several others—is intensely drawn to an isolated area in the desert and a meeting with new friends. Richard Dreyfuss, François Truffaut, Teri Garr.  Rent or buy on Amazon Prime Video.
1977      Saturday Night Fever   6.8/10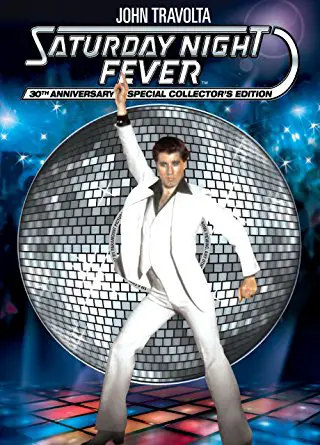 Brooklyn, before it was cool. John Travolta performs as Tony Manero, a Brooklyn paint store clerk by day and undisputed king of the dance floor by night. A powerful and provocative urban tragedy that carries as much significance today as it did in 1977. And, oh, that dancing. Rent or buy on Amazon Prime Video.
1981      Body Heat   7.4/10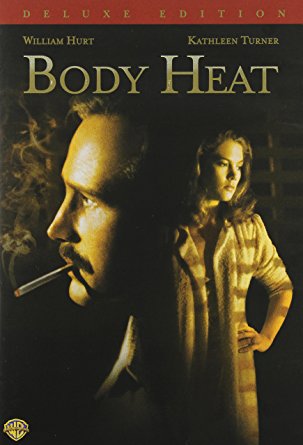 William Hurt and Kathleen Turner light the screen on fire in Lawrence Kasdan's Body Heat, a sexy, haunting tale of desire and skullduggery that echoes 1940s film noirs but is charged with an energy and passion that could only flare in the '80s. Aided by a sultry John Barry score, Kasdan's assured directorial debut foreshadowed the emotional textures he would bring to later films The Big Chill, The Accidental Tourist and Grand Canyon. Sit back and bask in this contemporary classic's wicked warmth. Rent or buy on Amazon Prime Video.
1981      Chariots of Fire   7.2/10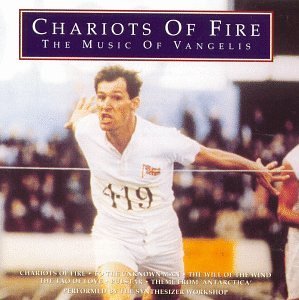 Based on the true story of two British athletes competing in the 1924 Summer Olympics in Paris. Englishman Harold Abrahams (Ben Cross), who is Jewish, overcomes antisemitism and class prejudice to compete against the "Flying Scotsman", Eric Liddell (Ian Charleson), in the 100-meter race as both are selected to represent Great Britain in the 1924 Summer Olympics in Paris, France. Winner of four Oscars, including Best Picture and Best Original Score. Rent or buy on Amazon Prime Video.
1981      On Golden Pond   7.7/10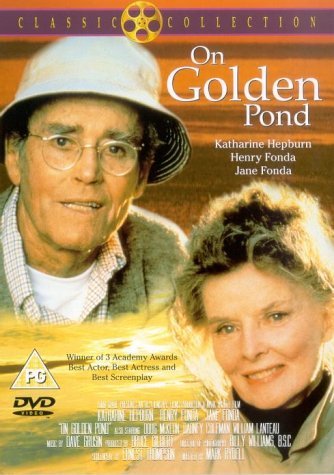 The loons are back again on Golden Pond and so are Norman Thayer, a retired professor, and Ethel who have had a summer cottage there since early in their marriage. Henry Fonda, Katherine Hepburn, Jane Fonda. Winner Best Actor, Best Actress Oscars. Rent or buy on Amazon Prime Video.
1983      Local Hero   7.5/10
An eccentric Houston billionaire sends an earnest young American to a remote Scottish village to secure the property rights for a North Sea oil refinery they want to build. The locals are keen to get their hands on the 'Silver Dollar' and can't believe their luck. But the visitors are entranced by the Northern Lights and a surreal girl with webbed feet.  Peter Riegert and Burt Lancaster star in Bill Forsyth's small treasure of a film. whimsical comedy of an oil company's attempted buyout of a Scottish seaport. Beautiful starry nights.  Rent or buy on Amazon Prime Video.
1983      National Lampoon's Vacation   7.4/10
For a generation, summer vacation meant packing the station wagon full to the gills and hitting the road to explore a corner of America. Chevy Chase mans the wheel in this movie and convinces his all-American family that the way to really enjoy their holiday is to hit the road west for Wally World. Rent or buy on Amazon Prime Video.
1983      Pauline at the Beach   7.5/10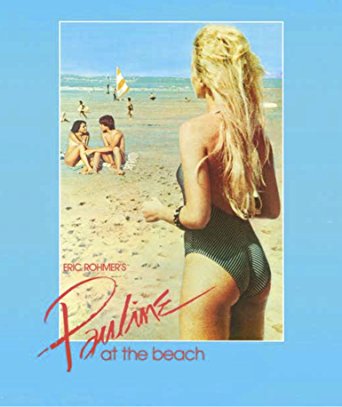 The summer is dying as Marion and her young cousin Pauline arrive at a Normandy coastal resort for a short vacation. Marion is about to divorce her husband, meets an old love and a new obsession at the beach, Pauline meets a beach bum, frolic ensues. New Wave veteran Éric Rohmer's comedy of love adds the sensuality of beach bodies and the lure of a long vacation to decorate this coming-of-age exploration. "Pauline at the Beach is delightful…a film of summer sunlight, bare skin and escalating amorous misunderstandings." (Newsweek). Rent or buy on Amazon Prime Video.
1984      The Natural   7.5/10
There are few things that call to mind summer like baseball does. Robert Redford stars in this magical fable of an unknown middle-aged batter named Roy Hobbs who appears out of nowhere to take a losing 1930s baseball team to the top of the league with the aid of a bat cut from a tree struck by lightning. Randy Newman composed the score. Winner of four Oscars including Glenn Close for Best Actress. Robert Redford, Robert Duvall, Glenn Close, Kim Basinger and an all-star cast.  Rent or buy on Amazon Prime Video.
1985      A Room with a View   7.4/10
Director James Ivory adapts E.M. Forster's novel set in the Edwardian era. Helena Bonham Carter plays a young, independent-minded, upper-class British woman who is torn between feelings, divided between a free spirit she meets on vacation and the bookworm she becomes engaged to back home. This art-house film features a sublime supporting cast and remains a touchstone of intelligent romantic cinema. Maggie Smith, Judi Dench, Helena Bonham Carter, Denholm Elliot, Julian Sands. Ismail Merchant, producer, Ruth Prawer Jhabvala, screenwriter. Oscar nominee and multiple winner in technical categories. Rent or buy on Amazon Prime Video.
1987      Dirty Dancing   6.9/10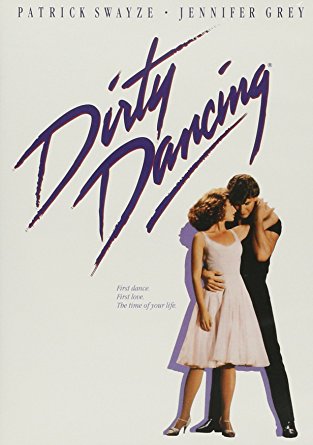 A Catskills resort in the summer of 1963, during the comfortable, optimistic days before the Vietnam War divided the country. Teenager Frances Houseman ('Baby'), who is on holiday with her family, falls in love with Johnny, the camp's dance instructor, who is from the wrong side of the tracks. "Steamy body contact and pelvic thrusts" (The New York Times) with Patrick Swayze leading Jennifer Grey through some scandalous moves. Law & Order fans will enjoy seeing Jerry Orbach as Baby's dad. "(I've Had) The Time of My Life" won the Oscar for Best Original Song. Rent or buy on Amazon Prime Video.
1989      Do the Right Thing   7.9/10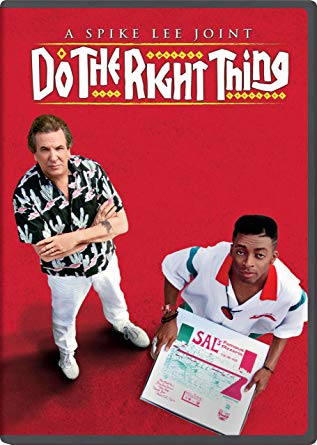 Lest we forget, the sultry summer also hovers over the city, which is filled with people who can't escape to the coast or the country. In this film, on the hottest day of the year in the Bedford-Stuyvesant section of Brooklyn, everyone's hate and bigotry smolders and builds until it explodes into violence. Do the Right Thing, directed by visionary filmmaker Spike Lee, may reflect the current state of race relations in America some 30 years later. Combining humor and drama with memorable characters, Do the Right Thing captures an unforgettable piece of American history. Oscar and Golden Globe nominated. Starring Ossie Davis, Danny Aiello, Giancarlo Esposito. Rent or buy on Amazon Prime Video.
 1995      French Kiss   6.6/10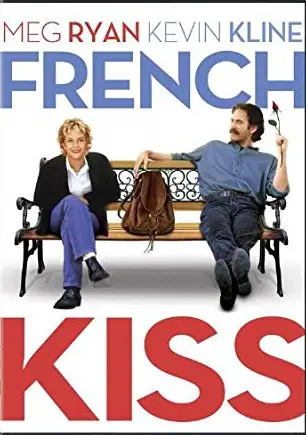 En route to Paris to win back her ex-fiancé, a neurotic woman becomes involved with a French thief. Not the deepest plot, but you want to watch this film to spend 90 minutes traversing the Provencal vineyards and lavender fields with Meg Ryan and Kevin Kline. Timothy Hutton.  Buy on Amazon.com.
1995      The Bridges of Madison County   7.6/10
Break out your handkerchiefs. World-traveling National Geographic photographer Robert Kincaid wanders into the life of Iowa housewife Francesca Johnson in the 1960s. The film adaptation of the book of the same name, directed by Clint Eastwood. Meryl Streep owns the film, "a hymn to middle-aged love. Middle-aged — and beyond," as SFGate puts it. Meryl Streep was nominated for an Oscar for her role. Rent or buy on Amazon Prime Video.
1996      Stealing Beauty   6.6/10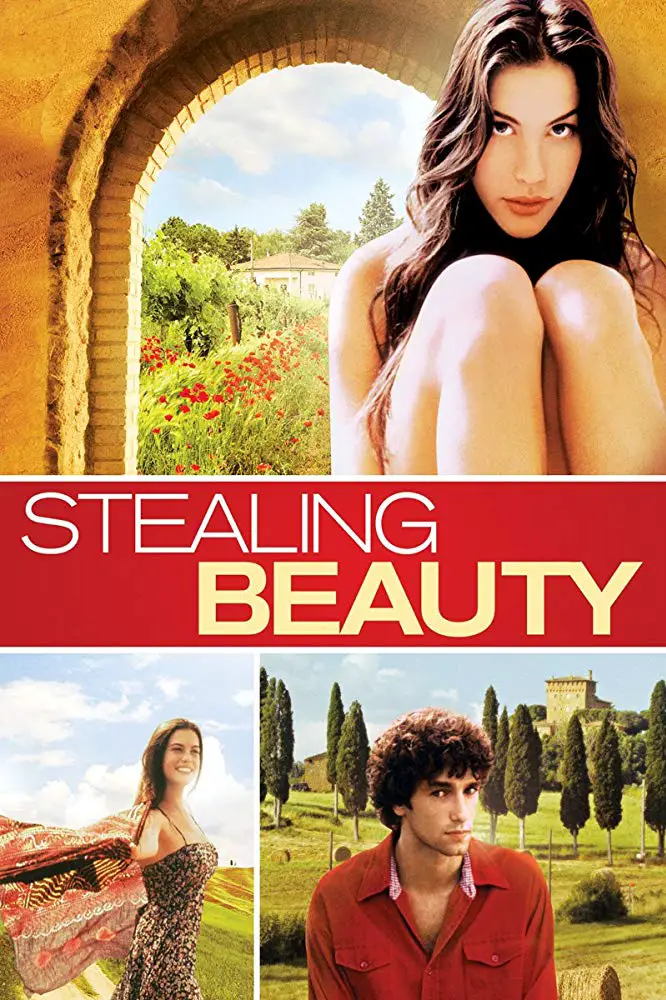 Nineteen-year-old Lucy Harmon travels to the rolling hills of Tuscany to have her picture painted, and to renew her acquaintance with Nicolo Donati, a young boy with whom she fell in love on her last visit four years ago. Director Bernardo Bertolucci explores one girl's personal journey into womanhood in this romantic adventure starring Liv Tyler and Jeremy Irons.  Rent or buy on Amazon Prime Video.
1998      Waking Ned Devine   7.3/10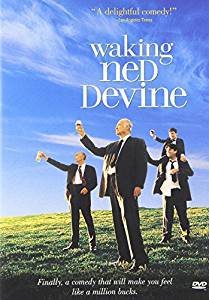 When local wag Jackie O'Shea discovers that one of his neighbors in the village of Tulaigh Mohr is a lottery winner he sees a chance to share in the wealth. Things get complicated when Jackie and his pal Michael O'Sullivan discover that the winner, Ned Devine, died of shock at the very moment he learned of becoming a millionaire. Undaunted, Jackie and Michael dispose of the lucky stiff and hatch a plot to impersonate him and claim the prize. Soon the whole village is involved and the plot rapidly thickens.  Ian Bannen, David Kelly, Fionnula Flanagan. Awards from numerous regional film festivals. Rent or buy on Amazon Prime Video.
1999      The Talented Mr. Ripley   7.4/10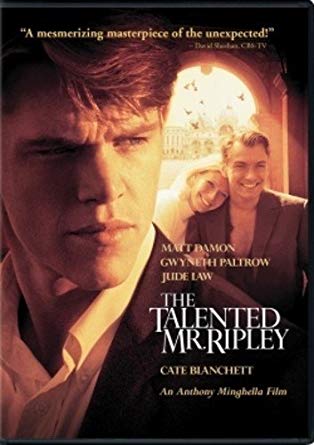 A creepy, intelligent thriller. In late 1950's New York, Tom Ripley, a young underachiever, is sent to Italy to retrieve a rich and spoiled millionaire playboy, named Dickie Greenleaf. But when the errand fails, Ripley kills the playboy and begins to assume his life. Directed by Anthony Minghella. Starring Matt Damon, Gwyneth Paltrow, Jude Law and Cate Blanchett. Rent or buy on Amazon Prime Video.
2001      Amelie (English subtitled)   8.3/10
A movie with heart and a hypnotic sense of romance. Amélie is a painfully shy waitress working at a tiny café in Paris. She goes out of her way to make life better for those around her, delights in tricking "the baddies", and when she falls in love, turns the courtship into an elaborate treasure hunt. Director Jean-Pierre Jeunet combines unfettered camera work and state of the art film technology to create a dazzling pop-abstract achievement.  Amélie won numerous industry awards and was nominated for five Oscars and the Golden Globes. Audrey Tautou and Mathieu Kassovitz lead a large cast of characters.  (French dialogue with English subtitles.) Rent or buy on Amazon Prime Video.
2002      Insomnia   7.2/10
Sometimes the summer sun takes on the role of enemy. Sleepless in a land where the sun never sets, a veteran LAPD homicide detective enters a symbiotic relationship with the killer he's stalking in this thriller set in summertime Alaska. With Al Pacino, Robin Williams, Hilary Swank. Rent or buy on Amazon Prime Video.
2003      Under the Tuscan Sun   6.8/10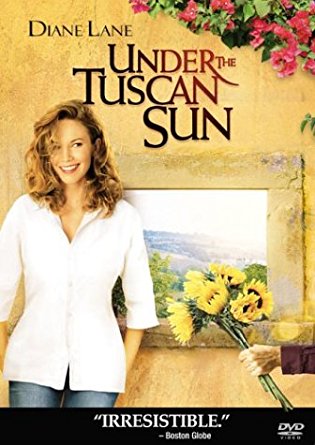 Based on the New York Times best-selling book, Under the Tuscan Sun follows San Francisco writer Frances Mayes to Italy where she is captivated by its beauty and warmth, and impulsively buys an aging, but very charming, villa. Fully embracing new friends and local color, she finds herself immersed in a life-changing adventure filled with enough unexpected surprises, laughter, friendship, and romance to restore her new home. Although life gets in the way of love, Frances's wishes come true in unexpected ways, and there's always the Tuscan sun. Diane Lane won several awards for her role as Frances. Also starring Raoul Bova, Sandra Oh, and Lindsay Duncan. Rent or buy on Amazon Prime Video.
2003      Something's Gotta Give   6.7/10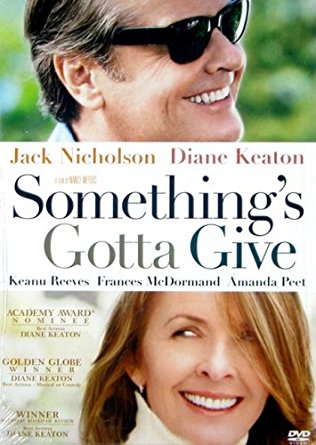 No summer movie list would be complete without a film co-starring a Hamptons beach house. Nancy Meyers directs Diane Keaton and Jack Nicholson in this amusing romantic farce. A perennial playboy who has never dated a woman over thirty finds that love is as serious as a heart attack when he falls for his girlfriend's mother—who is now dating his young doctor. Keaton's expression when she realizes both men are attracted to her is a thing of beauty (Rolling Stone). Keaton and Nicholson won Golden Globes for their performances. Also featuring Frances McDormand, Amanda Peet, and Keanu Reeves. Rent or buy on Amazon Prime Video.
2005      The Sisterhood of the Traveling Pants   6.5/10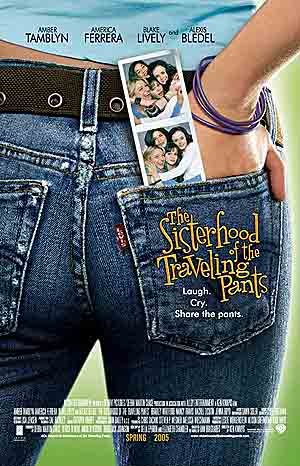 A coming of age film that also suits women who look back on those years fondly, or not. As the summer before their 16th birthdays approaches, four best friends with diverse family backgrounds and personalities hatch a plan to stay connected despite being separated for the entire season. The girls pass around a magical pair of jeans that look wonderful on all of them despite their different sizes. [This would seem like a ridiculous premise, but we have two friends with completely different bodies who look terrific in the same pair of jeans.] Over the summer, the pants come to represent the girls' mutual support of one another. But the jeans also lead each teenager into bruising yet ultimately healing confrontations with love and courage, death and forgiveness. A movie that will bring light to your heart. Starring ingenues Amber Tamblyn (Joan of Arcadia, House), Alexis Bledel (Gilmore Girls), America Ferrera (Ugly Betty), and Blake Lively (Gossip Girl). Rent or buy on Amazon Prime Video.
 2006      A Good Year   7.0/10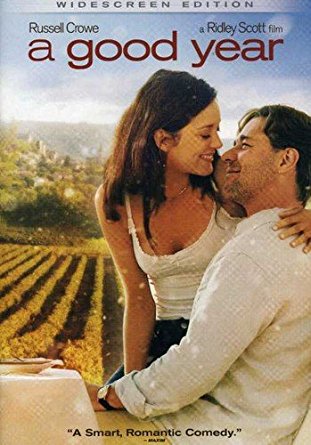 You won't see the twist coming at the end. A feel-good movie that highlights the beauty of France as much as it does its stars, A Good Year provides a languid, gorgeous viewing experience. Director Ridley Scott and Russell Crowe–who first worked together on the Academy Award-winning Gladiator–are reunited in this romantic film based on the novel by Peter Mayle. Crowe plays a workaholic London bonds trader who inherits a Provence vineyard when his uncle dies. Never mind the acting. The scenery is glorious; you can almost feel the sunshine and smell the wine (Rolling Stone). Russell Crowe, Abbie Cornish, Albert Finney, Marion Cotillard. Watch on Amazon Prime Video.
2007      Atonement   7.8/10
Director Joe Wright, the award-winning director of Pride and Prejudice, translated Ian McEwan's best-selling novel into a stunning, critically acclaimed epic story of love. When a young girl catches her sister in a passionate embrace with a childhood friend, her jealousy drives her to tell a lie that will irrevocably change the course of all their lives forever. Keira Knightley and James McAvoy lead an all-star cast. Atonement is an excellent example of what can happen when a great book meets great filmmaking.  Keira Knightley, James McAvoy, Brenda Blethyn, with Saoirse Ronan as the little sister. One Oscar win and scores of nominations. Rent or buy on Amazon Prime Video.
2008      The Secret Life of Bees   7.3/10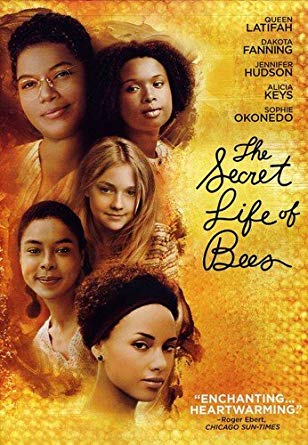 Where were you when the Civil Rights Act was passed? Headed by an all-star cast of women, The Secret Life of Bees is the heartwarming story of a young girl who finds love and acceptance from a trio of independent sisters. Based on the bestselling book of the same name by Sue Monk Kidd, it centers around the plight of 14-year-old Lily, who flees to a small South Carolina town with housekeeper Rosaleen. Taking place in July 1964, during the civil rights movement, Rosaleen's life is threatened by racists who beat her rather than let her exercise her right to vote. The two find shelter with the intelligent and independent Boatwright sisters, and solace in their mesmerizing world of beekeeping. Dakota Fanning, Jennifer Hudson, Queen Latifah, Alicia Keyes, Sophie Okonedo lead the cast. Hollywood Film Award for Best Ensemble Acting. Rent or buy on Amazon Prime Video.
2011      The Help   8.1/10
Set in Mississippi during the 1960s civil rights era. an aspiring author decides to write a book detailing the African American maid's view on the prominent southern families they spent their lives caring for. She begins with her best friend's housekeeper, then more women come forward—and they have a lot to say.  A portrait of the Deep South during a time of disruption and change. Emma Stone, Viola Davis, Octavia Spencer, Jessica Chastain. Octavia Spencer took the Oscar for Best Performance by an Actress in a Supporting Role. Rent or buy on Amazon Prime Video.
 2012      Moonrise Kingdom   7.8/10
Moonrise Kingdom is set on an island off the coast of New England in the summer of 1965. Directed by Academy Award-nominated filmmaker Wes Anderson, it tells the story of two 12-year-olds who fall in love, make a secret pact, and run away together into the wilderness. As various authorities try to hunt them down, a violent storm is brewing off-shore – and the peaceful island community is turned upside down. Bruce Willis plays the local sheriff. Edward Norton is a Khaki Scout troop leader.  Bill Murray and Frances McDormand portray the young girl's parents. The cast also includes Tilda Swinton, Jason Schwartzman, and Bob Balaban; and introduces Jared Gilman and Kara Hayward as Sam and Suzy, the boy and girl. Academy Award for Best Writing and Original Screenplay. Make some S'mores and Rent or buy on Amazon Prime Video.
 *     *     *
Read more on Blue Hare
Summertime, and the reading is easy: 7 books for lazy days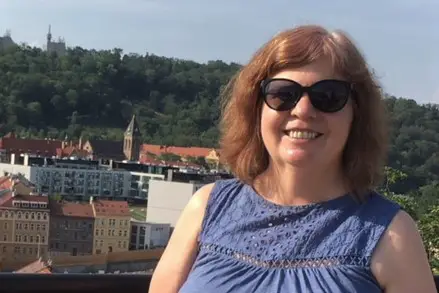 My Prague spring: Teaching English here showed me I'm not ready to retire