Our book for January is a cookbook. But it's more than a cookbook—it's a virtual passport to a corner table by the fire in the Alps. There's not much text in Latitude 36.50. What text is there transports you to a cozy Alpine chalet in winter and steaming dishes that satisfy cravings for comfort in food form.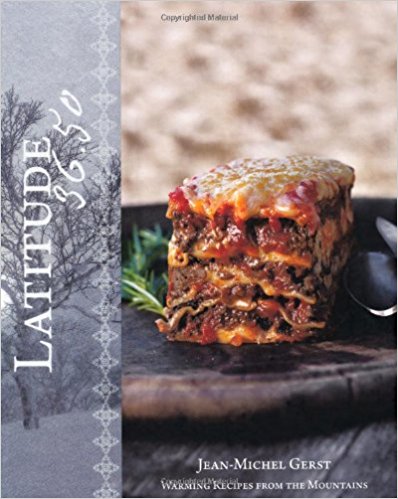 Chef and author Jean-Michel Gerst is a cold-climate man. He spent his childhood in Alsace, in the eastern region of France, with winters skiing in the nearby Vosges mountains and the Swiss and French Alps.  Cooking is in his blood—both his grandfather and mother were chefs. He remembers the smells, the warmth of the kitchen, the happiness, the stories. These memories inspired him to become a chef.
He began working in local restaurants when he was 12. He later apprenticed in France, worked in Switzerland, then Asia, before moving to Brisbane, Australia. To escape the heat of Brisbane he moved to the Australian Alps (yes, you read that correctly—Australian Alps), which remind him of home, in 2000.
Inspired by the traditions and recipes of his family, Gerst shares recipes to warm your belly and stir your memories. Featuring beautiful landscape photography of Thredbo, in the Snowy Mountains, Jean-Michel showcases classic recipes from France and Germany, with his own modern twist and easy enough for everyone to create at home.
Snow food is comfort food for the body and soul. Gerst has captured that feeling with easy recipes for entertaining or family meals that everyone can make at home.
The croque-monsieur, a fancy cheese on toast, was made by his mother for him when he came back from skiing in his childhood. The cheese fondue reminds him of his time as a young chef in Switzerland, skiing under the stars after midnight. A braised pork cheek shepherd's pie is the same as the one he made using wild boar back in his apprenticeship days in France.
The chicken in Riesling sauce was his grandmother's recipe. She made it with homemade noodles or spätzle, an Alsatian pasta made of flour, salt, eggs and milk then cut into slivers, dropped into boiling water, and buttered. And of course, there is Alsatian choucroute.
There are recipes that echo a wildness found only in the mountains: a venison goulash, rabbit and porcini stew, roast pheasant, and duck braised in pinot noir. Gerst also satisfies our sweet tooth, with a gratin of pear with Poire Williams sabayon, his aunt's kougelhopf, apple beignets, apple snowball (baked apples covered with Italian meringue, and a walnut cake.
This singular book brings recipes and memories from a cross-section of European mountain cuisines rarely found elsewhere. Whether you're just in from some vigorous winter sports or having a few friends over during these cold wintry months, comfort food will most definitely be on the agenda. This is the book for you.