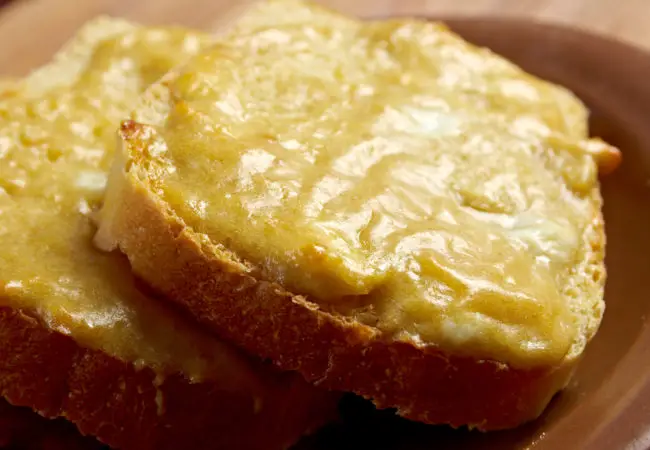 Melting cheese on bread is a delight many cultures share. There is the wonderful cheese fondue and raclette from Switzerland and France, mozzarella on pizza, cheese quesadilla from Mexico, and that great American creation, the grilled cheese sandwich. Less known is the Welsh rarebit (a singularly unappetizing name for sure), which may be the best of the bunch. A blend of cheddar and beer, it is a simple dish, from kitchen to table in 15 minutes, a quick and easy lunch or dinner.
Rarebit or rabbit?
Frequently called rarebit today, it was originally called Welsh rabbit (but so far as we know, no rabbits have ever been harmed to produce this tasty dish). Welsh rarebit is cheese, typically cheddar cheese. It may be combined with butter, cream, mustard, beer, (depending upon the recipe) melted with some seasonings, then poured over toast, the whole thing then toasted again.
At the risk of sounding too American-centric, it is essentially a rejiggered grilled cheese sandwich but the cheese is the consistency of sauce. It is comfortable on any table, from the humble laborer's to the tony St. James restaurant 45 Jermyn Street and The Wolseley on Piccadilly. In England, it is often served for lunch or high tea, but rarely for afternoon tea.
The origin of Welsh rarebit is explored in an excerpt from the book The Diner's Dictionary by John Ayto published on the Oxford Dictionaries website.
There is no evidence that the Welsh actually originated Welsh rabbit, although they have always had a reputation for being passionately fond of it (a fourteenth-century text tells the tale that the Welsh people in heaven were being troublesome, and in order to get rid of them St Peter went outside the Pearly Gates and shouted 'Caws pobi' (Welsh for 'toasted cheese')—whereupon all the Welsh rushed out and the gates were shut on them).
A more likely derivation of the name is that Welsh in the seventeenth and eighteenth centuries was used as a patronizingly humorous epithet for any inferior grade or variety of article, or for a substitute for the real thing. … Welsh rabbit may therefore have started life as a dish resorted to when meat was not available. The first record of the word comes in John Byron's Literary Remains (1725): 'I did not eat of cold beef, but of Welsh rabbit and stewed cheese.'…
How to cook perfect Welsh rarebit
A few years ago, Felicity Cloake wrote about her week-long investigation in The Guardian, "How to cook perfect welsh rarebit," beginning with the cheese and continuing through the toast, liquid, "rich bit,' and seasonings to come up with what she believes is the recipe for perfect Welsh rabbit. We give you a Cliff's Notes version of her study here, in her voice, but the full article is well worth reading.
The cheese
Almost all recipes call for cheddar, but I suspect that's simply because it's what most of us keep in the house – and rarebit is a very Sunday-evening, empty fridge type of dish.
The toast
I respect your right to use any sort of bread you like (although no one will persuade me of the merits of the Welsh rarebit foccacia, seen on the menu at a pub I recently didn't eat at). That said, it must be robust enough to take the weight of the cheese; anything too pappy will just become soggy. You can help it along by toasting both sides of the bread before adding the topping. … the outer edges might char slightly on their second grilling, but, as they'll be covered in cheese, you're unlikely to regret this.
The liquid
Most rarebit recipes … loosen the cheese with a liquid: milk or ale…  but once I try a rarebit made with stout, I'm sold. It gives the dish a rich malty savouriness which works brilliantly with the salty tang of the cheese. There are a number of great Welsh stouts available too, just to soften the blow of that English cheese.
The rich bit
Egg yolks … work brilliantly to soften the cheese to a spreadable consistency, although I wouldn't wait until it's completely cool to stir them in,,, because by this point it has solidified to such an extent that it's difficult to beat back into smooth submission.
Seasonings
I like English mustard in my rarebits, just to add a bit of a kick – wholegrain and Dijon are both too sharp here for my taste. Worcestershire sauce is a must.
Serves 2
1 t. English mustard powder, like Coleman's
3 T. stout, like Guinness
2 T. butter
Dash of Worcestershire sauce
½ pound Cheddar cheese, grated
2 egg yolks
2 slices bread
Mix the mustard powder with a little stout in the bottom of a small pan to make a paste, then stir in the rest of the stout and add the butter and about 1 tsp Worcestershire sauce – you can always add more later if you like. Heat gently until the butter has melted.
Tip in the cheese and stir to melt, but do not let the mixture boil. Once smooth, taste for seasoning, then take off the heat and allow to cool until just slightly warm, being careful it doesn't solidify.
Pre-heat the grill to medium-high, and toast the bread on both sides. Beat the yolks into the warm cheese until smooth, and then spoon on to the toast and cook until bubbling and golden. Serve immediately.
Nigel Slater, English food writer, journalist and broadcaster, offers this recipe for a simple Welsh Rabbit (scrolll down the page).
For 2 as a snack
8 oz. very sharp cheese, like aged Cheddar
2 T. butter
1 T. Worcestershire sauce
1 T. English mustard, like Coleman's
2 T. stout, like Guinness
4 slices of bread, white or whole grain
Grate or crumble the cheese and mix to a rough paste with the butter, Worcestershire sauce, mustard and beer.
Spread over the toast and grill for a minute or so, till it singes in patches. If the toast is slightly charred at the edges then even better.
Editors' Confession Rabbit
We had every good intention of making the authentic Perfect Welsh Rarebit. But one thing led to another and we never got around to getting the ingredients together. So we cheated and bought a can of Campbell's Cheddar Cheese soup, so coud skip the butter and egg yolk steps in the original. We used the other ingredients, truncated the prep, and it was a perfect quick lunch. Good enough to serve to guests without batting an eye.
Should serve 2 but is perfect for one hungry person (like the editor when this article was  finished).
1 t. English mustard powder
3 T. stout
1. T. Worcestershire sauce
1 can Campbell's Cheddar Cheese soup
1/2 C. cheddar cheese, grated (don't be afraid to buy the shredded package from the supermarket)
2 slices bread
Mix the mustard powder with a little stout in the bottom of a small pan to make a paste, then stir in the rest of the stout and the Worcestershire sauce. Combine over low heat.
Add the cheese soup and the shredded cheddar and stir to melt, but do not let the mixture boil. Once smooth, taste for seasoning, then take off the heat and allow to cool slightly, being careful it doesn't solidify.
Pre-heat the grill or broiler to medium-high. Place bread slices on a small over-safe plate, then toast the bread on both sides. Spoon the cheese mixture onto the toast, then return to the broiler and cook until the cheese is bubbling and golden. Transfer to individual plates and serve.
Welsh rarebit is one of those dishes steeped in history and folklore. It even holds a special position in Wales due to its status as a traditional dish and has its own holiday–September 3rd is Welsh Rarebit Day.
*   *   *
This article was originally published in March, 2017
You may also like
Find more articles for fabulous women like you on the Blue Hare home page.