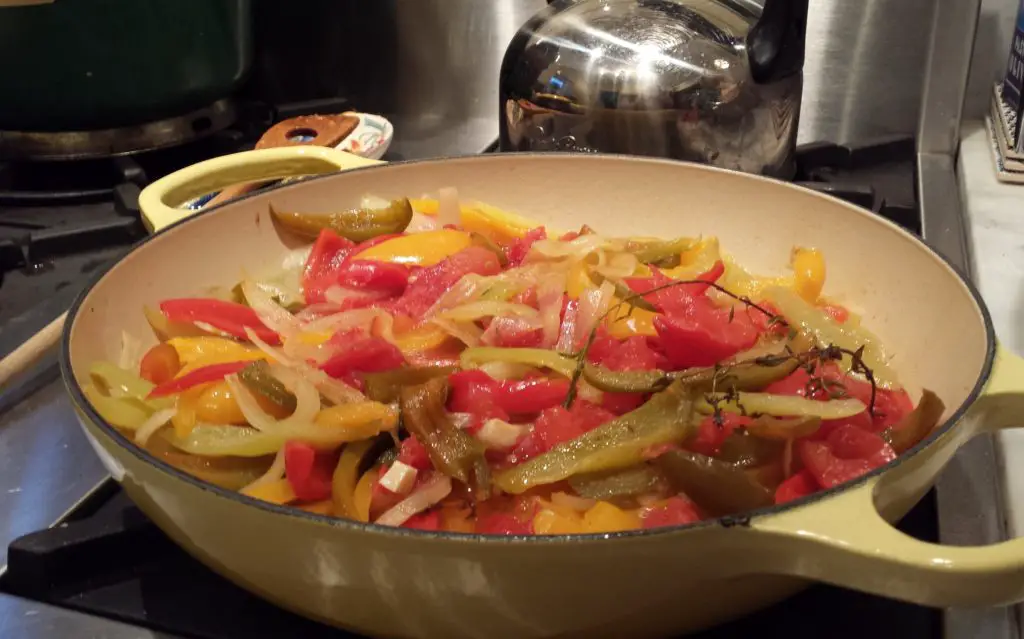 Is your garden bursting with tomatoes and peppers? Or do the mounds of colorful veggies at the farmers market make you go weak in the knees, crying out for creativity in the kitchen? The Pyrenees hear you and are answering your call.
Piperade: a Basque specialty
Piperade is a mixture of onions, peppers, tomatoes, and a chili called Piment d'Espelette, the secret ingredient that separates piperade from the sausage with peppers and onions on your Italian takeout menu. It is excellent topped with paoched eggs, or as a topping for scrambled eggs. Piperade also serves as a tasty garnish for grilled chicken or fish.
There are dozens of recipes for piperade on the internet. Julia Child has one, too, but it is not truly Basquaise (shocking!). The one we use, which is both authentic and simple to prepare, is from the French cooking magazine Cuisine Actuelle. (Don't worry; we translated it for you.)
Travelogue:  A word about Espelette and its pepper, the raison d'etre for making piperade.
Espelette is a village at the foot of the Pyrenees, 20 minutes from the Basque coast, in the Pyrénées-Atlantiques department in south-western France.  Its historic streets are lined with houses adorned with red and green shutters in the style of the Pays Basque.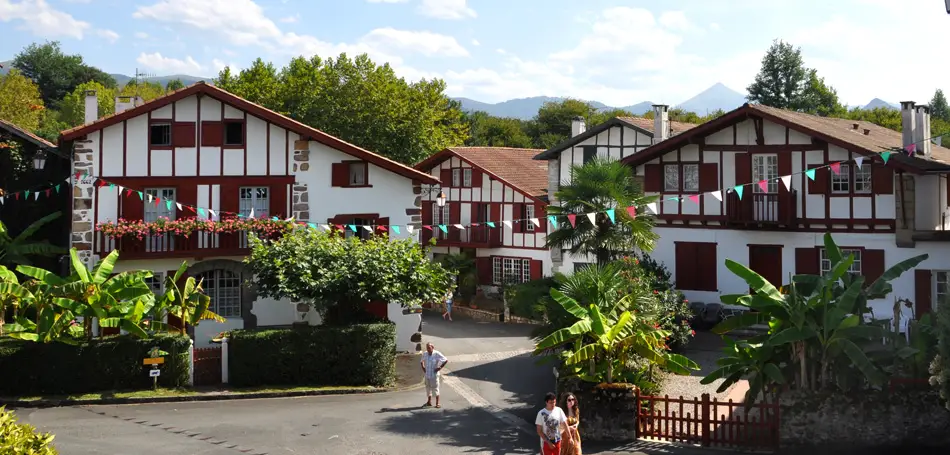 In the 11th century, the lords of Ezpeleta were among the most powerful barons of Navarre. The Basques were seasoned sailors; in 1650 a Basque navigator, returning to Europe from the Americas with Christopher Columbus, brought chili peppers to the Basque Country. It has been part of Basquaise life ever since.
The Espelette pepper is a variety of species C. annuum that is cultivated in the French commune of Espelette in the department of Pyrénées-Atlantiques.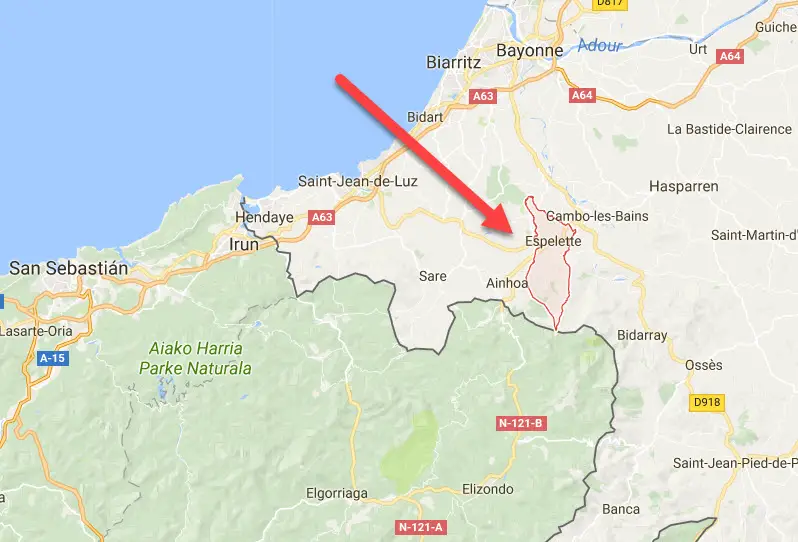 In addition to Espelette, there are nine other communes where it is grown: Ainhoa, Cambo-les-Bains, Halsou, Jatxou, Itxassou, Larressore, Saint-Pée-sur-Nivelle, Souraïde, and Ustaritz. In June, 2000, it was classified as an AOC product and was confirmed as an AOP product in August, 2002.  In 2014 the harvest produced 203 tons of powder Piment d'Espelette from 1,300 tons of raw pepper.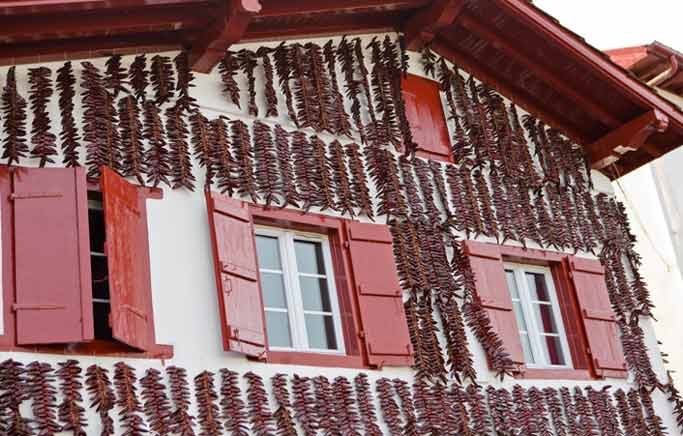 The plant flowers in June, and the fruits appear three weeks later. The peppers are harvested in mid-August, then hung along houses to dry.  They are not especially fiery, attaining a maximum grade of only 4,000 on the Scoville scale, and is therefore considered only mildly hot.
Feasting and festivals
La Fete du Piment, a celebration of the Espelette pepper, is held every autumn during the last weekend of October. During the festival, you can purchase peppers and other regional products and go to Basque dancing shows, traditional music concerts, parades, pelota games, and more.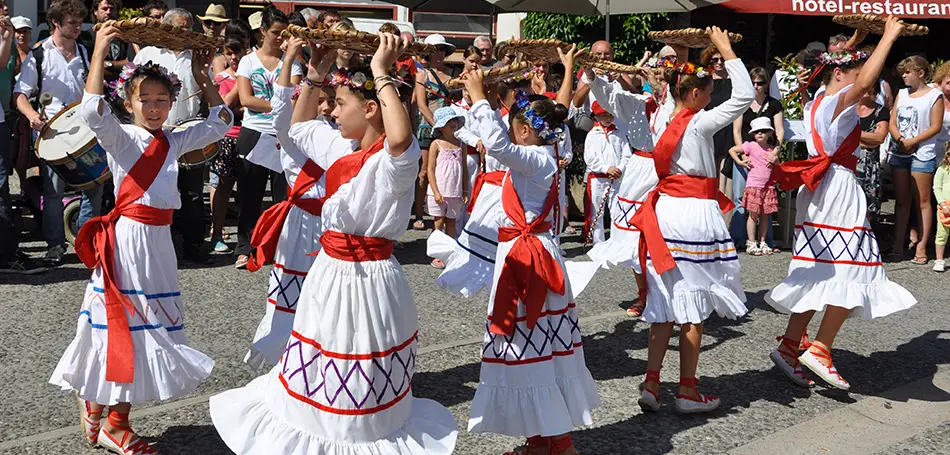 Naturally, the eating is delightful, with numerous small restaurants that will thrill your palate. And when you return with your package(s) of Piment d'Esplette, you can mix up a batch of piperade.
Recipe: Piperade Basquaise au Piment d'Espelette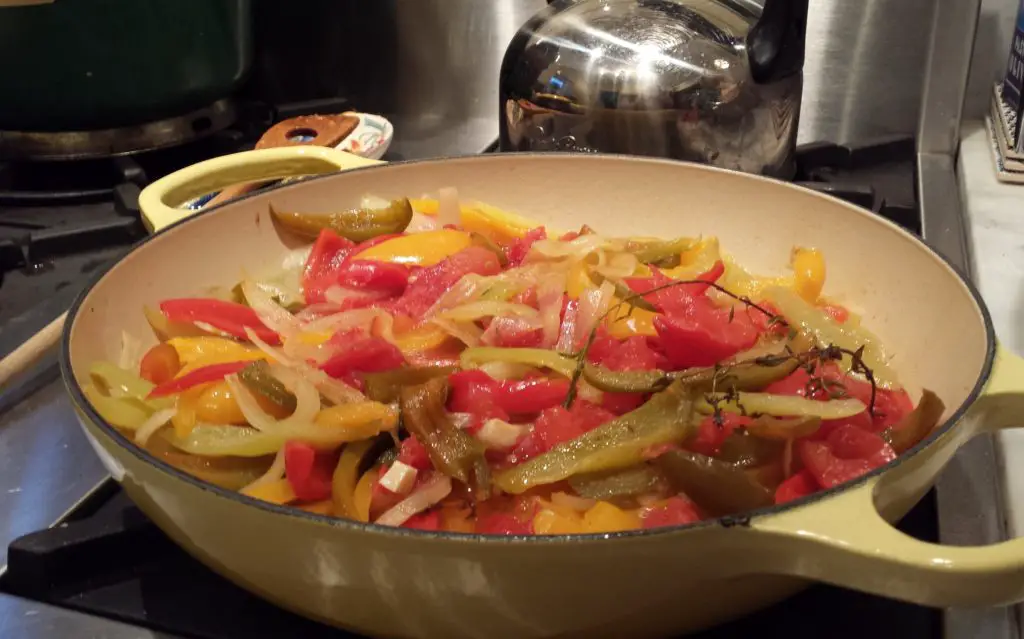 A small amount of Espelette pepper adds an outsized taste twist to a very simple mélange of vegetables. Once made, piperade can be used in many ways.
It is often mixed with eggs or used to fill an omelet, sometimes served with Jambon de Bayonne (or prosciutto or pancetta or kielbasa). It is a colorful side dish for chicken or fish. Slather some piperade on a burger or sandwich. Or poach a few eggs on top of the simmering stew to make a Basquaise shakshuka. We added cooked, sliced potatoes to make a hearty piperade-esque Spanish tortilla.
Ingredients
2 green peppers
2 sweet peppers (red, yellow)
3 cloves garlic
Onions — 2 smallish or one large
3 medium tomatoes
3 T. olive oil
2 sprigs of thyme
2 bay leaves
1 tsp. teaspoon sugar
1 t. Piment d'Espelette (Espelette pepper)*
Salt, pepper
Preparation
Rinse the vegetables.
Cut the peppers in half, remove the seeds and cut the flesh into strips.
Peel the onions and cut them lengthwise into strips.
Peel the tomatoes (optional), remove the seeds (again, optional) and cut into eighths.
Peel and chop the garlic.
Heat 2 T. olive oil over medium heat in a deep-side skillet. Add onions and sauté them gently for 5 minutes. Add peppers, stir, lower heat and cover. Continue cooking for 8 min, stirring from time to time.
Stir in the tomatoes, garlic, and the rest of the oil, bay leaves, thyme, and sugar. Mix, season, and add Espelette pepper. Let simmer, covered, stirring occasionally, 20 minutes.
*Piment d'Espelette is available from Amazon and specialty grocers.
Photos of the Pays Basque from http://www.espelette-paysbasque.com/
*   *   *
You may also like
Go to the BLUE HARE home page to find more articles for fabulous women: beauty, style, health, books and more.