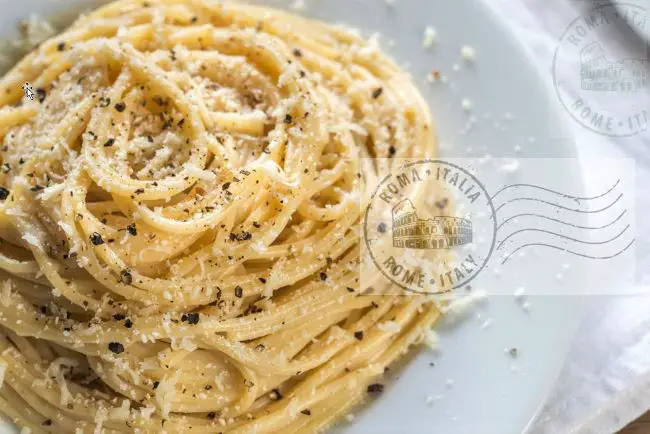 Do you yearn to sit in a Roman trattoria, twirling some pasta around your fork, capturing the delectable sauce with each turn? Or on a terrace overlooking the Bay of Naples, savoring the spicy tomato sauce coating perfectly cooked gnocchi?
If you can't jet-set your way to Italy this week, Trader Joe's has a collection of frozen pastas that are surprisingly close to the authentic originals. And you can make them in the microwave. La dolce vita, mere minutes away. All you need is a red-checked tablecloth and a good chianti to create your own al fresco dining moment at home.
Cacio e Pepe
Cacio e Pepe is one of the Four Pastas of Rome, all connected:  Gricia, Cacio e Pepe, Carbonara, and Amatriciana. With core ingredients of Pecorino cheese and pasta they play off each other, Gricia with guanciale, Cadio e Pepe with coarsely grated black pepper, Carbonara with the guanciale and added egg, Amatriciana losing the egg, adding tomatoes. There is NO oil, NO butter, NO cream in any of them. And only Pecorino Romana is used; no other cheese will work.
With only two ingredients besides pasta, Cacio e Pepe is quick to prepare but not very easy to make. The difficulty lies in balancing them perfectly and in creating a cacio e pepe sauce that is flavorful and creamy just right–without lumps, for example.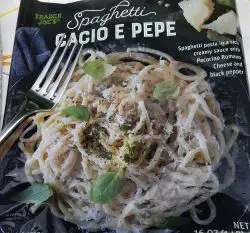 Trader Joe doesn't follow the minimal ingredient mandate for its frozen Cacio e Pepe, but it does a remarkable job of offering similar enjoyment without the stress. It is creamy and peppery and the pasta cooks al dente. It might not be Maialino, but it's tasty and a fraction of the price. The sauce can be a bit thick so we thinned it with a tablespoon or two of hot water, then stirred until it was a light creamy consistency.
(If you want to try making it yourself, recipesfromitaly.com walks you through the process with excellent step-by-step instructions.)
Complete the meal
Start with a throwback melon and prosciutto first course. Milanese pork chops or fried zucchini with a simple arugula salad for a main course. Finish with a scoop of strawberry sorbet.
————————-
————————-
Fiocchetti in Pink Sauce
Both fiochetti and pink sauce were new to us so we absolutely had to try this new offereing from Trader Joe's. And we were delighted with it. Fiochetti are tiny little pasta pockets that are most associated with Lombardy and Emilia Romagna. Like draw string pouches they are filled with, in this case, ricotta, taleggio, and mozzerella cheese.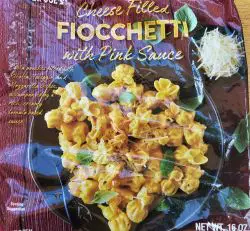 Italian pink sauce is a simple pasta tomato cream sauce that's also known as Rose or Parma Rosa Sauce. It's similar to the better known Vodka Sauce, but without the vodka. The light tomato flavor perfectly complements the cheesy fiocchetti in this Trader Joe's special.
Complete the meal
Fiocchetti in Pink Sauce can be followed by a hearty salad or a platter of grilled vegetables. Fresh fruit for dessert makes this a light meal.
Penne Arrabbiata
Arrabbiata sauce, or sugo all'arrabbiata in Italian, is a spicy sauce for pasta made from garlic, tomatoes, and dried red chili peppers cooked in olive oil. (Arrabbiata literally means "angry" in Italian.) The sauce originates from the Lazio region, the city of Rome in particular, invented in the 1950s-60s when spicy food became the trend in Roman cuisine.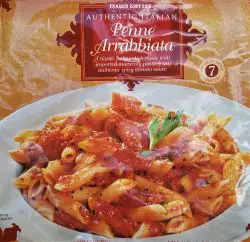 Trader Joe's Penne Arrabbiata is made with imported durum semolina pasta and a tangy tomato sauce that is flavored with garlic, herbs, and chili pepper. It's not overly spicy; just enough kick so you'll long for the next bite. And the next.
Complete the meal
Grilled Italian sausages will play off the spices in the tomato sauce. An old school Caesar Salad on the side will keep this light and easy. Coffee granita is a perfect ending.
————————-
————————-
Fettuccini Alfredo
Fettucchini Alfredo is made with fettucchini tossed with butter and young Parmesan cheese. (Young cheese is key to the melting creaminess of the sauce. Aged Parmesan will be too grainy.) NO cream.
Supposedly the dish was born in Rome in the early 20th century when Alfredo di Lelio added extra butter to a traditional homey dish of butter and cheese, elevating it to a restaurant-worthy dish. The secret, some believe, is that the pasta, cheese, and butter are tossed constantly with some pasta water in a warm platter so they melt together thoroughly.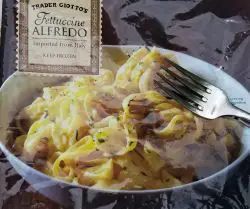 Trader Joe adds cream and nutmeg to the traditional recipe, no doubt to make it a better candidate for freezing. Once cooked it is a lovely, creamy, cheesy dish that needs only a few spoonsful of hot water to loosen the sauce. Since Alfredo's restaurant is some time zones away, we are very happy to be able to plate TJ's version in 4 to 5 minutes.
Complete the meal
Fettuccini Alfredo is on the heavy side, so it you plan to have it as a main course serve it with a raddicchio and endive salad, which will cut through the cream. For a complete meal serve the fettuccini as a first course and follow with Trader Joe's Grilled Balsamic Vinegar & Rosemary Chicken, served cold or heated through, with the salad on the side. A scoop of chocolate gelato is the perfect finish.
Ricotta and Spinach Filled Ravioli
There is some debate about where and how ravioli first appeared in Italy, with Genoa, Venice, and Sicily claiming the status of originator. Regardless, filled pastas were a Chinese invention and ended up in Italy either via Marco Polo or Arab traders.
Italian ravioli were first filled with a mixture of cheese, eggs, and herbs–similar to the cheese ravioli that is popular everywhere today. They weren't served with tomato sauce until the 18th century because tomatoes, imported from the New World in the 16th century, were believed to be poisonous before then.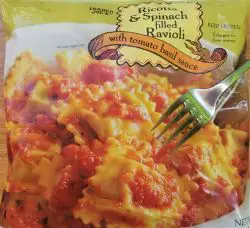 Trader Joe's Ricotta & Spinach filled Ravioli fly close to the original, with spinach standing in for the herbs. It comes with a tomato basil sauce that is full of tomatoey flavor, without the sweetness or saltiness one often finds in tomato pasta sauces. Packages are regular occupants in our freezer. It's a struggle not to eat all three servings in one sitting.
Complete the meal
Serve a shaved fennel and Parmesan salad either before or with the ravioli. Trader Joe's Italian Style Meatballs simmered in tomato sauce makes it a full meal. Sugared sliced organges and mint make a refreshing dessert.
————————-
————————-
Gnocchi alla Sorrentina
Gnocchi alla Sorrentina is a dish that marries the old and new worlds. Gnocchi has a long history in Italy; the first type involved making a simple mixture of flour and water that was cut into small pieces of irregular shapes. In fact, archaeologists discovered small pieces of dough-like gnocchi in a Bronze Age village in the Trentino Alto Adige region.
After the discovery of America, explorers returned to Europe with ships full of exotic fruit and vegetables, among these potatoes and tomatoes. Eventually mashed potatoes were added to the classic gnocchi dough and tomatoes were made into a sauce, mozzarella and basil were added and Gnocchi alla Sorrentina was born, probably in the 19th century.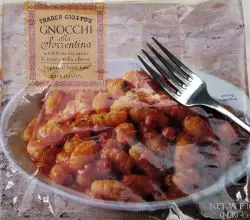 Fortunately for us, Trader Joe's Gnocchi alla Sorrentina combines potato gnocchi, tomato sauce, and mozzarella cheese into a ready-made dish that can be plated in about 7 minutes. The gnocchi are soft with just enough toothiness to offer a satisfying chew. The sauce is tomato forward, a clean taste that nearly bursts with sunshine.
Complete the meal
For a light meal serve a celery and parmesan salad or cucumber and tomato salad as a side with the gnocchi. A shrimp and artichoke salad served as an antipasto or secondi will create a more substantial, but still light, meal. Peaches and raspberries with a scoop of vanilla gelato add the right sweet note for dessert.
Asparagus Risotto
Technically risotto is not a pasta. It's made with rice, after all. Yet when it comes to menus risotto and pasta are often interchangeable.
Risotto is primarily a northern Italian rice dish that is cooked with broth until it reaches a creamy consistency. In its most classic form it is made simply with butter, onions, wine, short-grain rice, and broth, finished with Parmesan. For such a simple dish it is labor-intensive–the broth must be added to the rice bit by bit and stirred until it is completely absorbed, soupy, not dry.
But is risotto a primo or secondo course? Like pasta, it can be either. Various other ingredients have been added over the years to dress it up as a side dish or make it robust for a main course.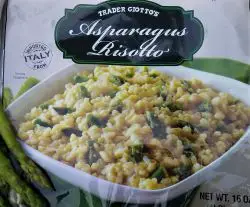 Trader Joe's Asparagus Risotto, which is imported from Italy, takes the stirring, stirring, stirring out of your hands. In 5 to 7 minutes you have a creamy rice dish full of fresh asparagus flavor and nutty cheese undertones. Again, we assume for purposes of producing an excellent frozen product, there are other ingredients such as cream, eggs, and flavorings, which are firmly in the background. As with some other TJ's frozen entrees you may need to stir in a tablespoon or two of hot water to loosen the consistency.
Asparagus Risotto makes a light lunch on its own, or used as as first course, side dish, or main course depending on what you pair it with. When asparagus is in season we like to add a few fresh stalks to the rice when it's almost done. Can't have too much asparagus. Or stir in some frozen peas, which are always on hand.
Complete the meal
Pair TJ's Asparagus Risotto with some grilled salmon and roasted cherry tomatoes for a summmery al fresco dinner. Or make a one-dish main course by adding seared shrimp or scallops or, for a no-cook meal, Trader Joe's Just Grilled Chicken Strips. A green salad brings some crunch. Tiramisu is a delightful make-ahead dessert that's sure to please. (We like this recipe for eggless tiramisu from tastesbetterfromscratch.com.)
 *     *     *
You may also like