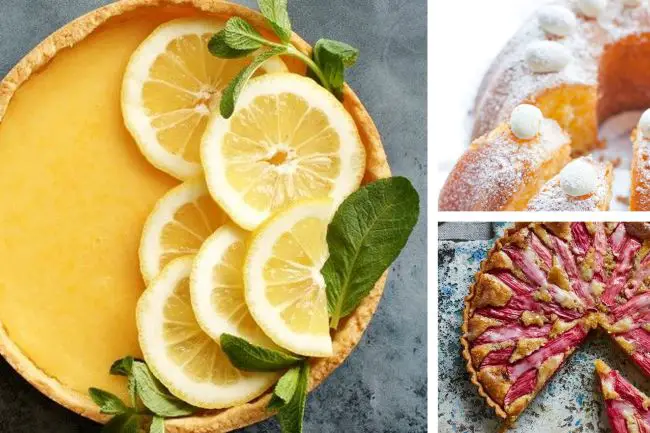 Spring brings light, and joy, and desserts. Refreshing, colorful desserts that shout with joy for the new season.
New season maybe. But for this spring we wanted classic, elegant desserts that are tried and true crowd pleasers, even if the crowd is small. We combed through our recipe boxes and cookbooks, called friends, and consulted Google to find family favorites–desserts that inspired us, cakes and tarts that are eye candy as well as delectable. Flavors of citrus, rhubarb, and rich cream, studded with nuts (for a hit of protein), each delicious morsel contains a sense of new beginnings.
Whether for a mellow Easter dinner or an effervescent family gathering, these desserts are sure to provide that sweet exclamation point at the end of your meal. They are also great as stand-alone snacks with a cup of tea or coffee. Or for breakfast when no one is looking.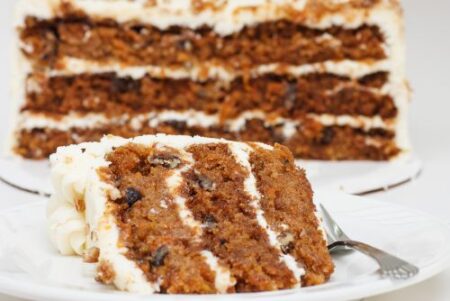 Carrot cake may be a year-round dessert but there's something about early spring that makes it taste anew. What's the connection? The Easter bunny? Bunnies eat carrots? Farmer McGregor chasing Peter from the garden? Whatever the reason, carrot cake is sure to please everyone at the table. We like the recipe from sallysbakingaddiction.com for several reasons. Brown sugar adds depth of flavor and moisture; it doesn't shy away from oil (cakes need fat to make them soft and tender), and the addition of applesauce to offset aforementioned oil.  Recipe for carrot cake: Sally's Baking Addiction.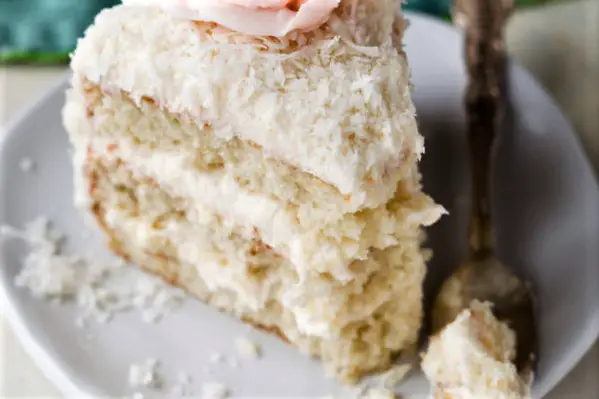 The word "frippery" comes to mind when we see a coconut cake. How can you not be happy seeing the shreds of coconut strewn on all sides of the cake like a miniature all-white fireworks display. And none pleases more than this one from that old standard,  The Silver Palate Cookbook. The secret ingredient? White wine. Try it and you'll never make any other. Recipe for The Silver Palate's coconut cake from orangecoast.com.
A visit to New York is not complete without a taste of cheesecake. The best know of these is Junior's of Brooklyn, so if you are in the neighborhood make sure to have a slice. If not, all is not lost. An authentic New York cheesecake–creamy (from cream cheese), light bite (from sour cream), sweet, crumbly graham cracker crust–is easy to make at home. Many an Easter dinner comes with the warning, "Leave room for the cheesecake!" To make one of these stunners at home, The New York Times recipe will bring you as close to Nirvana as possible. Recipe for Classic New-York Style Cheesecake at cooking.nytimes.com.
——————–
——————–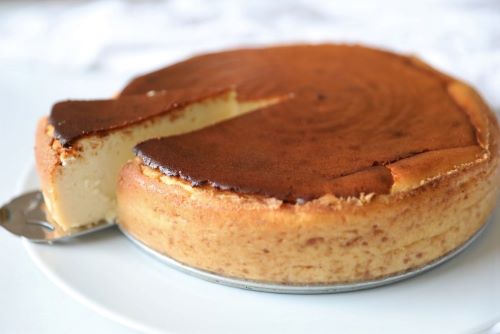 Cheesecake has been a staple since Roman times. The main difference between what we would consider typical New York American cheesecake and Italian cheesecake is that in Italy, cheesecake is made with ricotta rather than cream cheese. It is a bit lighter and dryer, more cakelike, not quite as sweet. Which makes it a perfect Mother's Day dessert. This recipe from Lidia Bastianich combines ricotta and mascarpone with hints of citrus, on an Amaretto crust. Recipe for Italian Cheesecake from lidiasitaly.com/recipes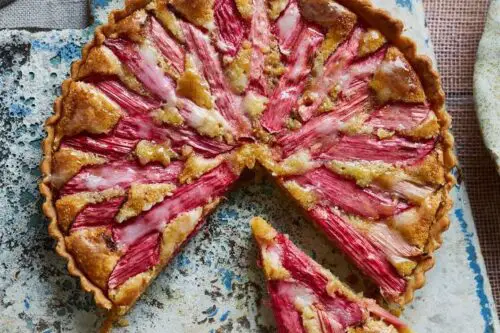 Most of us are familiar with strawberry-rhubarb crisps, but in early spring strawberries are still weeks away. Rhubarb, on the other hand, sticks its head above ground with the crocuses and daffodils and can be enjoyed now. The secret to a noteworthy rhubarb dessert is to achieve a balance between sweet and tart. This recipe from Sainsbury's magazine achieves the contrast by enveloping the rhubarb in frangipane–a sweet almond cream–and a dash of cardamom. Serve with a dollop of something sharp–crème fraîche, soured cream or yogurt work well. Recipe for Rhubarb Frangipane Tart from Sainsbury's Magazine.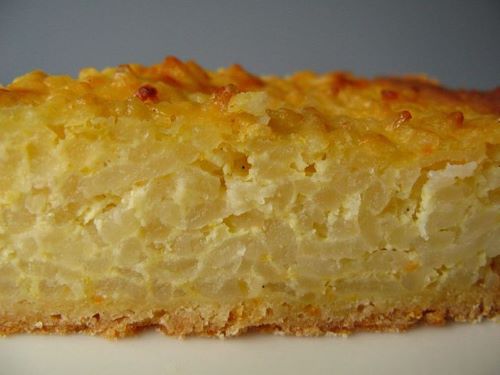 Food writer and author Patricia Wells discovered this spring-yellow rice cake in a Florentine café, and it became one of her favorite desserts. It is made with creamy Arborio rice, eggs, a tablespoon of semolina flour, and lemons. The golden cake would be a fine end to a leg of lamb roasted with rosemary or on its own with an espresso. Serve it warm, or wrap and refrigerate for a day. Find Patricia Well's Golden Lemon Rice Cake in her cookbook, Trattoria, or this flourless version on oneperfectbite.blogspot.com.
——————–
——————–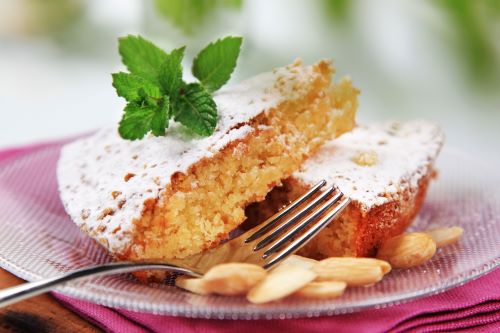 This lemon cake comes from David Lebovitz. If you are not familiar with him, you are missing out on a fabulous, funny, talented writer and cook, not necessarily in that order.
The batter for this cake is similar to a financier, enriched with almond flour. Once the cakes are baked they are soaked with lemon juice and, if you desire, amaretto to bring out the almond flavor. Lebovitz calls this a snacking cake. When dusted with powdered sugar, it makes a stylish dessert, too. Recipe for French Lemon Almond Cake from davidlebovitz.com.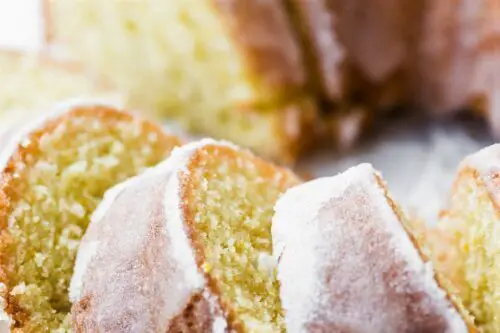 Fans of the Great British Baking Show will be familiar with the UK's Mary Berry, the cheery, exacting master of cakes and pastries. Her Lemon Drizzle Cake has a distinctive crunchy lemon glaze that crystalizes on top, giving way to the soft crumb beneath. You only need a few basic ingredients and 35 minutes to bake this crowd pleaser. Top each serving with some lemon curd to double the citrus notes.  Recipe for Mary Berry's Lemon Drizzle Cake is on theviewfromgreatisland.com.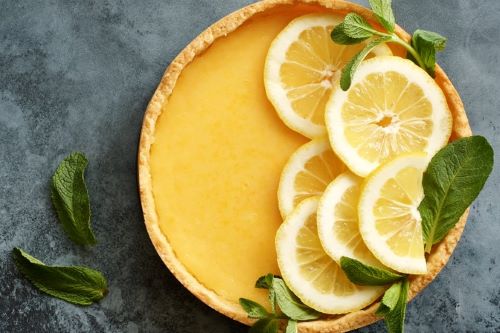 Walk past any patisserie in Paris and you will see gorgeous, bright tartes au citron lined up on the shelves, begging you to spirit them away. A lemon tart makes an elegant dessert when the occasion calls for a grand gesture.
An excellent recipe comes from pastry chef and cookbook author David Lebovitz, who spirited himself off to France some years ago, driven by a desire to perfect his pastry skills. (Read The Sweet Life in Paris for his hilarious take on the move.) He prefers his tarts more lemon-forward than sweet, so good quality lemons are a must for this. Decorate with fresh or candied lemon slices and some mint or basil leaves for a beautiful presentation. This recipe for Tarte au Citron is from his website, davidlebovitz.com.
10. Whole Orange Cake
The secret to the moist, jammy-ness of this Whole Orange Cake is… whole oranges. Yes, a couple of oranges are boiled, drained, and pureed to give amazing flavor with none of the bitterness of the pith. It's flourless, too, with almond meal standing in for grains. And the whole thing can be make in a food processor. The cake can be beautifully decorated with orange slices and/or fresh flowers or simply dusted with powdered sugar. Recipe for Whole Orange Cake can be found at recipetineats.com.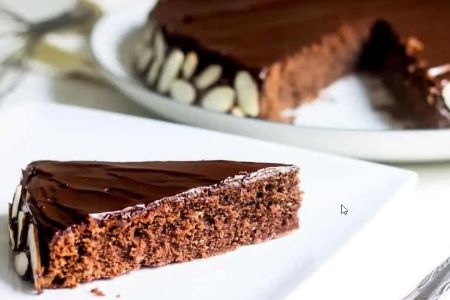 Named after the Queen of Sheba, this single-layer chocolate and almond cake has been described as a chocolate bonbon. Its rather stiff batter is slightly under-baked, leaving the center slightly underdone, giving it a soft and smooth quality. It is topped with a chocolate glaze, then decorated with sliced almonds. A stunning dessert fit for a queen. Recipe for Gateau Reine de Saba at monpetitfour.com.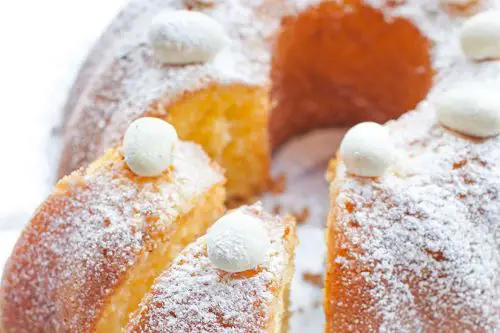 The Polish Easter babka is one of the original Eastern European Bundt cakes, before the Bundt pan became popular in the United States. (The term "babka" here refers to the pleats in grandmothers' long skirts as they swirled around the kitchen.) Usually made exclusively at Easter, the cake is light and lemony, made with potato flour, plenty of eggs and, in many versions, raisins soaked in rum. After cooling, the cake is sprinkled with powdered sugar or topped with a lemony glaze, then decorated with sugared almonds.
You will find versions of this cake that are made with yeast but this one is simpler, calling for baking powder as the rising agent. The website is in Polish but Google Translate does a nearly flawless job turning it into English, or whichever language you prefer. Recipe for Polish Easter Cake at kwestiasmaku.com.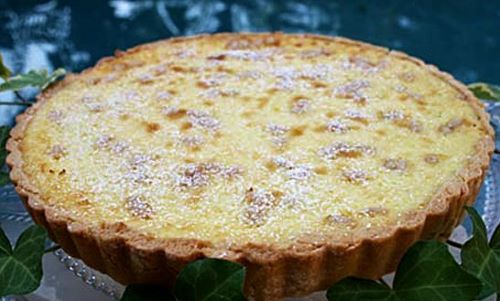 Torta della nonna–literally Grandmother's Cake–is a traditional Tuscan dessert that is studded with pine nuts in a sweetened ricotta filling. Despite its rather humble appearance it's a rich dessert, fit to end a fancy dinner or casual picnic. Recipe for Torta della nonna at italianfoodforever.com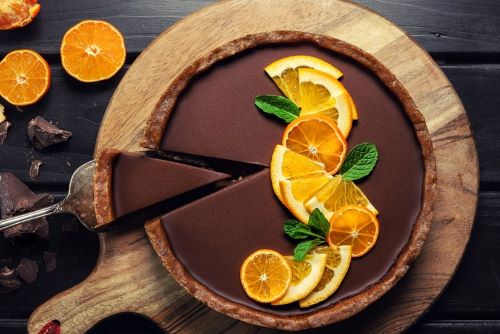 If your celebration calls for chocolate, this stunning Tarte au Chocolat from Joel Robuchon may be exactly what you need.  What differentiates this one from other bittersweet chocolate tarts is the choice of chocolate used in the recipe: a 60% dark chocolate rather than the more austere 72% you might expect. The tart makes a beautiful canvas for an elaborate decoration, as in the photo above, simply scattered with candied orange rind, or topped with a patterned confectioner's sugar design. Recipe for Bittersweet Chocolate Tart at charlottepuckette.com.
 *     *     *
You may also like
Go to the Blue Hare home pageto find more articles for women like you.