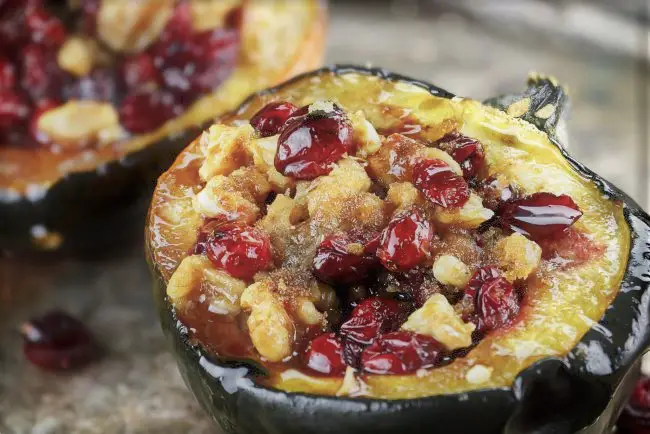 The trend towards plant-based eating is becoming more popular among both young and older generations. Reasons vary, from the choice to abstain from animal products to health to concern for the environment. Those of us who cut our teeth on Diet for a Small Planet are delighted to see the explosion of creativity in meatless cooking. Even if we have not adopted a strict vegan diet, our diets are more likely to include vegetable dishes for a main course a few times a week.
Vegetarian for Thanksgiving?
But can a totally vegetarian menu succeed at Thanksgiving? For those who dare to be bold we put together five menus that are so flavorful and satisfying you won't miss the turkey. (And be honest—haven't you forgotten to put turkey on your plate at least once?)
The trick to making a vegetarian Thanksgiving a success is to make a stunning main course that takes the role of the turkey as centerpiece. Use a beautiful platter and add garnishes to get that "Oooh" and "Aaah" when it appears on the dining table.
Your family's traditional sides can fill out the menu, or you can try some that we have paired with the entrees below. For dessert, pumpkin, and apple pie, of course.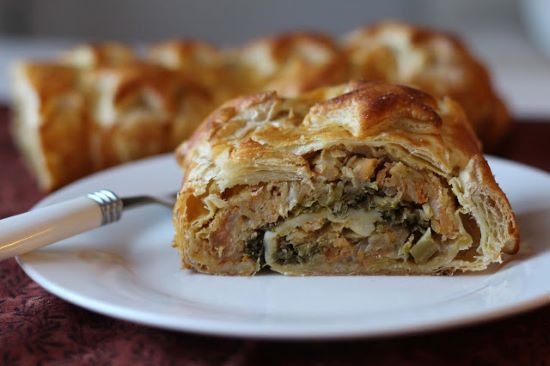 Think of this as a vegetarian version of Beef Wellington. It can be grand, a dazzling platter to present to those gathered around your table. A medley of root vegetables is wrapped in puff pastry and baked until the whole is a golden brown.
Think of this recipe for Winter Vegetable Cheese Strudel as a blank slate. It calls for shredding a variety of root vegetables, but you could substitute diced, roasted vegetables of your choice.
---
————————————————————————————-
Complete the menu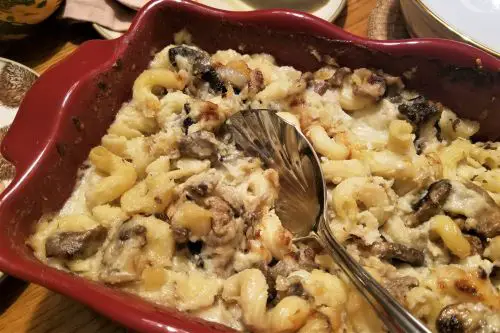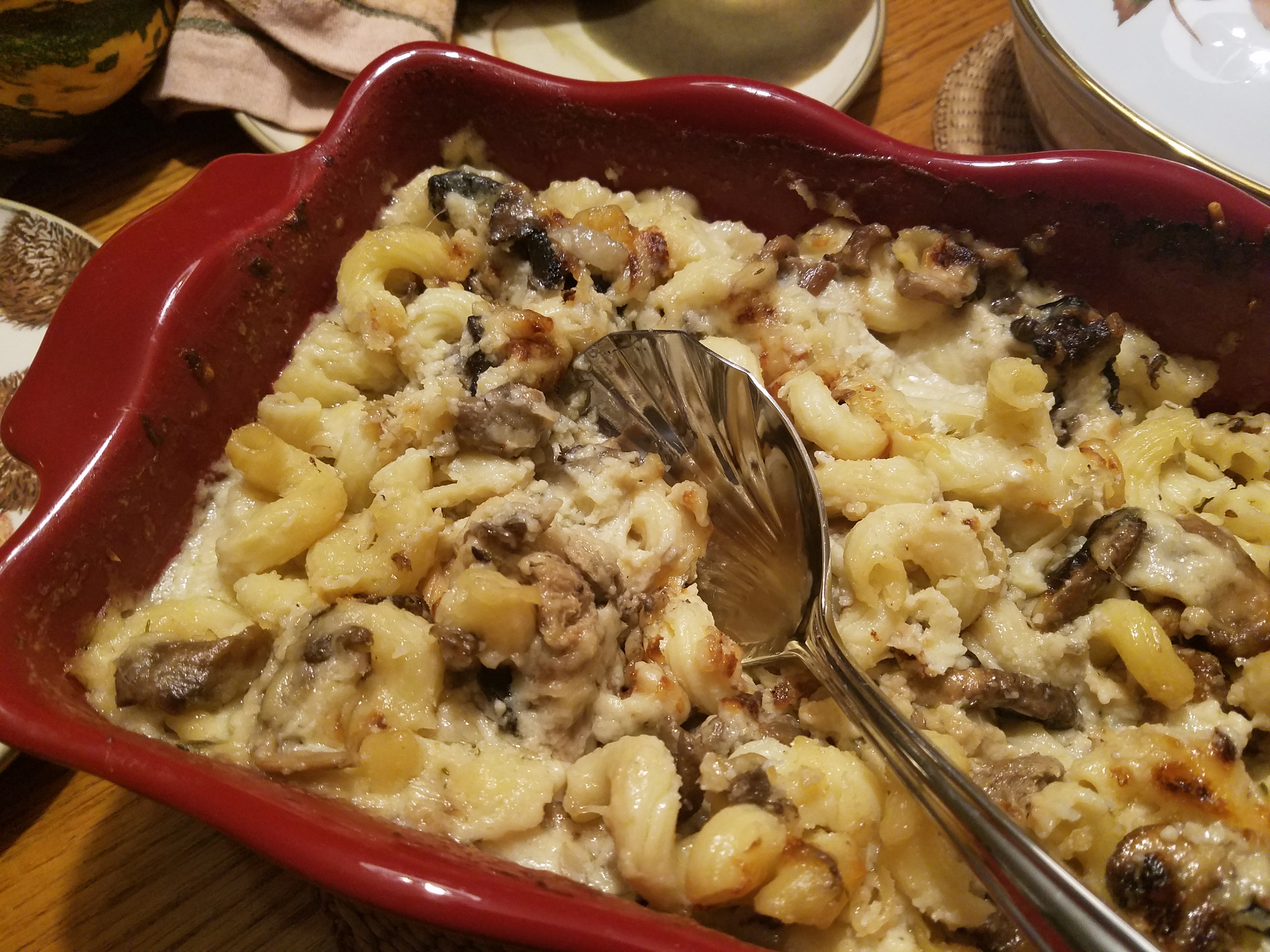 Macaroni and cheese is a traditional side dish on many Southern Thanksgiving tables. But with a few tweaks it can be a fantastic main course around which to build a festive dinner. To make this Mushroom Mac and Cheese we used Gruyere and Parmesan in place of the usual Cheddar. We added mushrooms—wild and domestic—to give it a distinctly autumn flavor profile. A few herbs like parsley and thyme emphasize the woodsy nature of the dish.
Complete the menu
Winter squash of all types come with a built-in bowl begging to be filled. This recipe for Stuffed Acorn Squash with Apples and Cranberries does just that. It's a variation of a butternut squash dish from PBS's Jazzy Vegetarian, but can be used with acorn, carnival, delicata, and Hubbard varieties.
A mix of brown and wild rice and fresh herbs (parsley, sage, rosemary, and thyme), apples, walnuts, and dried cranberries forms the stuffing here. But feel free to add your own touch. Use different herbs or spices, include caramelized onions, add cheese (blue or feta) for a non-vegan option
Complete the menu
---
————————————————————————————-
Sweet potatoes as a main course? No, we're not mad. But we are crazy for these Oven-Roasted Sweet Potatoes with Crispy Chickpeas and Yogurt Sauce. Piled high on a festive platter they make a dramatic main course for your Thanksgiving dinner. And the main ingredients are full of vitamins and protein. If you have not tried sheet pan cooking, you will be a convert once you experience the ease with which a dinner can come together.
Complete the menu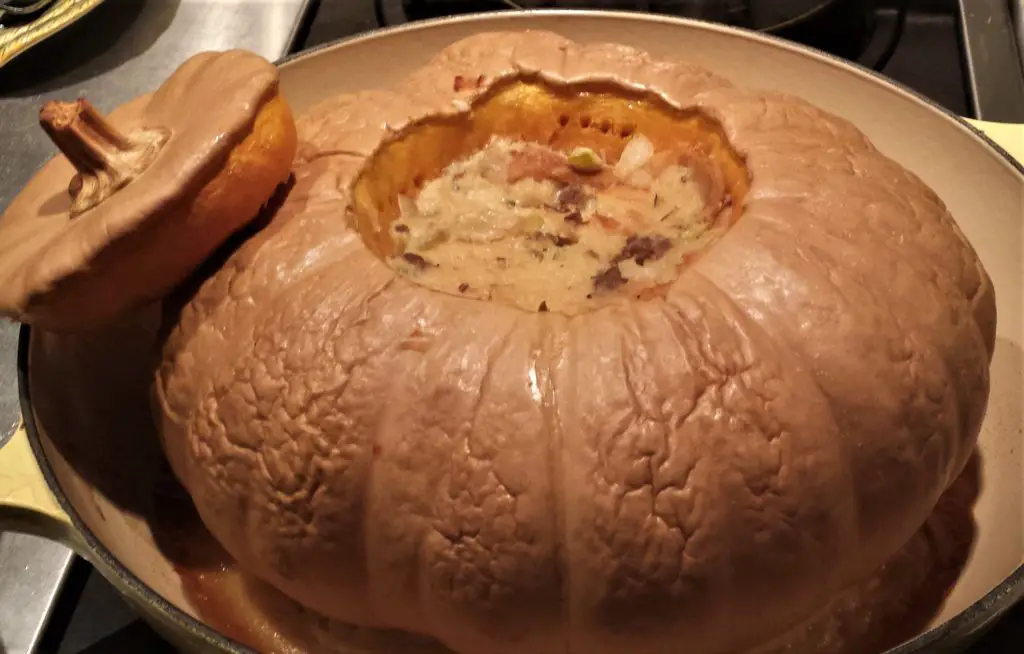 There is something almost regal about a gorgeous, golden pumpkin holding court in the center of your table. This Savory Stuffed Pumpkin is the brainchild of award-winning cookbook author Dorie Greenspan. Any recipe for stuffing can be used—your family's traditional bread-and-sage or cornbread stuffing; wild rice, apple, and dried cranberries; or Dorie's bacon, bread, and cheese stuffing, sans the bacon for a vegetarian Thanksgiving main course.
Carve it into wedges at the table. It's quite the spectacle.
Complete the menu
 *     *     *