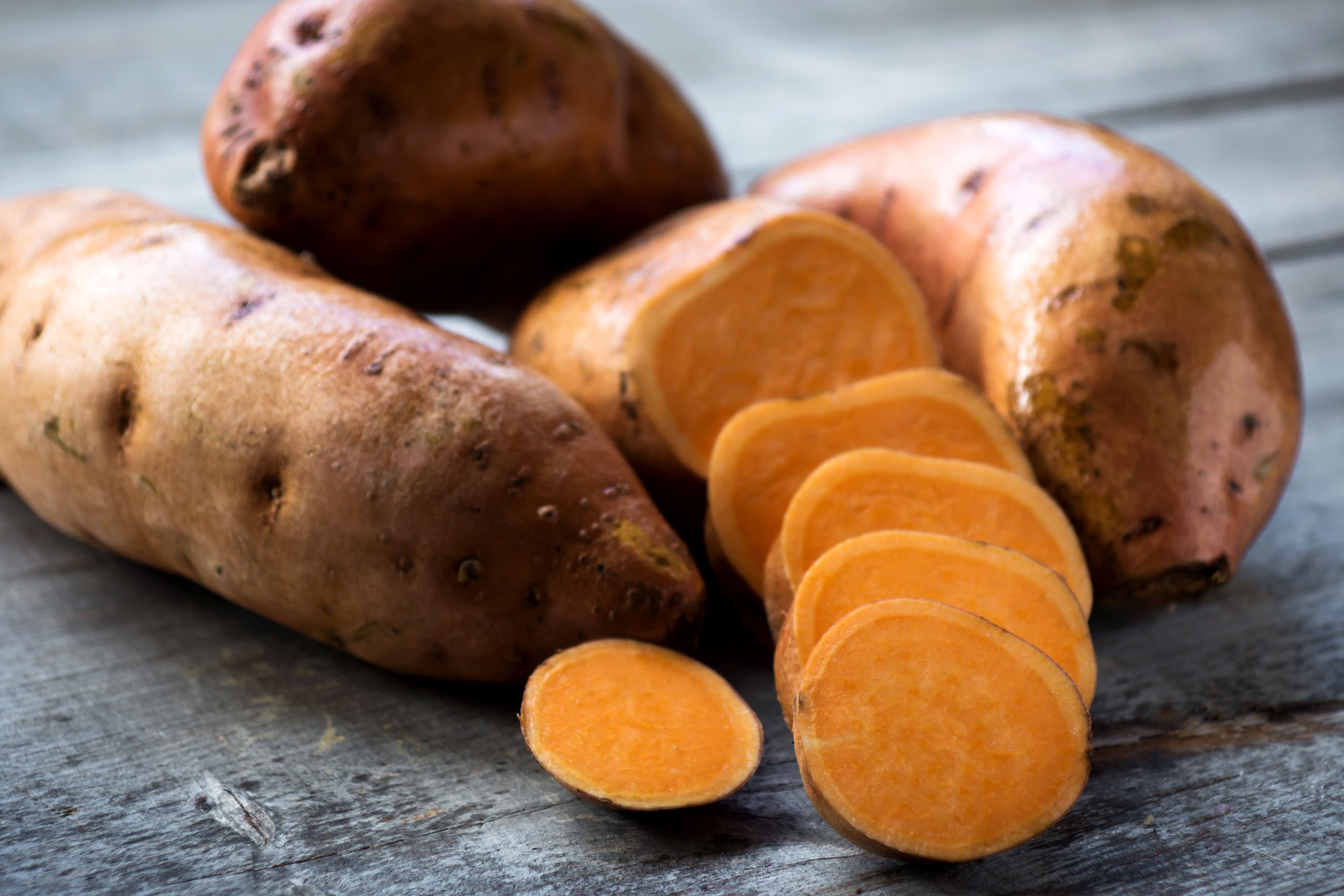 Sweet potatoes are good for you. They are rich in vitamin C and beta-carotene, which converts to vitamin A in the body.  They have a decent amount of B vitamins and dietary fiber. But get this—if you are watching the glycemic index of the foods you eat, how you cook a sweet potato makes all the difference.  A boiled sweet potato has a low GI of 44 (on a scale of 1 to 100), but if baked for 45 minutes, the same sweet potato has a GI of 94.
While they are available year-round, the prime time for sweet potatoes is from late fall through winter. That means you have at least four months to try the many ways sweet potatoes can be prepared—minus the marshmallows.
We looked everywhere for the best low-fuss recipes
We combed magazines and cookbooks and the internet to find recipes that met our criteria: easy to make, limited number of ingredients, and little or no added sugar so the potato's own sweetness can shine.  We looked for savory recipes as well and those that were elegant enough for a dinner party. The eleven recipes we chose are as unexpected as they are delightful and delicious. That old yellow root standby is having quite a moment.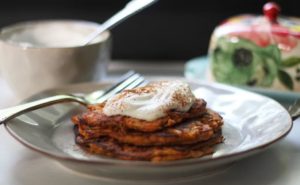 Two ingredient potato pancakes
Mash some cooked sweet potatoes with some eggs and a few spices, throw on a griddle, and a gluten-free, high protein breakfast or lunch or dinner is ready in seconds.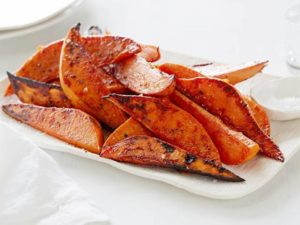 Ina Garten's baked sweet potato "fries"
Simple pleasure without the guilt. Slice some sweet potatoes, toss with oil, sprinkle some seasonings, bake, serve, delicious.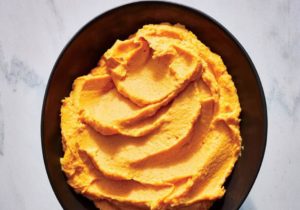 Nutty Mashed Sweet Potatoes with Tahini
Tahini plays the role usually filled by cream or butter and adds a savory note to a traditionally sweet dish.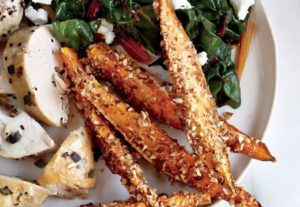 Roasted Sweet Potatoes with a Crunch
Finely chopped almonds give these sweet and salty sweet potato spears a healthy crunch.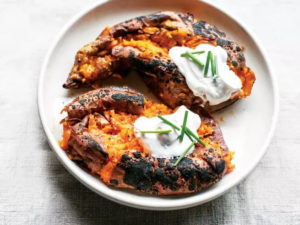 Slow-Roasted Sweet Potatoes with Garlic Labneh
Michael Solomonov of Zahav restaurant in Philadelphia slow roasts sweet potatoes to amplify their natural sweetness, then cuts through it with a garlicky yogurty topping.  To make your own labneh, check out this recipe from David Lebovitz, chef and author of The Sweet Life in Paris.
Sweet Potato Stacks with Sage Browned Butter
These savory stacks can be a sophisticated Thanksgiving side dish but will stand up all winter with pork or chicken or on its own with a heap of cooked greens.
Rosemary Mashed Sweet Potatoes with Shallots
A little sweet (thanks to a touch of brown sugar) and a little salty, this dish is the perfect complement to any meal.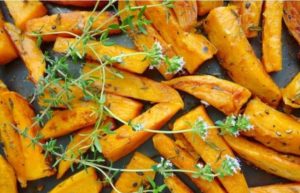 This slightly tangy side dish with a kick of garlic is satisfying and nutritious.
Twice-Baked Sweet Potatoes from the Barefoot Contessa
The potatoes are baked, then scooped out, leaving little canoes, which are filled with a mixture of mashed potatoes, herbs and Taleggio cheese. Back in the oven and baked for another 20 to 30 minutes until puffed and lightly browned.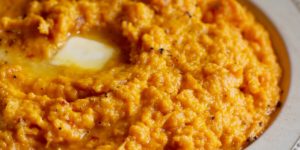 Chipotle Smashed Sweet Potatoes
Mashed sweet potatoes are spiced up with some minced chipotles in adobo sauce and rounded out with cream and butter.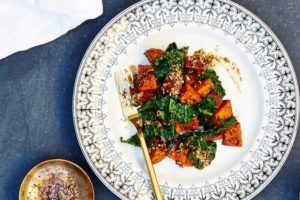 Za'atar Sweet Potatoes and Garlicky Kale
Za'atar is the generic name for a Middle Eastern mix of thyme, toasted sesame seeds, salt, and sumac.  It adds an aromatic and tangy note to dishes. In this recipe it tops a mix of roasted sweet potatoes and greens sautéed with garlic.
  *    *   *
You might also like
The pumpkin takes center stage
A cocktail double act straight from the apple tree
Check out Blue Hare's home page for more fabulous articles.