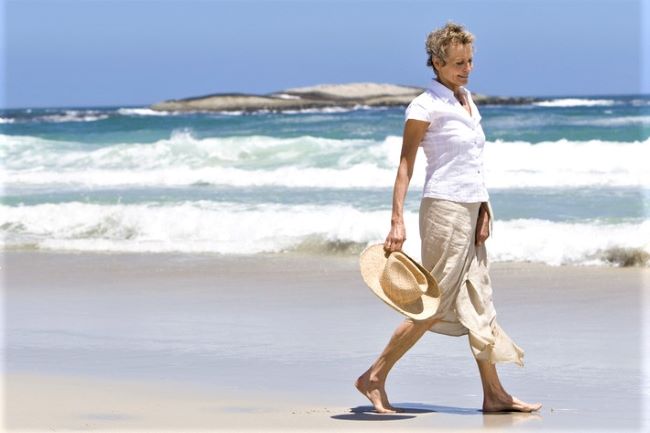 Coastal grandma style, the fashion concept that consists of, for the most part, breezy linens and soft, neutral colors, is the perfect look for women over 60. It's light, it's cool, it's effortless. But for women our age it can also look frumpy. We have a few tips for turning dowdy to dreamy.
Reminiscent of Diane Keaton in "Something's Gotta Give," the trend is all about casual, seaside-inspired elegance. But the term "coastal grandma" was coined by a young Tik Tok influencer, Lex Nicoleta, as a style to be adopted by her peers. There are several fashion principles that define the look.
Clothing is soft and unstructured in neutral tones that mimic the seashore–sand, sky, and sea–for a peaceful monochromatic look.
Accessories like hats and bags are made of natural materials like straw and canvas. The bucket hat is the preferred style this season, but find a style that is flattering to you. Jewelry is understated and should echo the seaside.
Fabrics are always natural (no synthetics allowed). Linen, cotton, and hemp are the quintessential fabrics for the coastal grandma style.
We are not slaves to trends, though. For coastal grandma to work for women who may, in fact, be grandmothers, we need to slightly push the envelope. A subtle print here. An interesting accessory there. Here's how we do coastal grandma.
---
---
Breezy tops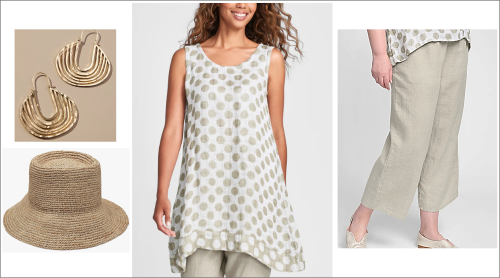 Linen or cotton tops with a simple fit and hip length embodies the ease of coastal grandma. Sleeveless tunics or oversize shirts, they pair beautifully with crops, pants, and long skirts. Banded linen tunic, FLAX; Gold earrings, Anthropologie; Straw hat, Wyeth USA; Crops, FLAX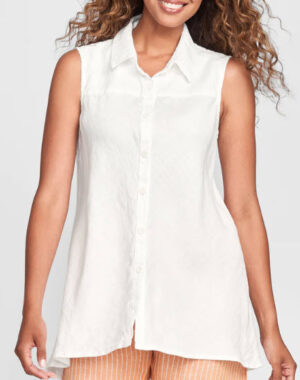 A button-down, sleeveless blouse in 100% linen that is simply beautiful. It's ideal for layering. In cream (shown here) and other colors in handkerchief and medium weight linen. FLAX.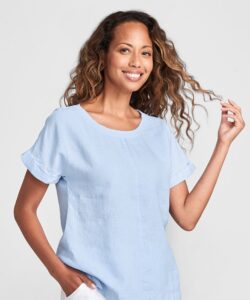 A relaxed linen t-shirt with a high rounded neckline and cuffed short sleeves. Finished with a wide hem, it lands just below the hip in length.  Linen Woman.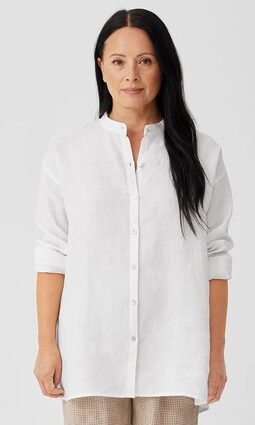 Crisp yet relaxed. An airy mandarin collar shirt in lightweight organic linen with natural texture. Eileen Fisher.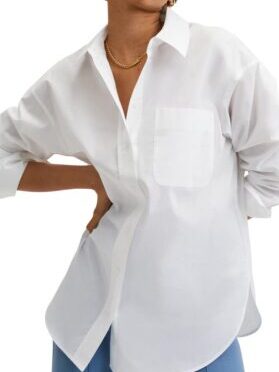 Designed in a slouchy, oversized fit, this crisp poplin shirt brings a menswear-inspired vibe to your look. Nordstrom.
---
---
Effortless pants and skirts

Imagine a gentle sea breeze fluttering your soft, light pants or easy slip-on skirt. That's quintessential coastal grandma. And while we are loyal to our whisper-weight linen floods, we're open to adding a bit of pizzazz with layered looks like the capris above. Minibee Layered Capri, Amazon; Coastal Tunic linen tank top, FLAX; Sand & Shore Earrings,J.Jill.
These wide leg linen pants in a muted stripe are flattering yet comfortable for an effortless yet sophisticated look. FLAX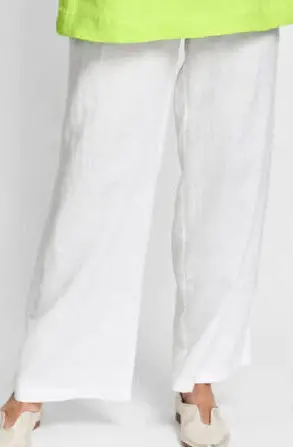 White pants are a summer staple. These wide leg, flowing linen pants with an easy fit communicates an effortless yet refined look. FLAX.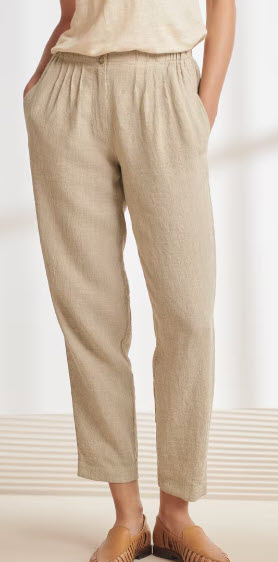 Featuring a textured, dog-tooth check, these linen trousers have an easy, tapered leg that crops in at the ankle. Poetryfashion.com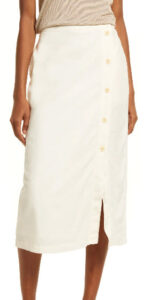 Treasure & Bond's crisp linen-blend skirt with asymmetric button placket is the perfect choice for a sunny day. Nordstrom
---
---
Airy, flowy dresses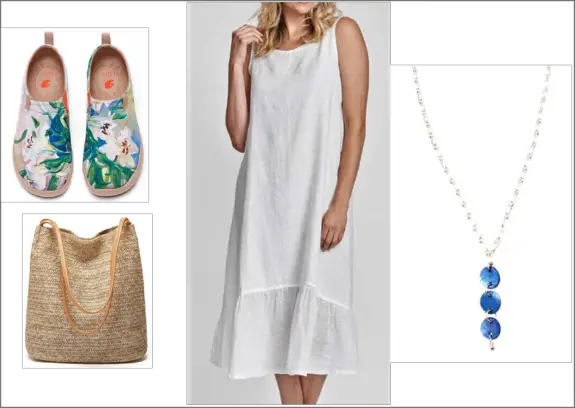 Whisper-weight linen or cotton batiste dresses may be the perfect answer to a blazing hot summer day. Resting only on your shoulders, they allow air to circulate and cool the whole body. Fortunately for would-be coastal grandma, they come in stylish cuts and colors. Cascading Linen Maxi Dress, FLAX; UIN Lily Sneakers, Amazon. Niction Straw Bag, Amazon; MINU Women's Blue Shell Necklace, Himelhochs.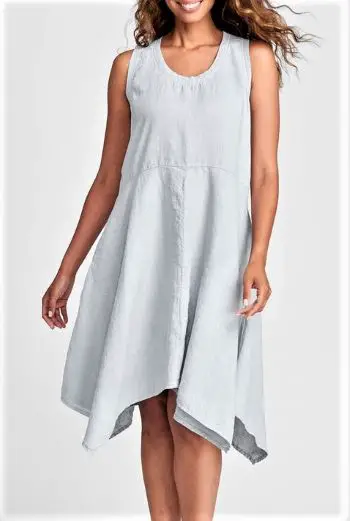 Roomy and comfortable, pair this dress with an easy jacket or wrap to dress it up. Flax.
Designed in Ponte Vedra Beach, Florida, and made of a cotton gauze material, this midi's relaxed fit makes it easy to throw on and go. Natural Life.
Styled in 100% cotton, comfortable and highly wearable, this caftan clearly resonates with the coastal grandma style. Amazon.
---
---
Breton-style stripes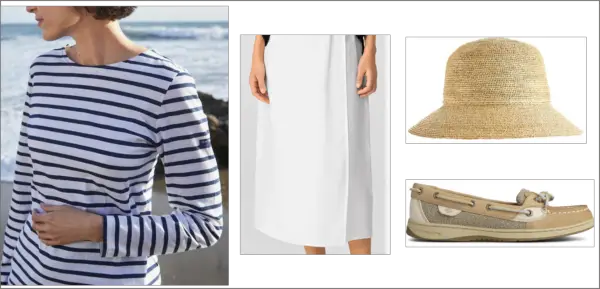 For cooler days it wouldn't be coastal without striped tops, inspired by the fishing communities of Brittany. Keeping to the nautical theme, coastal grandmas choose simple blue and white or soft neutral stripes that blend with the whites and naturals of their summer wardrobe.  MINQUIDAME Breton Striped Shirt, Saint James; Eileen Fisher Organic Linen Wrap Skirt, Eileen Fisher; Carolina Summer Cloche, Coolibar; Women's Angelfish Boat Shoe, Sperry.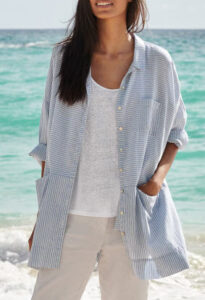 Comfortably oversized in soft, lightweight cotton, this oversized shirt features dropped shoulders and wide, three-quarter length sleeves. Poetry.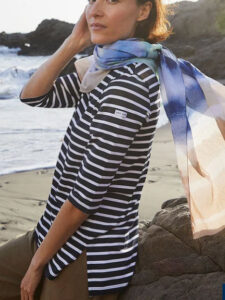 This PHARE boat neck striped tunic marries influences from French Navy design and modern Breton style. Saint James.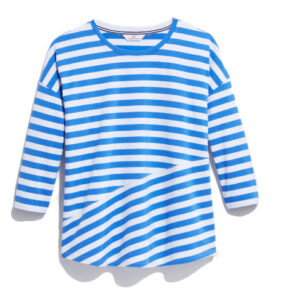 Slouchy dropped shoulders and clean stripes with diagonal seaming give this soft t-shirt  a fresh look. Nordstrom.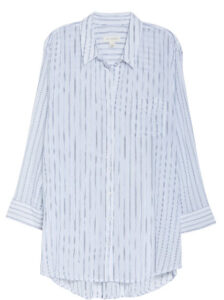 This loose-fitting woven tunic is made from gauzy cotton with classic menswear detailing, making it easy to style from day to night. Nordstrom.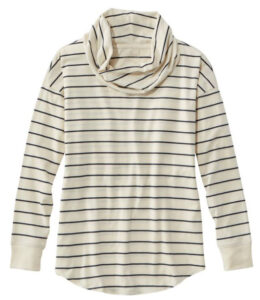 Made of the world's finest cotton– Supima–with a touch of stretch, this cowlneck long-sleeve stripe tee is exceptionally comfortable. LL Bean.
---
---
Light, natural sweaters and wraps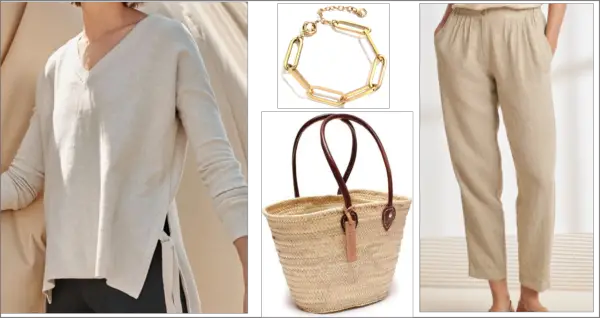 When the sun sets add a layer to your already fabulous coastal grandma wardrobe to ward off night's chill. Sweaters and toppers in linen, cotton, and cashmere complement the fabrics of your day outfit. Neutral tones prevail, although a soft color adds some interest.  Cotton Side-tie Sweater,Garnet Hill; French Market Basket, Amazon; Hera Bracelet, Baublebar; High-twist Tapered Linen Trousers, Poetry.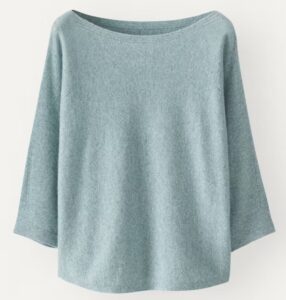 A casual yet very luxurious 100% cashmere sweater with three-quarter length dolman sleeves and a wide boat-neck. Poetry.
Lavender-tinged Abstract-Waterfall Textured Pullover  is knit with cotton-rich yarns and rib stitching. A wide crew neckline, dropped shoulders and 3/4 sleeves add a casually feminine touch J. Jill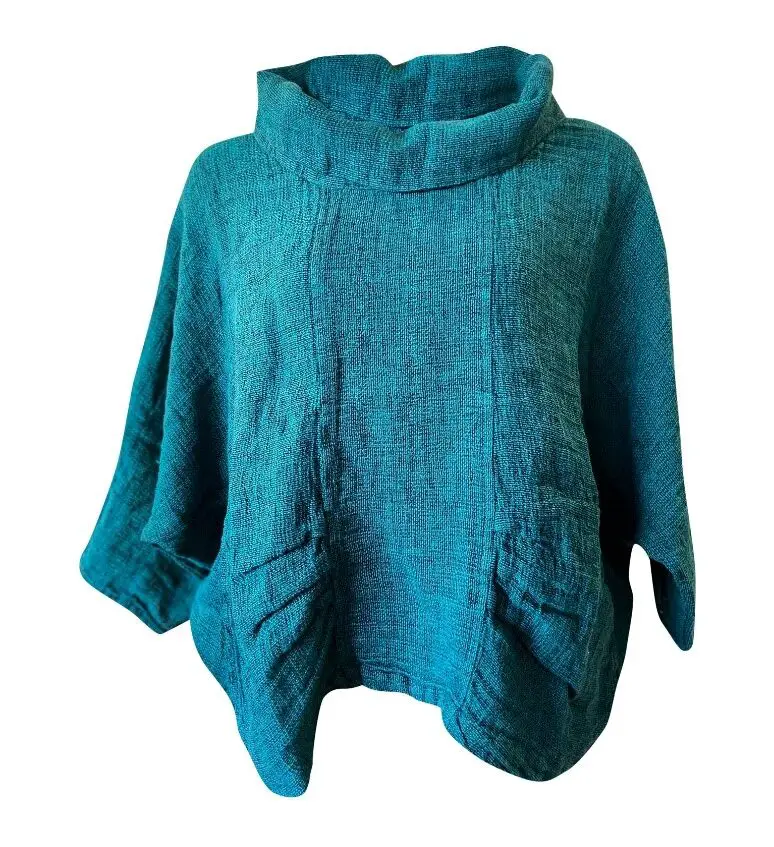 A relaxed-fitting top made from natural, mélange linen. Teal is a classic shade for the coastal grandma look. Style with natural skirt or trousers. Lousje & Bean Boutique.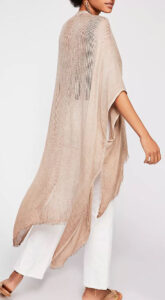 This flowing kimono is perfect for layering during any season and gives the most effortlessly chic touch to any outfit. Free People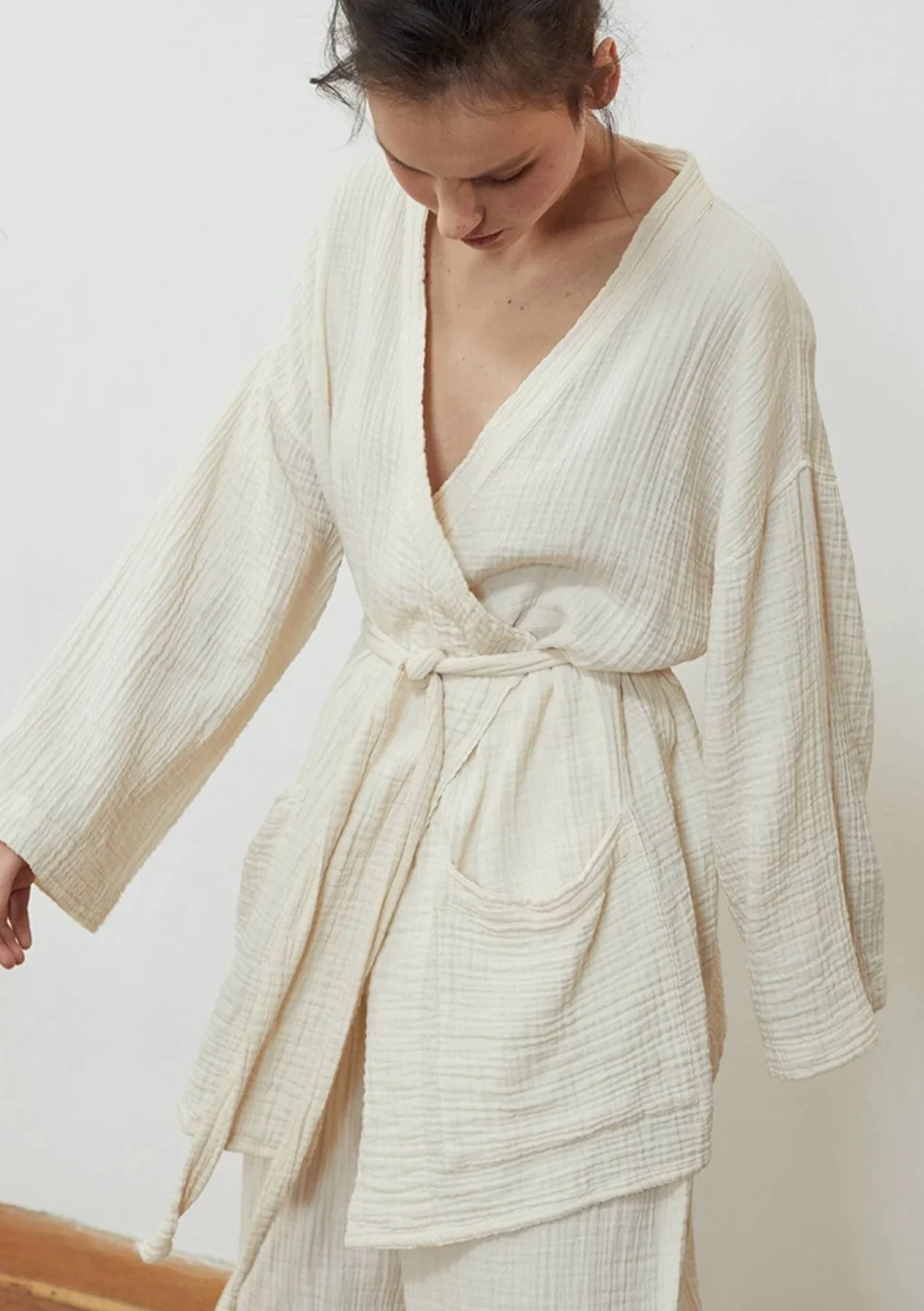 Design in an oversized style, this two-layer crinkle muslin texture is incredibly soft on the skin. Pokoloko.
Put your own stamp on the style
Coastal grandma is a simple style, shapeless, colorless, yet so comfortable the clothes are ideal for a hot, hot summer. That's not to say you can't add some personality to your look. While the kids (anyone under 40) may sport the bucket hat this year, we are not so constrained. Bags, shoes, jewelry–all offer ways to add your personal stamp.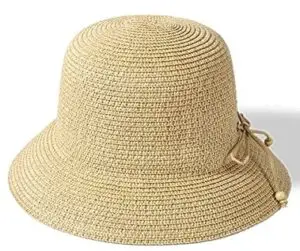 This natural paper straw sun hat will protect you from the sun's rays up to UPF 50+, Amazon.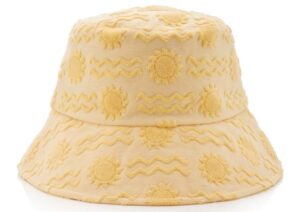 Lack of Color's 'Wave' style hat is made from a soft cotton terry that's been tested with a UPF rating of 50+. Perfect for sunny beach days, Modi Operandi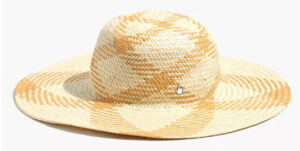 With a woven windowpane pattern, this wide-brim straw hat is perfectly oversized for the coastal grandma. Madewell.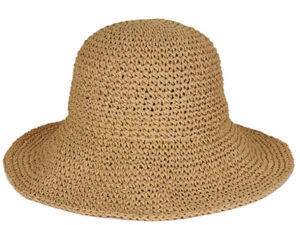 This floppy brim straw beach hat protects from the sun while adding some polish to your grandma look, Amazon.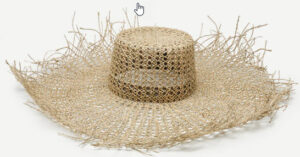 Go wild. Wyeth's Marley ultra-wide brim boater is made of seagrass straw and features a raw fringed brim.   Wyeth USA.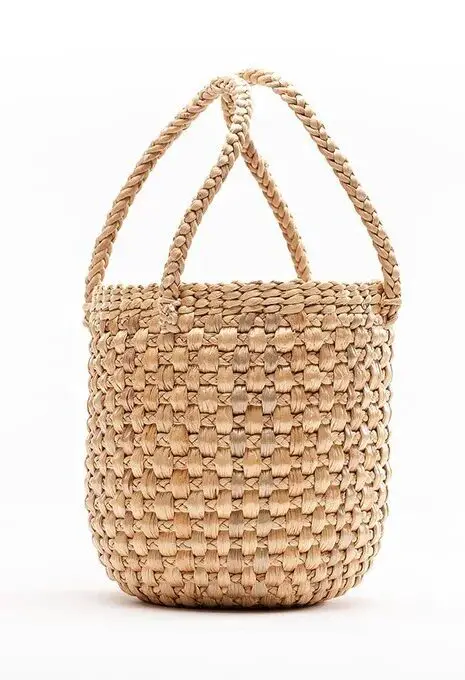 This handmade tote has a traditional weave that is warm and feminine. The bag pattern is made of natural seagrass found wild in Thailand. Sea & Grass.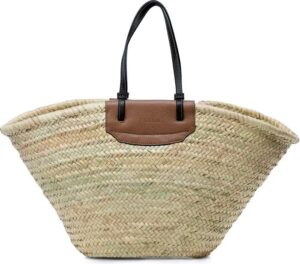 Furla Meraviglia's large woven straw tote with smooth leather trim for a refined contrast is ideal for travel. Nordstrom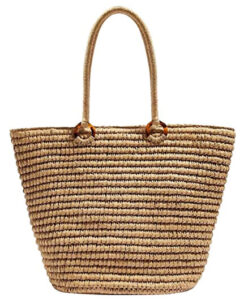 Coastal grandmas will be ready for the beach, the farmer's market, the local boardwalk with this hand-woven straw beach tote. Amazon.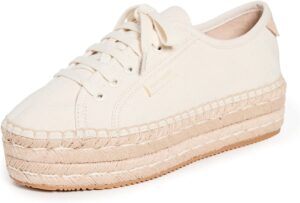 This Seaside Oxford Espadrille naturally pairs with the season's skirts and dresses for the relaxed feel so essential to the coastal grandma vibe. Tory Burch.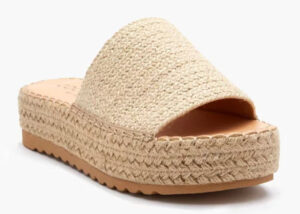 The Del Mar platform sandal is beach-ready with its all-over braided raffia design and a thick single band that lends itself to casual wear. matissefootwear.com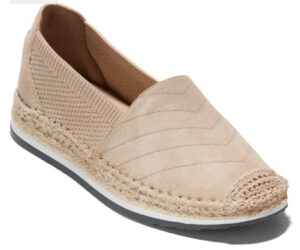 The Cole Haan Cloudfeel Espadrille Loafer in sesame, is made of knitted fabric, suede, and jute, with a dual-density internal wedge for a mixture of premium comfort and support. Cole Haan.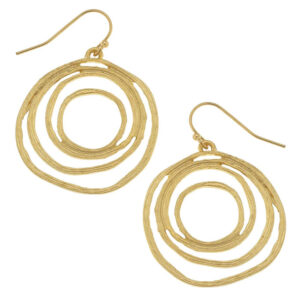 Playful Swirl Cut Out Earrings from Susan Shaw work from day to evening. Available in triple plated 24K gold or hand-cast sterling silver plating. Handmade to order in San Antonio, TX. Susan Shaw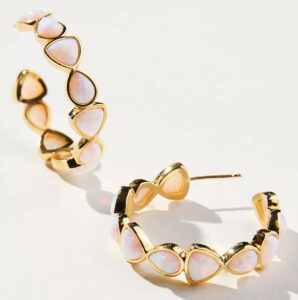 Add a luminous accent with theses Shades of Sea opal earrings starring iridescent inset stones in an open-hoop silhouette. From Anthropolgie.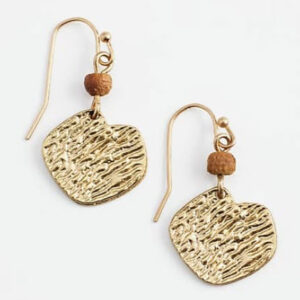 J Jill's versatile Island Delight Circle Earrings are designed with a wood bead set atop a hammered gold-tone disk. They add the perfect touch of shine to both casual and more refined outfits.  J.Jill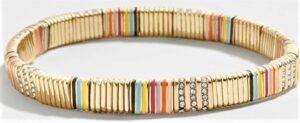 This pleated, beaded bracelet from Baublebar features a hint of enamel for a pop of color, as well as sparkly glass beads. baublebar.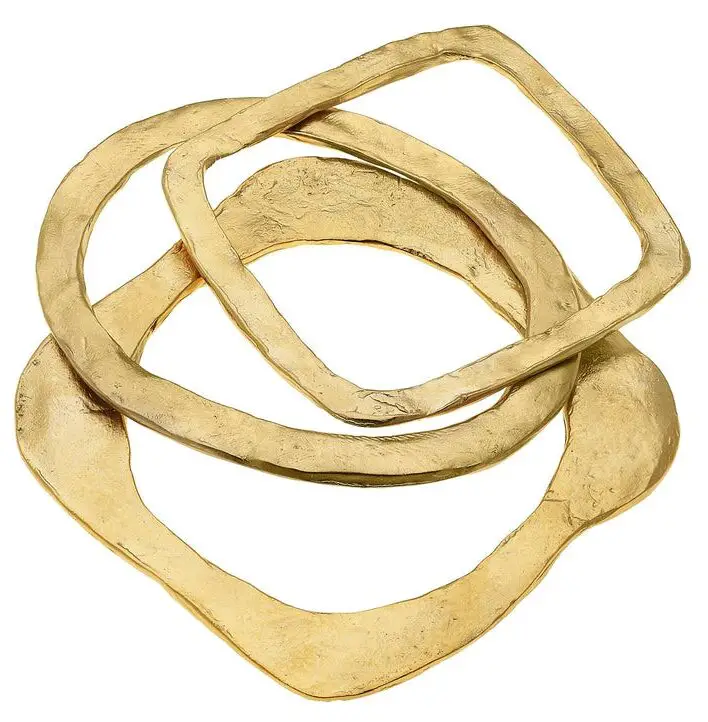 Handmade to order, these three hammered bangles are also in the Susan Shaw coastal Grandmother collection. Susan Shaw. 
  *   *   *
As an affiliate of Amazon and other retailers, Blue Hare makes a commission on qualifying purchases made through the links on this page. 
*   *   *
You may also like
Go to the Blue Hare home page for more articles for fabulous women