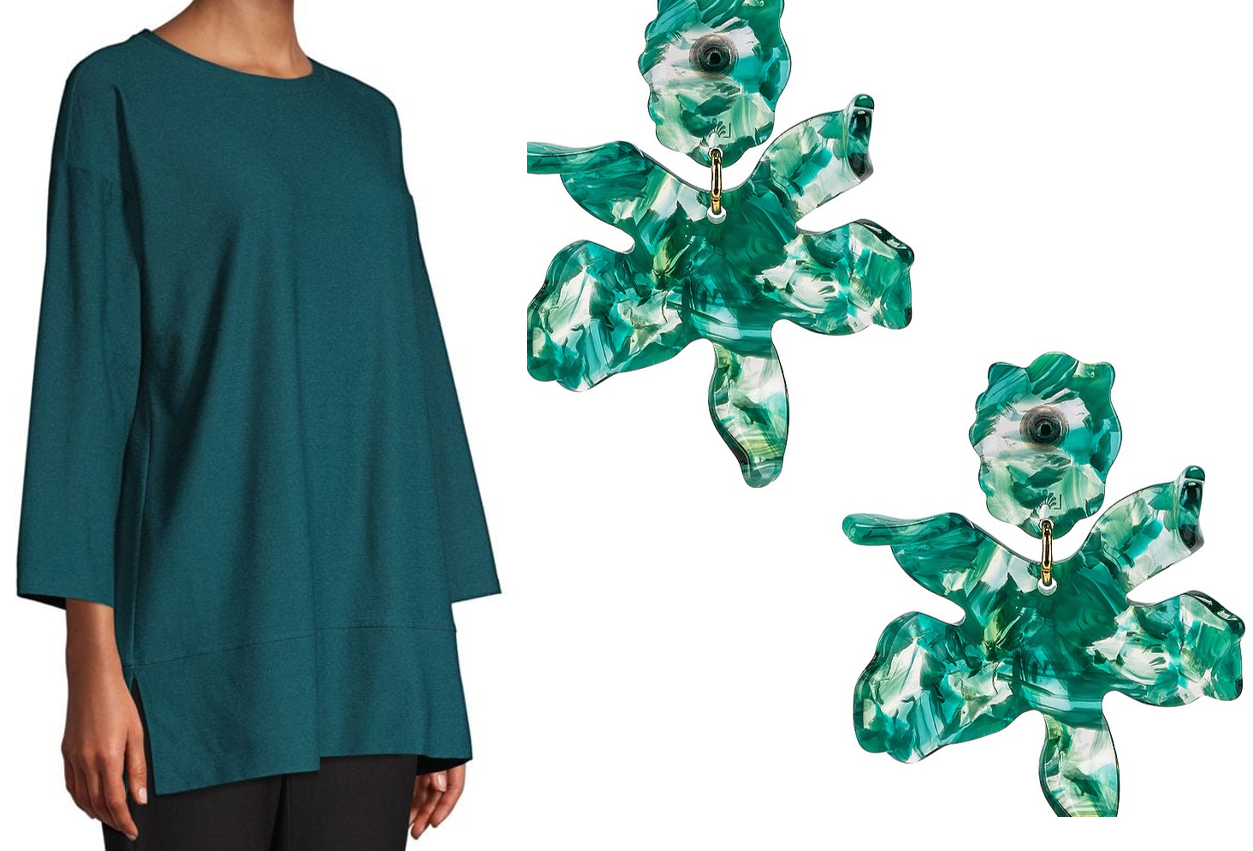 Tunic tops are largely overlooked as formal or party wear. Mention "tunic" to most women and they conjure images of shapeless, baggy tops worn over leggings. Tunics have come a long way since the Middle Ages, or the 1990s.  With the right top and inspired accessories, you can create a look that's appropriate for holiday gatherings from casual to formal, without sacrificing comfort.
That's good news for us. We can wear comfortable shoes to a dinner or a gala event. The Spanx can stay in the drawer. But hair and nails, yes, they still need to look good.
Tunics tops are flattering on all body types
Here are some guidelines to help you choose your best look.
As to length, tunics for women should hit at least at the top of the thigh. The right look for you will depend on your height and weight. There is a sweet spot there; you'll know it when your overall look is well balanced.
Women who have worked hard to maintain an attractive body shape want to choose a slightly fitted version like the Marc New York tunic below.
Tunics with a straight line work well for most women and should be large enough to just skim the body without pulling.
If it's blousy on top, narrow pants will look best on the bottom.
If the tunic hugs the body (relatively speaking), wide-leg pants will create a feminine silhouette.
Don't over-accessorize
When in doubt, accessorize like a French woman.
Never wear more than three pieces of jewelry at once. It creates clutter and confuses a look.
Opt for understated jewelry.
Statement pieces should be worn on their own. A simple bracelet works with statement earrings. Simple stud or hoop earrings will allow a statement necklace to shine.
Don't forget about the impact a statement scarf can make.
We put together a few looks with what's on the market today, all with the aim of creating relaxed elegance. Some of the more popular styles are selling out quickly. Prices go up and down. But this is not a shopping catalogue. We mean to inspire you to find your truth—or at least an outfit that will make you look absolutely fabulous.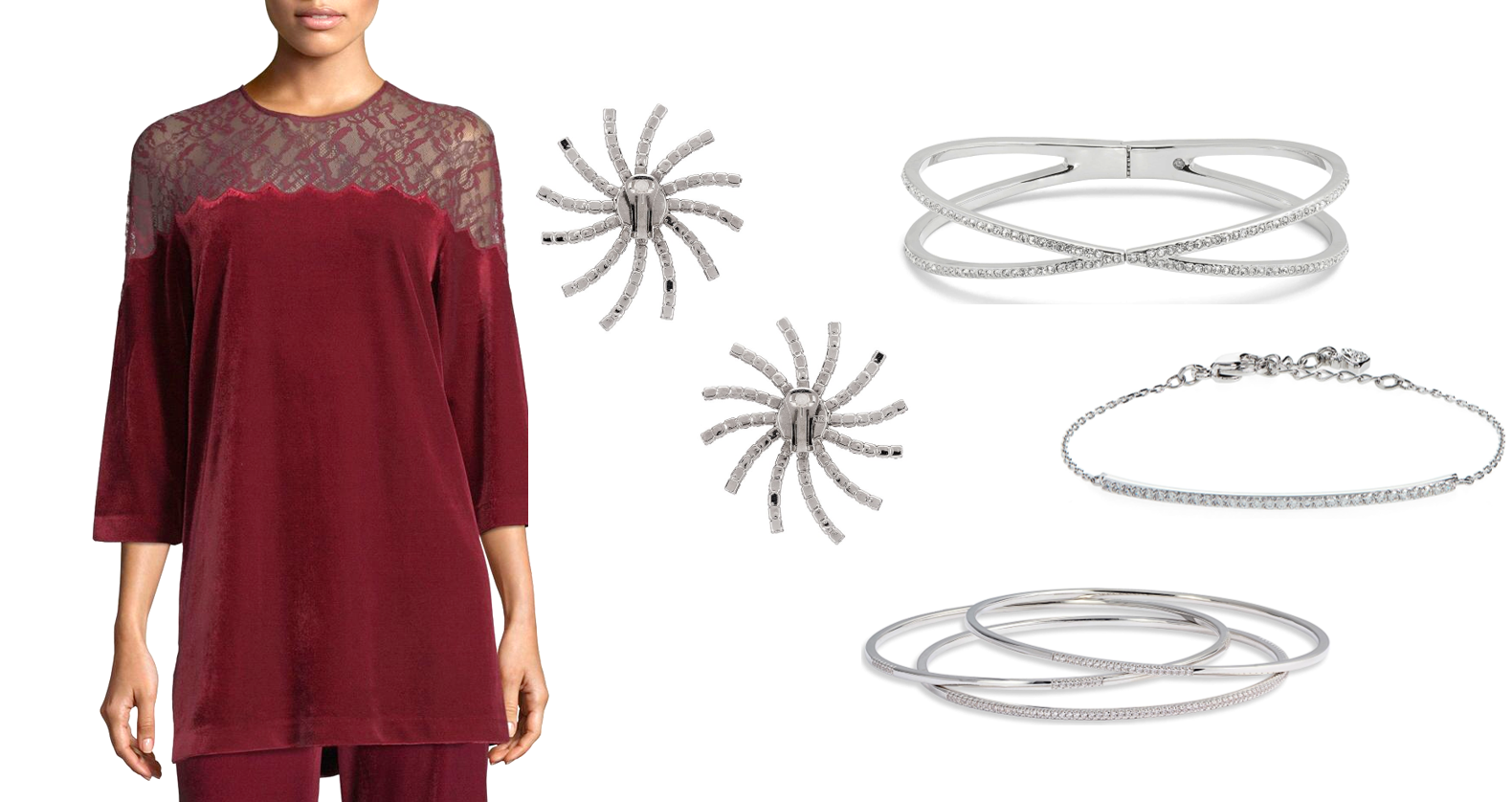 For an elegant evening event slip into this velvet tunic with a lace yoke from Joan Vass. It needs little in terms of accessories. A pair of star-swirled earrings and a delicate bracelet provide just enough sparkle. Wear flowing wide leg black pants for a formal look.
Joan Vass Tunic, Nieman Marcus, $295. Alessandra Rich Crystal Star Earrings, FWRD.com   $200.  Pavé Crisscross Hinged Cuff Bracelet, Nordstrom, $89.00; Swarovski Only Crystal Bracelet, Nordstrom, $79; Set Of 3 Pavé Bangles, Nordstrom,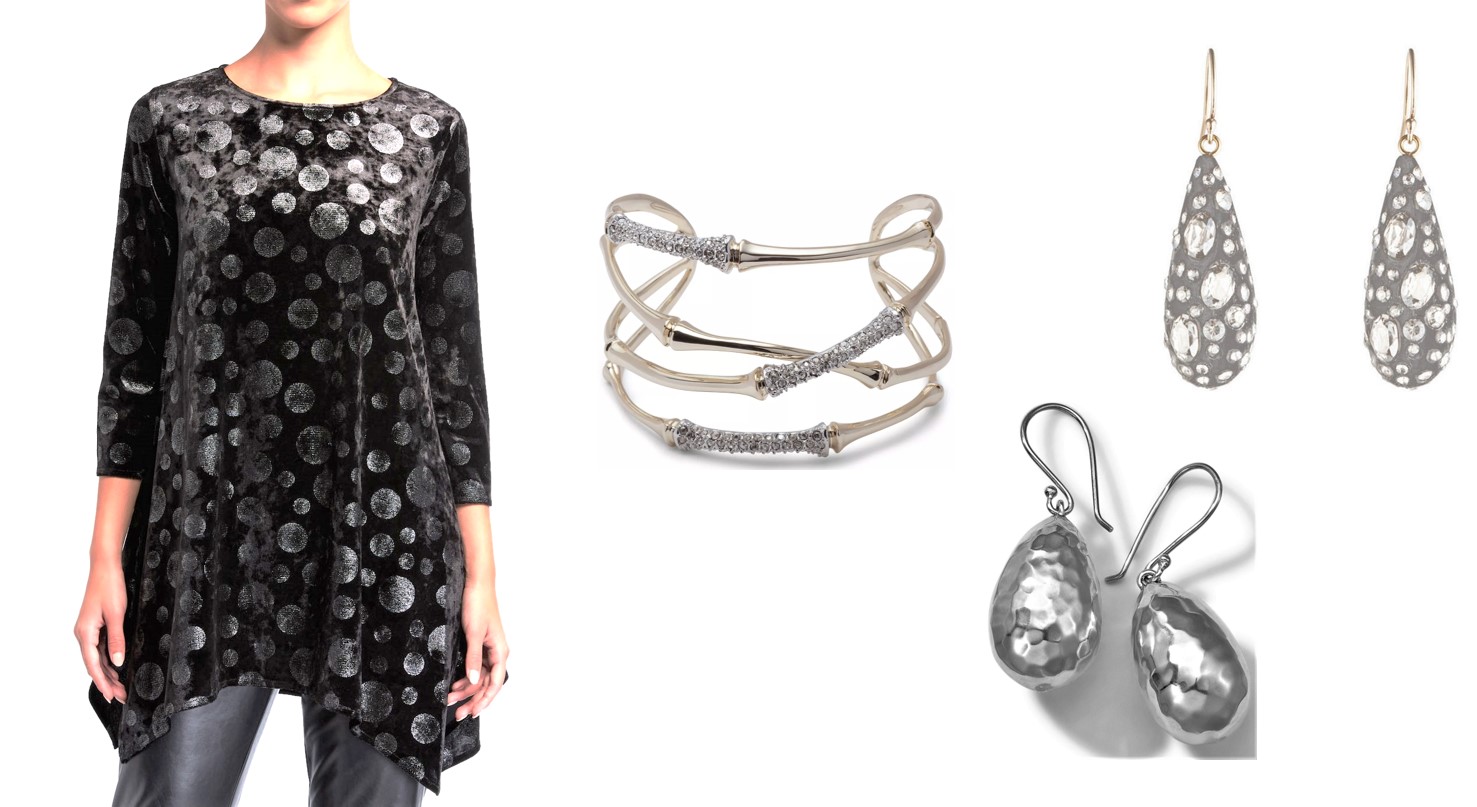 You'll be ready for New Year's Eve or a night at the opera with this Caroline Rose "Lunar" black velvet/metallic dot swing tunic. Accessories play a background role and support, not compete with, the tunic's pattern. Pair with black leather skinny pants.
Caroline Rose tunic, Nieman Marcus, $215.  Alexis Bittar Cuff Bracelet, Bloomingdale's, $245; Alexis Bittar Dust Dew Drop Earrings, Nieman Marcus, $150.00; Ippolita Silver Single Dangle & Drop Earrings, Nieman Marcus, $195.00.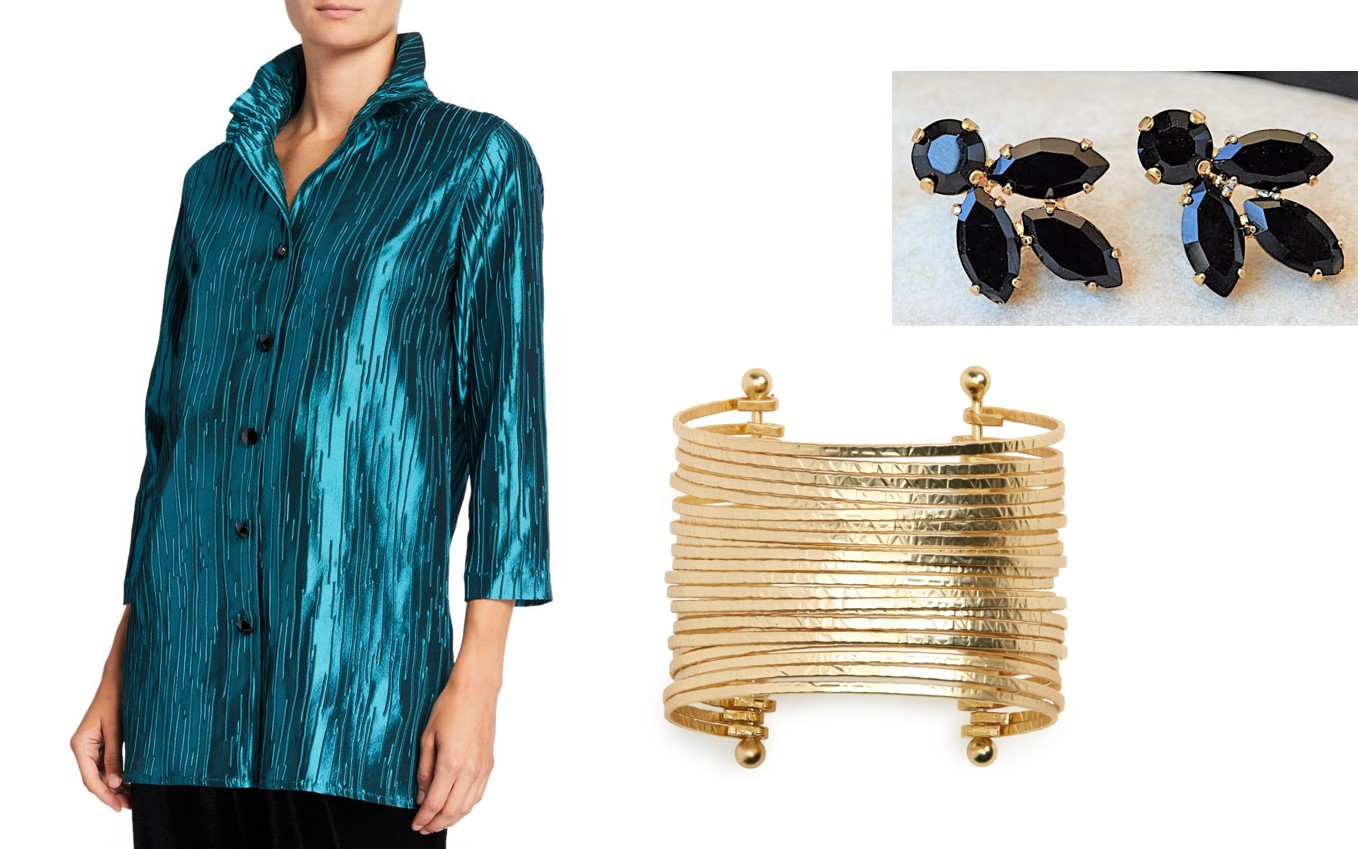 This luminous textured jacquard shirt with a rich sheen is ready for cocktails with earrings that echo its black Swarovski crystal buttons. The bracelet sleeves are made for… a bracelet. We like a multi-strand cuff like this one from Panacea.
Caroline Rose tunic, Nieman Marcus, $395.00. Black Swarovski Crystal Earrings, Etsy, $38.50; Panacea Large Multiband Wrist Cuff, Nordstrom, $32.00.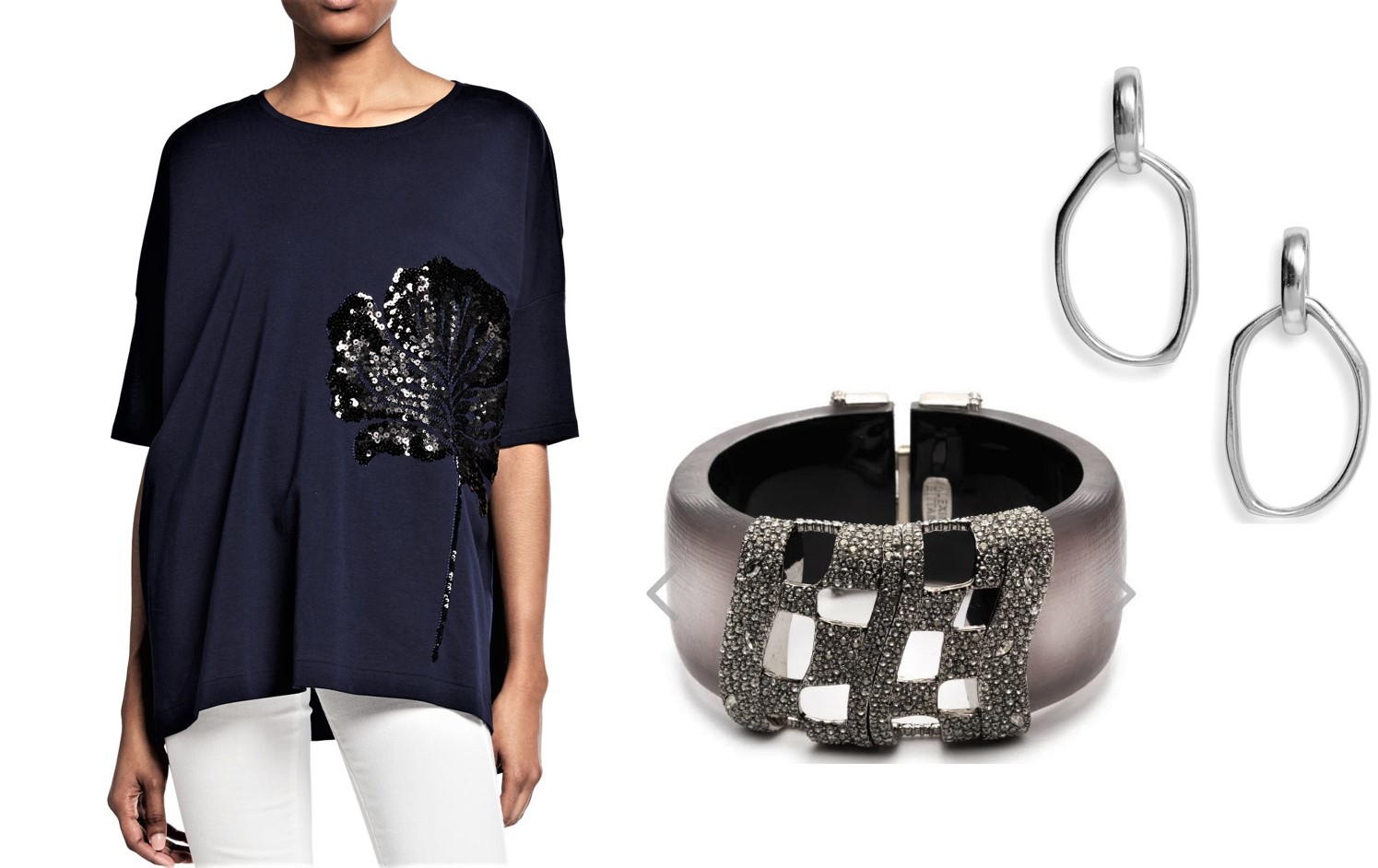 When you want just a little glitz for a casual gathering, something like this navy Joan Vass "Big Tee" fits the bill. With its sequined flower on the front, simple earrings like these angular hoops from Karine Sultan and showstopping bracelet from Alexis Bittar take the tee from casual, with white jeans, to chic, with black sateen pants.
Joan Vass Sequin-Flower Big Tee in Navy, Nieman Marcus, $185.00; Alexis Bittar Pave Checkerboard Hinge Bracelet, orchardmile.com, $345; KARINE SULTAN Hoop Earrings, Nordstrom, $34.00.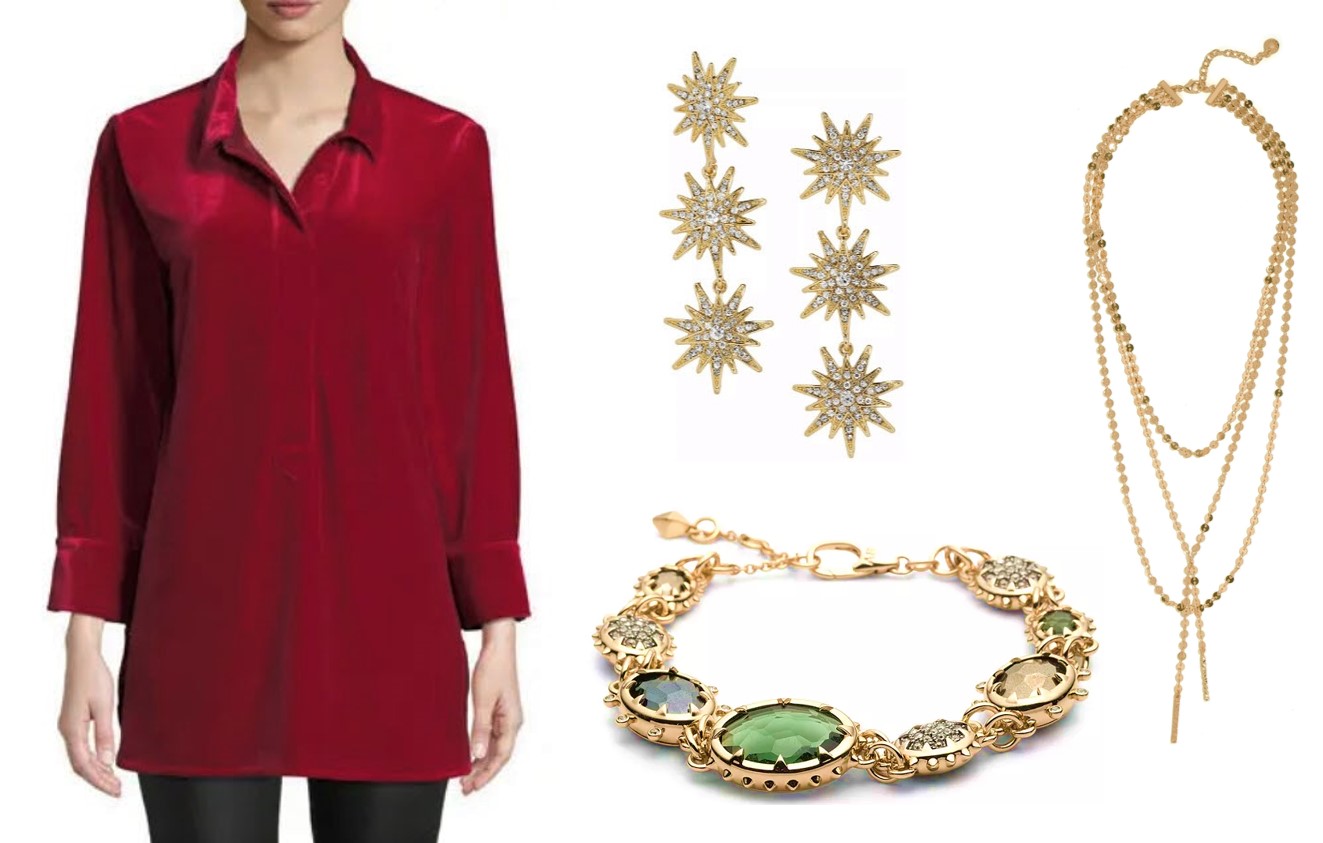 One rarely uses the term "workhorse" for party wear, but it perfectly describes this Joan Vass velvet tunic.  Pair it with black sequin ankle pants for  the ultimate hostess look, or let some statement jewelry lead the look. Or go casual with a pair of embellished black bootcut pants and a multi-chain necklace.
Joan Vass 3/4-Sleeve Side-Slit Relaxed Velvet Tunic Shirt, Nieman Marcus Last Call, $72. Alexis Bittar Modern Georgian Stone Link Bracelet, Bloomingdale's, $295; Baublebar Horizon Triple Starburst Drop Earrings, Bloomingdale's, $38; Baublebar Amber Layered Chain Y-Necklace, Nordstrom, $48.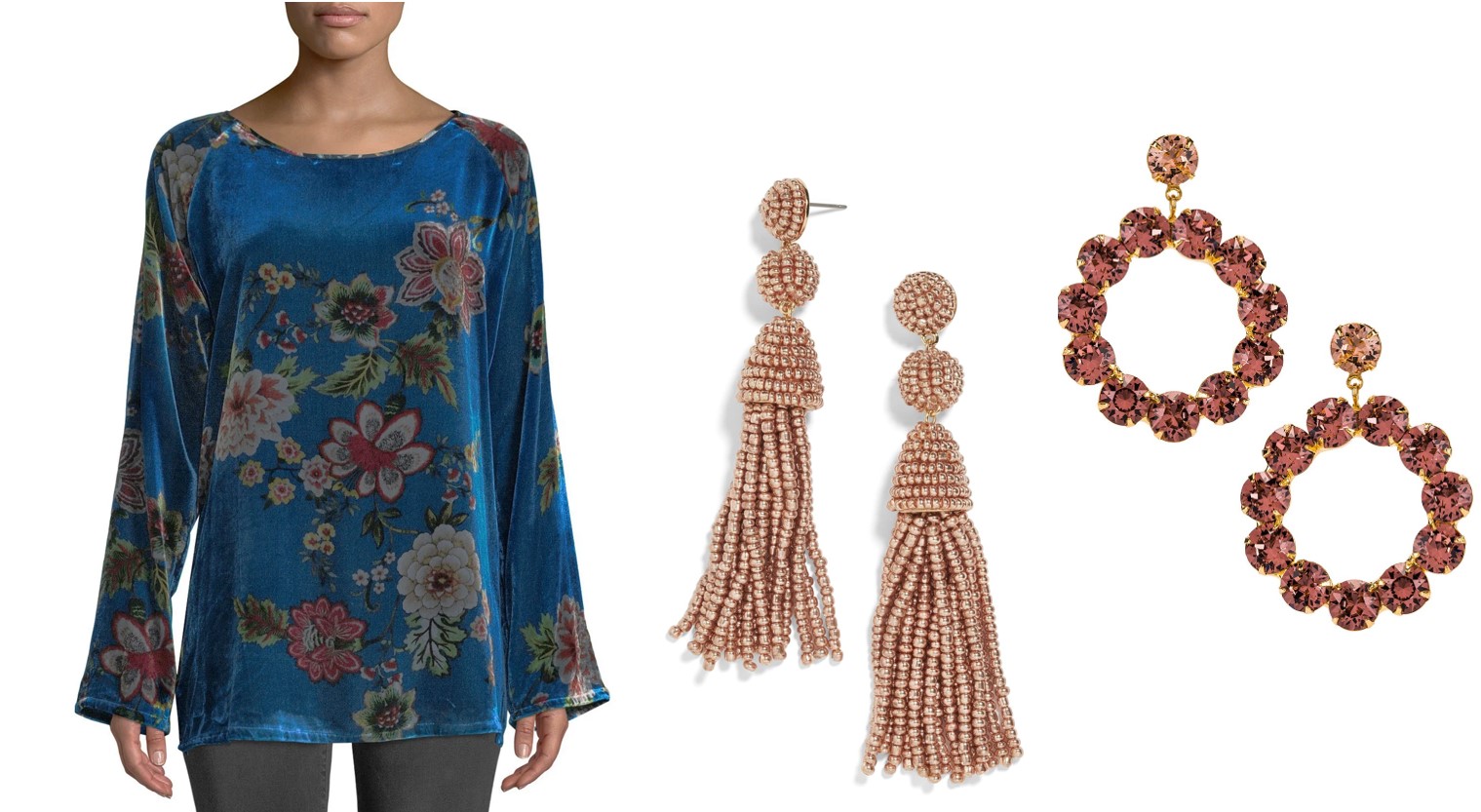 When you have a top that has the understated beauty of this deep blue, floral print velvet tunic from Johnny Was, accessories play a supporting role. Earrings in a subtle rose shade are just that. They provide a flirtatious element without stealing the show.
Johnny Was Karmen Long-Sleeve Floral-Print Velvet Tunic,  Nieman Marcus, Lyst.com, $ 175.00; JENNIFER BEHR Maddox Hoop, fwrd.com, $275; BAUBLEBAR Granita Beaded Tassel Earrings, Nordstrom, $38.00.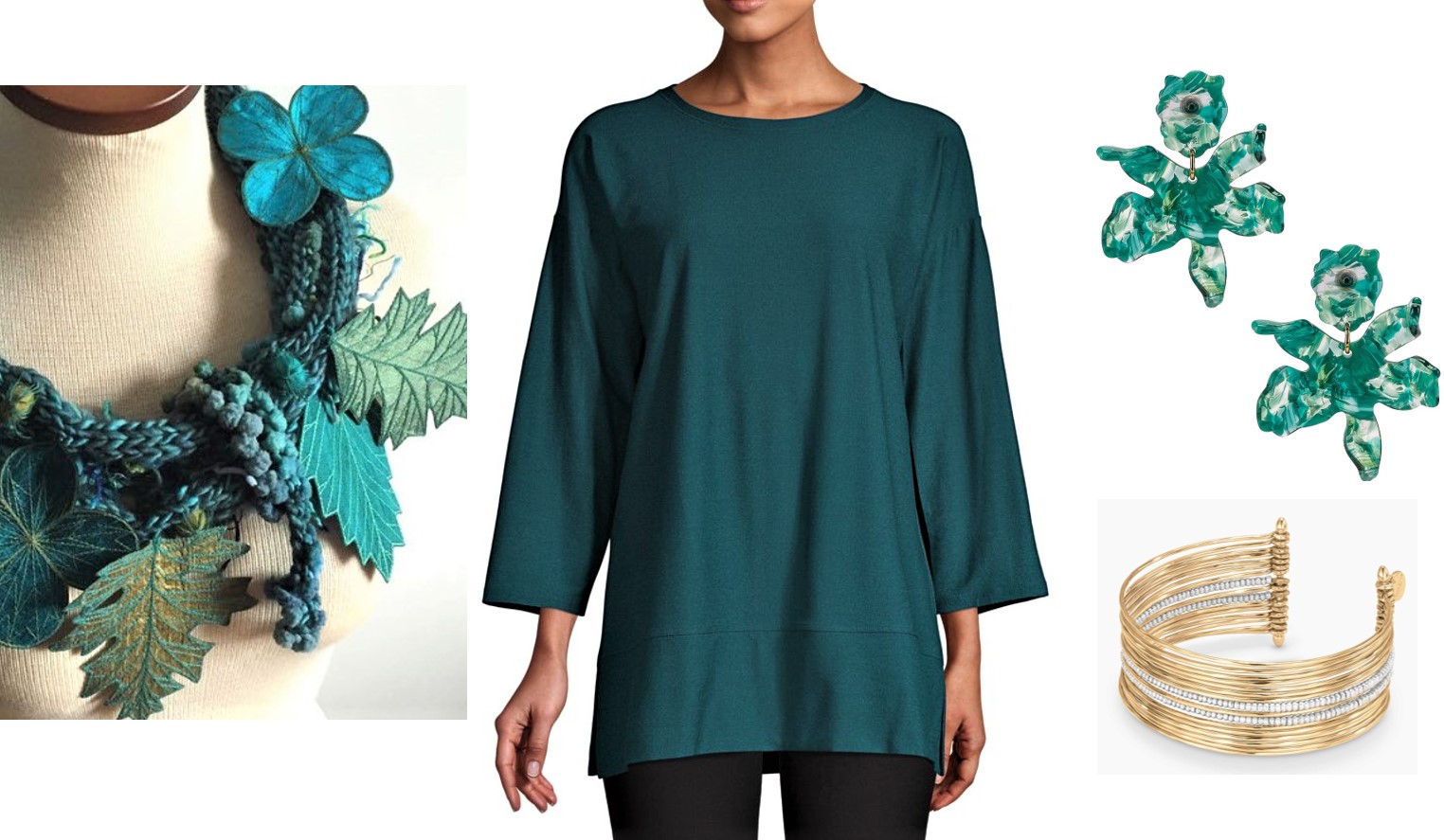 Eileen Fisher is the undisputed queen of the Indispensable tunic top for all occasions. This comfortable top in a deep spruce green is made of stretch crepe and cut with a chic bracelet sleeve. It acts as a blank canvas against which you create your look. A quirky scarf of felted wool leaves, found on Etsy, transforms the top into an original creation. For more glam look pair these green crystal earrings with a shimmering cuff bracelet of delicate gold bands and silver beads.
Eileen Fisher Stretch Crepe Tunic in Deep Blue Spruce, Saks Fifth Avenue, $110. Betsie Withey Long and Leafy Scarf with Embroidered Leaves, Etsy, $195; Lele Sadoughi Small Crystal Lily Earrings in green, $125; Stella & Dot Rhett Cuff, stelladot.com, $49.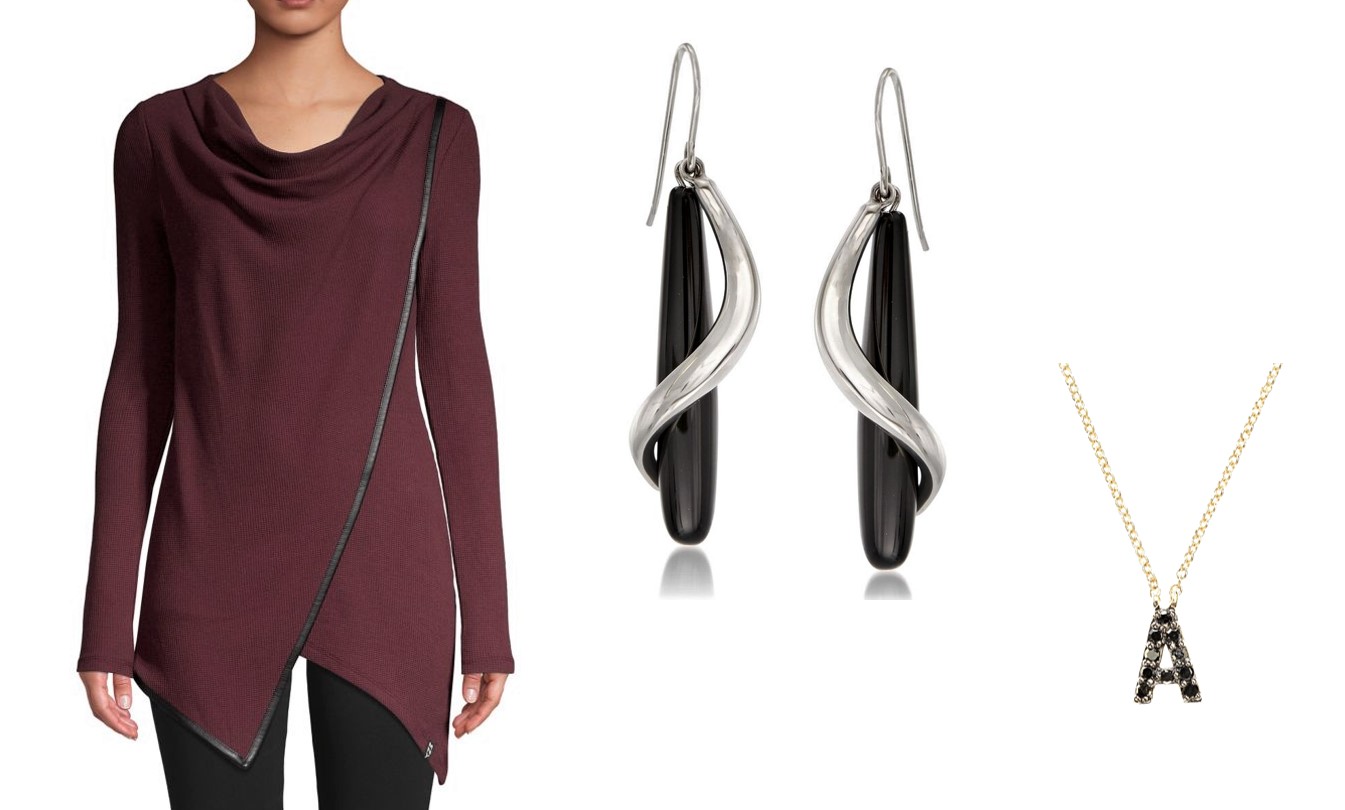 Your reward to making it to all of those yoga classes is this form-skimming tunic from Marc New York in a deep burgundy. The marled long sleeve top has an asymmetric draped front bodice that calls for a tiny, sparking jewel at the collar and earrings that echo the asymmetrical drape of the bodice. $54 at Lord & Taylor.
Marc New York Performance Asymmetric Draped-Front Tunic, Lord & Taylor, $54. Delicate Covet Pavé Initial necklace, hand crafted genuine enhanced black diamonds set in 14K yellow gold, stelladot.com,  $299; Black Onyx Teardrop and Sterling Silver Spiral Drop Earrings, Ross Simons, $66.50.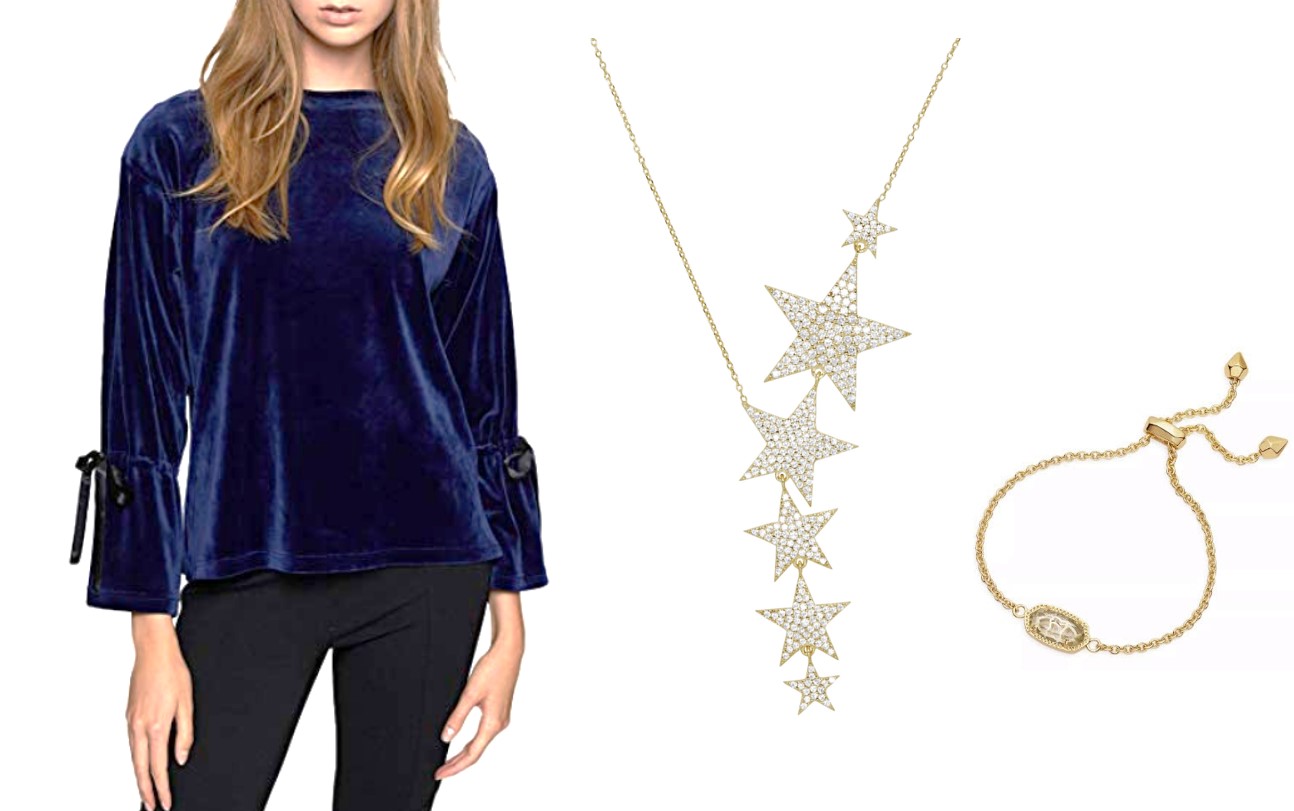 While not exactly a tunic top this navy plush velvet top hits all of the requisite style and comfort buttons. Sanctuary's top blends a sweatshirt-style silhouette with the romance of satin-tied bell sleeves. A shower of stars and a delicate bracelet make it party worthy. Pair with slinky wide leg pants.
Sanctuary Women's Tierney Velour Popover Sweatshirt, Amazon.com, $51.19. Ragen Jewels Falling Stars Y-Necklace, Nordstrom, $130.00; Kendra Scott Elaina Birthstone Bracelet, Bloomingdale's, $60.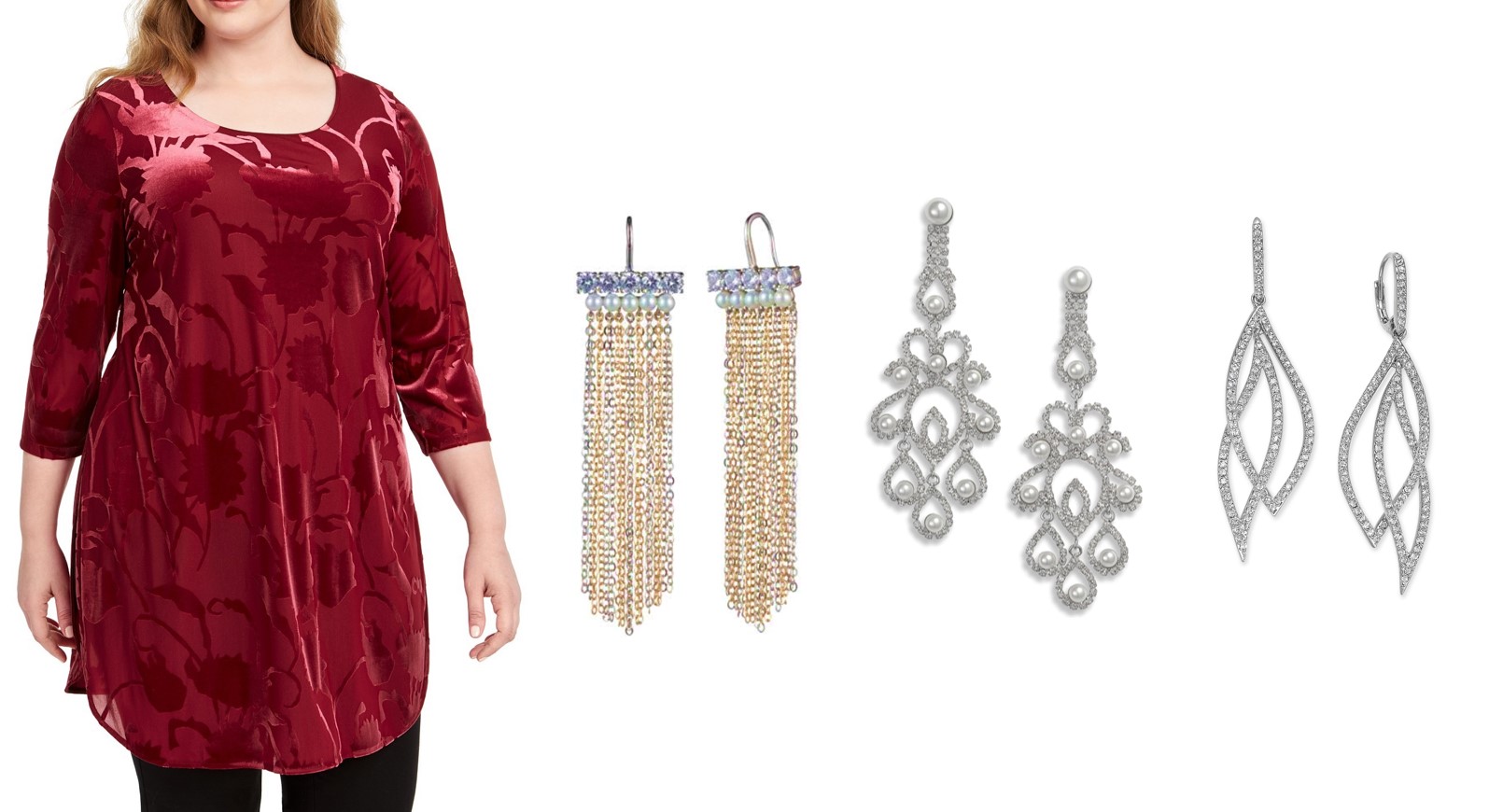 For a more full-bodied woman, a shaped tunic like this velvet top by Alfani brings a feminine note. A gorgeous abstract burnout design lends both visual and textural interest. To balance the look earrings should have a presence but not compete with the design of the top itself. Black Pair with deep black ankle-length slim pants.
Alfani Plus Size Velvet Burnout Tunic Top, Macy's, $85.50.  Cristabelle Crystal & Imitation Pearl Chandelier Earrings, Nordstrom, $40.00; Carolee Women's Symmetrical chain fringe earring, Amazon.com, $29.99; Eliot Danori Pavé Crystal Leaf Earrings, Macy's, $72
The length of this Eileen Fisher top defies the tunic definition, but its flared bodice and sleeves score points for style and comfort. A glass bubble necklace turns this understated top into a party. Small bubbles on the earrings continue the celebratory feel. Time to pop the champagne.
Eileen Fisher Bateau-Neck Bracelet-Sleeve Knit Top in Indigo, Nieman Marcus Last Call, $51. Marina and Susanna Sent Bubble Necklace, Museum of Modern Art, $125;  Alicia Stud Earrings, Baublebar, $36.
*     *     *
We may receive a small commission (at no cost to you) on qualifying purchases made through the links in this article. Thanks!
You might also like
Go to the Blue Hare homepage for more articles for fabulous women.