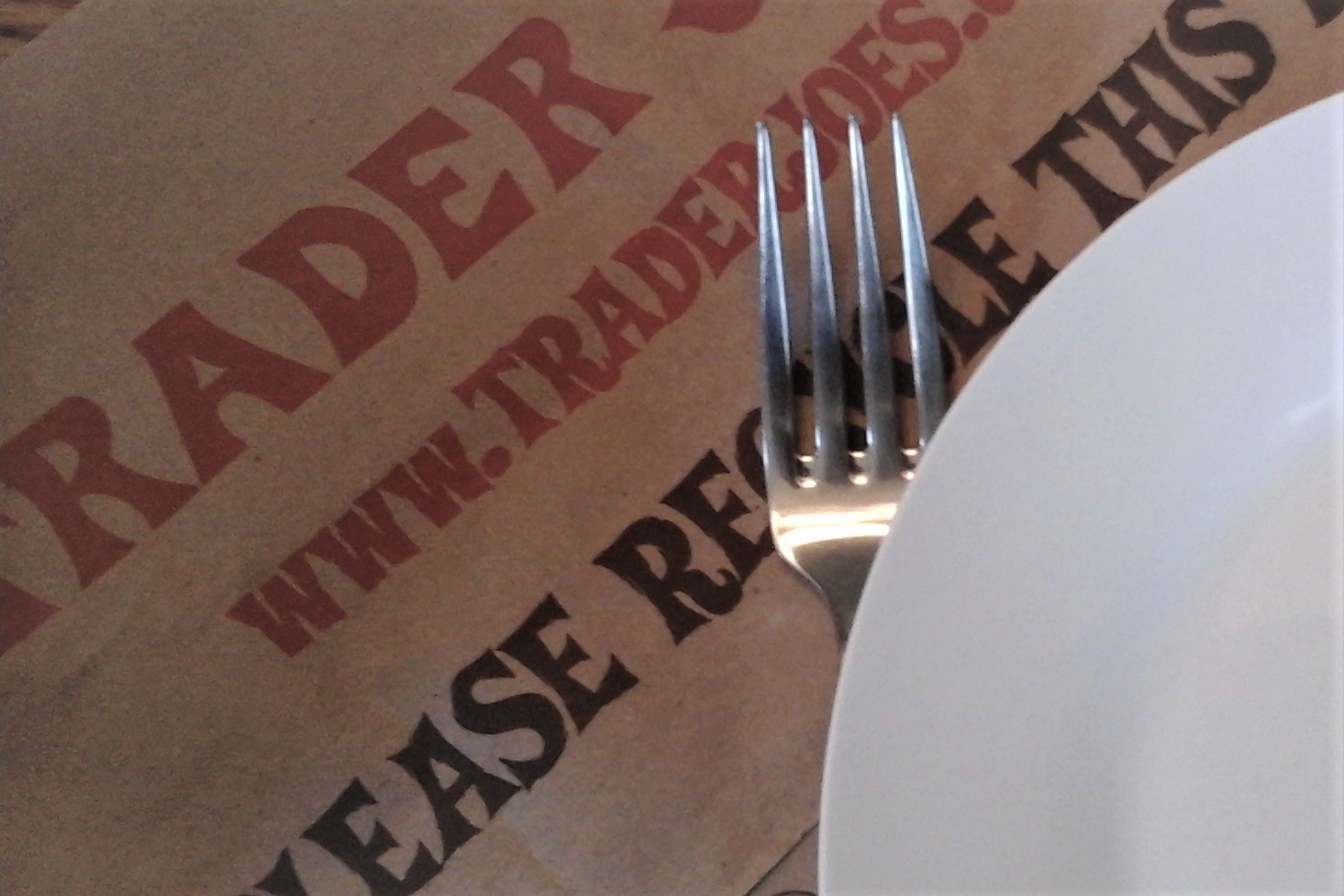 Did unexpected company drop in or call to say they're on the way?  How do you put together a satisfying spread with only a few minutes' notice? Call the cavalry—or in this case, Trader Joe's frozen foods.  TJ's has saved us more than once, not only with unexpected guests but when we're looking for a light and easy bite ourselves.
Blue Hare tasted several dozen products from Trader Joe's frozen food aisle and winnowed the list to our 16 favorites below. They run the gamut from appetizers to entrees to snacks to desserts. They're quick, easy to prepare, and you won't be embarrassed about serving frozen food to your guests—in fact, they will complement you on your cuisine.  (We'll leave it up to you whether to credit Trader Joe's or politely skirt the issue.) And since March is National Frozen Food month you can fill your cart and feel patriotic at the same time.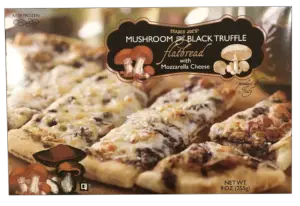 1. Mushroom and Black Truffle Flatbread with Mozzarella Cheese
We love this flatbread and its mixture of rich gooey cheese, mushrooms, and truffle oil.  It takes just 10 minutes to heat. When ready, cut into squares and serve with a crisp Chardonnay. It's a chic appetizer but also hearty enough to make a meal for one.

2. Thai Shrimp Gyoza
There's always a bag of gyoza in our editor's freezer so she can whip up a quick lunch or light dinner. No big steam pots needed. Just put them in the microwave with a bit of water, cover, and heat for 3 to 4 minutes. Mix a few tablespoons of soy sauce with a teaspoon of rice vinegar to make a simple dipping sauce. It's almost instant gratification.

3. Chicken Spring Rolls
We bought these as an appetizer for a Chinese hot pot party and they practically stole the show. The wrap is crispy and the filling is flavored with a mix of spices. Buy more than one box if there are more than two of you.

4. Paneer Tikka Masala with Spinach Basmati Rice
Trader Joe's offers some of the best frozen Indian vegetarian dishes on the market. This tikka masala features cubes of paneer cheese enrobed in a delicious medium-heat masala sauce and is served over a mound of spinach basmati rice. TJ's tikka masala also comes in chicken and vegan versions to please everyone in the house.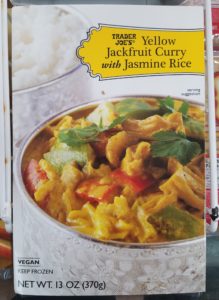 5. Yellow Jackfruit Curry with Jasmine Rice
Jackfruit is the latest exotic ingredient to hit North American shores. Known for its versatility, unripe jackfruit can be cooked to taste just like meat—only it's not.
Jackfruit is rich in vitamins, minerals and dietary fiber. It's a good choice for those who want to lose or maintain their weight because its fiber-rich texture gives a feeling of fullness. TJ pairs jackfruit with a creamy coconut milk-based yellow curry sauce, created in-house with a yellow curry paste, rich in freshly ground herbs and spices including lemongrass, cumin, and turmeric.
6. Riced Cauliflower Stir Fry
The current low-carb, Keto diet trend has propelled the benign cauliflower to rock star status. This TJ stir fry delivers a mouthful of flavors and textures. With cauliflower as a base, it's accented with green peas, red peppers, grilled corn, tamari (gluten-free soy sauce), spring onions, sesame oil and ginger. It's a flavorful, umami-rich stir fry without the carbs—perfect for spring.
 7. Chicken Soup Dumplings
We swear these dumplings would please a gathering of tough Asian food critics.  They have a delicate wrapper, a yummy chicken mélange inside, and burst with savory chicken broth when you bite into them.  Four minutes in the microwave, a shake of TJ's superb soy sauce, and you will be transported to the far reaches of mainland China.
8. Steak and Stout Pie
Our beauty editor used the man in her life to test the steak and stout pie, traditional pub fare in the British Isles.  He says that while these don't quite have that fresh cooked flavor and could use another helping of steak, they are a darn good substitute if you can't get to Britain.  At 800 calories per, we almost hesitate to recommend them but then we remember: it's a pub crawl not lunch at Covent Garden. Cheers!
9.  Bean & Rice Burrito
Another freezer staple, Trader Joe's bean and rice burritos come to the rescue when you aren't in the mood to cook and you don't want to deal with takeout. Top the heated burritos with a mound of TJ's salsa, a heaping tablespoon of plain yogurt, and some avocado slices for an almost well-rounded meal.

10. Seafood Paella
This is one of the few packaged meals of any brand that actually has more protein in it than anything else.  There is seafood galore in this paella–and it's really, really good. The protein consists of mussels, shrimp, cod, haddock, crab, pollock and whiting (let's just call that mystery fish).  We think this TJ's paella is so good for two reasons: one, it's made in France and two, it contains saffron.  Yes, that desperately costly, divine, coveted little spice that makes or breaks a paella is actually in there, too.  Despite the claim on the package, one bag = one serving, so buy appropriately.
11. Roasted Vegetable Multi-Grain Lasagna
Who doesn't love lasagna?  But who loves all the work of making it?  This hearty family-size vegetable lasagna is more than enough for a meal with plenty left over for a lunch or two. The multi-grain lasagna is loaded with vegetables—roasted tomatoes, zucchini, and broccoli—and delivers five grams of fiber per serving. Add some more shredded mozzarella for extra gooey deliciousness. You won't miss the meat; trust us—the taste is that good.

12. Almond Croissants
Treat your weekend guests, or yourself, to warm, crispy almond croissants for breakfast. They won't know you weren't up half the night pounding and turning the buttery dough that gives them that distinct flakiness. Serve with a steaming bowl of café au lait.

13. Mixed Berry Tart
You'll think you've been to a Parisian patisserie with this mixed berry tart. The shortbread crust is filled with raspberries, blackberries, blueberries, and currants. The hardest part of this tart is not eating the whole thing.

14. French Vanilla Ice Cream
When you're in the mood for vanilla ice cream you want one that delivers pure vanilla flavor without any strange sub-flavors or aftertastes. Enter Trader Joe's French Vanilla Ice Cream. As good as any premium ice cream at a fraction of the price.

15. Matcha Green Tea Mochi
A special treat for vegans (and everyone else) is Trader Joe's green tea mochi ice dessert. Note: ice dessert, not ice cream. The vegan versions of TJ's mochi ice desserts are made with a frozen coconut milk concoction inside a delicate glutinous rice wrapper. They are dairy-free, soy-free, gluten-free, and totally tasty.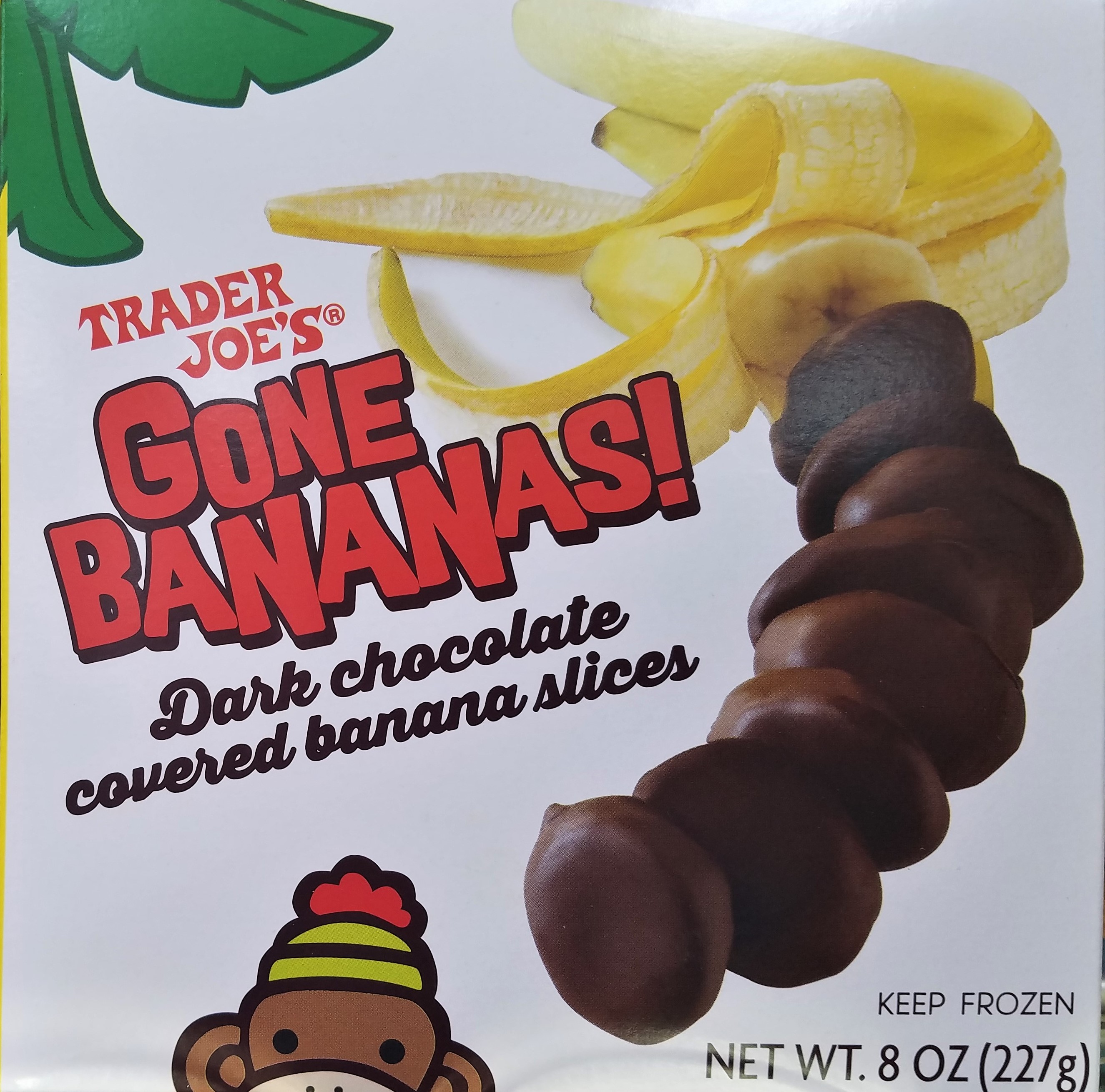 16. Gone Bananas
How did we live without these little coins of chocolate covered banana slices? TJ's has figured out the perfect marriage of dark chocolate and ripe bananas that do a happy dance in your mouth. A serving of four pieces has only 100 calories.
    *     *     *
You may also like
Go to the Blue Hare homepage for more articles for fabulous women.