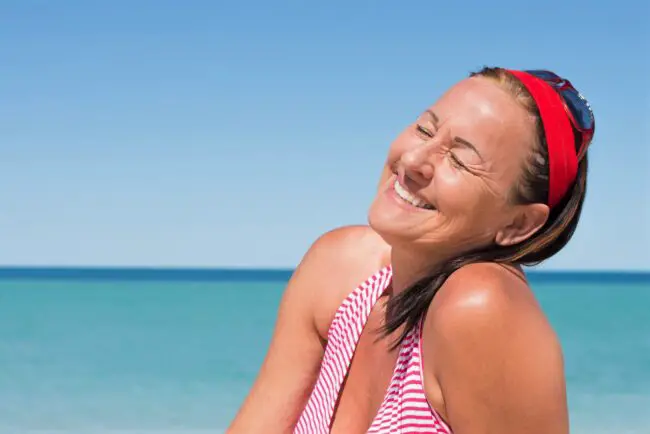 If we can agree on one thing, it's that finding a swimsuit that makes us feel attractive and confident is a dreaded task. Now we're over 60 and the anxiety over finding the best swimsuit is even higher. Even a super model like 74-year-old Maye Musk, whose recent Sports Illustrated swimsuit cover photo broke all kinds of silver-ceiling barriers, has a different body than she did in her 20s, 30s, 40s.
Most of our bodies have changed as well, the inevitable result of the aging process.
Fortunately, there are a lot of beautiful swimsuits for golden girls. All you need to find your perfect one is to follow a few guidelines. We highlight the most common problem spots for our age group, then show you examples of swimsuits that camouflage them while celebrating your assets.
---
---
Problem area #1: Tummy
As we age our bodies begin to accumulate fat around our midsection. And depending on our body type and weight it can range from a little extra padding to much more. It is what it is. Let's move on…
Solution: Colorful patterns, ruching, and loose-fitting tops.
Ruched styles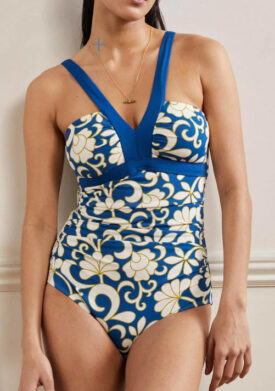 With a colorful print plus side ruching, the Corsica V-neck Swimsuit from Boden offers plenty of camouflage for a mature women's tummy. A sculpted lining gives support without compromising on comfort. Adjustable halterneck straps. Available in 10 colors and patterns. Buy it on bodenusa.com
This retro-styled top is ruched in the midsection, and draws attention away from the center with a ruffle and bust detailing. Pair it with plain bottoms or a swim skirt.  It is inexpensive and available on Amazon and comes in 38 different colors and patterns.  You only need one bottom or skirt to pair with a variety of these tops to give you a number of different looks. Available on Amazon.
Colorful patterns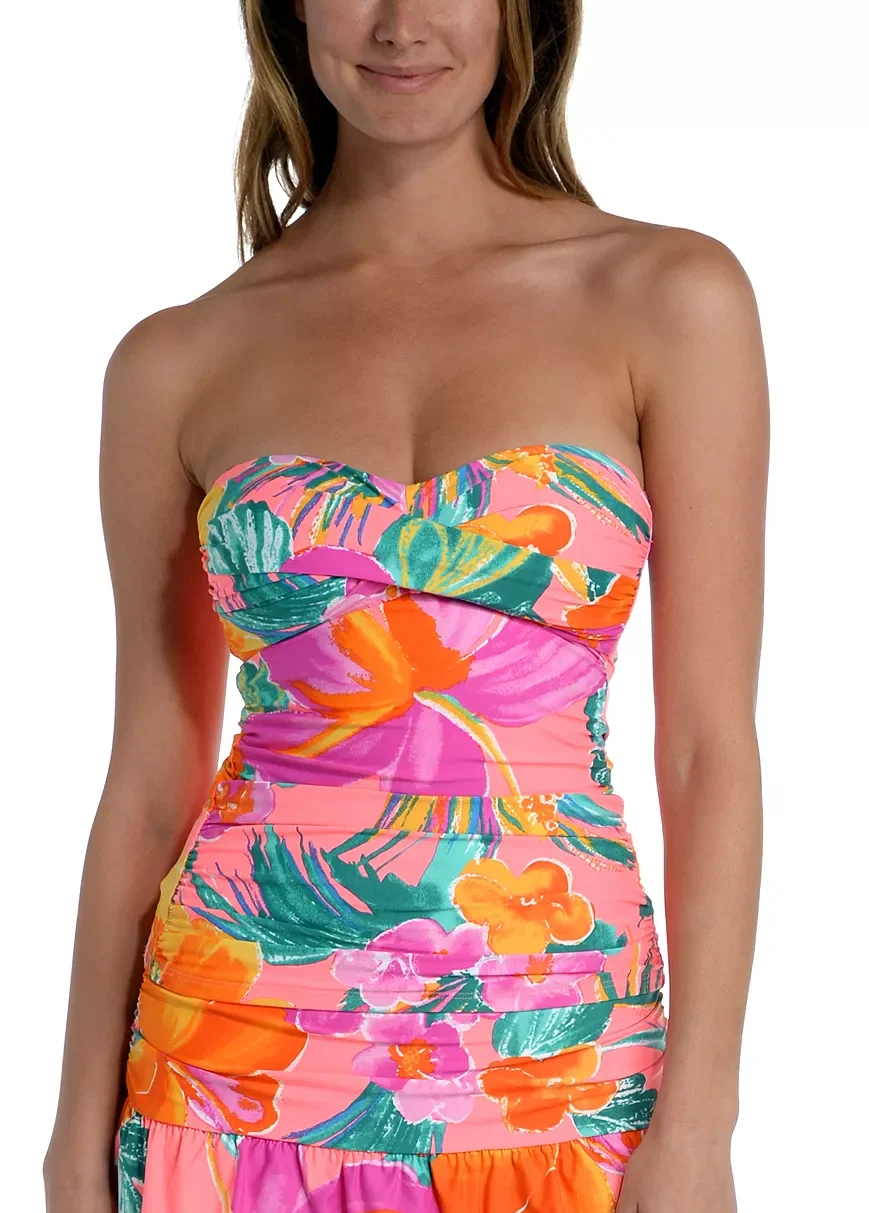 The Isla Del Sol tankini top from La Blanca is so gorgeous with a floral print and twisted bandeau neckline. The ruching, tummy control panel, and colorful pattern of this tankini help support and camouflage a the midsection. Comes with removable straps. Available at Macy's. Skirt sold separately.
Loose-fitting tops
The Yonique color block two-piece tankini set pictured here comes with a blouson top, built-in wireless sports soft bra, and triangle shaped bottoms. It can cover your belly whle still being charming, flirty and chic. Comes in 36 different colors and patterns. You'll find thiis very affordable swimsuit on Amazon.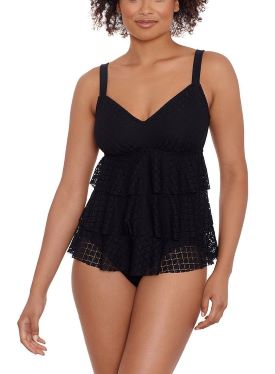 We're all familiar with a tankini swimsuit; well, this Bal Harbour suit is a faukini. It is a  one-piece swimsuit that looks like a two piece.  The design draws the eye up under the bust line where the layers start and disguises the midsection.  Its variety of crocheted and textured fabrics add interest and eye appeal. Find at Kohls.
---
---
Problem area #2: Back
It comes like a shot out of the blue. You're in the dressing room of a favorite store when you look into the 360-degree mirror: what is that roll on your back??! As we lose muscle tone, a fate that many of us fell prey to during the pandemic years, it's been replaced by fat—in all the wrong places.
Solution: High back that comes up to your shoulder blades.
This eye-catching one-piece features elegant shirring and a bold print to conceal ripples in your back.  Adjustable straps ensure a just-right fit. It's the perfect blend of sophistication and fun, designed for your style, your spirit, your shape. Available at LandsEnd.com.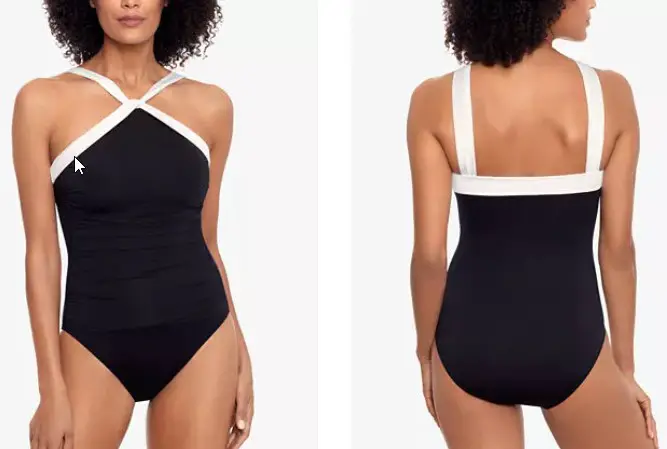 Sleek and sophisticated, this Lauren by Ralph Lauren one-piece features bold colorblocking and an all-over slimming fit with subtle ruching, a high neckline and back, full bottom coverage, and tummy control. Available at Macy's.
————————-
————————-
Land's End high neck swim romper covers a multitude of problem areas women over 60 experience. It has a tummy control one piece built in underneath and is made entirely from Land's End's signature stretchy swim fabric. This romper won't ride up thanks to the shorts with a cinched tie waist. Available at Land'sEnd.com
Problem area #3: Arms
Solution:  Cut high under the arms, sleeves.
We are all too familiar with pockets of fat between our upper arms and our breasts. And many bathing suits are cut low on the side, which can accentuate these areas as they overflow on either side.  Bathing suits that are cut high under the arm and some new styles with sleeves are effective in reducing the appearance of underarm fat.

This suit is stunning in its simplicity of design and in its ability to make underarm fat non-existent.  No tight straps, just a stunning V neck and gorgeous tropical pattern—and your shoulders are protected from the sun. Available at Nordstrom.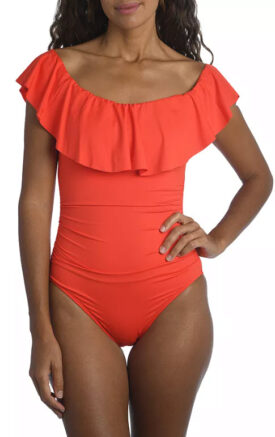 A lightly ruffled overlay on this swimsuit from La Blanca keeps underarm bulges out of sight and adds a touch of glamour. You'll look stunning at that pool party or lounging on the beach. Find this La Blanca swimsuit at bloomingdales.com.
This gorgeous, flattering bathing suit has not a strap in sight.  Instead of worrying about underarm fat showing, you can show off the rest of you in this beautiful suit. Find at Kamoni.com.
---
---

A bathing suit with sleeves??  Yes, and it's stunning, stylish, and practical, particularly if you don't want your shoulders exposed to the sun.  Best of all?  There are no tight straps across the back to expose lumpy back fat.  And you can zip it up or down for your preference in décolleté. Find on Amazon.
Problem area #4: Thighs
Solution: Suits with skirts or ruffles
This stunning red print tankini top from Garnet Hill has a deep, twisted V-neck, perfect-fit halter, and body-skimming bodice. Crafted in GH's soft, sun-safe, and sturdy, but never restrictive, Signature Swim fabric. Matching swim bottoms in several styles are available, making this a great option for many body types. Buy it at garnethill.com.

The low-slung skirt of this two-piece picks up the vibrant colors of the top.  It is a single color which draws the eye upward to the floral print.  Effectively concealing the upper thigh area, this skirted bikini bottom is ideal for a day at the pool. Tankini top sold separately. Find at Lilly Pullitzer.

Garnet Hill's active tankini top covers problem thigh areas, balances a sporty racerback with a flattering scoop neckline, and
features a slimming ruching in the front. Bottoms sold separately. From garnethill.com.
Problem area #5: Derriere
Solution:

Full bottom coverage, blouson tops; avoids high-cut legs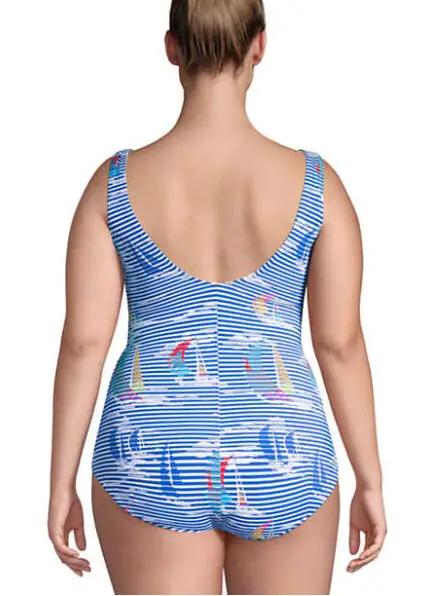 Imagine putting on your suit and never giving it a second thought. No shifting here, no adjusting there. Land's End's Tugless Tank® has been a long-time favorite for its flattering and fuss-free fit. And thanks to LYCRA® Xtra Life spandex, your suit maintains its flattering fit longer. Find it at landsend.com.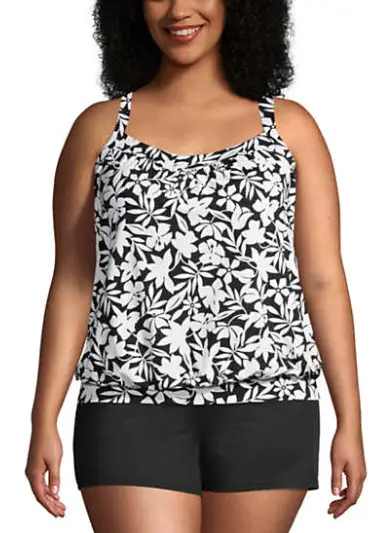 The flowy silhouette of this blouson top drapes beautifully and cleverly camouflages your middle. Pair it with one of Land's End's swim skirts or swim shorts sold separately) for bottom coverage and a sleek look. To buy on landsend.com.
Problem area #6: D, E, F etc. cup sizes
Solution: Underwire support
There's no need to sacrifice style for support—this vibrant floral tankini offers coverage and tummy control, all in a splashy floral design. This beautiful suit is from Tommy Bahama, well-known purveyors of island attire. Find at Tommy Bahama.
The Light As a Feather one-piece swimsuit from Gottex is designed especially for D-cup women. It features a  scoop neck, shirring through the torso, and underwire support. Find the Light as a Feather suit at gottex.com. Gottex has a selection of suits for women with D to G cup sizes on its website.
As an affiliate of Amazon and  other retailers, Blue Hare makes a commission on qualifying purchases made through the links on this page. 
 *     *     *