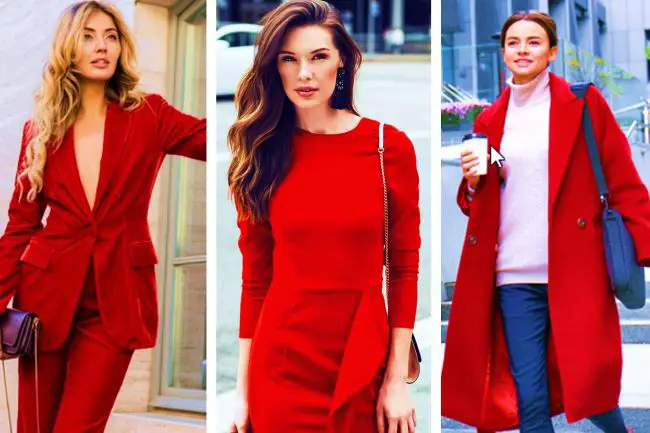 Fiery tomato red is having a moment. It's THE color for fall and winter but, let's face it, is also one of the most difficult colors for women over 60 to wear.  If your skin tone leaned cooler than warm (remember those Summers and Winters from Color Me Beautiful?) in your youth, an orangey red is going to be even more difficult to pull off now. Difficult, but not impossible.
The runways were filled with hot reds in the Fall/Winter 2023 fashion shows. A closer look, though, will show that the hue was not consistent across the board. And that's the beauty of color–the smallest tweak can make a world of difference in how it looks on you.

The color swatches above show the gentle undulation among reds that at first glance seem to be on the warm scale, But Cardinal and Carnelian are, in fact, cool reds. The secret to finding your perfect trendy red is to look for a tone that looks great against your skin.
Add a pop of red to your wardrobe this fall
A sure fire and cost-effective way to join in the trend is to pick a piece or two that can be neutralized by the other clothes you are wearing. Rather than draping yourself in tomato red from head-to-toe à la catwalk models, add a pop of red with a top or sweater or accessories. Here are some of our favorites.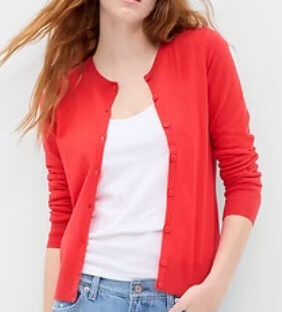 Perfect summer-to-fall transition sweater. Pair with white shirt and jeans, or button up and wear as a top under gray or olive drab jacket. $24.49 at GAP Factory.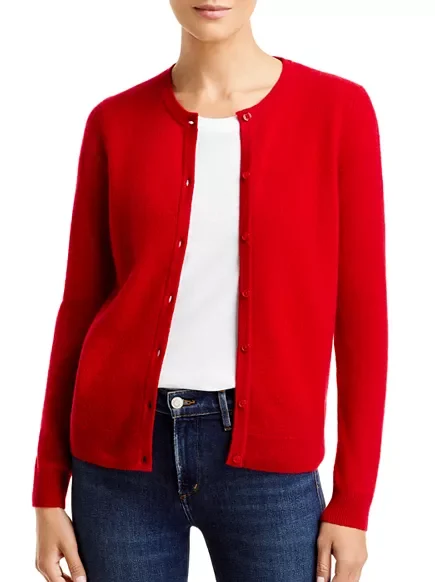 For chillier days, make it a cashmere cardigan. If you're a woman over 60 add a pendant necklace or chunky earrings to give it a 2023 look. C by Bloomingdale's Cashmere, $178.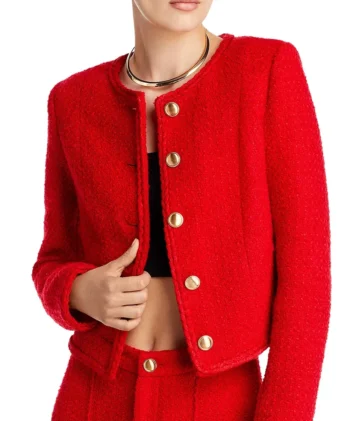 Wear one of these short, boxy jackets à la Chanel–you'll see them called "ladies jackets"–with black trousers or jeans for a modern, casual look.  You might even have one from your working days! This one is AQUA Boxy Jacket, Bloomingdale's, $128.
Paris chic by way of laid back California. Pair with dark jeans for a very up-to-date look. In multi red at Bloomingdale's, $475.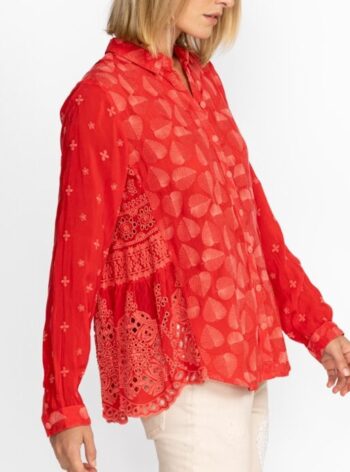 Classic collar, long sleeves, a front button closure, and a subtle, tonal embroidery. Style this blouse with silk separates and bold accessories or dress down with denim. $245 at Johnny Was
Classic shirt in a lightweight, organza fabric in Bold Red. Wearing a chunky gold necklace will break the intense color, making it wearable at any age. $138 from J.Crew
A sophisticated take on the hot red trend. From Misook in Sunset Red. $298 at Bloomingdale's.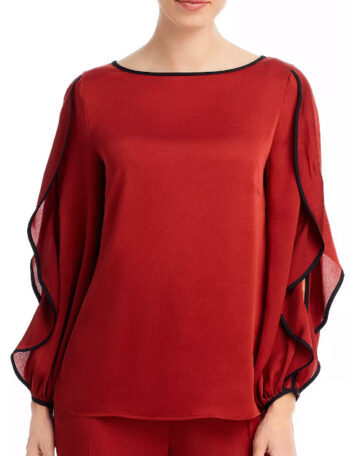 Float into your next event in this warm red crepe top from Misook.  $278 at Bloomingdale's

A go-to for anything from crisp black jeans to dinner party dressing. $175 at withnothingunderneath.com.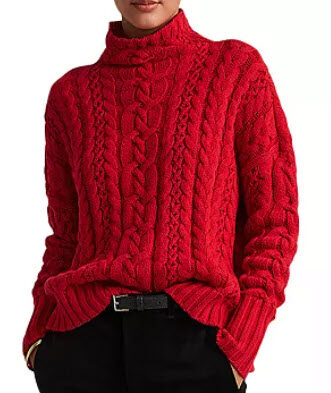 Pull it on and go. Bright red cable turtleneck from Lauren Ralph Lauren. $43.43 at Bloomingdale's.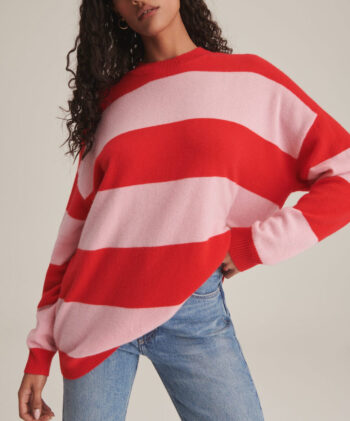 Cashmere Oversized Striped Crewneck Sweater
Pairs effortlessly with everything from leggings to trousers. In cherry red from Nadaam, $175.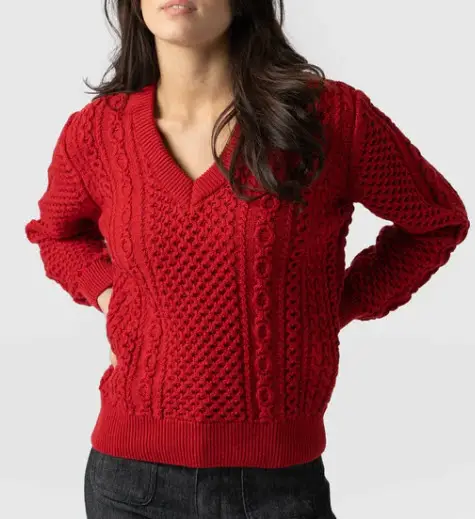 All the beauty of an Aran knit sweater without the bulk. In a beautiful red.  $129 at saintandsofia.com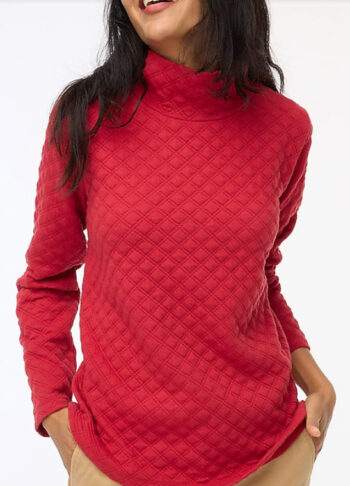 A comfortable and colorful way to spend a Saturday at the market, out to lunch, binge watching old episodes of Law & Order. In Vintage Garnet from J.Crew Factory, $53.50
Accessories
Accessories are the easiest way to incorporate seasonal trends into your wardrobe. Totes, handbags, shoes, and bracelets add a bold accent to neutral tones as well as all black (or white) outfits.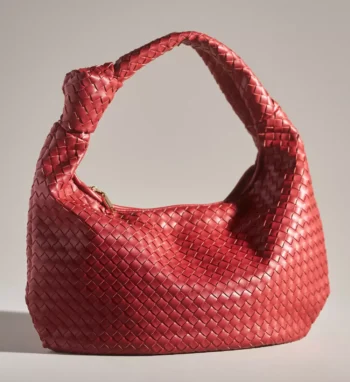 Slouchy shape, intricate weave, and playful chunky knot give this everyday bag range, an eye-catching accessory for everything from yoga gear to sporty separates. Anthropologie, $128.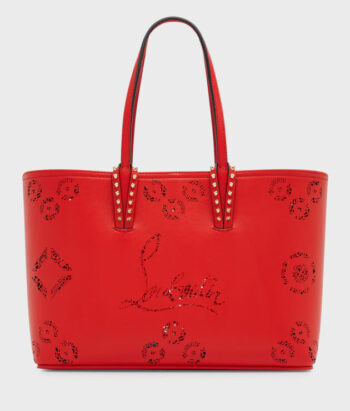 Make a statement wherever you go.  Looks stunning with a chic black ensemble as well as a white shirt and jeans. Christian Louboutin Cabata Perforated Shoulder Bag, in red. $1,790 from Neiman Marcus.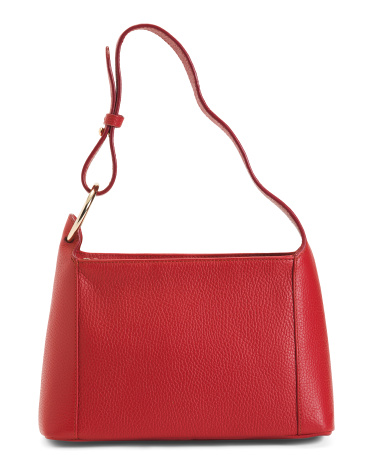 Grab and go with this classic bag in a saturated red. T.J.MAXX, $39.99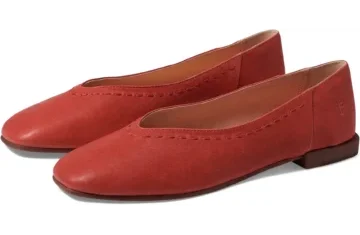 A ballet flat for grownups, with Frye's legendary workmanship. Provides a pop of red to dresses, skirts, jeans, trousers in neutral tones. $197.95 at Zappo's.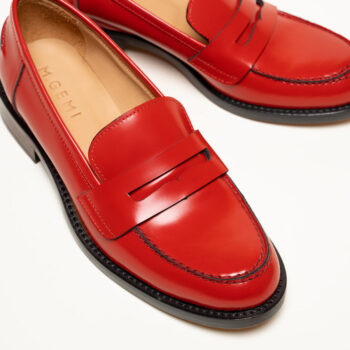 Penny loafers are back. Dress them up with casual tailoring or down with cropped denim and anything in-between. In Sunset Red from M.Gemi, $195.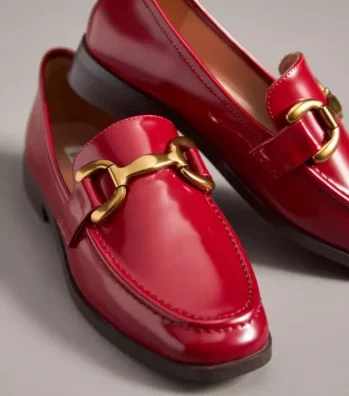 We like the touch of gold-tone hardware on these slip-on loafers. Made in Spain. In red from Anthropologie, $160.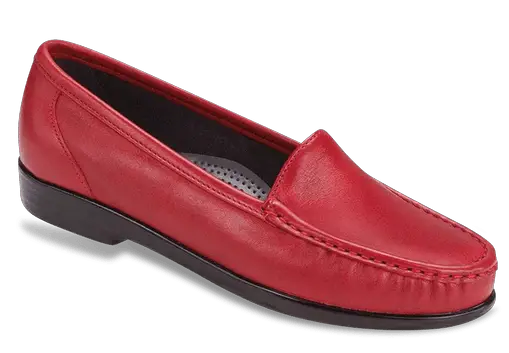 Red slip-on moccasin loafer with current appeal and timeless style. $164.95 from SASNOLA.
For the athletic look, these are this year's IT shoes. Get them in Scarlet/White Cloud to make a statement. $150 at adidas.com.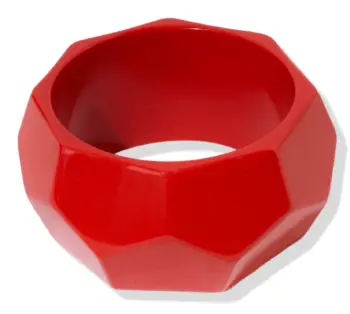 Go big or go home. Or just wear this retro-cool tomato-red resin bangle to make a seasonal statement. $14, INK+ALLOY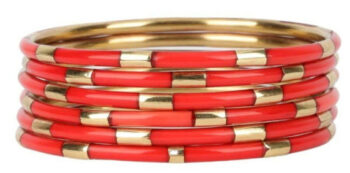 A stack of handcrafted bangles looks great with a streamlined outfit. BudhaGirl, set of 6 bangles in coral and gold, $45; budhagirl.com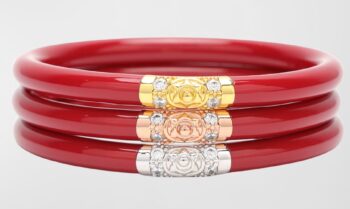 Wear as a set or separately, bangles are made of plastic tubing with yellow gold, white gold, and rose gold plated brass bead and Swarovski® crystals as accents. In red by BuDhaGirl, $100, at Neiman Marcus.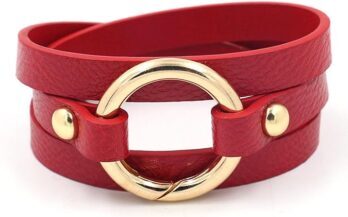 Wrap your wrist in this multi strand leather bracelet with gold plated charm. In red, available on Amazon, $9.59.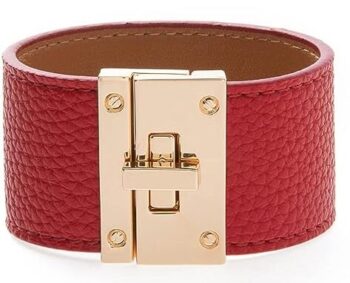 A statement cuff made of soft leather "material" (your guess as good as ours). Bold gold tone clasp. In red from Amazon, $14.99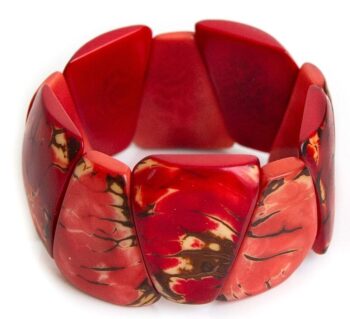 Lightweight, stretchable bangle bracelet made in Ecuador from sustainable tagua nut (often called "vegetable ivory"). In red with natural tones, $17.99 from taguabysorayacedeno.com.
As an affiliate of Amazon and other retailers, Blue Hare makes a small commission on qualifying purchases made through the links on this page. 
 *     *     *
You may also like
Go to the Blue Hare home page for more articles for fabulous women