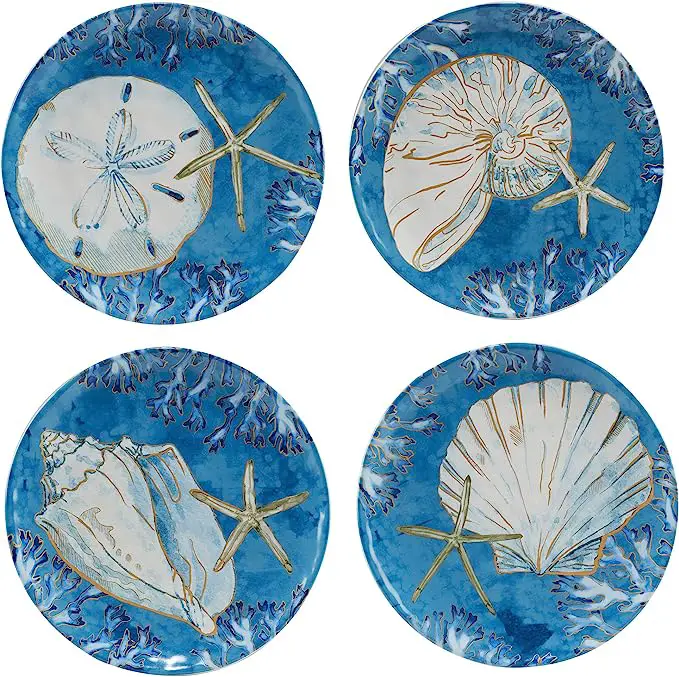 Summer entertaining is at its best when it is casual, lighthearted, and filled with laughter. A little too much wine can do that. As can quirky nautical dinnerware. Plates with wriggling octopus tentacles or swirling waves are sure to start lively conversations. 
Sea-inspired tableware can range from elegant to the comical. We found seven patterns that we would love to share on our tables all summer.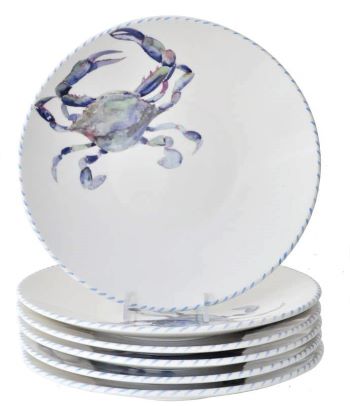 Showcase your famous crab cakes with their own crab plates. This collection of ceramic dinnerware features detailed and beautiful blue crabs in different shades of watery blue. Made in Italy. Sold by Coastal Compass.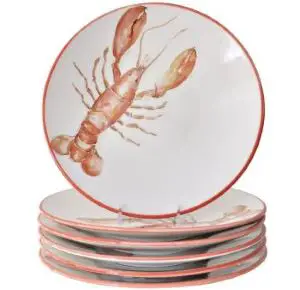 Skip the trip to Maine. Make a batch of lobster rolls and serve them on these ceramic lobster dinner plates. We're sure they will share the space with some corn on the cob. Designed in America, made entirely and exclusively in Italy. Get them at Wayfair.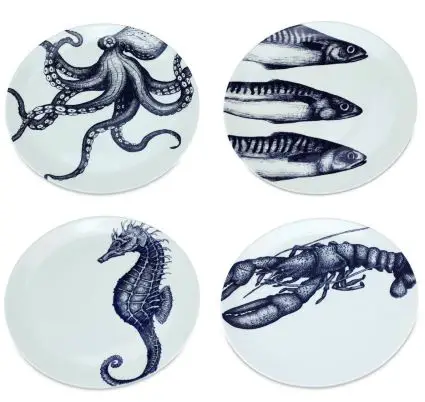 We laughed out loud when we first saw these sea creatures strewn across the coastal-themed dinnerware from Cream Cornwall. What fun they are! Bold, beautiful, and evocative of Cornwall they make a perfect addition to a coastal themed table setting. Bone china, many different patterns, made (mostly) in Cornwall, full line of dinnerware available. Buy online at Cream Cornwall or visit the shops in Falmouth and St. Ives, Cornwall.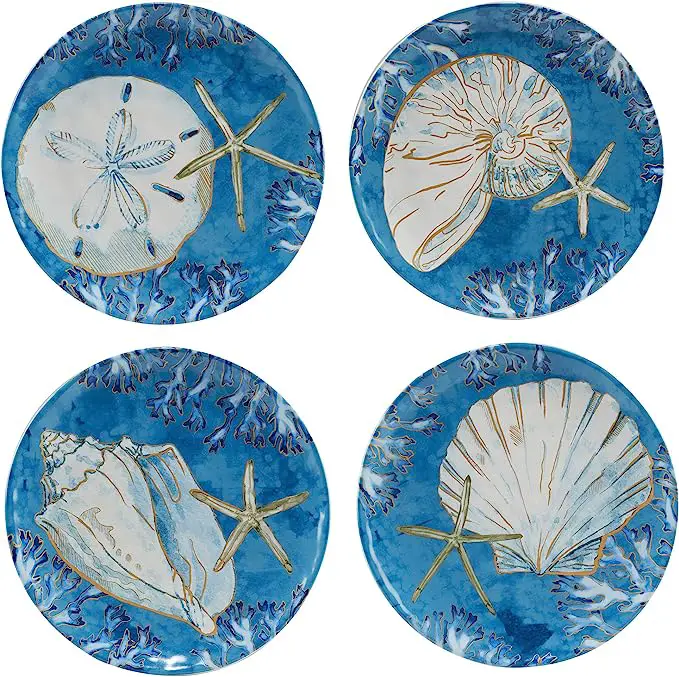 These International Playa Shells dinner plates will make you feel close to the seashore, whether at a beach house or in your patio at home. Earthenware.  Find at Amazon.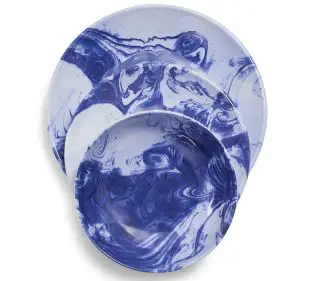 The refined yet understated design of this dinnerware features artful swirls in blue and white that create an illusion of the sea. Durable melamine, they are safe to wash in the top rack. Set includes four dinner plates, four salad plates, and four cereal bowls. Only at Sur La Table.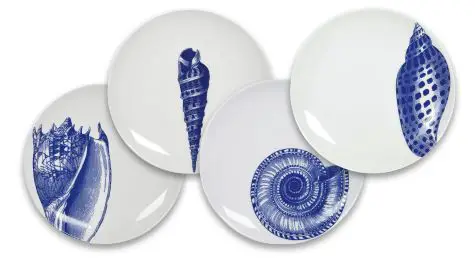 Eye-catching shells in classic blue on creamy white premium porcelain, these stylish appetizer plates wear many hats–serving up appetizers, snacks, or desserts. From Caskata Artisanal Home. Buy online or in select stores. 
What better way to present the catch of the day? Or elevate a meal of fish sticks. A school of fish in brilliant blue splash across these plates and mugs made of white premium porcelain. Fun for breakfast, lunch, or dinner, they mix well with other white dishes. Available at Caskata online or in select stores.  
*     *     *
As an affiliate of various retailers, Blue Hare makes a commission on qualifying purchases made through the links on this page. 
  *     *     *
This article was originally published on July 23, 2021. It was reviewed and updated on June 25, 2023.
You may also like
Go to the Blue Hare homepage for more articles for fabulous women