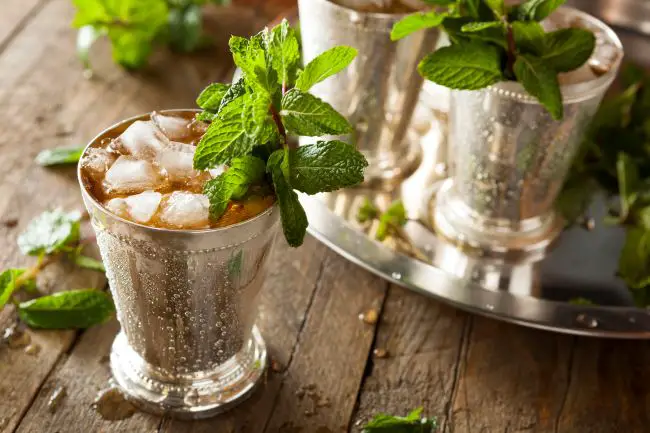 Each spring avid horse lovers and casual observers alike wait with bated breath for another Triple Crown winner. Magnificent horses from around the world will soon converge on Louisville for the Kentucky Derby, held this year on Saturday, May 6.  
Not to worry if you can't make it to Churchill Downs this year. The revolution (around the track) will be televised. Why not invite a few friends over and make it a party? Yes, we know—all of the work and fuss that goes into parties can sometimes seem a bit much. With some streamlining and cooking in advance—or barely cooking at all—we found ways to host a Kentucky Derby Watch Party without going crazy.
What makes the Kentucky Derby special?
The Kentucky Derby is a top rank, Grade I, $3 million stakes race for 3-year-old thoroughbred horses. The race distance is 10 furlongs (1 ¼ miles) long. It is run on the dirt racetrack at Churchill Downs in Louisville, Kentucky.
The Kentucky Derby is the longest running sporting event in the United States.
The race dates back to 1875.  It is often referred to as "The Run for the Roses®," a reference to the garland of more than 400 red roses sewn onto a green satin backing that is draped over the champion horse.
The Derby has continuously produced "the most exciting two minutes in sports", uninterrupted, even during The Great Depression and both World Wars.
2023 is the 149th Run for the Roses
The Kentucky Derby has captured the attention of the nation. Why else would a good five hours of broadcast television time be dedicated to covering it? This ability to watch all the festivities in real time is the perfect reason to throw a party.
From homey Southern food and the signature Mint Julep to décor and games, we'll help you bring the fun and spectacle of the Derby to friends and family in the comfort of your home. So put on your hat—there's no time to waste–to start planning your perfect Derby party.
When is it, anyway?
This year the race will be held on Saturday, May 6th.
It will be broadcast live on NBC and also livestreamed on NBC's Peacock service.
Post time (when the race actually begins) is 6:57 p.m. EDT
About the horses
Each year 20 horses compete in the Kentucky Derby—a larger field than in most horse races.
To earn a spot at the starting gate, they must compete in a series of 35 designated races at tracks across the country and around the world.
Points are awarded to the top four finishers in each race. The 20 horses with the most points earn a spot in the starting gate.
Click here to see the complete roster of 2023 Derby horses.
Hats (of course)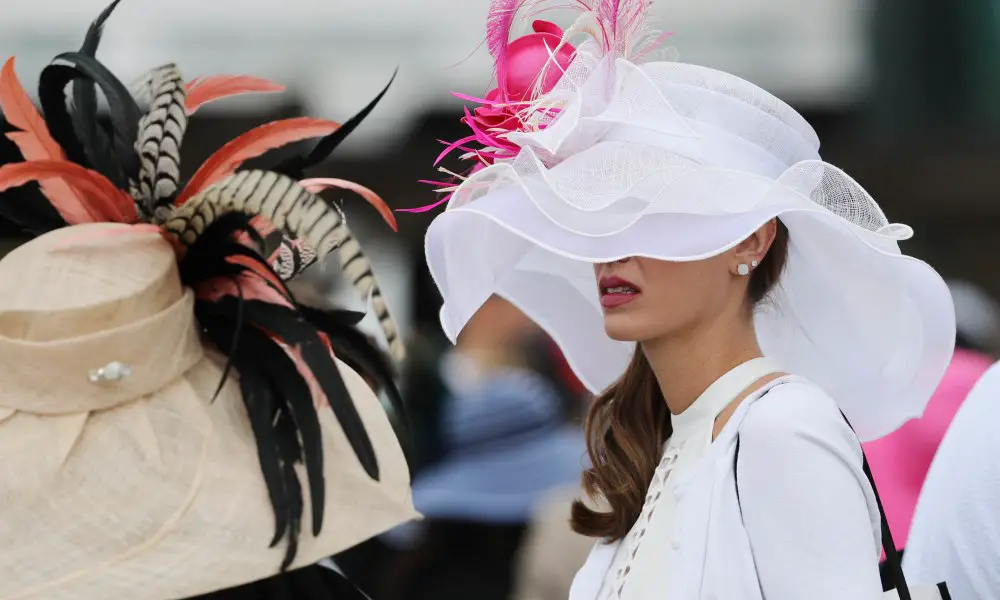 Hats are mandatory for ladies, at Churchill Downs and at home. Wide brimmed, beribboned, feathers and bows, women and their hats are one of the best reasons to watch the pre-race coverage.  Wear a hat even if you're watching the race alone. It will make you happy. Encourage your women guests to wear an elegant (or silly) hat, too.
Christine A. Moore, Jenny Pfanenstiel, and The Hat Girls are the featured milliners of this year's Kentucky Derby; their creations range from about $500 to $1,000.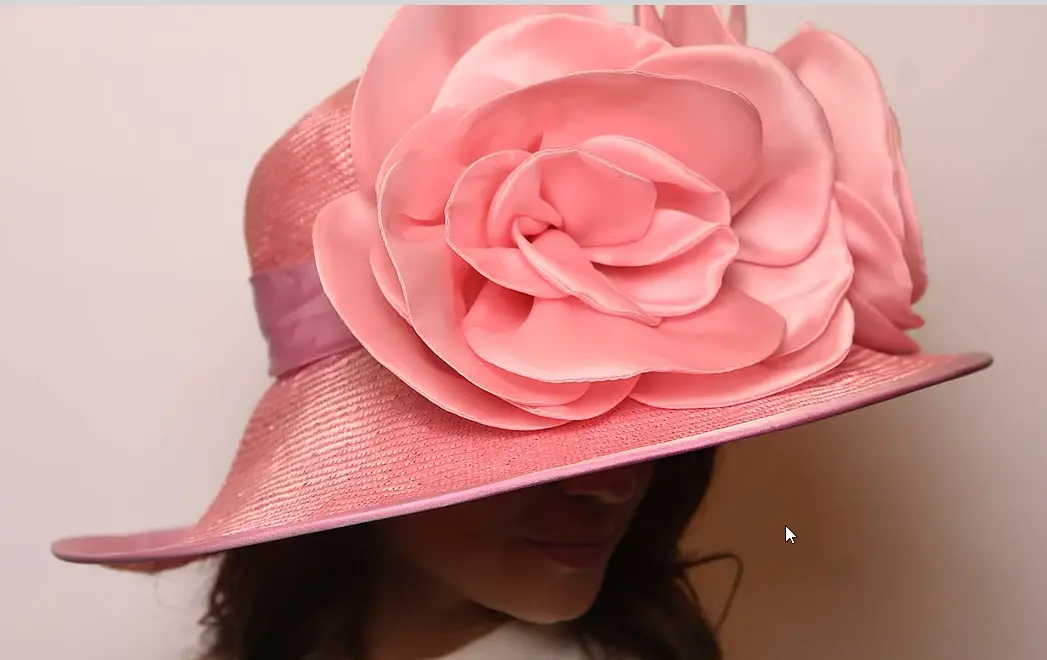 High-end Derby hats (yes, that's what they're called) take between one and seven days to create.
But you and your guests can order a very acceptable substitute online at one of the many websites selling derby/church hats for around $30.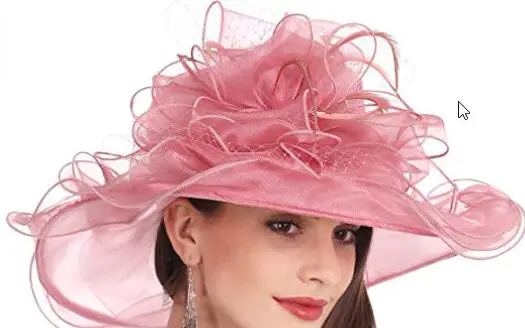 Women who spend the day at Churchill Downs dress to the nines, from sundresses to elegant luncheon suits. For a party in your home you can set the tone. Also, you know your friends and family. Are they game for a costume party? Or do they want to have a casual Saturday evening, complete with comfy clothes.
We say let the hat dictate the rest of the outfit.
Set the stage
Let the race be the inspiration for your table.
Idea #1
A silver or crystal bowl filled with red roses and boxwood makes a luscious centerpiece for the table. Or arrange a few boxwood topiaries of different heights with a spray of red roses in the center.
Idea #2
Use brightly colored tablecloths and napkins inspired by the jockeys' uniforms, called silks.  Create a centerpiece with deep yellows, oranges, purples and shocking pink flowers. Use lime green napkins—or checkered ones if you can find them.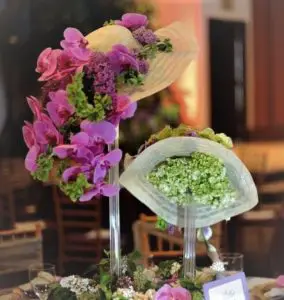 Idea #3
Take a cue from the fancy hats paraded by women at the Derby. Prop up a hat or two on candlesticks or other elevated objects. Hydrangeas make lovely heads to hold the hats. Add a few flowers or feathers or ribbons.
Make mint juleps, the official drink of the Derby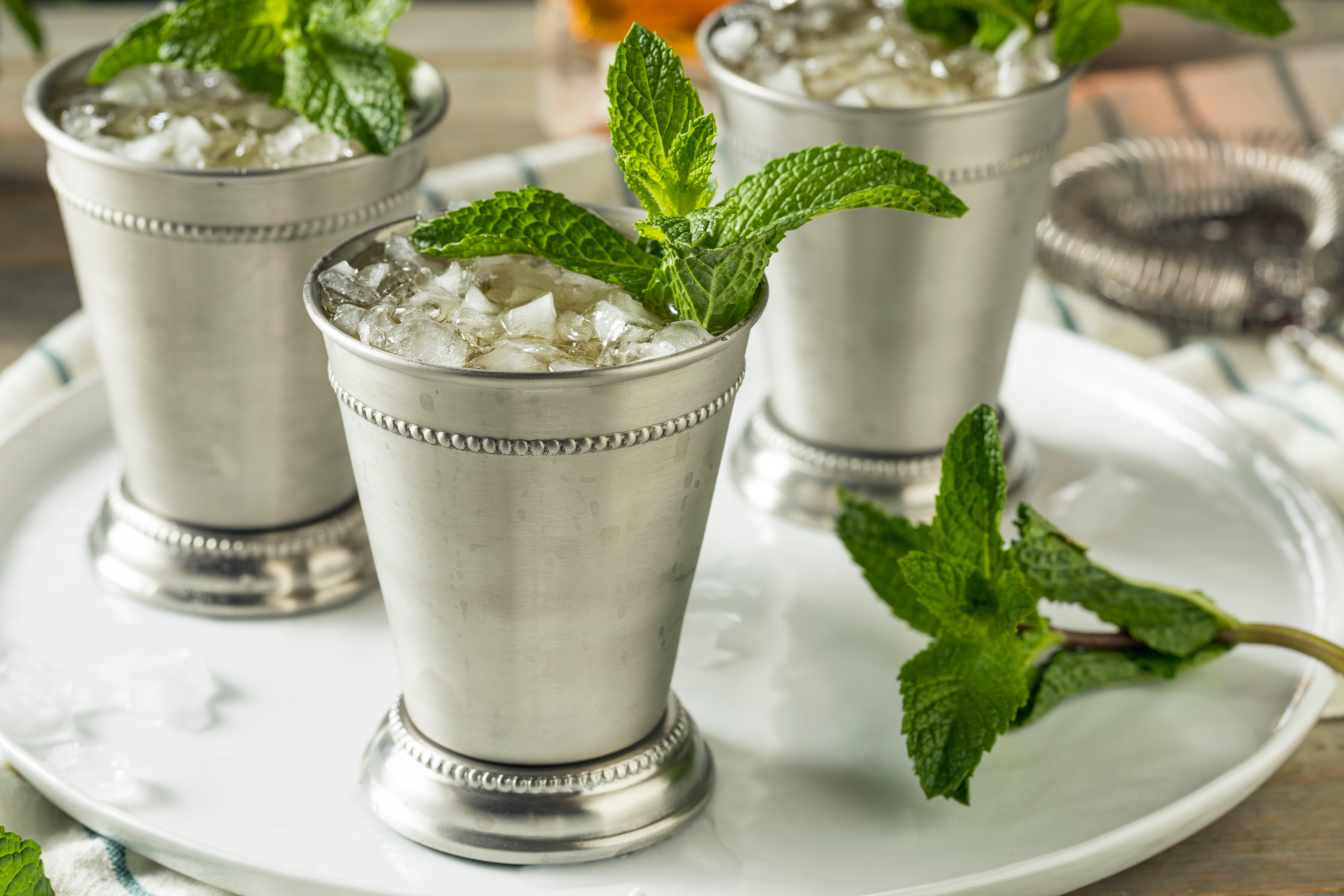 Essentially a snow cone for grownups, the Mint Julep adds a blend of mint, simple syrup, and bourbon to a glass full of crushed ice. We like to make our Mint Juleps with a mint-infused simple syrup, as in this recipe from Epicurious. It provides a distinct and consistent mint flavor. The Julep is traditionally served in a silver cup (see above), but a highball glass works as well–and gives you a better view of this beautiful cocktail. Add fresh mint sprigs to serve.
Recipe
1 scant ounce mint simple syrup*
2 cups crushed ice
2 ounces Kentucky bourbon
Fresh mint sprig, for garnish
Add mint simple to a highball glass or silver Julep cup, then one cup of crushed ice, the bourbon, and a splash of water. Add enough of remaining ice to almost fill glass. Stir well, top off with more ice, and garnish with mint sprig.
* To make mint simple syrup
1 cup water
1 cup sugar
1 bunch mint
Place a heavy medium saucepan over medium-low heat and immediately add water and sugar. Stir until sugar dissolves. Increase heat slightly until the liquid simmers, then continue cooking for 5 minutes, stirring occasionally. Remove from heat, add mint leaves, and steep for 15 minutes or up to an hour. Strain, then refrigerate syrup until cold, about 3 hours, before using. Can be prepared up to one week ahead. Pour into a container, cover, and keep refrigerated.
Recipe adapted from epicurious.com.
Create a simple buffet
Blue Hare is all about minimal kitchen time and spectacular results. Our party will be easygoing (but with hats, of course), and simple. Two snacks for the pre-race party and a buffet to be set out once the results are in.
Snacks to serve with Mint Juleps
Spiced Popcorn with Pecans and Raisins
We like this popcorn mélange as an alternative to a large bowl of spiced nuts, which are delicious but full of calories.
Super-easy substitute: Trader Joe's Cheddar Cheese Straws
Pimento cheese is a Southern staple and is quite addictive. Some stores like Target carry it already made and there are online resources, too. Otherwise it's easy to make and you'll be able to save the leftovers for yourself. Serve with celery sticks, buttery crackers, and ginger thins—seriously, the combination is a tasty surprise.
In-a-pinch substitute: A few tubs of pub cheese
After the race
Baked Ham with Sweet Bourbon-Mustard Glaze
This recipe is fairly easy and can be made earlier in the day.  To make it even easier use a honey baked spiral ham and add a few tablespoons of bourbon to the packaged glaze. Condiments of your choice.
Short-on-time substitute: Fried chicken from your favorite restaurant/store.
This spoonbread is so delicious you could serve it alone and everyone would be happy. It's best served straight out of the oven. You can also make it in advance and reheat it.
Not-feeling-it substitute: Good quality cornbread cut into squares
Deviled Eggs
You have a favorite deviled egg recipe, we're sure, but if you want a more impressive dish try Bobby Flay's Deviled Eggs with Pickled Shrimp or a beautiful platter of Eggs Mimosa.
Country biscuits
Every recipe for country biscuits on the internet claims to be the best. So use your grandmother's recipe. And there's nothing wrong with using Bisquick as a shortcut. (Yes, Southern readers, we can hear your gasps from here.)
Derby Desserts
Perhaps the most famous dessert of the Kentucky Derby is Kern's Derby-Pie®, a chocolate and walnut pie that has been a Kentucky tradition since 1954. The pie is trademarked so any recipes you see online are not true Derby pies, but the best efforts by bakers to replicate the original.
Many other Derby desserts feature bourbon in combinations from cakes to cookies to pies. To keep it simple we suggest one of the easy to make, no baking required bourbon balls. And for a no-work dessert you can buy red velvet cupcakes, which are sure to be a hit.
Dark chocolate, crushed shortbread, and bourbon feature in these no-bake, portable gems. Recipe courtesy of myrecipes.com.
Vanilla wafers and pecans are combined with bourbon, sugar, and Karo syrup, then rolled into bite-sized no-bake cookies. Recipe courtesy of Epicurious.com.
Games and contests
The Kentucky Derby website has more information about the race, the course, the horses, and the parties.
As an Amazon Associate we make a commission on purchases made through qualifying links on this page.
This article was originally published on April 25, 2022. It was updated on April 30, 2023.
Top image: blogs.publico.es    
  *     *     *
You might also like
Visit the Blue Hare home page for more articles for fabulous women.