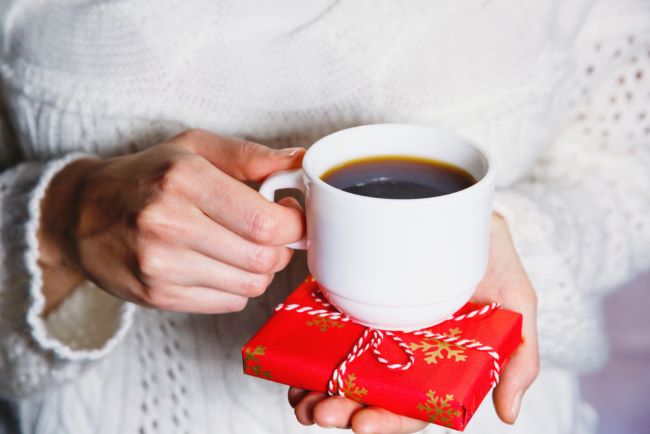 Our editors downed many flat whites in search of gifts for the coffee lovers on your list. Since 400 billion cups of coffee are consumed every year, giving coffee or coffee accessories to friends is sure to be a hit. These gifts also pass the ultimate test: are they gifts we would happily receive? When our response was a resounding YES we knew we were onto something.
Don't let this whimsically designed mini espresso maker fool you. It is the ultimate combination of creativity and innovation, delivering perfect Italian espressos for two.
The Bialetti Mini Express, from the creator of the original moka pot, features the iconic Bialetti gentleman with the moustache in original artwork by Roy Lichtenstein. $45 at Amazon
This elegant coffee press has serious technology behind it. The uniquely designed press with a triple layered filter structure sifts the sediment, but lets the rich coffee oils through for a full-bodied delicious brew. And if this doesn't make your friend happy enough, it comes with a bonus matching travel canister that holds enough beans or grounds for two full batches. $30 (on sale) on Amazon
_________________________________________________________
_________________________________________________________
This bean box sampler contains 16 expertly-curated coffees from the world's top producing regions. Each bag contains 1.8 ounces of freshly-roasted whole bean coffee, tasting notes and brewing tips, for a total of 1.8 pounds of coffee. The coffees curated by Bean Box are from exclusive small-batch micro lots and selected by a world-class coffee expert. Mornings never tasted so good! $90 on Amazon
The French drink café au lait and hot chocolate from bowls, which they hold with both hands.  Made of high quality, elegant white porcelain they hold 13-ounces of piping beverage.  This traditional European coffee bowl that is beautiful enough to go with fine china on your table. Pillivuyt cookware is internationally known for its exceptionally even heat conduction, versatility and durability. $33 on Amazon.
Good-bye, French Press. The rapid brewing AeroPress avoids the bitterness and high acidity created by the long steep time of the French press. Popular with coffee enthusiasts worldwide, the patented AeroPress is a new kind of coffee press that uses a rapid, total immersion brewing process to make smooth, delicious, full flavored coffee without bitterness and with low acidity.
$30 on Amazon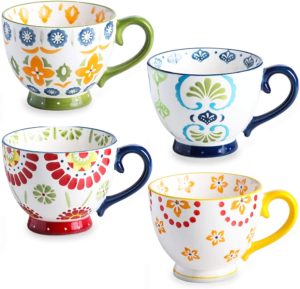 To get the full taste and experience of your morning or evening beverage, you need a cup that is well-made and durable. These 15 oz. porcelain coffee mugs are that and more.  They are perfect for coffee, lattes, cappuccino, hot chocolate, and more. The bright patterns will lift your spirits, no matter which side of the bed you got out of.  $29.99 for a set of 4, on Amazon.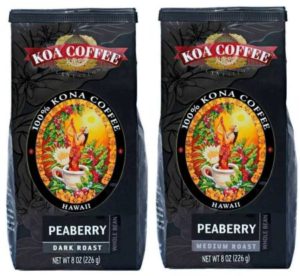 Real Kona coffee is very rare. Only coffee from the South and North districts of Kona region of the Big Island of Hawaii can truly claim to be Kona Coffee.  Peaberry Kona coffee is even more rare. Only 3-5% of coffee cherries hold just one small oval-shaped bean instead of the usual two flat-sided beans nestled sided by side.  Peaberry beans roast up wonderfully. Full bodied and smooth, with just a hint of bite. Connoisseurs have dubbed Peaberry the "Champagne of Kona."
Koa Coffee has been ranked as the #1 Kona coffee, and indeed, the "Best coffee in America" by Forbes magazine. This set includes one medium roast Peaberry and one dark roast Peaberry, in a lovely brown gift box. Two 8-oz. packages of Peaberry Kona coffee, $88.00 from Koa Coffee. Supplies are limited.
_________________________________________________________
_________________________________________________________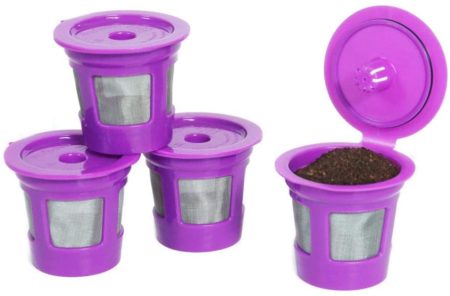 Designed for budget- and eco-conscious coffee drinkers, these refillable capsules for Keurig and other coffee machines allow you to save as much as 80% over pre-filled and pre-made, store-bought coffee pods.  100% BPA-free reusable K cups also help reduce the costly environmental waste caused by single-use, pre-filled and non-recyclable plastic coffee pods.  From $7.99 on Amazon.
If your friends have previously used ground beans to make their coffee, gift them the Supreme Grind Automatic Burr Mill.  Show them the difference that freshly ground beans make.  The stainless-steel Cuisinart burr mill boasts 18 levels to grind coffee beans, from ultra-fine to extra-coarse. Beans are guaranteed to be consistently ground to the right grade, maximizing the oils, aromas, and flavors for a better cup of coffee. $60 on Amazon
Espresso machines are everywhere now due to their simplicity and their tasty pods (which are recyclable). This is the newest and smallest ever single serve espresso maker from Nespresso by Breville. It is effortlessly portable and features a sleek design and modern smooth lines, allowing it to fit anywhere.
$213 on Amazon
Through our affiliate relationships with Amazon and other outlets we earn a small commission on qualifying purchases made through links of this page.
 *     *     *