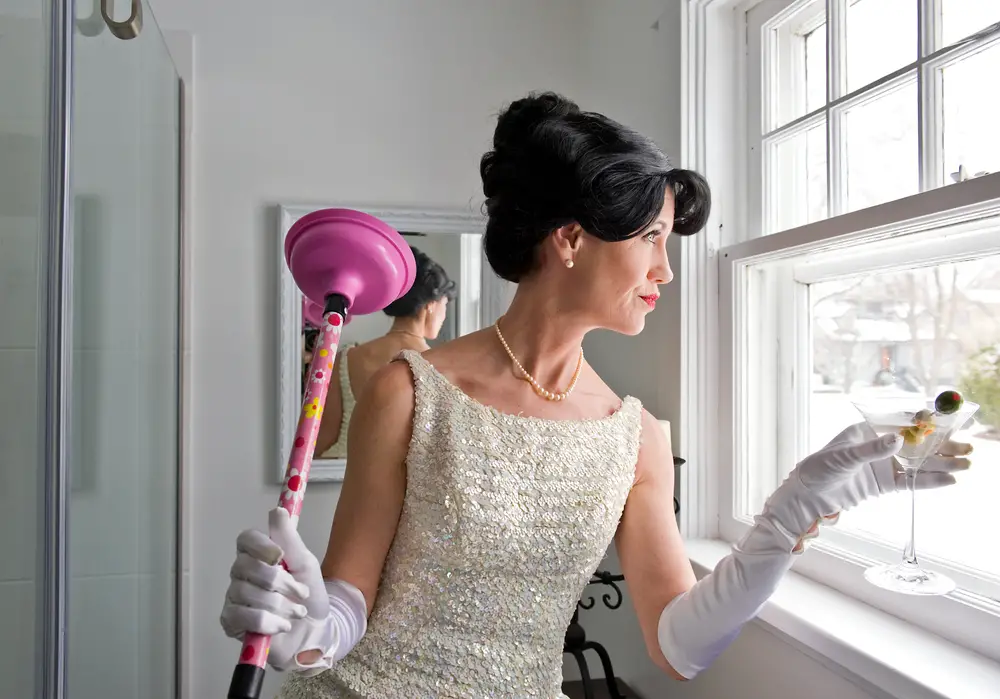 Spring is coming and with it, a reminder that it's time to clean and organize our homes.
These products not only make cleaning and organizing easier but we have chosen them with women over 60 in mind.  Can't—or don't want to—get down on your hands and knees to scrub the floor?  No problem.  We include the perfect tool for arms-length cleaning.  Can't reach that grungy spot between the dishwasher and the stove?  We've got the perfect tool for that too.
These products will help you clean and organize your home quickly and easily.  All of them are 60+ friendly.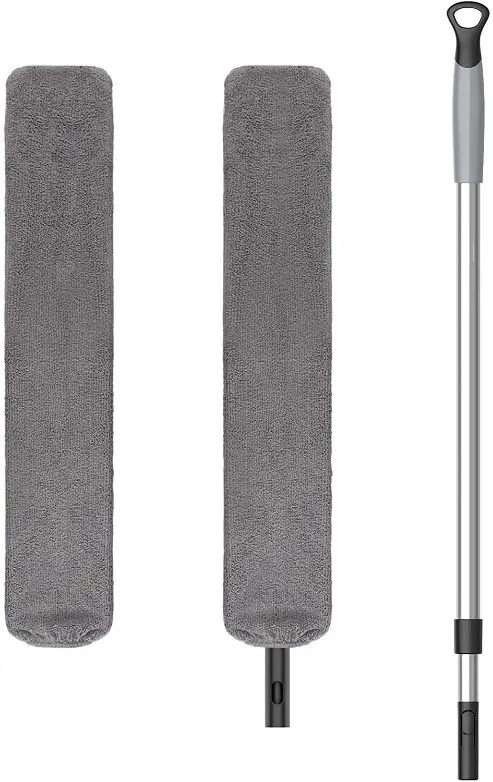 Mr. Siga has a reusable and machine washable microfiber head. No need to buy refills that will ultimately end up in a landfill. It creates an electrostatic charge in contact with the surface being wiped, easily traps dust, and can be used for wet or dry cleaning.  It features a 19.7 inch duster head which, unlike most refillable products, is bendable and flexible and reaches into corners and gaps.  And this product banishes cob webs—without you having to climb onto a step stool or ladder.
The telescopic stainless steel handle extends from 46.9 inches to 65.7 inches.  Great for cleaning ceilings, walls, and underneath beds and couches.  Available at Amazon.com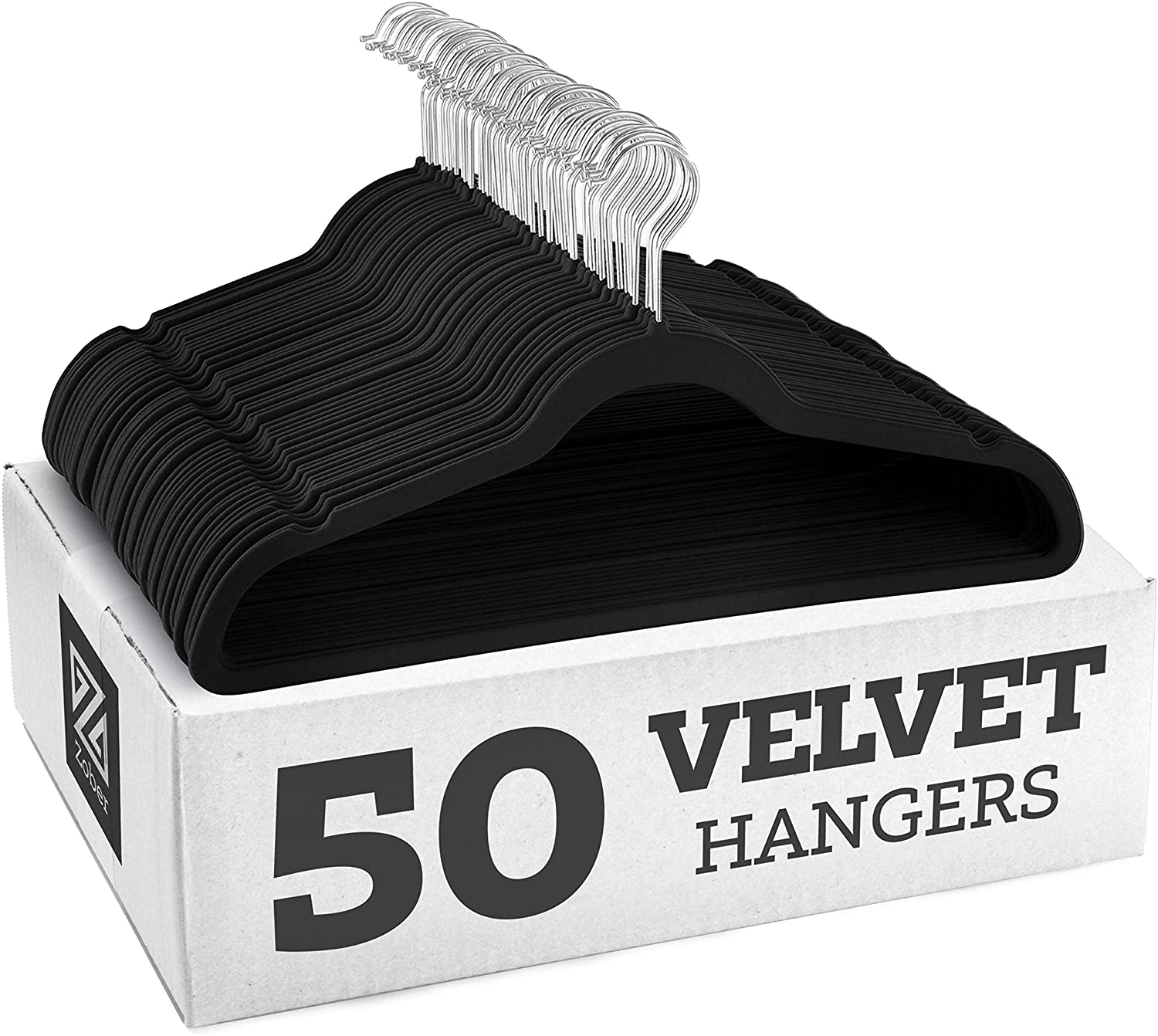 Plastic hangers may cost less but your clothes are likely to end up on the floor.  And don't you look like the organizational genius when your hangers are all matching?  These non-slip velvet hangers are thin so they don't take up extra space.  Best of all, the velvety finish prevents clothes from slipping off.  And the edges are rounded so you won't get those tell-tale poke marks in the shoulders of your tops. Available at Amazon.com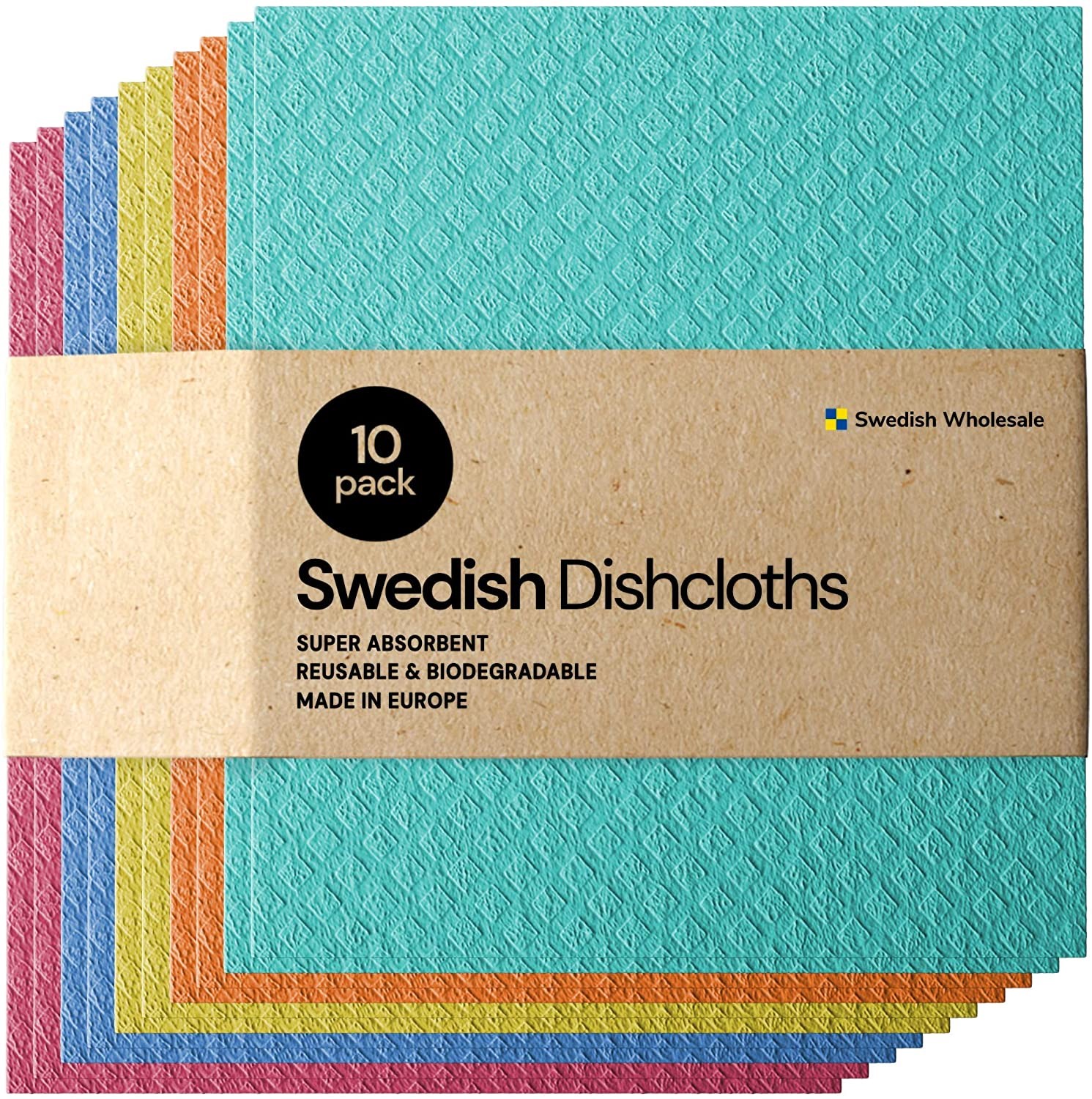 Known for their cleanliness, minimalism and efficient products, the Swedes had to come up with these ingenious cloths.  They are made of cellulose, the main substance in plant cell walls.  Cellulose helps the plant to remain stiff and strong.  Just add water and these cloths are soft but durable; dry them out and they are up for any heavy duty task.  You can use them to clean up spills, wipe dishes and surfaces. And, they can be washed and reused again and again. Available at Amazon.com
_________________________________________________________
_________________________________________________________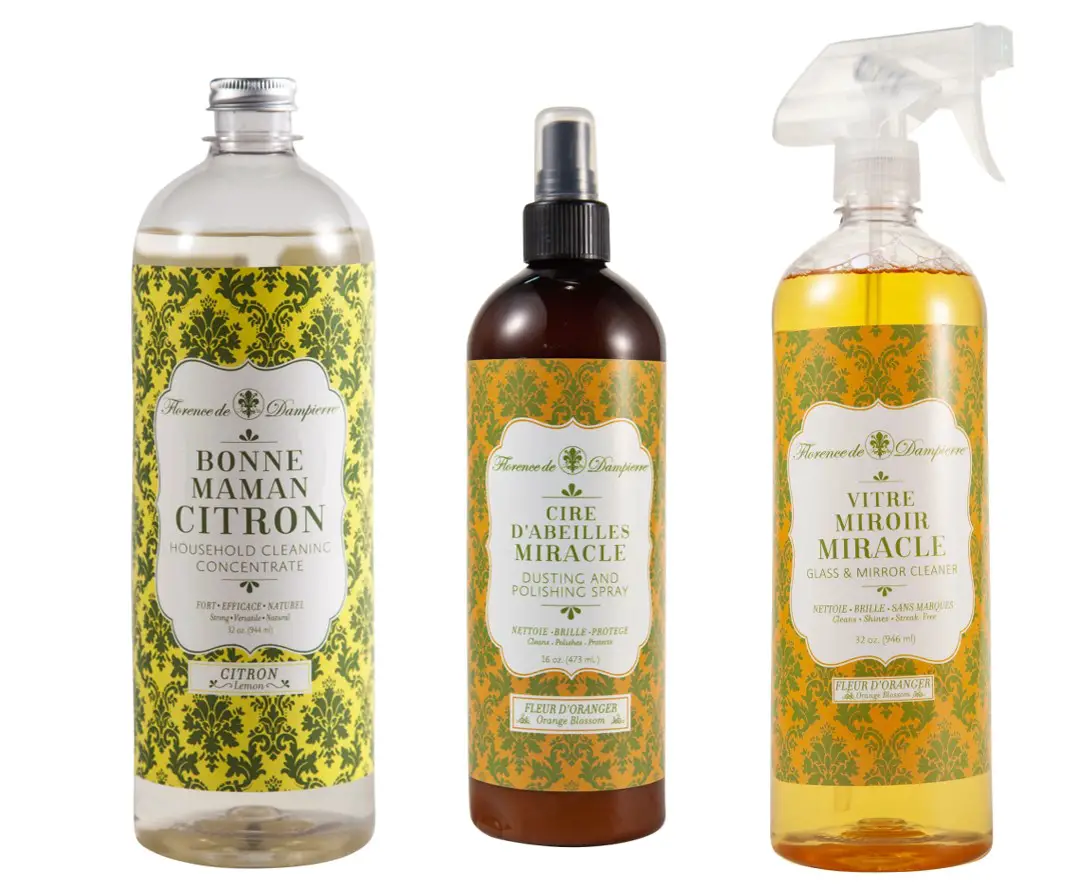 Over centuries the French have developed a distinctive savoir faire for better living,  achieved through several classic methods of sprucing up the house. These methods are handed down from generation to generation and are as relevant today as in the past.
Interior designer, author, and antique furniture historian Florence de Dampierre introduces her own family's cleaning solutions through her Savon Francais line. She is deeply passionate about keeping the home clean and learned how to achieve this by using mixtures and methods taught to her by her mother and grandmother while growing up in France.  Available at frenchliving.com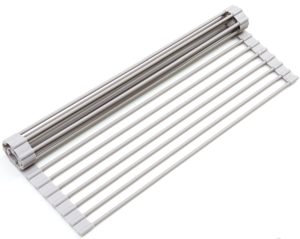 If you have a double kitchen sink, this is the perfect draining board.  There are always those things you want to wash by hand and let air dry rather than run through the dishwasher.  But those rubber draining boards get grungy and smelly because air doesn't circulate.
Just roll this dish dryer rack out over your second sink.  Water droplets fall into the sink. Since the air circulates, your items will be dry in no time.  And when you are finished, storage is not a problem.  Just roll the rack into a thin column and place it under the sink. Available at Amazon.com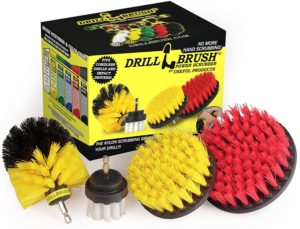 There are spots between appliances or where the cabinets meet the floor where conventional mops and cloths just won't go.  And why scrub when you don't have to?  Let your electric drill do the work for you.  You simply charge up the drill, slide the brush you want onto the drill bit (there is a quick change shaft so all these brushes fit standard drills and impact drivers) and then hone in on those dirty spots that hide in the kitchen.  Perfect for grout and tile cleaning too. Available at Amazon.com
---
_________________________________________________________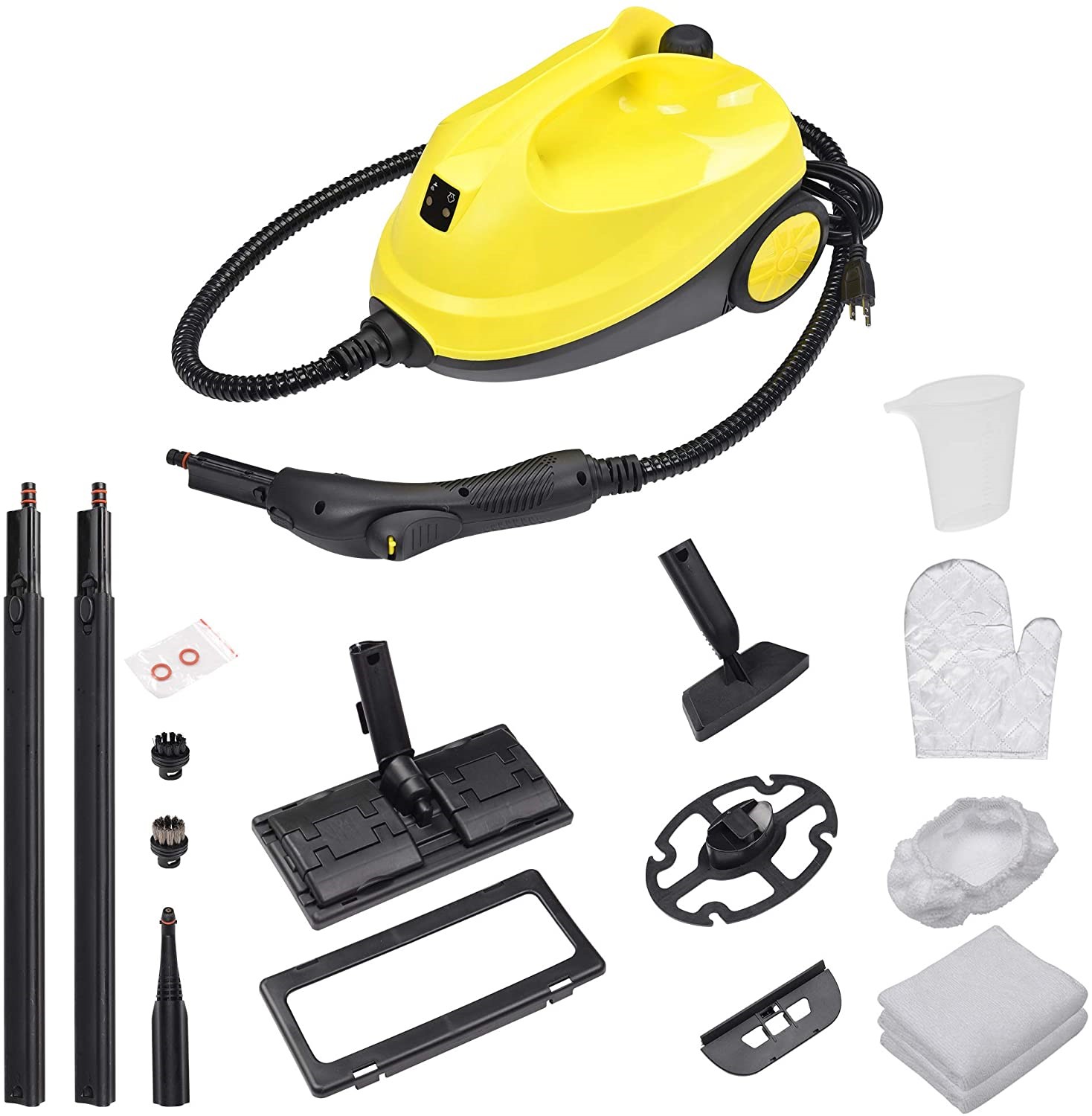 There are many steam cleaners on the market. What distinguishes this one is the force of the steam.  This cleaner literally blasts dirt out of hard-to-reach spaces, like under the toilet rim and behind the toilet.  Best of all, you do not use chemicals.  The power to clean is in the force of the steam.
This steam cleaner may be more expensive than the others but you are paying for commercial-grade quality.  It comes with 13 attachments, including extenders for the hose so you can clean a floor without bending over.  If you have pets, grandchildren, or you simply don't like the idea of caustic cleaners, you will love this steam cleaner. Available at Amazon.com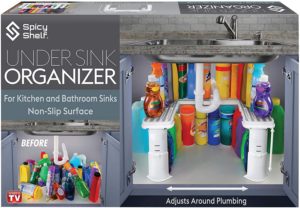 Underneath the kitchen sink is one of those places we tend not to think about much.  It's typically the dingy, dark place where we poke cleaning products and garbage bags around that huge plumbing pipe in the middle.  Most of us just write this space off as not very usable.  That's where this brilliant under-sink organizer comes in.  it literally doubles and even triples existing storage space and it adjusts around plumbing. Available at Amazon.com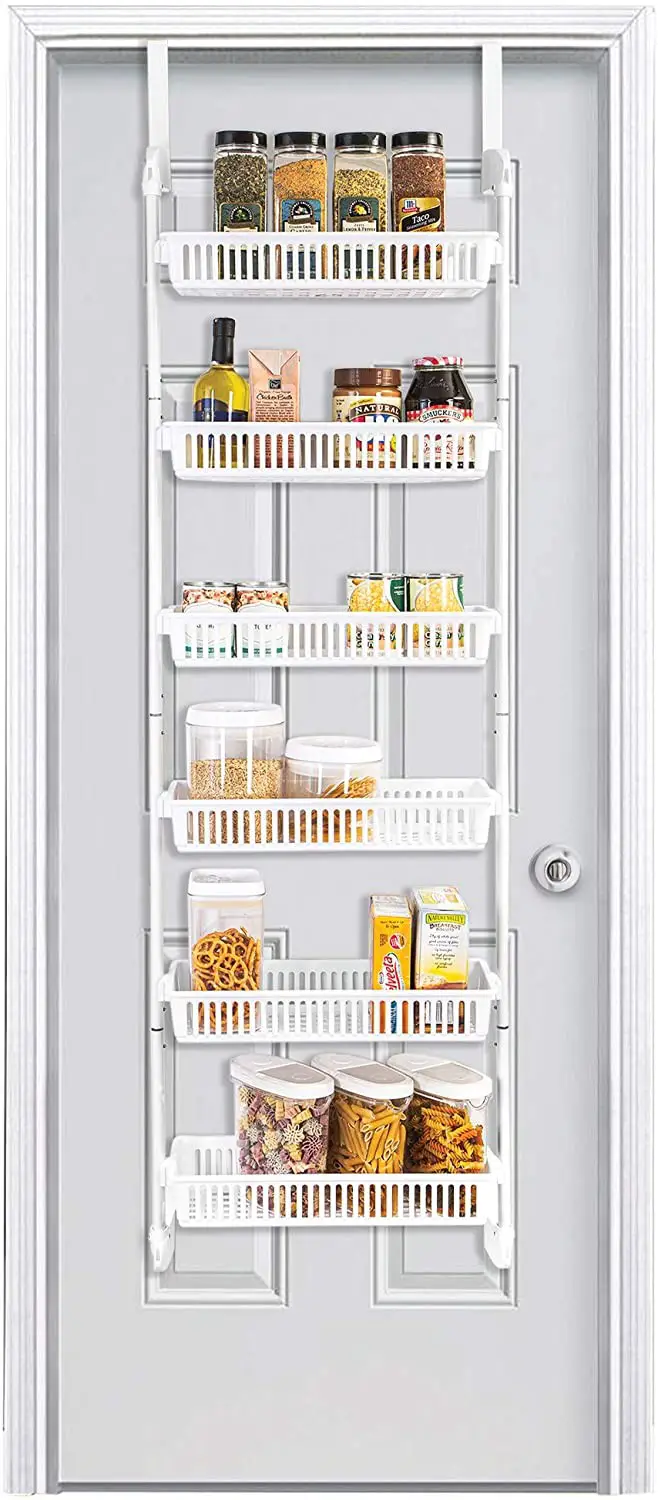 Backs of doors are the most overlooked storage places in the entire house.  This ingenious, six-shelf unit is ideal for storing spices, condiments and dry goods.  It can be mounted with screws and hooks for greater stability.  And best of all is the at-a-glance view of everything in its place! Available at Amazon.com
As an Amazon affiliate we make a small commission on purchases made through some of the links on this page. Thank you for supporting Blue Hare.
*     *     *