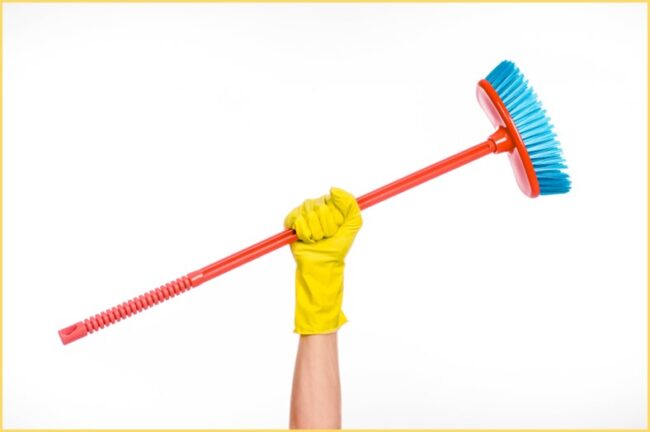 Here's some good news, ladies, that will make you grab your rags and bucket and clean your house like never before. Research out of Singapore has shown that cleaning the windows and sweeping the floors can keep older adults mentally and physically fit.
We assume, of course, that we're burning calories, and that's true. While age, weight, and gender play a role, on average it's possible to burn between 100-300 calories per hour of housework. Twenty minutes of sweeping or vacuuming will burn about 74 calories. But you'll burn 123 calories scrubbing floors and 100 calories washing windows in the same amount of time. Intensity matters.
Our brain gets significant benefits, too. In the Cross-sectional associations of housework with cognitive, physical and sensorimotor functions in younger and older community-dwelling adults: the Yishun Study, researchers found that a combination of light and heavy housework led to higher cognitive function, specifically attention and memory among older adults.
Heavy housework was associated with 14% higher attention score
Light housework was associated with 12% and 8% higher immediate and delayed memory
Sit-to-stand time and risk of falling scores were 8% and 23% lower in the heavy housework group group than the light housework group, respectively.
More intensive housework contributes to improved physical and sensorimotor functions and a lower risk of falling, as well as healthier aging overall.
This is the first study to examine the health impacts of exercise gained through house cleaning separate from recreational and occupational activity. In some aspects housework provided greater health benefits than a workout at the gym, i.e., in mental function.
Nonetheless, as we age, we are more prone to injury from activity. The Consumer Product Safety Commission reports that nearly two-thirds of emergency room visits by adults age 65 to 74 were caused by falls; ladders and stepladders were common culprits. Cuts and exposure to chemicals also make the list. If we want to reap the health benefits of housework, we need to adapt some of our cleaning products and equipment to avoid injury.
12 best house cleaning products for women over 60, according to us
We're sharing our favorite cleaning products that make it easier—and safer—to clean and avoid those trips to the ER while still getting the benefits cleaning your house promises.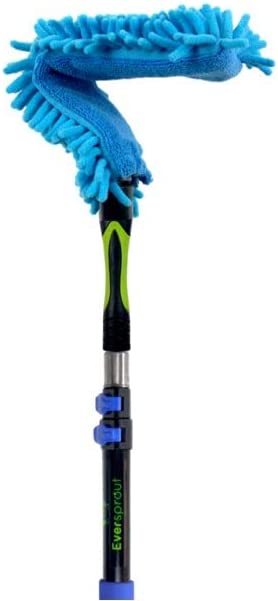 The Eversprout flexible microfiber ceiling & fan duster enables you to dust the tops of your fan blades without using a ladder or stepladder to reach them. The duster can be bent to slide over fan blades, or in other shapes to use underneath surfaces and baseboards, The "sock" can be removed and washed. It's available with extendable poles of varying lengths to reach between 10 to 30 feet.
Eversprout flexible duster, $22 on Amazon.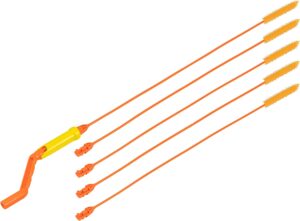 Clear slow drains without getting any gunk on your hands with the Drain Weasel sink snake cleaner. The slim wand fits through almost any opening and will excavate whatever is clogging your drain. (Eww) You'll also save on plumber's fees; spend that money at the spa instead.
Drain Weasel Sink Snake Cleaner, $20 on Amazon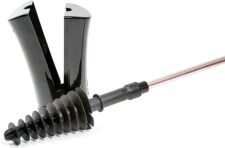 For clogs of a different sort, the ToiletShroom Plunger works miracles. Unlike suction plungers, the Shroom clears clogged toilet drains by pushing the obstruction up and over the bend in the pipe in one simple step. In our experience it's the best plunger alternative available. Plus it avoids the need to call a (costly) drain professional in most cases. Low flush toilets, old pipes, not enough fiber in your diet…all are reasons to have this on hand in your bathroom.
ToiletShroom Plunger, $15 on Amazon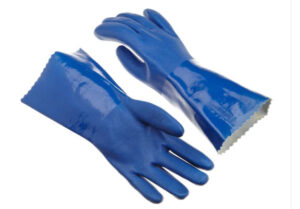 There are many reasons we should wear gloves for housework: to protect our hands from scalding water and household chemicals; to improve our grip on slippery dishes; to protect the skin on our hands from drying and cracking; and to minimize damage to nails that already are becoming thin or brittle.
True Blues Ultimate Household Gloves can do all that and possibly will be the most comfortable pair of household gloves you will ever own. The vinyl shell won't crack like latex gloves and the generous cotton liner lets them fit like a glove. A snug, well-fitting glove. Pricier than supermarket gloves, but they will outlast and outperform any others.
Find True Blues Gloves for $12.99 at S. Feldman Housewares
Microfiber cloths can take the place of paper towels, wipes, sponges, and other absorbent materials as well as dust cloths and, sometimes, mops. They will dry windows streak free and pick up every speck of dust on your furniture rather than pushing it around. Better than chamois for car wash and dry. Amazon offers a pack of 24 for $13.27. A 6-pack of Bounty paper towels costs $19.99. Not only will you perfect your cleaning and save money, you can clean spills and wipe the counter frequently without contributing to landfills.
Amazon Basics microfiber cleaning cloths 24-pack, $13.27 on Amazon.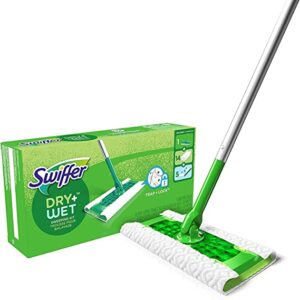 We like Swiffers because they make dusting and mopping floors easy with very little mess. The dry pads have an electrostatic charge that grabs and holds dust and dirt. The wet pads make it possible to quickly mop an area without the fuss of a bucket of water and bottle of cleaner. The duster/mop is light and small and reaches dust in tight corners more effectively than traditional mops and brooms. It can be stored in a relatively small space.
But it's because of its small size that we don't recommend it for heavy duty jobs–Swiffer mop heads are around 10 inches wide, while traditional mop heads can be as wide as 18 inches. The wet pad dries out too early in the job. However, microfiber cloths, wet or dry, can be used on the base instead of Swiffer pads, which is an economical alterenative. For its convenience it's good to have a Swiffer on hand.
The Swiffer 2-in-1 mop is $18.44 on Amazon.

In our opinion every woman who's 60 or older should own a stick vacuum. They are lightweight and perfect for quick jobs when you don't feel like pulling out the old canister or upright vacuum, which can weigh up to 17 pounds and involve all kinds of tubes and parts. Save those for heavy-duty cleaning days. Stick vacuums come in cordless and corded styles.
The advantage of cordless is the lower risk of tripping over cords. Corded vacs have a constant source of power so won't die on you mid room. Several are bagless, which makes cleanup easy.
Personally we like the Dirt Devil Vibe 3-in-1 (pictured above), which also can be used as a hand-held vac for corners and crevices, priced around $50 on Amazon, or the Bissell Featherweight Bagless Stick Vacuum, $33.98 on Amazon, for quick cleanups. There are higher-end (and pricier) models such as the highly-rated Dyson V11 Torque Drive Cordless Vacuum Cleaner if you're looking for high performance.
Find the most popular stick vacuums on Amazon.

The Bissell Power Fresh Steam Mop is one of our favorite finds and gets plenty of use on our dog-trekked floors. It cleans and sanitizes sealed hard floors without the use of harsh chemicals and claims to eliminates 99.9 percent of germs and bacteria with the natural power of steam. (We can't say for sure; we have not counted the germs but there is plenty of steam.)  Your floors will be gleaming in mere minutes.
The Bissell Steam Mop, $92.69 on Amazon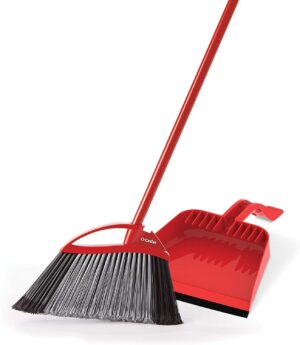 The O-Cedar broom's V-shaped bristles provide superior floor contact while the angled broom head makes accessing corners a breeze. The step-on dustpan is great for over-60s, who can avoid back strain from repetitive bending. The rubber on the pan is flexible so it lays on the floor perfectly. And its integrated cleaning combs can remove three times more hair than a traditional dustpan. The broom sweeps up sand and pet hair really well.
O-Cedar Broom & Dustpan, $13.97 on Amazon.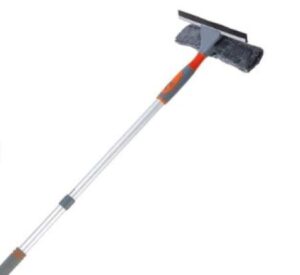 If you have high indoor or outdoor windows this 2-in-1 cleaning kit is a must. The scrubber side uses a microfiber cloth to wash and clean. Flip it over to dry with the squeegee. The lightweight pole extends to 62 inches. It's a better and safer option than standing on a chair and leaning over precariously. Even better, your windows will be crystal clear.
Lomida Extension Window Squeegee Cleaner, $19.18 on Amazon.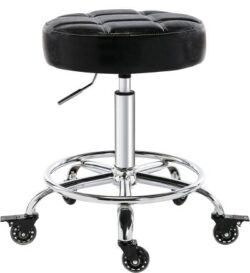 Reaching low shelves to clean, or just to fetch something, can be a challenge as we (and our knees and backs) age. Which is why a rolling swivel stool is a good thing to have around. We like this one from CoVibrant. Among its attractive features are the adjustable seat height (20 to 27 inches), wheels that turn easily, footrest, and, most importantly, lockable wheels.
The CoVibrant Lockable Rolling Swivel Stool is available on Amazon for $94.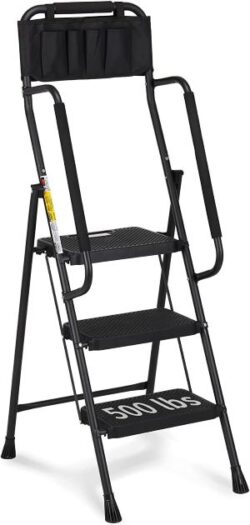 As we age we can expect balance to be an issue. Climbing onto a shaky stool to reach the top shelf, or change a lightbulb, has become dangerous. This three step ladder is the answer. The top handle and side rails give you something to hang onto, helps prevent falls, and reduces the fear of falling. You'll feel more secure and confident doing your DIY projects. Don't break a bone or crack your head. Use a sensible ladder like this instead.
You'll find the HBTower 3 Step Ladder with Handrails on Amazon for $89.99
As an Amazon affiliate Blue Hare makes a commission on purchases made through qualifying links on this website.
 *     *     *
You may also like
Go to the Blue Hare homepage for more articles for fabulous women.