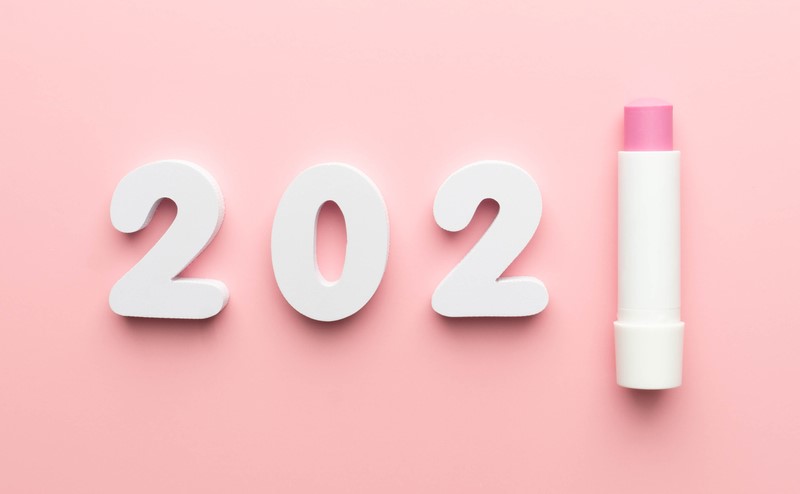 The pandemic of 2020 forced us to question much of what we took for granted–including how we approach our beauty routines and makeup practices.  The beauty industry anticipated our new attitudes and needs and responded. We spotted seven key 2021 beauty trends for women over 60 that we are looking forward to trying.
1. Minimalist makeup
This trend should come as no surprise since the made-up face became the exception rather than the rule last year.  Many of us sported bare skin more often than not for the first time in years.
Minimalist makeup is nothing new. It's just that many women our age tend to be skeptical that it can work for us.
Very few in our age group have perfect skin. Forget wrinkles, we all have those. But we also have hyperpigmentation, age spots, redness and uneven skin tones due to weathering. But covering up your face with a layer of foundation is not the answer.
Outside, in daylight and in sunlight, foundation will simply make you look older. The trick is to keep your skin (the canvas for your makeup) as smooth and healthy as possible with good skin care habits and to use one of the new minimalist makeups on the market.
Many products today are formulated to dry to a skin-like finish so you can barely tell you are wearing makeup. Quite a few of the new products come in a stick format so you can literally dab only where you need it: around the nose, on age spots, etc. Covering your whole face with a layer of makeup is a thing of the past.
_________________________________________________________
_________________________________________________________
2. "Clean" beauty products
Clean goes hand-in-hand with a minimalist approach. The trend is away from cheaper, but potentially harmful ingredients, towards ones that are kinder to the planet and to our skin.  One of the hottest new makeup lines that fits the clean/minimalist agenda is Merit Beauty, the brainchild of Katherine Power, founder of Who What Wear and a serial entrepreneur.
All of Merit's products comply with the high standards set by the European Union. This means they are free of 1,328 potentially harmful ingredients, including parabens and sulfates. The products are light and airy and quick to use.  Power has said that after busy mornings of readying her children for the day, she was often left with no time but to  apply her makeup in the car.  She created her line to be as 'no muss, no fuss' as possible.
But while the line is minimal, it also addresses the needs of older women with not-so-perfect skin.  One of the line's highlights is called, coincidentally, The Minimalist. It's not a foundation, not a concealer yet will replace both in your makeup bag. While many minimalist products don't offer enough coverage to tackle hyperpigmentation, this product welcomes everyone.  You can choose from 20 shades, each offering buildable, undetectable coverage.  Available from meritbeauty.com; Perfecting Complexion Stick, $38
3. New and improved products for hands
Our hands have never been more abused than they are today. After all, most of us are wishing them more than ever.
Twenty seconds of washing with hot water and soap many times a day is a recipe for dry skin and cuticles.  Add to that hand sanitizers that are mostly alcohol, and our skin becomes incredibly dry.  To meet this challenge, the beauty industry has introduced a slew of new moisturizing products to keep our hands as comfortable as possible.
Look for soothing hand sanitizers, hydrating hand soaps, and highly absorbant hand creams, among others.
_________________________________________________________
_________________________________________________________
4. Double duty, two-in-one products
We should have seen this trend coming, particularly when we can't always get out–think lockdowns–and leisurely shopping runs are a thing of the past. Recently I was checking out beauty products in a drug store when an employee reprimanded me with an order of "No browsing." Products that accomplish two things in one can both save us from illicit browsing and simplify our beauty requirements.
Nail polish + moisturizing treatment
Orly combines nail color and treatment in one fantastic product.  The editors of Blue Hare swear by this gentle, nourishing nail polish.  Not only is it a pleasure to apply but it lasts for up to nine days.  It feels gentle going on and it doesn't have a tell-tale harsh odor.  And the last thing we need during a pandemic is polish that dries out our nails.  Orly Breathables come in a variety of beautiful colors. Available at orly.com and Ulta.com,
Face cream + color
The NPD Group, a market research firm based in Toronto, states that "as skin care continues to grow, the share gap between it and makeup is narrowing." While skin care still outpaces makeup at large, makeup companies are shifting their offerings to align more closely with what consumers want out of their cosmetics.
Crema Nuda is the pinnacle of luxurious skin care and glowing color.  Reviewers swear by its texture, its glow and the way it makes their skin feel.  If you are used to moisturizing your skin, then putting your foundation on over it, you are in for a treat. Georgio Armani Crema Nuda, available at Sephora.com and armanibeauty.com.
5. Smarter tech gadgets
The pandemic highlighted technology front and center (thank you Zoom and Face Time).  Not to be left behind, the beauty industry is in on the trend.
Hi-tech facial
Before you decide you are sick of wearing masks, hear us out.  You can't book a salon facial these days so along comes the Dr. Dennis Gross SpectraLite FaceWare. It delivers a high-tech, at-home facial based on light therapy, which has been used for years.  This device uses a combination of acne-clearing blue light and collagen-boosting red light.
The aim is to improve the quality and appearance of your complexion in as little as two weeks. It's a bit pricey (around $435), but you will recoup the cost after only a few sessions. Dr Dennis Gross SpectraLite FaceWare, available from Sephora.com and Amazon.com, $435
 Reimagined hairdryer
The Dyson Supersonic Hairdryer comes from the same people who make those fabulous, dust-bunny sucking machines for your floors. Not only is it sleek, it delivers on speed and temperature control. It is engineered to protect hair from extreme heat damage, with the fastest drying and controlled styling. It claims to help increase smoothness by 75%, increase shine by up to 132%, and decrease frizz and fly-away hair by up to 61% compared to naturally dried hair.
It is incredibly lightweight so you can achieve that salon-standard blow-dry without getting an achy arm. It manages to be powerful without being damaging to your hair. (One reviewer was so pleased with the results that she claims it makes other hair dryers completely "obsolete".)  Dyson Supersonic Hairdryer, available at Sephora.com and ulta.com, $400
Sonic facial spa massager
The Foreo LUNA 2 face cleaning brush uses pulsating silicone bristles to clear away dirt and makeup. The sonic vibrations also boost lymphatic drainage to reduce facial puffiness.  The Sweden-based company makes a wide range of cleaners for the skin, all sonic and silicone based. (80% of Amazon reviewers give this item 5 stars).  Foreo LUNA 2, available at Sephora.com and Amazon.com, $169
_________________________________________________________
_________________________________________________________
6. Plant-based skincare
It was only a matter of time before this trend exploded.  It seems that ingredients that are not planet friendly are also damaging our skin.
Skin care lines are springing up that eschew the chemical route to use plant-based ingredients that are skin friendly.  Jennifer Lopez is at the forefront of this trend with her new line of skin care, JLo Beauty, which is based on olive oil.  (Her mother and grandmother have apparently used pure olive oil for years to keep their skin glowing and smooth).
The flagship product of her line is That Blockbuster Wonder Cream, a thick, rich night cream. Eighty-five percent of those who reviewed the product on Sephora's website indicated they would purchase it again. JLo Beauty The Blockbuster ($58) is available at Sephora.com and Amazon.com,
7. Hair goes native
Nothing could have propelled this trend higher than a global pandemic.  Many of us realized that not only did we survive gray hair, natural curls, or no haircuts, we actually looked good.  Natural hair flourished and many of us will never go back.
Even if you can't wait to get back to your hair salon or if you and your natural hair have reached an agreement, most women our age still need some help to combat dryness and fly-aways, and frizz.  No-sulfate hair products restore precious moisture to aging hair, natural or not.
Sol Janeiro Triple Brazilian Butter Hair Repair Treatment is a medley of Brazilian butters: cupuaçu, murumuru, and tucumã. It is perfect for intensive hydration, increased resistance to hair breakage, and deep nourishment without unwanted weight or heaviness. Sol Janeiro Triple Brazilian Butter hair Repair Treatment is available at solejaneiro.com and Sephora.com, $36
Bleu Reparative Shampoo is truly a shampoo for our time. It repairs and protects damaged hair against breakage, delivers extreme shine, instantly detangles, and strengthens and improves elasticity so hair is left softer and silkier. Bleu by R+Co De Luxe Reparative Shampoo is available at Walmart.com, $40
 *     *     *
You might also like
Go to the BLUE HARE home page for more articles for fabulous women