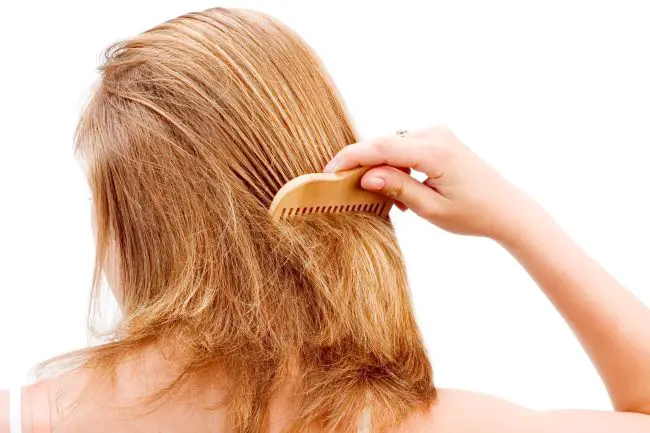 Have you tried conditioner aftere conditioner and been frustrated with the results? What if there was a way to tell you which ones to buy and which to leave on the shelf? There is: a simple strand test I discovered that can point you to the best conditioner for your dry hair. But first a little about why we might need new conditioners as we age.
Why does hair become dry and frizzy?
Hair has no natural lubrication.  It is no longer alive when it grows out of our scalp. This is why we don't feel a thing when we get a good haircut. When hair grows, it's not able to produce its own oils. Instead, hair relies on the oils our scalp produces to provide nourishment and to make it look and feel glossy.
As we age these oils decrease. The result? Drier, frizzier hair. Frizzy hair is generally less smooth in texture, caused by this lack of hydration.
In addition to decreased oil production, our hair grays as we age—the result of declining melanocytes (the substance that gives our hair color).  This also causes hair to become dry. This pigment change affects the structure of the hair follicle, leaving it feeling brittle and frizzy.
Hormonal changes after menopause can also lead to dry hair. In a healthy cuticle, the layers lie tightly together and keep moisture in. When a cuticle's layers separate and peel away from hair, it can't hold moisture and oil escapes.
You can tame your dry frizzy hair with the right products—once you identify what your dry hair is missing. 
Moisture or protein? Not all dry hair is alike
There are two types of dry hair: hair that thrives on added protein and hair that cries out for added moisture. Get it wrong and your hair will show it.
This discovery made all the difference in the health and appearance of my hair—and it can do the same for you.  Once you understand the concept and align your hair products accordingly, you will be on your way to healthy looking hair—regardless of your age!
Your hair will either benefit from protein-based hair products or moisture-based products.  How do you know which ones are right for you?
Moisture vs. Protein: The Science
Each strand of your hair is held together by something called disulfide bonds. They can only be damaged by chemicals, such as hair coloring, or by long-term exposure to the sun–which applies to most women our age. Proteins reinforce these bonds, making hair stronger and less likely to break.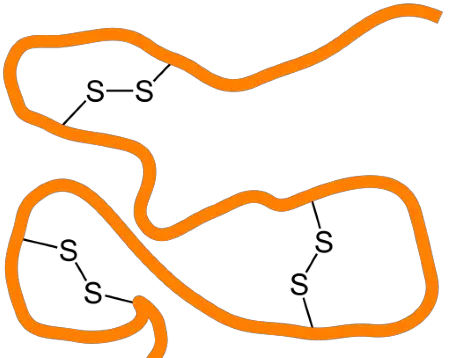 Moisture hydrates the bonds, which contributes to the overall look and feel of your hair.
If brushing your hair causes snapped strands and fallout, your disulphide bonds are broken: you need a protein treatment. If breakage isn't your issue, but the feel of your strands is dry and wiry, you are most likely lacking moisture.
Take the elasticity test
This strand test can help you find the best conditioner for dry hair.
Take a strand of your hair and stretch it.
If it doesn't stretch or breaks, feels dry and rough, it is brittle and damaged. It needs a moisture treatment. Products that have fatty acid-rich ingredients found in plant, nut, and seed oils are good for this type of hair.
When your hair stretches far or curls as it rebounds, if it feels mushy, gummy, or like cotton candy, your hair needs a protein treatment.  Products that are protein-based are good for this type of hair.
If your hair stretches but then returns to its normal state, your protein and moisture are balanced and you can use either group of products.
I tested a strand of my hair and discovered it needs products that provide moisture, but I had been buying products (expensive products!) with protein. Once I switched to a moisture-based conditioner my hair completely changed.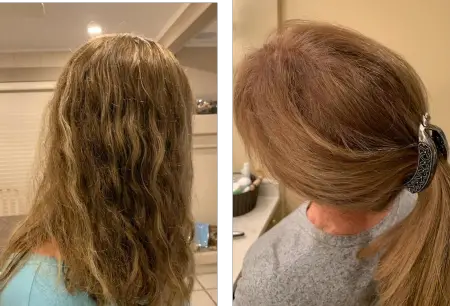 Products for hair that crave moisture
The best products are those that have fatty acid-rich ingredients found in plant, nut, and seed oils.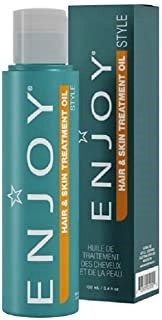 Enjoy Hair and Skin Treatment Oil system delivers intense moisturization and includes calming anti-frizz benefits without weighing hair down. It tames unruly, frizzy hair, leaving it smooth and soft.
Buy here.
Argan oil hair treatment imparts a beautiful sheen and won't weigh your hair down.  Reviewers say they have tried many of the popular oils and Agadir is one of the best.
Buy here.

Despite the fact that this famous family are masters of self-promotion through social media, the hype around this product is real.  This product gives moisture and shine without weighing the hair down.
Buy here.
Products for hair that needs protein
Frederic Fekkai is a celebrity hairdresser and entrepreneur.  Reviewers credit his much-coveted protein mask as "hands down the best repair treatment for damaged, lifeless, frizzy hair."
Buy here.
Reviewers with protein-needy hair swear by Sukin's botanical protein treatment, which leaves hair smooth and healthy.
Buy here.
Last Call Hair Masque repairs damaged hair to strengthen and add needed nourishment for healthy hair. It turns dry frizzy hair into beautiful, strong hair that holds up against breakage and split ends. It won't weigh hair down like some heavy treatments leaving hair shiny and full of life.
Buy here.
*     *     *
As an Amazon Associate BLUE HARE earns a small commission from qualifying purchases of products in our articles, which helps us bring you more great information and ideas.
You might also like…
Find more health and beauty tips on BLUE HARE.