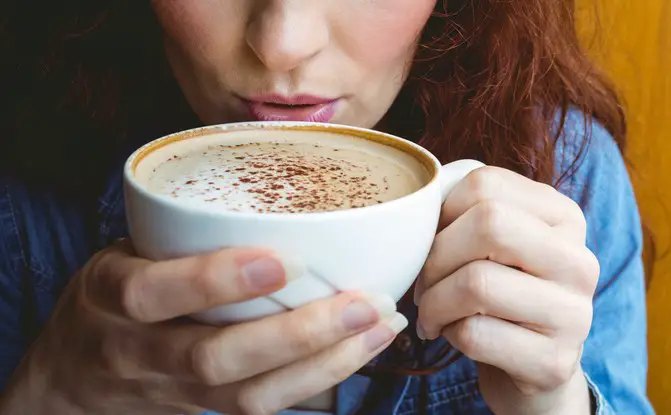 If we've learned anything in the past few months, it's that making a really good cup of coffee at home is more complex than we thought. The right beans and roast matter. So does having the right equipment.
Whether your preference is for espresso or pour over, there is a coffee maker with your name on it. With retailers scrambling to offer tempting holiday deals ever earlier, October is a great time to check out new coffee makers so you're ready to pounce when sales start.
To guide your search, we surveyed the most popular brewing methods and the best coffee pots in each category. With a little help your kitchen can become a top notch coffee bar, bringing a cup of sunshine to your mornings even on gloomy days.
Right pot + right grind
Whatever your brewing method, having the right grind of coffee is essential to achieving the best results. A moka pot, for instance, requires a fine grind, while a French press calls for a coarser one.
If you grind your own beans, know that not all coffee grinders are created equal. A burr grinder produces ground coffee with uniform particles. A blade grinder coarsely chops beans into unevenly sized granules, giving you less control over extracting the coffee essence from them.
If you decide not to grind your coffee at home—the best way to assure the freshest roast—your local purveyor of specialty coffees will be happy to grind any coffee you purchase from them. Just let them know how you will brew your coffee and they can give you the perfect grind.
Your choice: six ways to make the perfect brew for you
With so many options these days, we explored six ways to produce a great cup of coffee. They include the drip method, espresso maker, French press, moka pot, the pour over method, and—don't faint—a percolator. We explore each method and recommend a few makers for each style.
Drip coffee—easy, convenient
Coffee making has become such a means of self-expression that making a simple pot of drip coffee seems quaint or, at a minimum, a throwback to the Harvest Gold and Avocado Green kitchen. Still, drip coffee has its advantages. It is easy to make, doesn't cost much, and is perfect for serving large groups or unexpected guests. Fortunately drip coffee makers have continued to evolve.
Technivorm Moccamaster coffee maker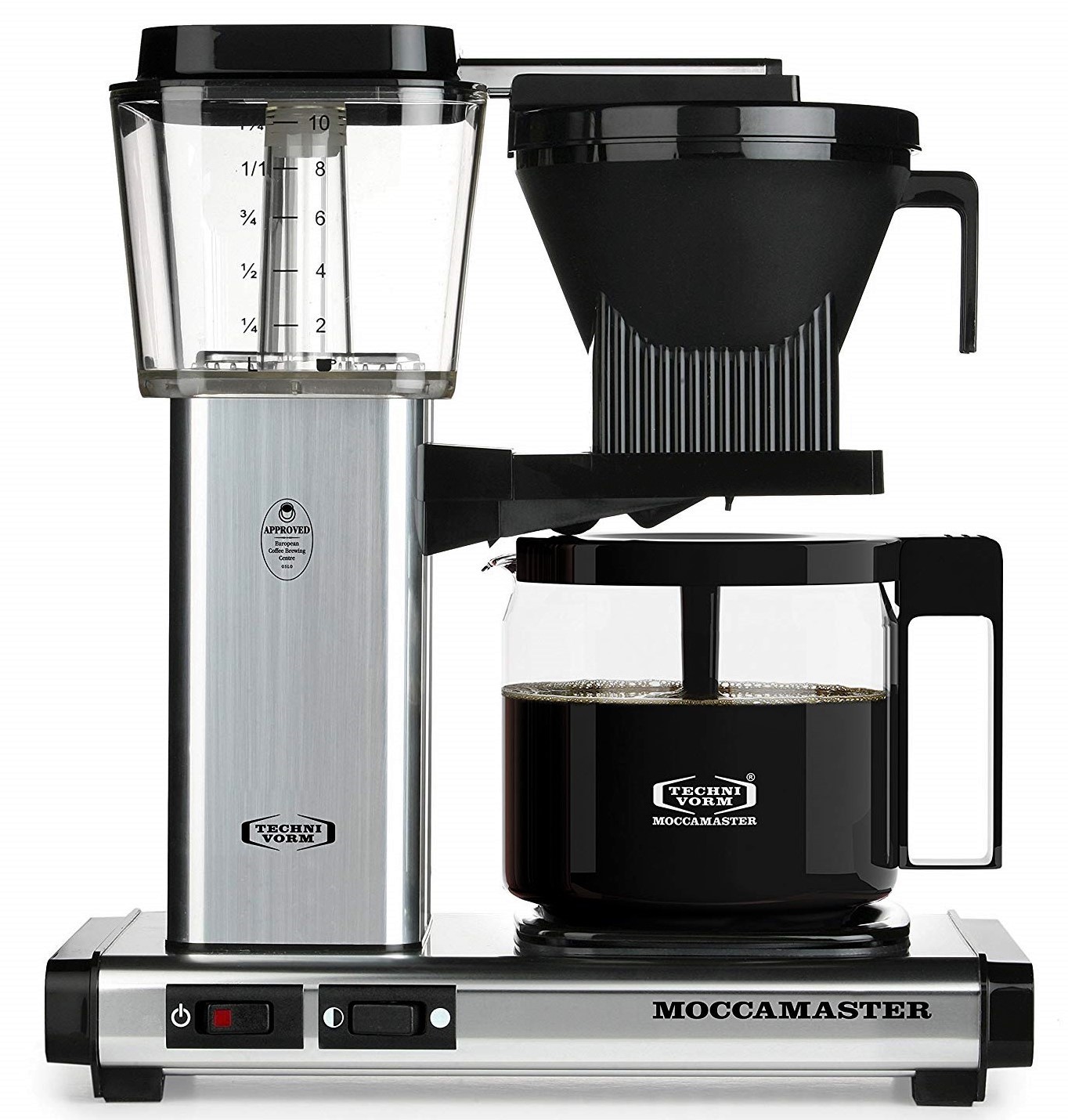 Dutch company Technivorm has been producing fine-crafted drip coffee makers for more than 50 years. Its Moccamaster series boasts a sleek retro design and produces some truly outstanding coffee–enough to satisfy even the most discerning connoisseurs. It's an expensive machine but truly a high-performing beauty. Comes in 21 colors.
$309.00 at Amazon.com.
Ninja hot and cold brew system
Ninja coffee makers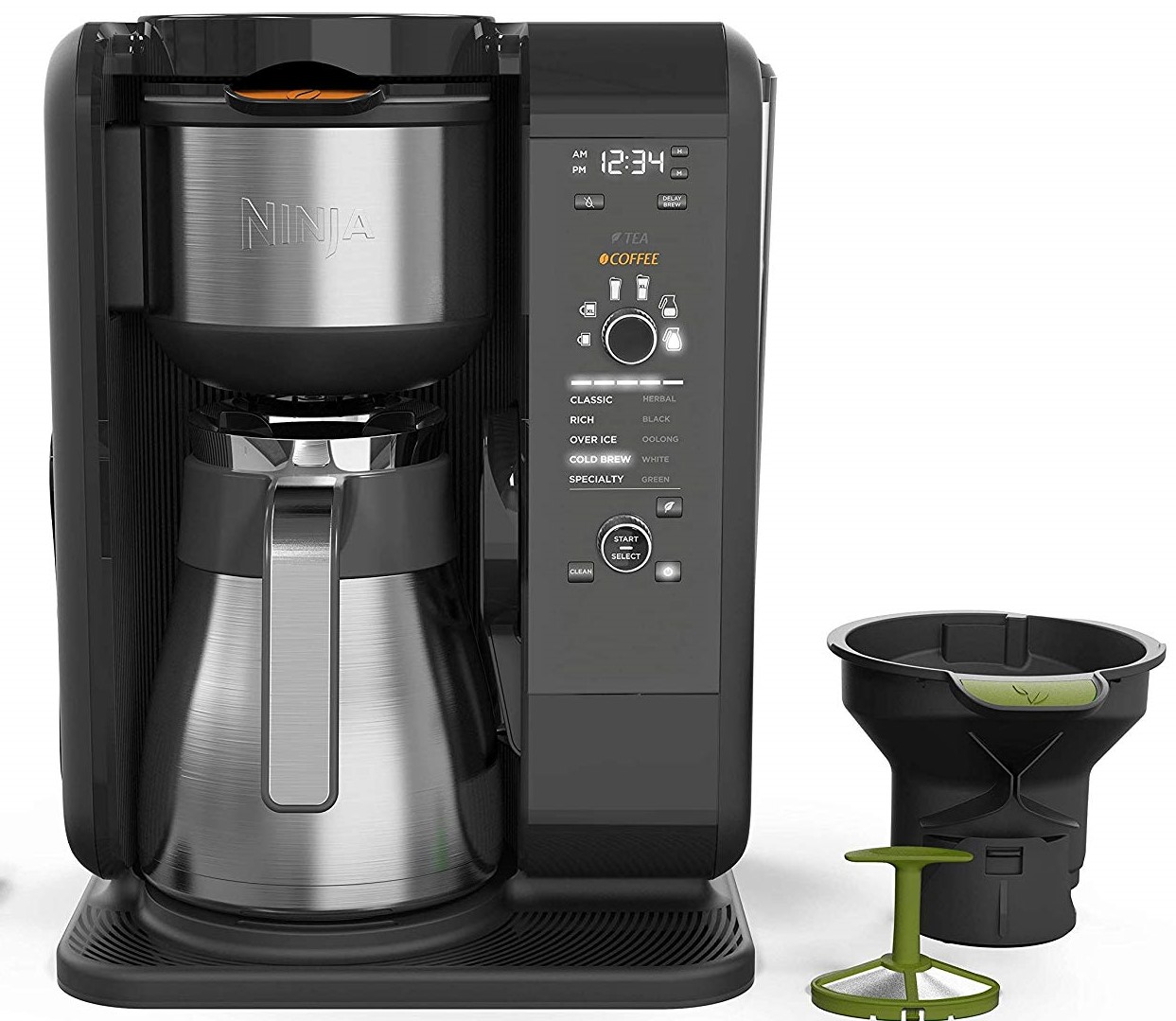 give you all the capabilities of a fully-outfitted coffee bar without a bunch of appliances cluttering your counter space. Whenever you fancy, you can make a classic or rich brew, over ice or cold brew, as well as a variety of specialty espresso-based coffees.
As one reviewer comments, "I made my first cup of coffee and I'm totally in love. The simplicity, flavor, texture, and versatility are unbelievable. I feel like a barista (without any training)."
$229.99 at Amazon.com.
Bonavita one-touch coffee maker
The features of this Bonavita brewer are as close to the pour-over technique as any, but it's much easier to use.
According to the manufacturer, "if you don't have a brewer that can reach and maintain an optimal brewing temperature, provide the right duration of saturation and ensure uniform flavor extraction, then the work of the great coffee roasters is lost. Our brewers are engineered to perform consistently and allow you to brew your favorite roast at home."
$149.99 at Amazon.com.
Keurig K-Elite single serve coffee brewer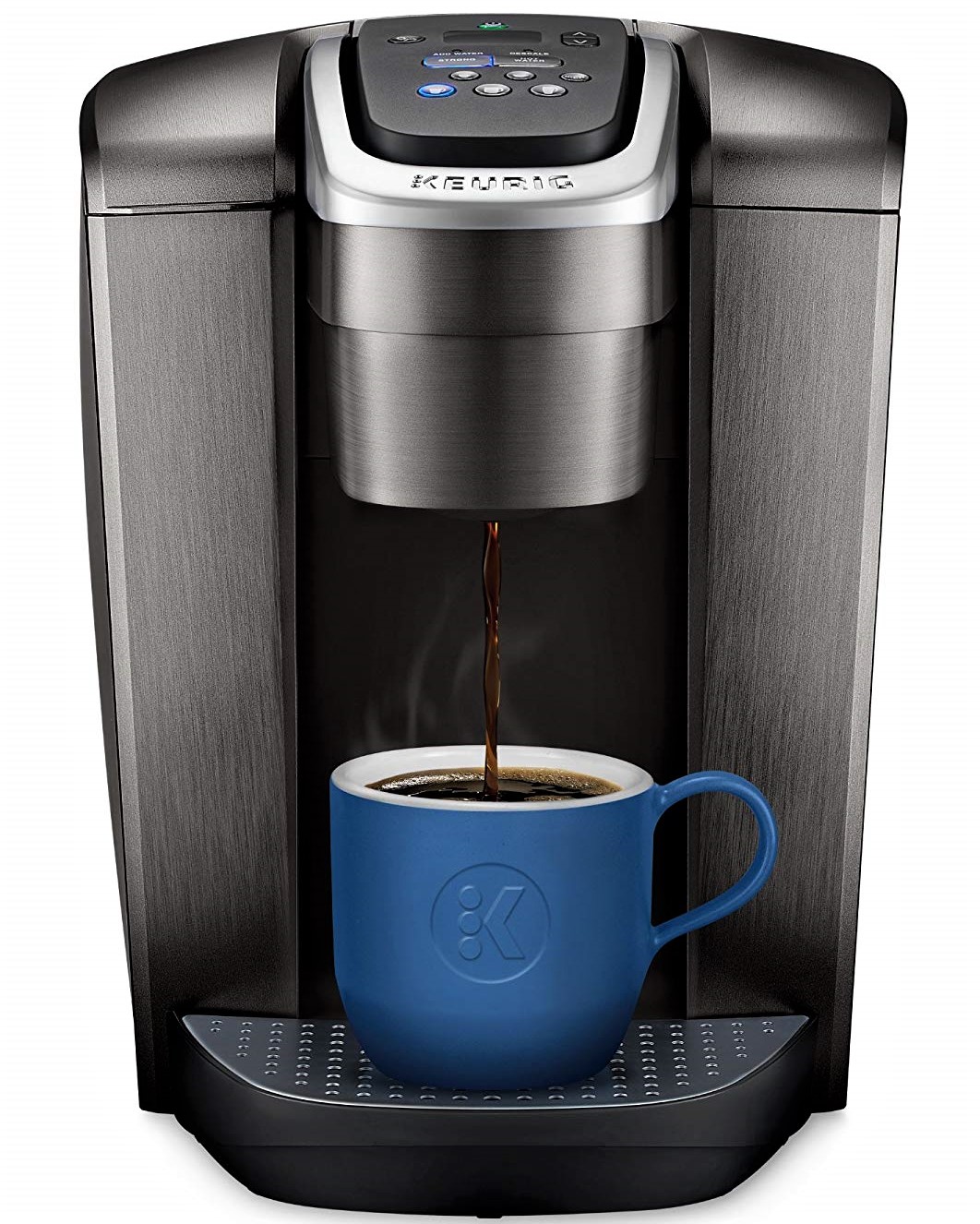 Pod machines, like this Keurig K-Elite, are very popular because they're so easy to use. Instead of brewing a whole pot, you can brew a single cup. If there are only one or two coffee drinkers in your home, a single-serve machine is a great choice.
Keurig's K-Elite brewer single serve coffee maker couldn't be easier. Press a button when you want your coffee strong or brewed hot over ice for a full-flavored iced coffee. There are five brew sizes and a choice of literally hundreds of your favorite coffees in K-Cup pods. Or, you can brew your own ground coffee using the Universal My K-Cup Reusable Coffee Filter (sold separately).
$169.99 at Amazon.com.
Espresso—bringing Italy home
Everyone knows how much the Italians love their coffee. So, it should come as no surprise that Italy—specifically Milan—is the birthplace of the espresso.
A truly delicious espresso balances three elements—bitterness, acidity, and sweetness. The right amount of bitterness adds depth and complexity; acidity or brightness gives energy to the brew; and sweetness is a mild, pleasant flavor that softens the taste. Balancing these three aspects of espresso making can be truly daunting at times. With practice, it's possible to discover the right mix of ingredients—ratio of coffee, brew time, and temperature–to produce a rich and satisfying coffee.
Breville barista express espresso machine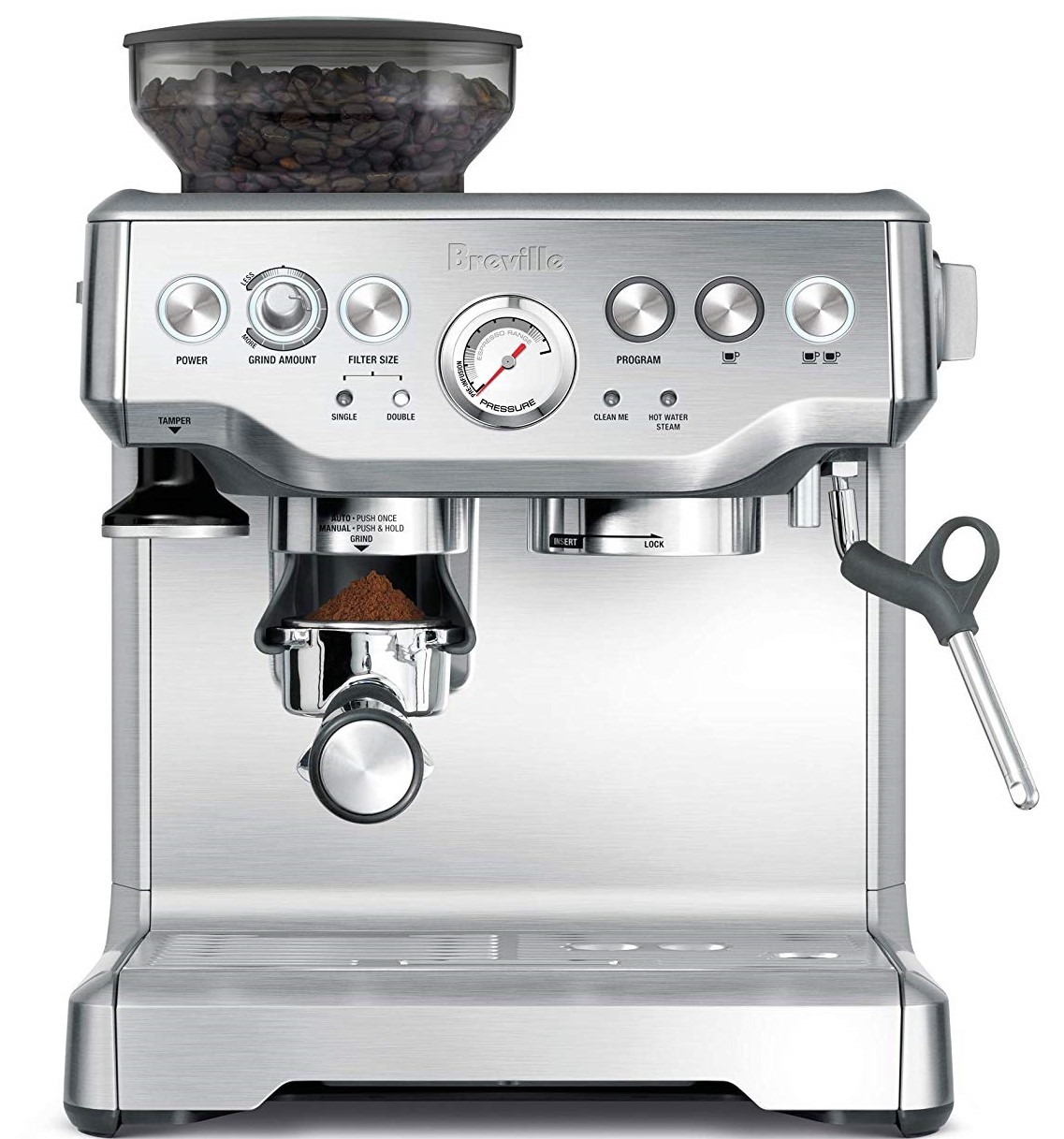 This barista express machine by Breville comes with everything you need to create barista quality coffee in less than a minute. It even has a conical burr grinder so that you can grind your beans and deliver just the right amount of coffee directly into the filter. It automatically adjusts water temperature after steam to extract the most flavor. In short, it's an all-around great espresso machine. You will pay a bit more but it's well worth it.
$680.00 at Amazon.com.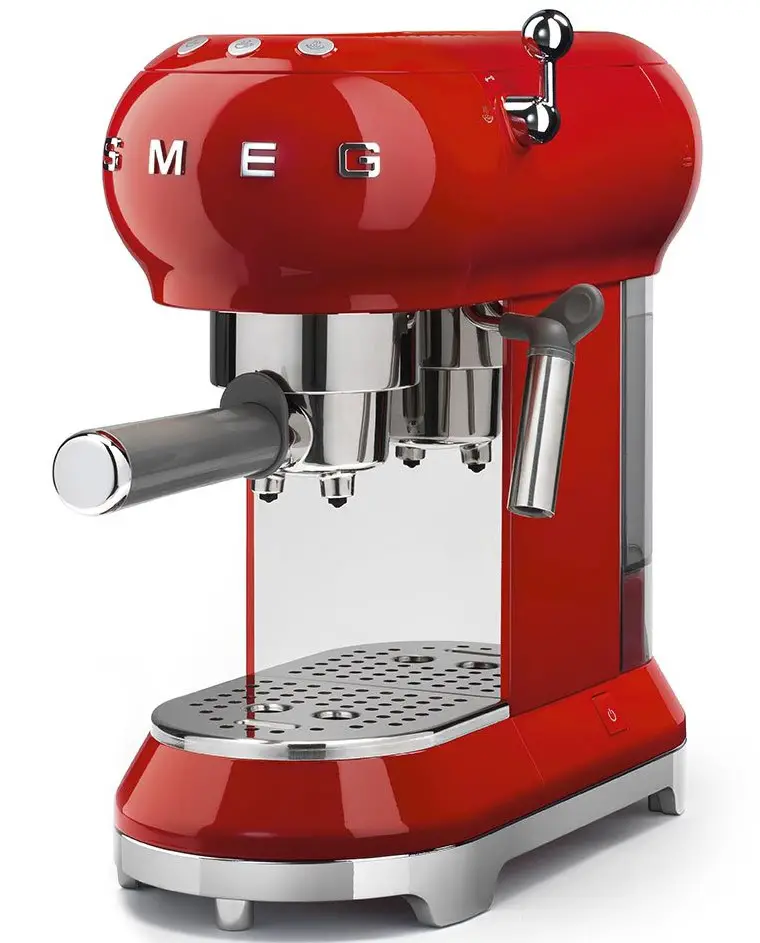 With a beautiful 1950s retro design, this Smeg espresso coffee machine is both beautiful and functional. It's quick to heat and makes a great espresso—well balanced and flavorful with just the right amount of crema. At the higher end of the price scale, it's certainly an indulgence but reviewers rave about its combination of high design and great espresso.
$690.00 at Amazon.com.
Nespresso by De'Longhi VertuoPlus coffee and espresso machine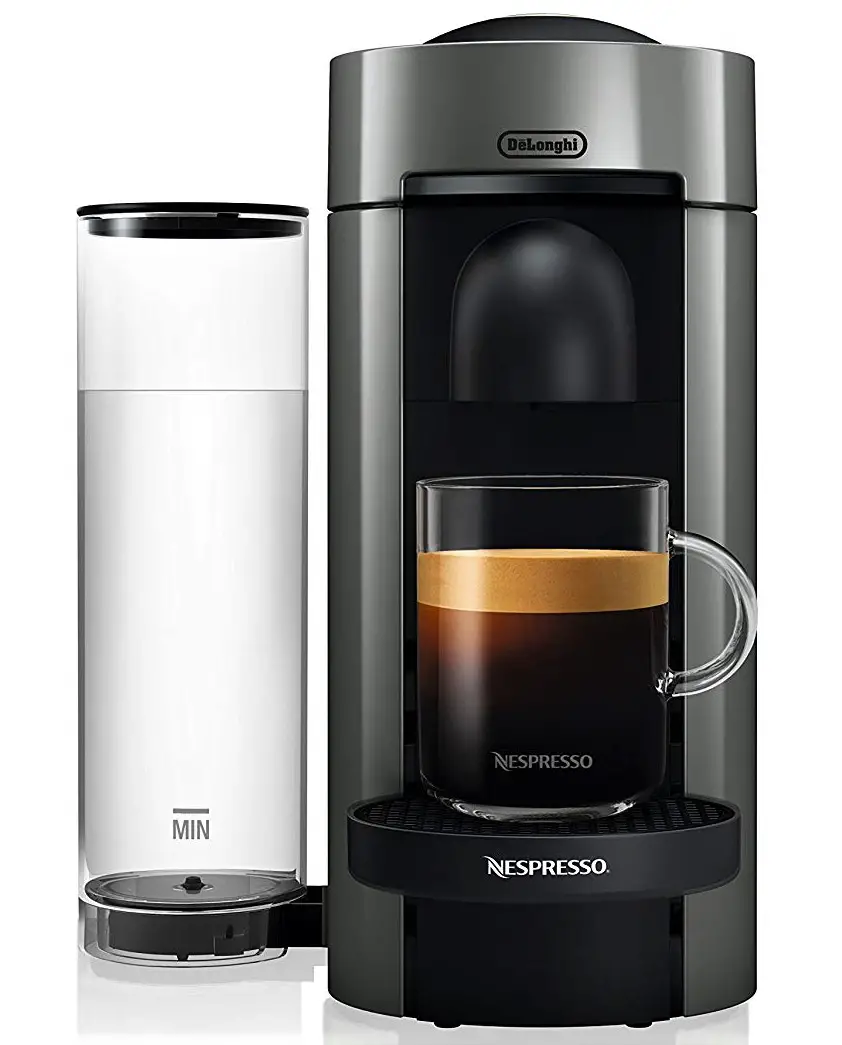 Espresso purists may cringe at the thought of popping coffee into a pod and pressing a button to extract espresso. Still, there is no easier way to make a delicious espresso. No need to grind, measure and tamp down your coffee. Just turn it on, pop in a pod, and press a button. The result? A tasty rich coffee with an amazing crema. The only drawback is that the De'Longhi VertuoPlus only uses pods made for the Nespresso–and they can cost more than a dollar each. Still, if you truly love a rich cup of coffee, this could be the way to go.
$175.00 at Amazon.com.
De'Longhi espresso and cappuccino maker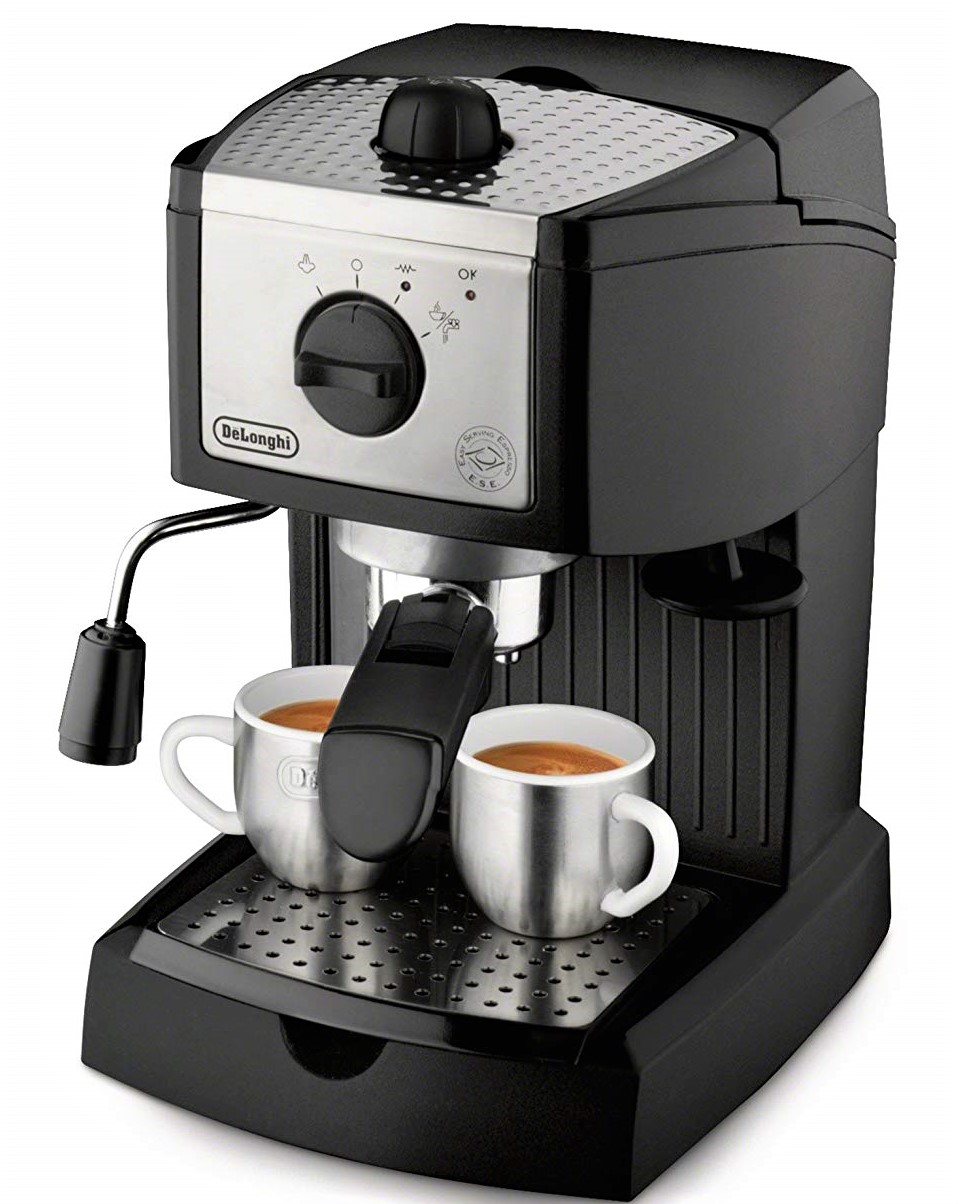 Not everyone wants to pay a fortune for their espresso maker. This is a good solid brewer, with beautiful Italian design, by the De'Longhi appliance company of Italy. And, it costs less than $100. Whatever your preference—single or double espresso, cappuccino or latte—the machine brews barista-quality drinks in a matter of minutes.
According to an Italian reviewer on Amazon, "I've had this machine for 6 months now, using it every day. It's awesome. Like the espresso cup you'd get in Italy 'al bar'. It gives a thick layer of 'crema' on top of each cup."
$199.00 on Amazon.com.
The French Press: The classic, low-tech way to rich, dreamy coffee
The French press is a classic brew method in Europe. If you like your coffee rich and prefer being more hands-on, the French press is one way to go. Scoop coarsely-ground coffee beans into the bottom of your press. Add boiling water. You'll be able to tell whether your coffee is fresh—or not—by whether it fizzes up after adding water. Now, gently place the plunger into the press without actually plunging it. Wait about five minutes.
You can adjust the strength of your brew by adding more or less coffee. Once the grounds have had time to brew, gently push the plunger down and let the sediment settle. Since any remaining coffee will have contact with the grounds, it's best to drink up and not to linger as the coffee can turn bitter. If you prefer not to drink all of it right away, pour any remaining brew into a carafe or thermos.
Most French press coffee makers are made of borosilicate glass or stainless steel. Although a choice between the two may seem like a matter of aesthetics, there is a practical consideration as well. Glass presses do not keep coffee as warm as a double-wall stainless steel press.
Bodum Chambord French press coffee maker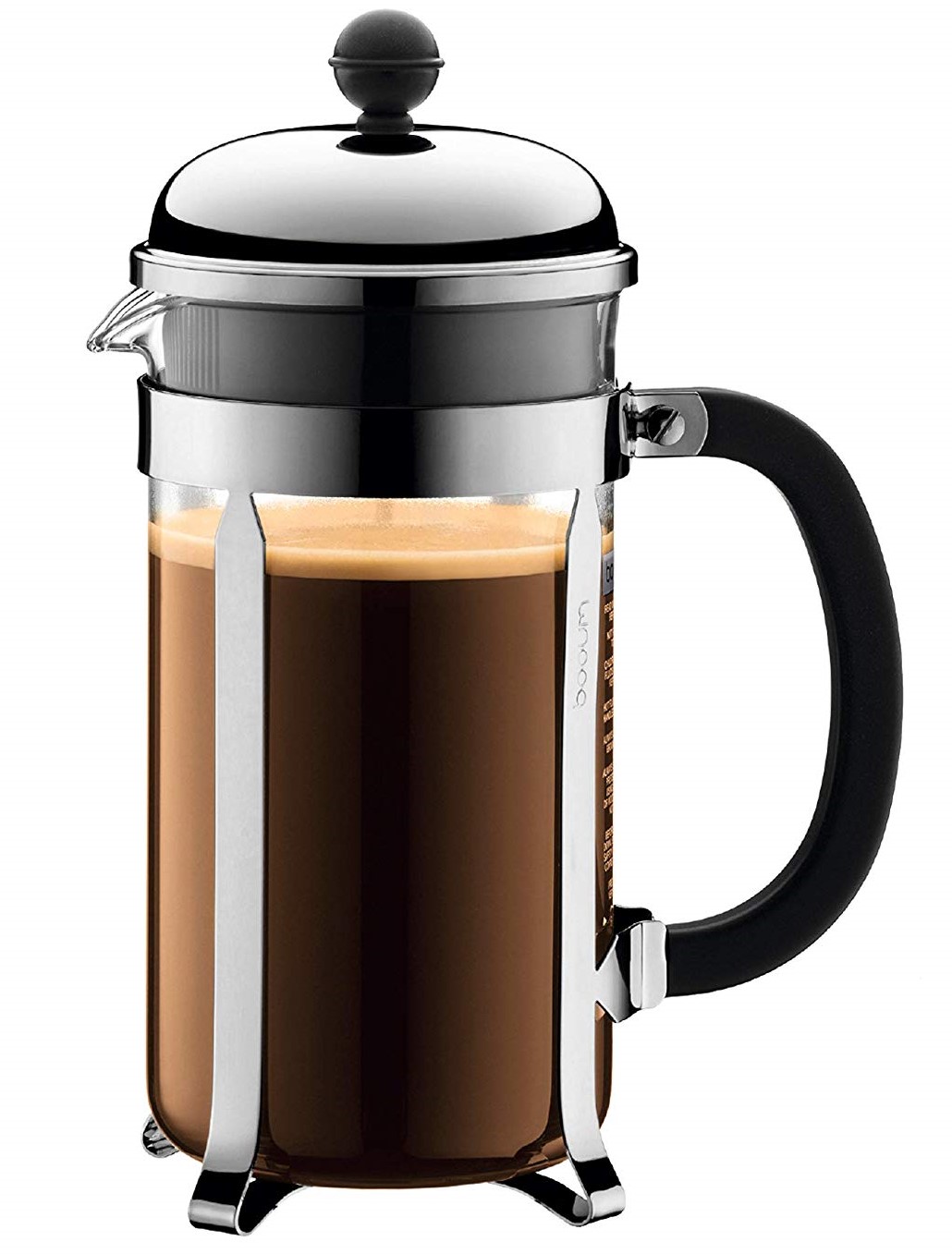 The Bodum Chambord is the classic French press coffee maker. Designed in the 1950s, its glass and metal design is both durable and beautiful. It brews a delicious cup of coffee in just four minutes.
$39.19 on Amazon.com.
Frieling French press coffee maker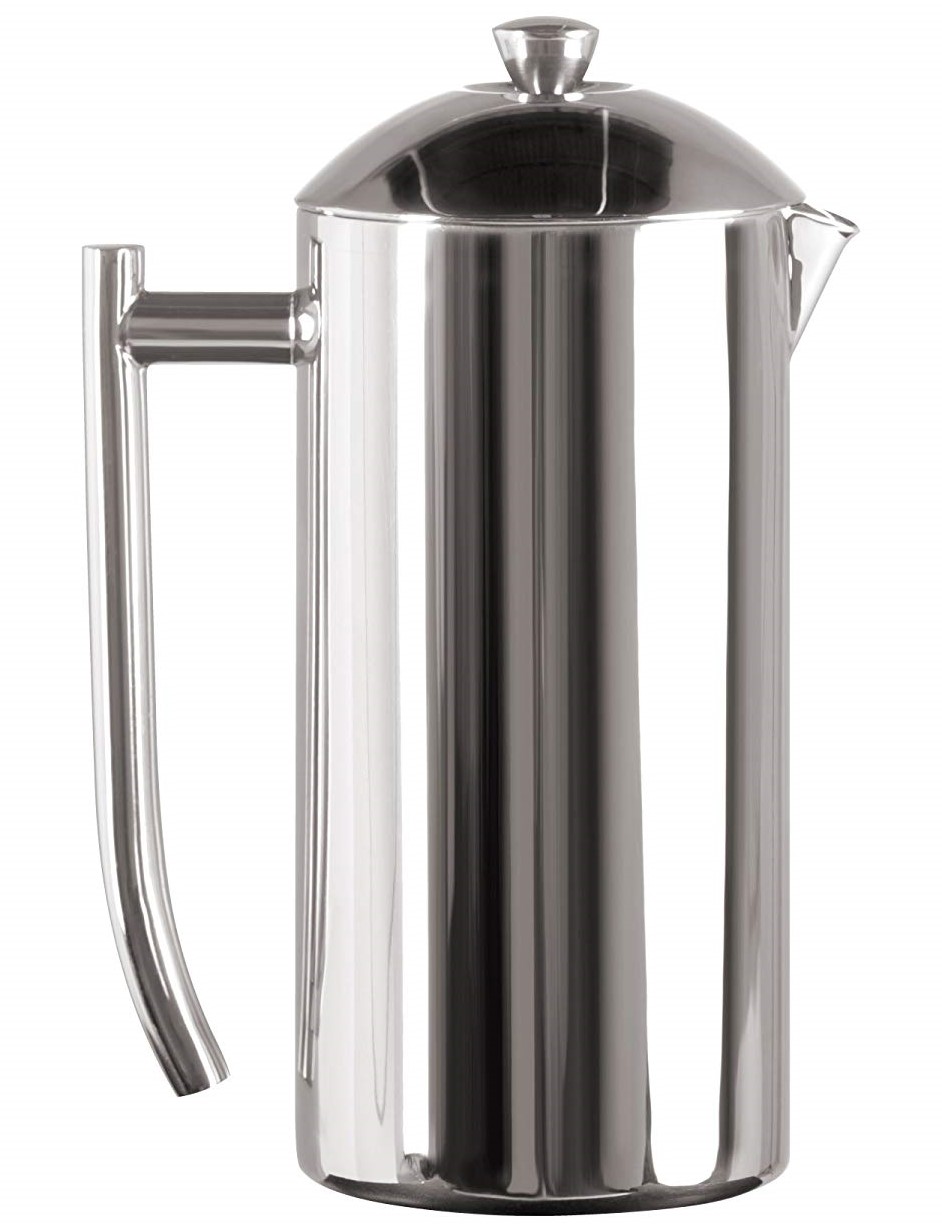 This Frieling French press is beautiful as well as extremely durable. Made of 18/10 stainless steel, its double wall construction retains heat four times longer than a glass press. It sports a two-stage filter system to trap sediment from going into your cup. The carafe doubles as an insulated serving pitcher.
$99.95 on Amazon.com.
Bodum stainless steel travel French press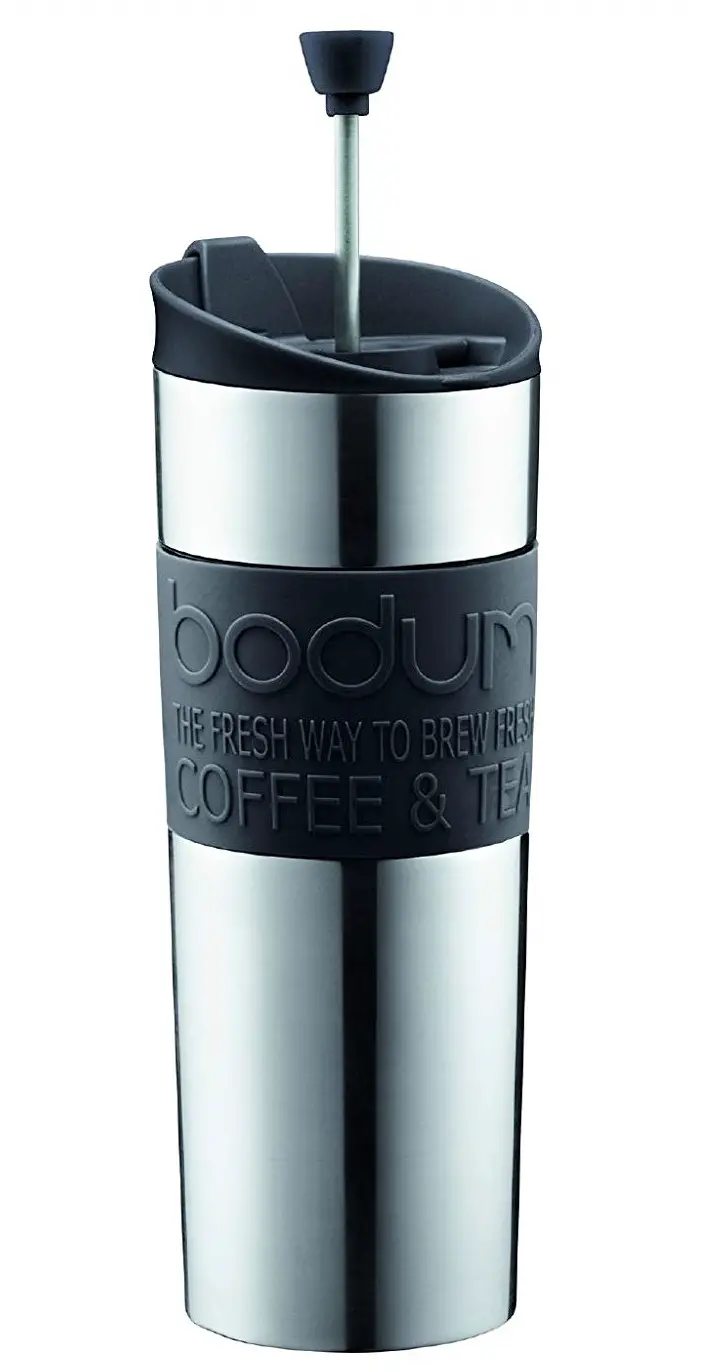 With Bodum's travel French press, you can still have rich coffee when you're on the go. Just add coarsely ground coffee and hot water, then seal the lid. A a tasty cup of freshly pressed coffee will be ready in a few minutes. The insulated stainless-steel double wall design with a vacuum seal keeps coffee hot for hours while remaining cool to the touch.
$27.99 on Amazon.com.
Moka Pot—The stovetop espresso marvel
Moka pots brew coffee by passing pressurized steaming water through ground coffee. It was invented in Italy in 1933 by Alfonso Bialetti. Named after the Yemeni city of Mocha, Bialetti Industries continues to produce the same model today, the Moka Express.
Today the moka pot is most commonly used in Europe and in Latin America but is enjoying a resurgence in North America. Trendy Blue Bottle Coffee has a detailed Moka pot brewing guide on its website. Foursquare City Guide has a listing of The 15 Best Places for Mochas in New York City.
The moka pot has become an iconic design, displayed in modern industrial art and design museums including the Museum of Modern Art, the Cooper–Hewitt, National Design Museum, the Design Museum, the Wolfsonian-FIU, and the London Science Museum.
Bialetti Moka Express 3-cup espresso maker
Bialetti's classic Moka Express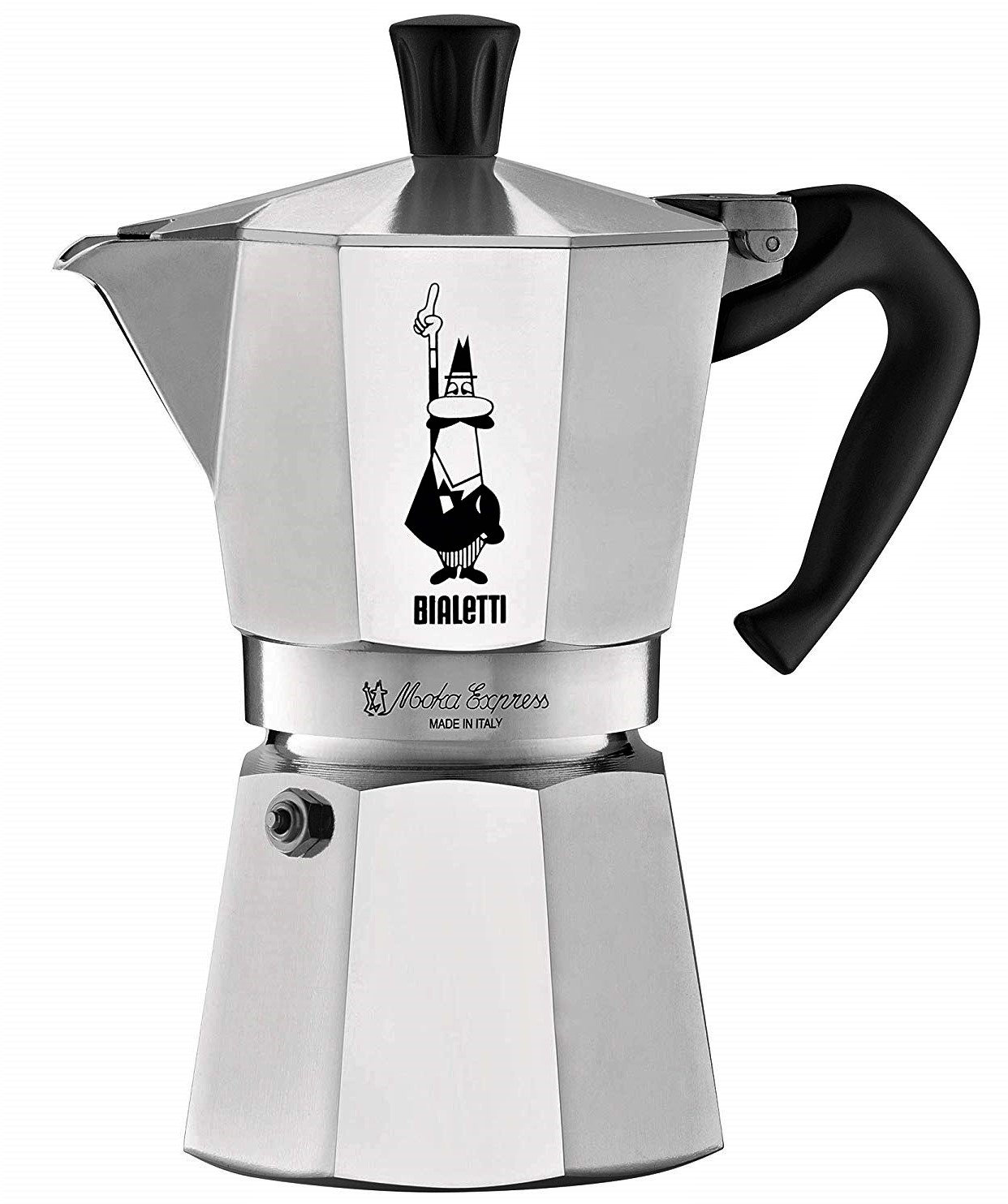 stovetop espresso maker was invented in 1933. It makes deep, delicious coffee right on your stove and comes in a range of seven models and sizes. Remember to use low heat/flame to ensure the handle doesn't get too hot or melt. What grind makes the best cup? Somewhere between a drip and espresso grind.
$29.28 on Amazon.com.
Cuisinox Roma stainless steel stovetop espresso maker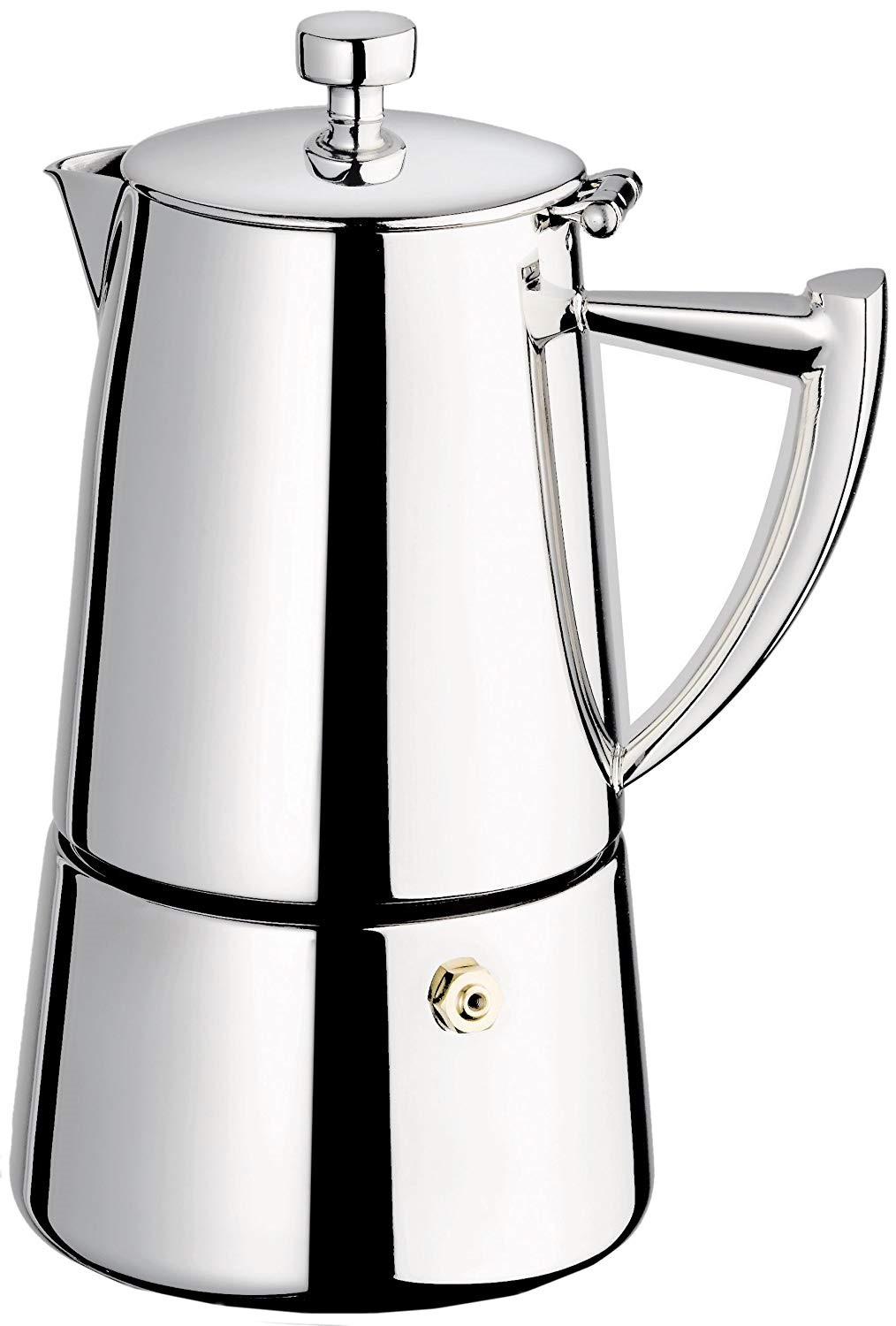 Cuisinox has created an absolutely stunning stainless-steel stovetop espresso coffeemaker. Hand crafted to the highest industry standards, its heavy gauge 18/10 stainless steel construction is polished to a mirror finish and is suitable for all cooking surfaces. Beautiful as well as practical, it comes with a 25-year warranty.
$102.99 on Amazon.com.
Alessi's Pulcina stove top espresso coffee maker
Alessi's espresso makers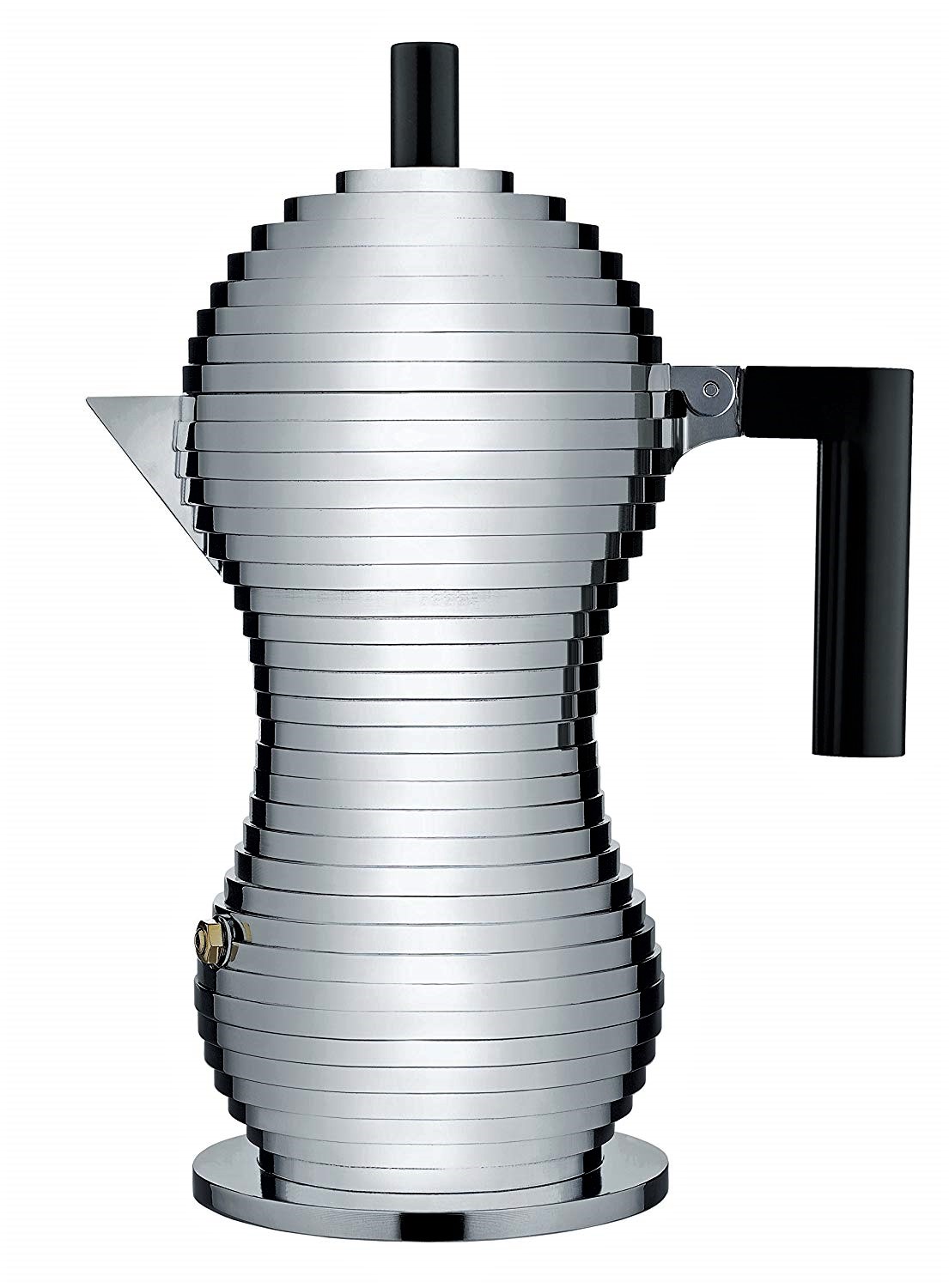 are literally works of art. You can see them in MoMA and other design museums worldwide. The Pulcina was designed by espresso maker Illy and Michele De Lucchi, a famous Italian designer. It represents years of research into how a coffee maker's shape can impact the coffee's taste. The Pulcina is a high-performance coffee maker that stops releasing the coffee before it becomes bitter. Its name, Pulcina (baby chick), is a play on the pot's beak-like spout and its curvy chick-like shape. It's also a gentle reference to the fact that De Lucchi designed this pot in his studio, which was located in a chicken coop.
$61.98 on Amazon.com.
De'Longhi electric moka espresso coffee maker
Enjoy delicious authentic moka coffee without running the risk of burning your coffee. The De'Longhi electric moka espresso coffee maker has an automatic safety system. And with the 30-minute automatic warming function, you'll never have to suffer through lukewarm coffee again.
$67.42 on Amazon.com.
Pour over coffee—Not just for hipsters
This method of brewing coffee is ideal for people who want maximum control over the strength and taste of their coffee. The beauty of this method is its ability to highlight intricate flavors. It is ideal for emphasizing the nuances of a particular origin or varietal. The extraction process allows the water to gently bring out a coffee's oils and aromas, which are then caught in the filter. The end result is a cleaner cup of coffee.
How does it work? Simply put, you measure coffee grounds on a kitchen scale, then spoon them into a paper filter. Next, you pour hot filtered water over the grounds in a slow and circular motion. The coffee slowly drips into the receptacle. The whole process takes about five minutes. Blue Bottle Coffee makers, of Oakland, California, offer this straightforward guide to making a pour over brew or, to quote, "Nothing flashy here—Just good, solid technique."
Here are some of our favorite ways to make pour over coffee:
Chemex Classic Series, pour over glass coffeemaker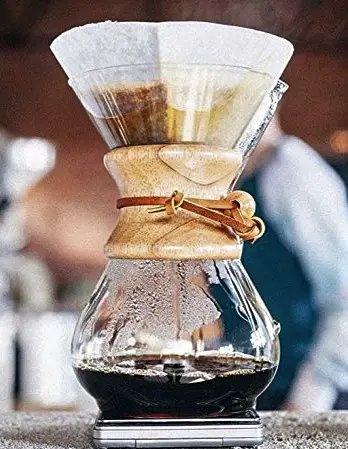 Chemex, the classic pour over coffee maker, requires some effort but you'll be rewarded with a very clean tasting coffee. Invented in 1941 by Dr. Peter Schlumbohm, a chemist, the Chemex Classic Series is in the permanent design collection of the Museum of Modern Art (MOMA).
$47.95 on Amazon.com.
Hario V60
The V60
is the iconic pour over coffee brewing method, the favorite of baristas the world over. It delivers a rich and nuanced cup of coffee with just the right amount of acidity. Made in Japan by Hario ('Hario' is Japanese for 'King of glass'), this high-quality pour over dripper comes in ceramic, glass, copper, and plastic models (the surprise choice of many elite baristas).
$49.50 on Amazon.com.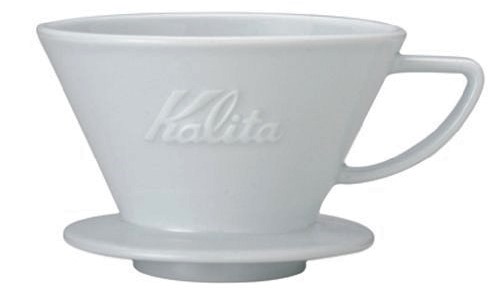 If you're looking for an easy way to enjoy pour over coffee, the Kalita Wave may be just the ticket. It was designed to help achieve a consistent brew without too much emphasis on technicalities—think scales, hand grinders and gooseneck kettles. While this pour over method is relatively easy, you'll still enjoy a clean tasting brew, without all the effort.
$29.22 on Amazon.com.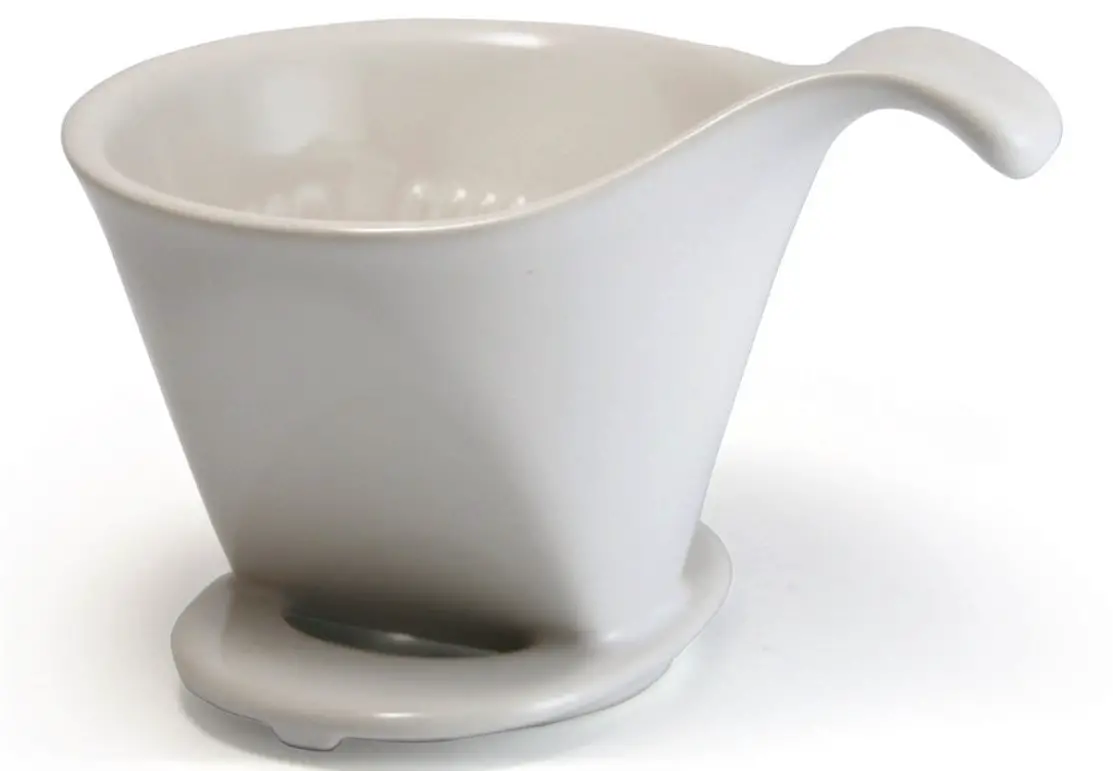 Japan has a history of designing and producing quality ceramics. The Bee House coffee brewer is no exception. Its wedge-shaped design promotes better heat retention and more consistent contact between the grounds and water. The result? You can expect an evenly extracted brew with very little effort.
$23.45 on Amazon.com.
1950s flashback–the percolator returns to the kitchen
Percolators were once the standard brewer until the advent of the drip coffee maker in the early 1970s. Today, they're making a comeback of sorts. Call it nostalgia. Or perhaps it's because some claim that percolators brew a richer, more full-bodied coffee than other brewers.
Farberware stainless steel percolator
Farberware's stylish percolator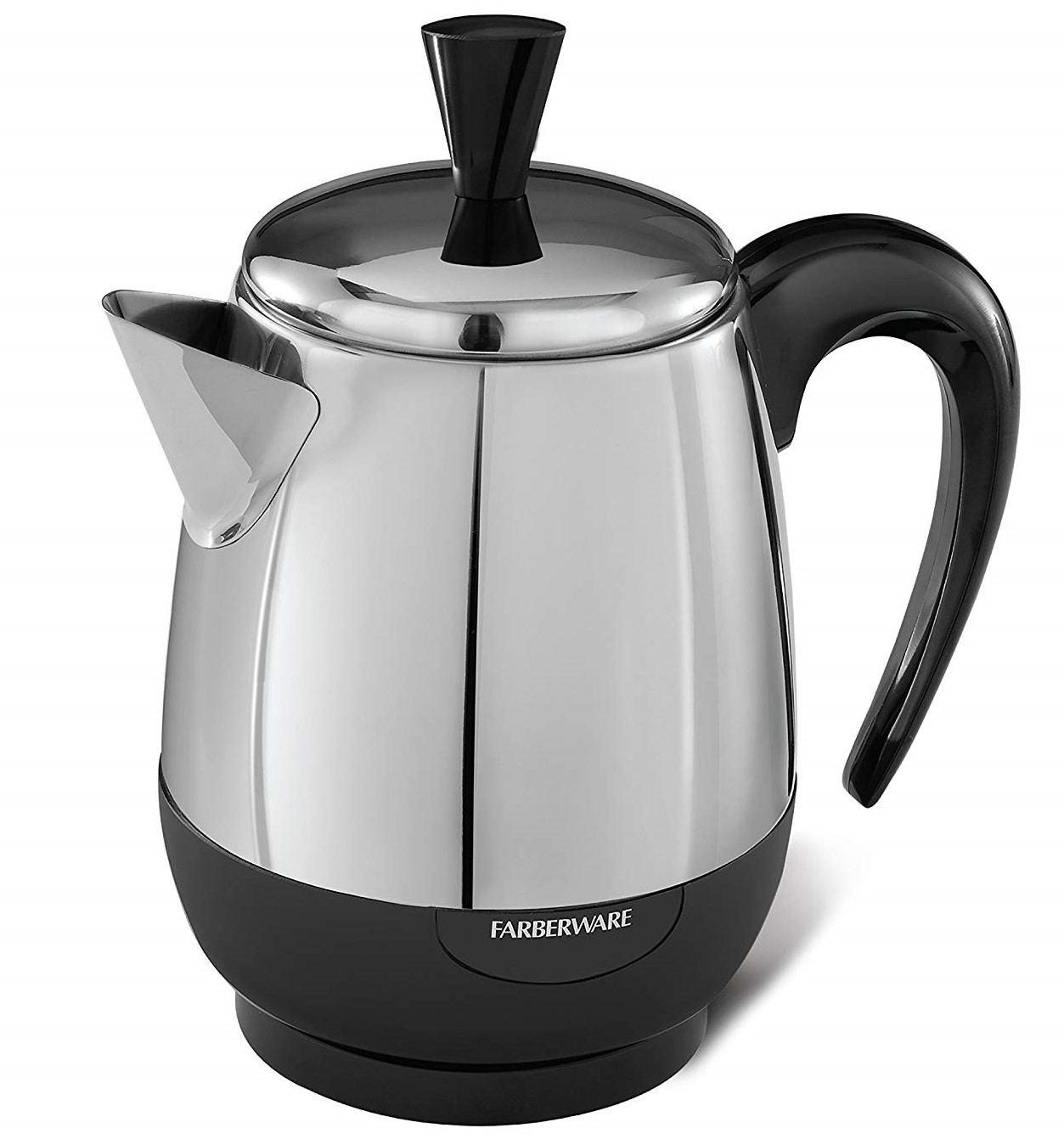 is perfect for one to two people. It produces about one cup per minute, so there's no waiting around for delicious coffee. The automatic warming function gently warms coffee after perking. Makes 2-4 cups of coffee, making it an excellent choice for empty nesters.
One reviewer calls it one of her better kitchen appliance decisions. "I love this little pot. It makes 5 cups in just around 4 minutes. I usually put it all together in the evening which only takes a minute or two and then just plug it in when I stumble to the kitchen seeking coffee. It makes an excellent cup of coffee and is a breeze to clean up."
$44.09 on Amazon.com.
Euro Cuisine electric coffee maker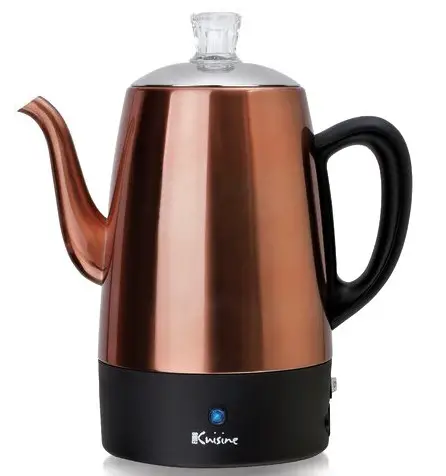 The Euro Cuisine 4-cup model is a classic stainless steel percolator with a beautiful copper finish. Piping hot water percolates through the grounds, and pulses up into the glass knob on top to create the familiar "perk-perk" sound.
$68.99 on Wayfair.com.
Capresso stainless steel perk coffee maker 
This elegant percolator by Capresso is a contemporary take on a coffee classic. Its straightforward, ultra-reliable design brews four to 12 cups of coffee in less than a minute per cup. A view-through glass lid shows the coffee is percolating. According to one review, "It looks great and does a great job!"
$69.95 on Amazon.com.
As an Amazon affiliate we make a small commission on purchases made through the links on this page. It helps us keep the lights on. Thank you for supporting Blue Hare.
* * *
You might also like
Go to the BLUE HARE home page for more articles for fabulous women