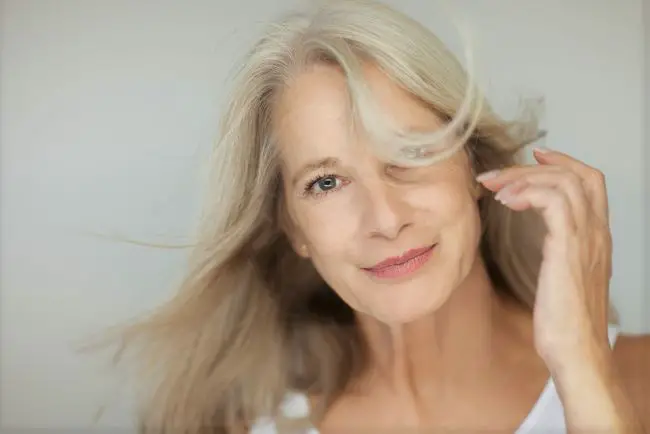 It's no secret that our lips become thinner, dryer, and lose their color as we age. Our lip line fades to the point that it can be difficult to see where our facial skin ends and our lips begin.  But we don't have to accept this as inevitable signs of aging.  With a little attention to a nighttime routine and a few tricks with beauty products, your lips can take center stage again. We show you how in six simple steps we promise will rejuvenate your lips.
______
______
In the evening
Step 1: Exfoliate your dry, chapped lips
You may be wondering if this step is really necessary. After all, isn't it enough to slather some cream onto your dry lips?  No, it's not.  Unless you remove the dry skin on your lips, the cream will merely smooth down the skin cuticle to make your lips appear as if they are no longer dry.  When the cream evaporates, the skin cuticle will rear up—and you'll have dry lips again.
The first step to refreshing dry, aging lips is to gently remove dead skin with a scrub designed specifically for lips.  (Body and facial scrubs won't do the job.)  Lip exfoliators are specially formulated for this sensitive skin. Simply use your finger and some exfoliator to gently polish the surface of your lips until the dead skin is gone.
We like the e.l.f. Lip Exfoliator. It removes dry and chapped skin and is infused with vitamin E, shea butter, avocado, grape and jojoba oils to leave your lips soft and nourished. You can find it at Target and on Amazon.
[See also: Dry, flaky winter lips? It's time for extreme lip care.]
Step 2: Apply lip balm before going to bed
This might seem like an obvious step but there are many among us who only apply lip balm when our lips are feeling dry.  Make lip balm part of your night time routine.  Every night.  It should be the last thing you do before the lights go out.  Keep lip balm on your night stand so it will be easy to remember to use.
One of the best–and most affordable–lip balms on the market is Cococare's Cocoa Butter Lip Balm. A pack of six tubes is available on Amazon for a little over $10.
If you are diligent with this simple night time routine–exfoliation and lip balm–your days of dry chapped lips are numbered.
______
______
In the morning
The following morning routine prepares your lips for the day:
Step 3: Prime your lips
If you are one to quickly swipe on lipstick and head out the door, you may find this added step to be a little inconvenient. Just know that the right primer for your lips will make all the difference when you wear lipstick.  A good primer provides a matte base for lipstick while preventing the lipstick from migrating into the vertical lines around your mouth.
We researched the world of primers, carefully read reviews and settled on the MAC Prep and Prime. According to one reviewer:
"With the MAC Prep and Prime I can wear any color, even deep true reds, with no bleeding/feathering. The key for me is to run it around the perimeter of my lips, even slightly outside. It is completely colorless and doesn't affect my foundation at all."

MAC Prep and Prime Lip, amazon.com. $16.50
Step 4: Use a new kind of lipstick
If you look at ads for lipsticks on the cosmetic sites online, the lipsticks look gorgeous.  That's because the model's lips are perfect—unlined, plump and perfectly defined.  Which is why these girls are lipstick models.  We, on the other hand, have to make adjustments  for the years we have lived on the planet.  That means that not just any old lipstick will do.  Even though the Revlon and L'Oréal drugstore lines have served us well over the years, it's time for a new take on lipstick to suit our age group.
And this is where Kjaer Weis comes in.  Kjaer Weis is a line from Danish makeup artist, Kirsten Kjaer Weis. She has used her experience growing up in a natural environment and her knowledge of beauty to pioneer a line of organic, luxury beauty products.  Her lipsticks are a new experience—sheer, pigmented, moisturizing and like no lipstick you have used before.  These lipsticks are tailor made for women over 60.  They are not garish colors; they give you a "my lips but better" look.  Read what one reviewer said:
"This is the best lipstick I've ever tried. It moisturizes my very dry lips, fades evenly and doesn't creep into lines around the mouth. You can adjust the intensity with how much you put on. Just perfect."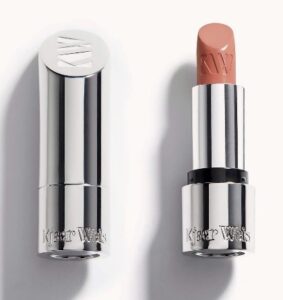 Kjaer Weis Lipstick, kjaerweis.com, from $30
Step 5: Outline your lips
Choose a lip pencil that matches the exact color of your lipstick. Kjaer Weis sells lip pencils that match their lipsticks.  Don't be tempted to go lighter or darker with the lip liner—the color should be an exact match.  This is important.  You should not be able to tell you are wearing lip liner—only that you have a very precise, well defined lip line. This can only be achieved with a pencil.
Apply your lipstick in a magnifying mirror. applying it as close to your lip line as possible.  Then, with a very sharp point on your lip liner, draw a line around the natural boundaries of your lip line.  (The lipstick will help the liner to flow smoothly).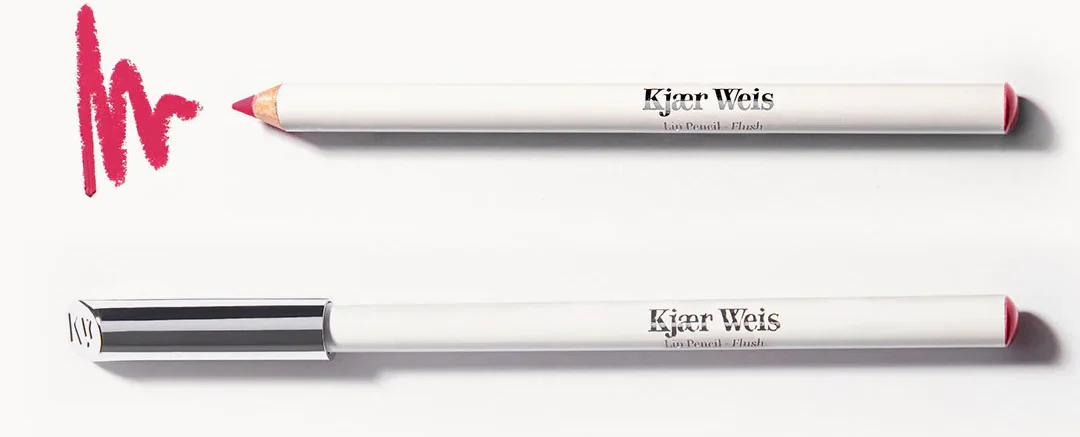 Kjaer Weis Lip Pencil, kjaerweis.com, from $26
Step 6: Use a gloss
You won't need a gloss for everyday but when you want to look a little more glamorous, a lip gloss is perfect.  Not all lip glosses are equal. In other words, not any old gloss will do.  Many glosses don't last long, are sticky or will bleed into any vertical lines.  We chose Anastasia Beverly Hills Lip Gloss. It's perfect for women over 60 as it is pigmented, not sticky, and wears well on top of lipstick or on bare (primed) lips.  Oprah even included Anastasia Beverly Hills Lip Gloss on her 2015 Favorite Things list.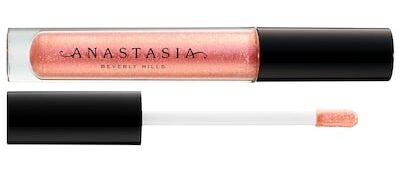 Anastasia Beverly Hills Lip Gloss, sephora.com, $16
As an affiliate of Amazon and other retailers, Blue Hare makes a commission on qualifying purchases made through the links on this page. 
 *  *  *
You might also like…
Find other articles for amazing women like you on the Blue Hare home page.