French women evoke a natural beauty that comes from religiously following a daily routine and using a careful selection of products. But this regimen need not break the bank—many of the best products are found at local pharmacies, and now at many online and brick-and-mortar retailers around the world.
We created a composite French woman's beauty routine, from morning to night.  Follow it to release your inner Catherine Deneuve. The key word here is natural. Less is more for the day to day. But there is always a time for play.
Mornings are low maintenance
To wake you up and get the sleep from your eyes, spray your face with thermal water.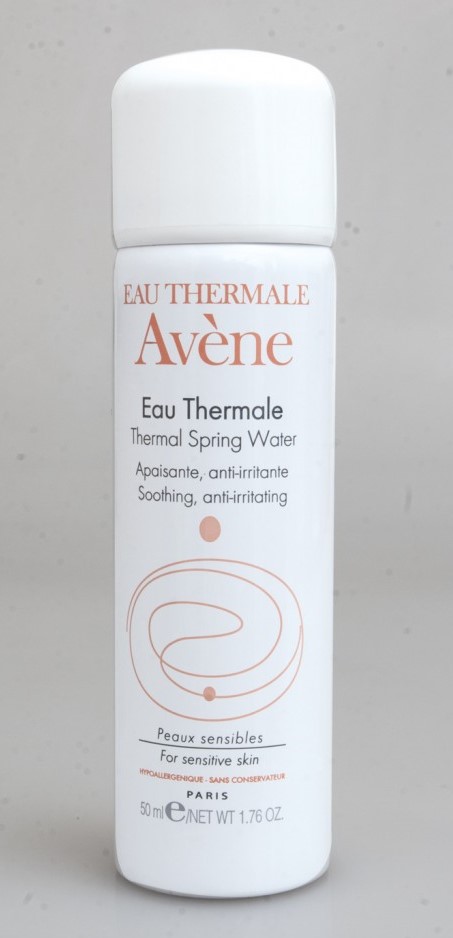 Thermal spring water has little in common with tap water; it is water that passes through rocks and soil which dissolve to add minerals to the water.
There are numerous French brands to choose from and the composition of the minerals depends on the source of the water.
Avène Thermal Spring Water comes from an extremely deep, pure source that is home to a unique, age-old microflora called Aqua Avène Thermal Spring Water Dolomiae. It is the active substances in this water that give it significant anti-itch, anti-inflammatory properties and help stimulate the skin's natural protection.
Avène Eau Thermale, Amazon.com, 10 oz., $18.50

Take a warm shower; not a hot one.
French women don't take steaming hot showers—the heat is bad for the capillaries and exacerbates rosacea.  And they don't wash their hair every morning—it strips natural oils from the hair.
A favorite French shower cream cleanser is Le Petit Marseillais, created with scents that are harvested in the South of France.
Le Petit Marseillais Extra Gentle Shower Creme Lavender Honey Body Wash 22 oz., $29.99 on Amazon; also available in Orange Blossom and Vanilla Milk.
Moisturize after the shower.
The best time to apply an all-over moisturizer is when the salle de bain is hot and steamy.
Nuxe Huile Prodigieuse is a cult classic among French women, mentioned in almost every list of coveted French products.  It's formulated with Vitamin E to rehabilitate stressed skin and maintain optimal hydration, and over 98 percent of its ingredients are derived from nature.
This is a genuine go-to product–French women use it for everything, including hair, body and dry problem areas such as heels and cuticles.
Nuxe Huile Prodigieuse Multi-Purpose Dry Oil 100, Amazon.com, 3.3 oz. $48.00
Apply moisturizer.
On an overcast day, French women might use the French classic from Embryolisse, Lait-Crème Concentrate, the unfussy, dermatologist-recommended cream.  Simply known as "Embryolisse," it's a thick, hydrating cream packed with fatty acids and vitamins that smooth the skin and provide a good base for make-up.
Embryolisse Concentrated Lait Cream, Amazon.com, 2.5 oz., $28.00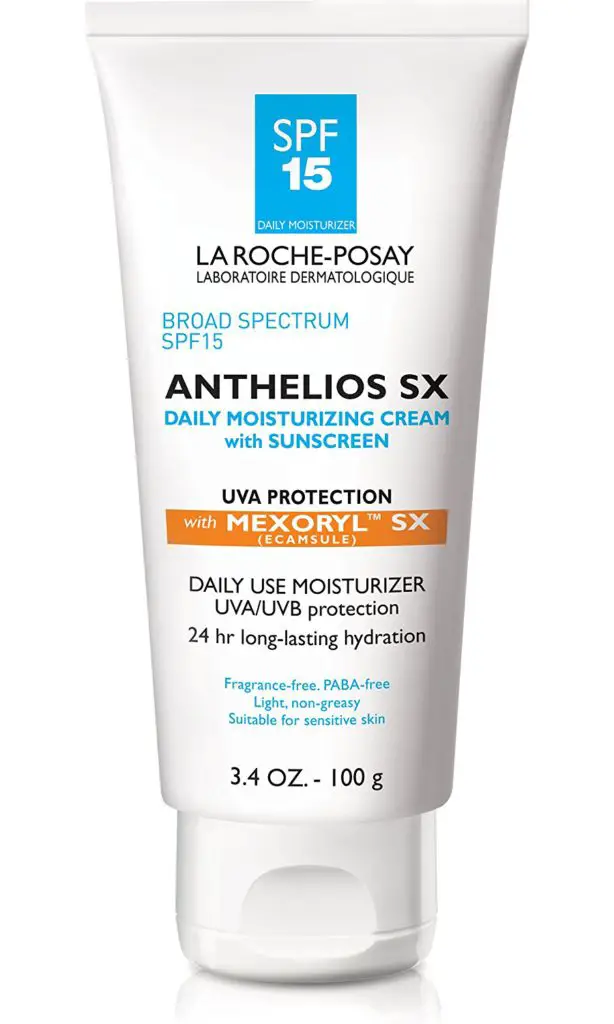 On a hot, sunny day, she is more likely to turn to a daily moisturizer from the beloved La Roche-Posay line, with its stellar reputation for protecting the skin from the dangers of the sun.  Suitable for sensitive skin types, this lotion is dermatologist-tested, fragrance- and irritant-free.
La Roche-Posay Anthelios SX Daily Face Sunscreen Moisturizer, Amazon.com, SPF 15, 3.4 Fl. Oz., $33.99
Apply makeup
French women have a much simpler makeup routine than women in the U.K and North America.  In fact, a friend living in France told us that her French friends always remark on the amount of makeup worn by American women.
Face: French women don't cover up—they enhance.
You will rarely see a French woman with a full face of foundation.  If they do use foundation, they will use it only on discolorations.
Most French women keep makeup to a minimum using it only on imperfections.  They tend to go for products that have a sheer finish, like BB creams that are multipurpose: a moisturizer and tint in one.  L'Oréal Paris Magic Skin Beautifier BB Cream comes in four shades, from fair to deep.
L'Oréal Paris Magic Skin Beautifier BB Cream, Amazon.com, 1.01 oz., $7.95
Cheeks: Always discreet, never too vibrant.
A rosy cheek has been flattering since the beginning of time, always discreet and never too vibrant. (So as not to be confused with ladies of the night.)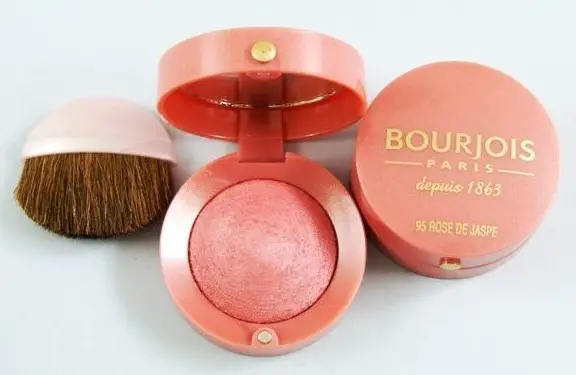 A popular French blush is from the French line, Bourjois, founded in Paris in 1863 and available at pharmacies.
The "little round pot" comes in 11 colors; number 95, Rose de Jaspe, gives that flattering "my amour just whispered something in my ear" flush.
Bourjois Blush, # 95 Rose de Jaspe, Amazon.com, 0.08 Ounce, $12.00
Eyes: Opt for conservative.
French women are much more conservative with eye makeup than their counterparts just about everywhere else.
Inimitable—a word often used to describe French women's style—is also the name of one of the country's favorite mascaras.  And it comes from the couture house that bears the name of one of France's best known granddames of style, Coco Chanel.  Like Coco herself, this mascara delivers drama and intensity.
Chanel INIMITABLE INTENSE MASCARA # 10 NOIR, Chanel.com, $32.00
Lips: French women love their lipstick.
It's not makeup; it's a fashion accessory.  Lipstick must be of the highest quality—and the lipstick case must look the part as well.
When a French woman replenishes her lipstick after eating, it is not a furtive swipe but a stylish grand gesture.  Fit for such an occasion is Guerlain's Kiss Kiss lipstick in Rouge Kiss.
Guerlain Kiss-Kiss Shaping Cream Lip Color, No. 325 Rouge Kiss, Amazon.com, 0.12 Oz., $16.99
Evenings: Take it off—the French way
Take it off with micellar water.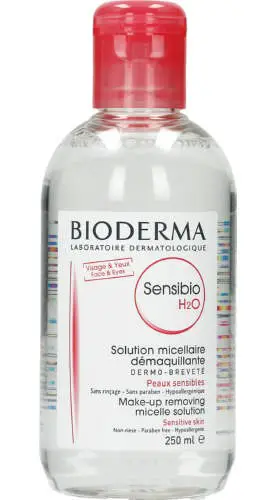 If mornings are low maintenance, evenings are anything but.
While French women have a certain charming laissez faire about their makeup, removing it at night is a diligent business. The most popular cleansing product—and one that makes literally all the lists of coveted French beauty products—is Bioderma's Solution Micellaire.
This multipurpose product is a staple in French medicine cabinets and on boudoir dressing tables.  Despite being as gentle as rain water, this micellar water removes eye makeup and foundation, and cleanses and tones skin.
Bioderma Sensibio H2O Micellar Water, Cleansing and Make-Up Removing Solution, Amazon.com, 500 ml, $14.90
Moisturize with a moisturizer suited to your skin type.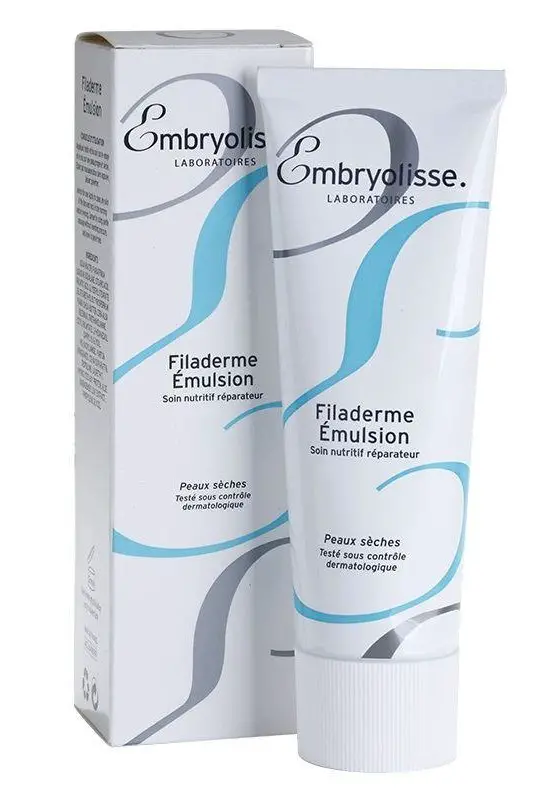 French women carefully massage their skin with moisturizer before going to sleep.
One of the most popular night creams for dry skin is the Embryolisse Filaderme Èmulsion.  Containing shea butter, beeswax, aloe vera and soy proteins, this cream serves as a barrier to prevent the evaporation of water from the skin.
Embryolisse Filaderme Émulsion Peaux Sèches, Amazon.com. 75 ml., $28.00
Many of these coveted French beauty products are available on Amazon.com, and we may be paid a small commission if you make your purchase using the links on this site. (It helps keep the lights on.) Prices may vary at the time of purchase.
If a visit to France isn't on your agenda, Amazon can bring you some of the best of France.  Of course, ordering from Amazon is not the same as poking around a real pharmacie in the heart of Paris.  But using these products may well make your skin look better, change some of your haphazard beauty routines, and maybe even cause you to cultivate a certain je ne sais quoi.
* * *
You may also like
Go to the Blue Hare homepage for more articles for fabulous women.