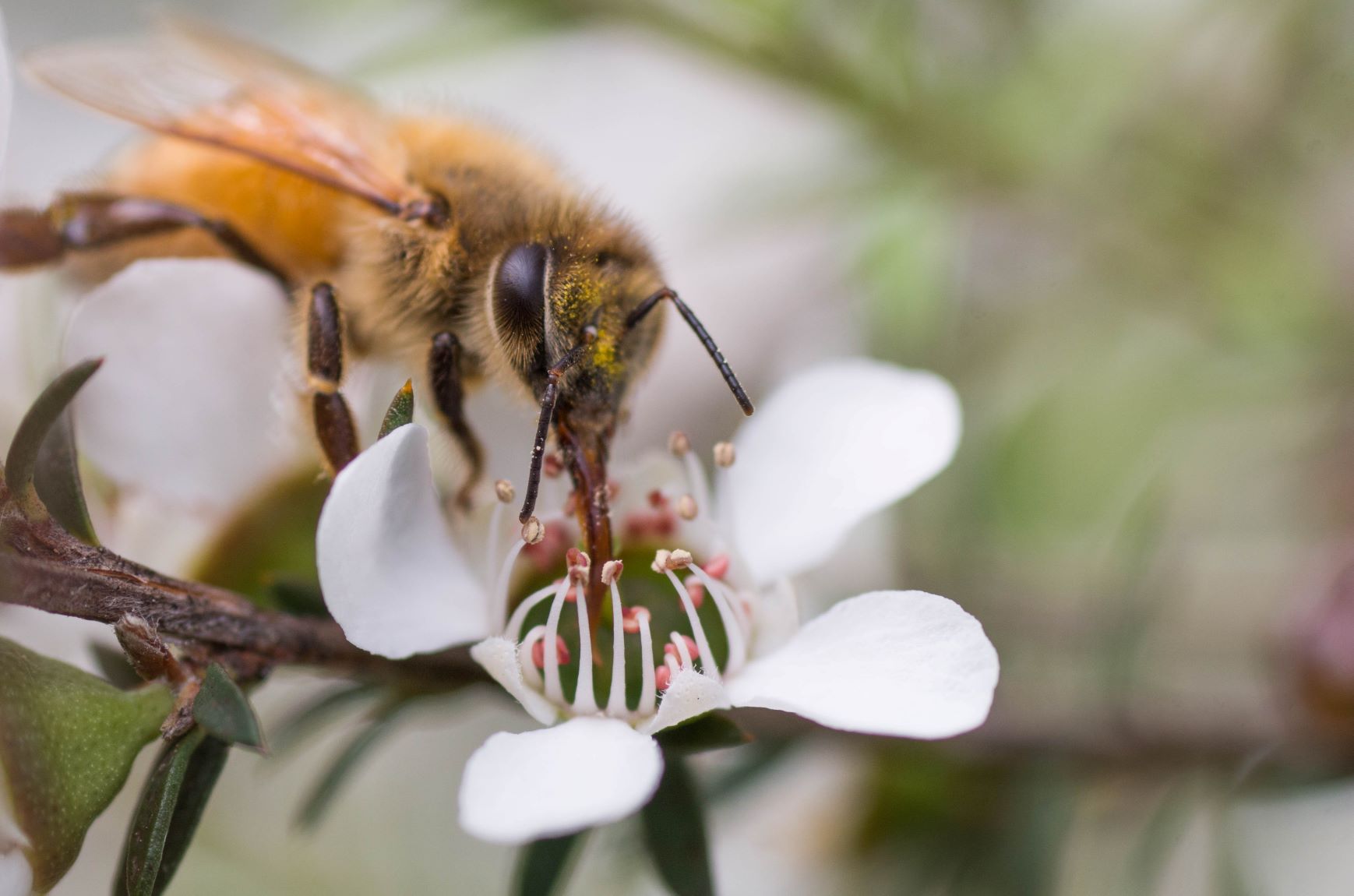 Manuka honey is the latest beauty and skin care ingredient. Outsized claims have been made regarding its ability to destroy harmful microorganisms, heal wounds, and treat sore throats—and this is just the beginning.
Where's the truth? Can women over 60 use manuka honey to reduce wrinkles, moisturize skin and make skin glow?
There is no doubt that honey is a wonder substance.  Not only is it tasty and healthy due to its rich antioxidant content, it is the only food that never spoils.  The ancient Egyptians had over five hundred medical prescriptions using honey while the Greeks used it to treat skin diseases. Throughout history, civilizations have used honey for its antibacterial properties to care for cuts and burns.
What's so special about manuka honey? 
There are many varieties of honey around the world.  Manuka honey possesses unparalleled antibacterial, antibiotic, and antifungal properties—more those found in ordinary honey. The reason is the bush that the bees feed off.  The manuka bush (leptospermum scoparium) is a prolific scrub-type tree that contains strong antibacterial compounds.
Manuka is uniquely indigenous to New Zealand but is found in some parts of Australia. For reasons unknown yet, the therapeutic qualities of manuka honey from New Zealand are higher than from Australia.
The manuka plant was known for its healing properties in early New Zealand, with Māori using most elements of the plant for medicinal purposes. Captain James Cook even made his own home-brewed manuka and rimu beer to help his crew ward off scurvy.
Manuka honey has been widely employed as an alternative medicine for curing numerous common and serious diseases and infections.
The many therapeutic benefits of manuka honey
Manuka honey has exceptionally powerful antibacterial properties to help treat and destroy harmful microorganisms.
Helps to heal wounds quickly
Manuka honey helps to speed up healing in fresh wounds. First, it supports the formation of new skin cells in the wounded area by creating moisture. Secondly, its antibacterial properties prevent infection by destroying bacteria. Manuka honey was approved by the US FDA as an option for wound treatment in 2007.
Possesses anti-fungal properties
When applied to areas of the body suffering from fungal diseases like athlete's foot and jock itch, manuka honey's anti-inflammatory properties help cure the fungus and relieve pain.
Helps in treating colds, sore throats, cold sores, and other viruses
Taking manuka honey helps treat colds and sore throats and may be a natural alternative to commercial cough medicines.
Aids in treating skin burns
Manuka honey helps treat 1st, 2nd, and 3rd degree burns.  Hospitals and burn units worldwide use medical-grade manuka.
But what can it do for my aging skin?
There is considerable evidence that manuka honey can be applied topically to treat all kinds of wounds, sores, skin ulcers, insect stings and bites, poison, scrapes, eczema, and acne.
Now manuka honey is now being used in cosmetics and skincare products, as well.  One has only to look on Amazon to find a wealth of honey-based creams that claim to reduce wrinkles, moisturize skin, and make skin glow. Cosmetic companies have jumped on the honey and manuka band wagon with gold packaging emblazoned with honeycombs and manuka bushes.
But.
As we have mentioned in skin care articles in Blue Hare, there is no cosmetic ingredient that can penetrate to the lower levels of the skin and affect skin on a cellular level.  Products that can achieve this deep penetration (for example, topical pharmaceuticals) are typically regulated as a drug by law in North America.
What can manuka do for my beauty routine?
When we try to identify specific beauty benefits of manuka to the skin, things become a little murky.  Most of the product descriptions of the cosmetic creams harken back to the therapeutic benefits of manuka: antibacterial, anti-fungal, anti-inflammatory, heals cuts and scrapes, fade scars, and helps acne.
The cosmetics companies seem to extrapolate that. Since manuka honey has a host of proven therapeutic benefits, it only makes sense that beauty creams that contain good quality, active manuka honey ingredients will be good for your skin too, right? Maybe.
We do know for sure that manuka is a humectant, meaning that it draws moisture from the air.  We know with certainty that it is a good barrier cream that prevents moisture from evaporating from the skin.  Whether it has anti-aging properties that will lessen the appearance of wrinkles or change the texture of your skin has yet to be determined.
Honey 101 crash course: how to be manuka savvy
Manuka is the Rolls Royce of honey.  It is on a different level than other honeys.  But as with any luxury good, manuka honey is often counterfeited. It may contain inactive manuka honey or it may contain honey that is not manuka at all.
The most therapeutic manuka honey only comes from New Zealand or southeastern Australia.  So how can you be manuka savvy?  Here's a quick Honey 101 crash course:
UMF.  To protect their industry, manuka producers have devised a Unique Manuka Factor or UMF rating.  The UMF typically ranges between 10 and 25.  If the honey has a UMF below 10, it may taste great, but it's not really good for fighting infections. On the other hand, if the UMF is above 20, the product is more suitable for surgical dressings.
The ideal UMF for skin creams is 12+ to 15+.  You will seldom find manuka honey with a UMF over 20, but it can happen. Some brands of manuka honey are branded based on "total activity" rather than "UMF." Most providers of real manuka honey are registered with the Active Manuka Foundation, and use the Active Manuka Foundation trademark.
NPA.  Hydrogen peroxide is one of the safest disinfectants, both for human health and the environment. But hydrogen peroxide degrades quickly in the human body or when exposed to open wounds.  When used in high concentrations, hydrogen peroxide can damage skin.
Honey has the ability to produce small amounts of hydrogen peroxide when it comes into contact with skin or an open wound.  This characteristic is called Non-Peroxide Activity or NPA.  It is unique to manuka honey, so much so that it is significantly more effective for medicinal use than hydrogen peroxide.  All manuka honey has NPA.
MGO.  Methylglyoxal (MGO) is the organically occurring compound in manuka honey that is primarily responsible for its unique antibacterial activity. While MGO can occur in trace amounts in all honey, Manuka honey is comparatively richer in MGO. The UMF rating system determines the level of concentration of MGO in manuka honey; the higher the rating, the greater the concentration of MGO. The minimal rating that is acceptable for a therapeutic honey is UMF 10.
An article on The Conversation adds that "It's important to note that the amount of MGO in different manuka honeys varies, and not all manuka honeys necessarily have high levels of antimicrobial activity."
What to look for when buying manuka skincare products
When it comes to skin care, the simplest way to benefit your skin is to apply pure manuka honey directly on it. Unfortunately, this is neither practical nor pleasing from a tactile point of view.
When you are considering manuka honey skin care products, look for the following.  It is unlikely that you will find all of them on a single package, but some of them should be in evidence.
Manuka honey or the botanical name, leptospermum scoparium, should be among the first ingredients
The product should come from New Zealand
The honey association symbol should be on the packaging
A UMF rating (12-15+ range) should be evident
In lieu of a UMF rating, an MGO level should be stated
The producer's serial number may be displayed
The source of the honey should be stated
Products we like
These manuka skin care products meet all or some of those criteria.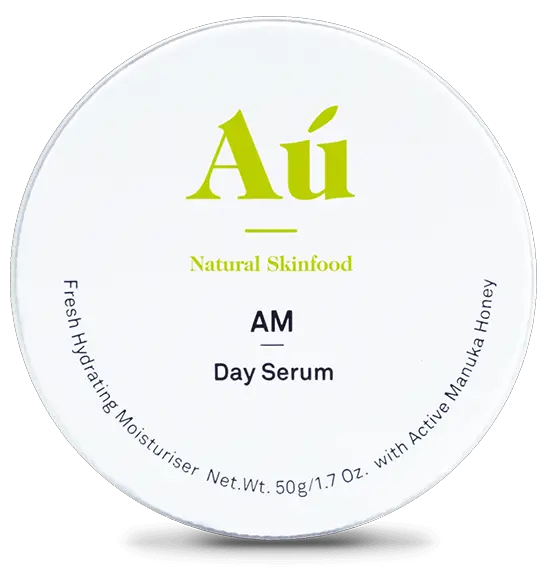 Aú Natural Skinfood, AM Day serum–Manuka Honey Moisturizer
UMF rating of 16+
Made in New Zealand
Aú's manuka honey moisturizer has been developed to maintain the skins natural pH and solve common skin problems by strengthening the skin and improving its overall health. AM Manuka Honey moisturizer is suitable for all skin types. It focuses on strengthening the skins natural barrier function (like other barrier creams) so that it can use its own natural defense system to fight environmental damage. Available in a sampler pack on Amazon.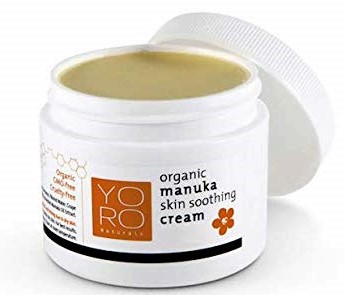 YoRo Naturals, Organic Manuka Skin Soothing Creamy Balm
Made with New Zealand Manuka Honey
UMF rating of 16+
Approximately $25.95
This rich, creamy balm is thick and moisturizing, providing soothing relief to eczema, psoriasis, rosacea and dermatitis sufferers. Unlike other water-based formulas, YoRo Naturals Manuka Skin Soothing Creamy Balm is the perfect balance between a rich salve and thick cream and absorbs without a sticky or greasy residue. Available on Amazon.
"It is very moisturizing without being greasy and it also does not burn or sting when you put it on. After only one application, I can see a huge improvement in the way my skin looks and feels. It definitely helped calm down my red, itchy, flaky skin. I am very pleased with it."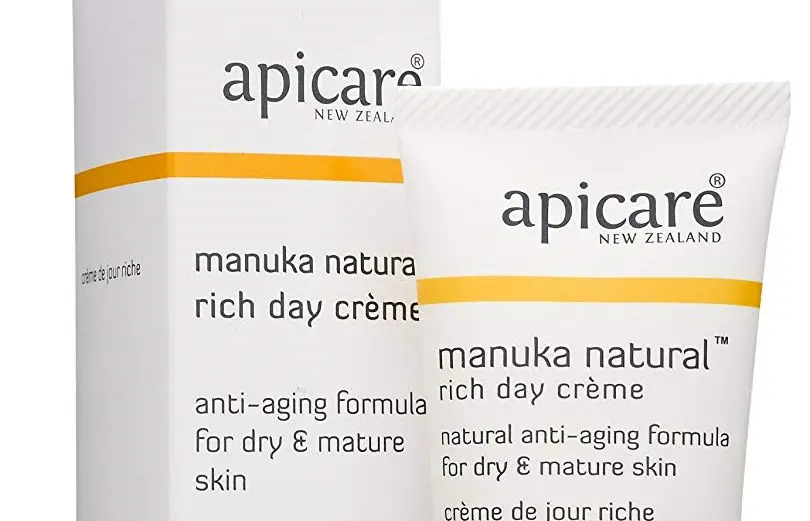 Apicare, Manuka Natural Rich Day Creme
Made in New Zealand
UMF 15+
First company in the world to use manuka honey in skincare products
Award winning
Approximately £25.95/$33.50
This cream is designed to deliver superior moisture to dry and mature skin leaving it optimally hydrated. Suitable for use both day and night. Available on Amazon UK.
"This cream is brilliant for dry skin."
* * *
You may also like 
Go to the Blue Hare home page for more articles for fabulous women.