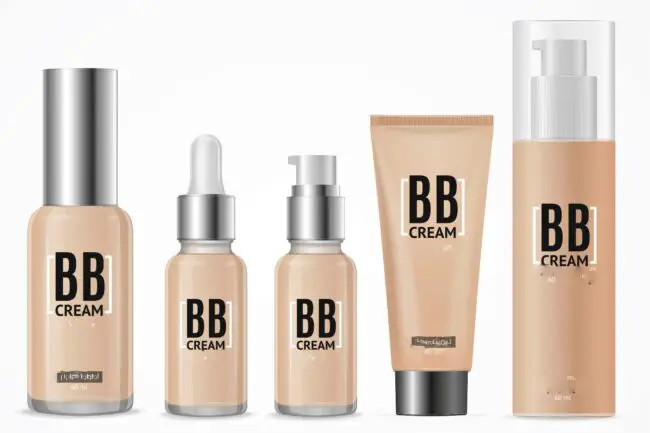 There are many different types of foundation on the market these days, from powders to creams, even serums. But BB creams–what are they?  And are they good for women over 60?
Let's start with the definition.
BB cream is a hybrid 3-in-1 moisturizer, sunscreen, and foundation package.  (The 'BB' in BB cream is shorthand for beauty balm or blemish balm.)
Although frequently associated with the Korean beauty trend, BB creams were first created in the 1950s by German dermatologist Christine Schrammek. Dr. Schrammek wanted to create a cream that would provide moisture while treating the redness associated with laser treatments and chemical peels. The German formula was perfected in South Korea in the early 2000s into the beauty product we now know.
Do women over 60 need a BB cream? Yes, for several reasons.
BB Creams save time. And for those of us over 60, time is our most precious commodity. Instead of three steps, the BB cream gets it done in one.
They're more lightweight than the usual cream foundation, yet still offer the light to medium coverage a regular foundation provides.
BB creams are budget friendly, too. Instead of needing to use three products in the morning, you will only need one.
The finish of BB creams is luminous and skin-like. That's because they are a relative newcomer to the beauty scene and reflect the latest technology: coverage that is light but believable. You won't look as if you are wearing makeup.
And most offer a range of colors to match your skin's complexion.
BB creams are excellent for day-to-day use, with some exceptions
There will be times when you may need additional sunscreen (a day at the beach), or more moisture if your skin is very dry. And if you prefer a full coverage in your foundation (such as Estée Lauder's Double Wear or Il Makiage's Full Coverage), BB creams may not have enough pigment as they tend to provide light to medium coverage.
If spending less time in front of the mirror each morning sounds good, BB creams are worth considering. We selected seven best-for-our-age BB creams, many of them personally tested by our beauty editor.

Although BB Cream isn't in its name, that's exactly what this product is.  Milk Makeup Sunshine Tint is a favorite of ours.  It blends beautifully, imparts a moist sheen to the face and wears all day. One reviewer writes, "I wasn't expecting it to do everything well." And the good news is you can buy refills rather than purchasing the packaging over and over.  Buy Milk Makeup at sephora.com and milkmakeup.com.
SPF: 30

Coverage:

Light to medium; best applied with a synthetic brush

Moisture Factor:

High

Pupa Milano is a well-known Italian brand, reasonably priced and comparable to Revlon or L'Oreal in North America.  This well-reviewed BB cream has a primer as well which smooths out the skin and reduces the appearance of pores.  Buy Pupua Milano at amazon.com and walmart.com.
SPF:

20

Coverage:

Light to medium
Moisture Factor: Low; made for oily or combination skin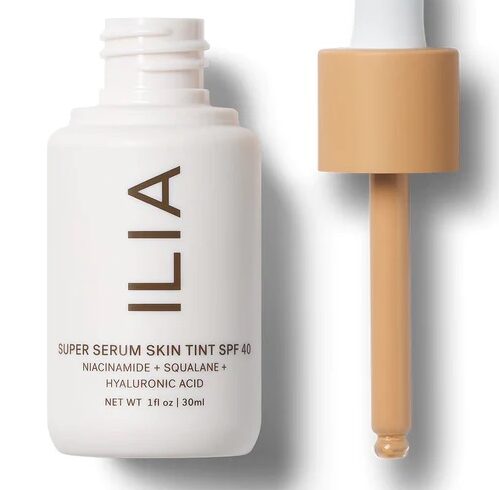 This award-winning BB cream is from Ilia, a brand synonymous with the clean makeup movement.  The cream is vegan, non-comedogenic, water-based so it doesn't feel heavy, fragrance-free and it contains hyaluronic acid, a skin plumper.  Buy it at sephora.com and amazon.com.
SPF:

40

Coverage:

Medium

Moisture Factor:

High
Purlisse Radiant Glow is a lightweight BB cream, perfect for mature skin as it has a high moisturizing factor.  The formula contains light reflecting pigments to moisturize and brighten skin.  Available on amazon.com and purlisse.com.
SPF:

30

Coverage:

Light

Moisture Factor:

High

Dr. Jart+ BB creams helped launch the obsession with Korean skincare in the United States when its BB cream was first introduced by Sephora in 2011. This premium beauty balm is a multitasking, niacinamide-powered cream with a natural-looking finish that hydrates, conceals, and protects. Buy it at sephora.com and at drjart.com.
SPF:

40
Coverage: Light
Moisture Factor: High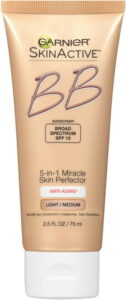 Garnier describes their BB cream as anti-aging due to its high hyaluronic acid content. One Amazon reviewer writes, "I have been using this product for quite a few years now. I am 81 years old and it definitely gives my skin a hydrating boost and a nice smooth appearance." Buy it at amazon.com and garnierusa.com.
SPF:

15
Coverage: Light
Moisture Factor: High

This highly rated natural BB moisturizer comes in a wide range of colors to help you achieve a soft-matte finish. Contains triple-B complex with diamond powder, plants and lipoamino acids to help diffuse light and minimize the appearance of fine lines and pores while hydrating and brightening. Buy it at ulta.com and at sephora.com.
SPF:

30
Coverage: Medium
Moisture Factor: High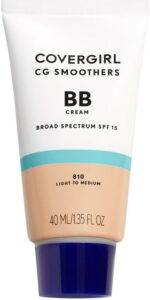 This is a lightweight cream that evens out and moisturizes the skin.  The leaping bunny logo means that this product is cruelty free.  An Amazon reviewer says, "I like this product better than more expensive ones I've tried. Moisturizing but not greasy. Looks like skin but healthier and more even toned. Color is perfect." Buy it at amazon.com and covergirl.com.
SPF:

15

Coverage:

Light
Moisture Factor: Medium
  *   *   *
As an affiliate of various retailers, Blue Hare may make a commission on purchases made through qualifying links on this page. Thank you for supporting Blue Hare.