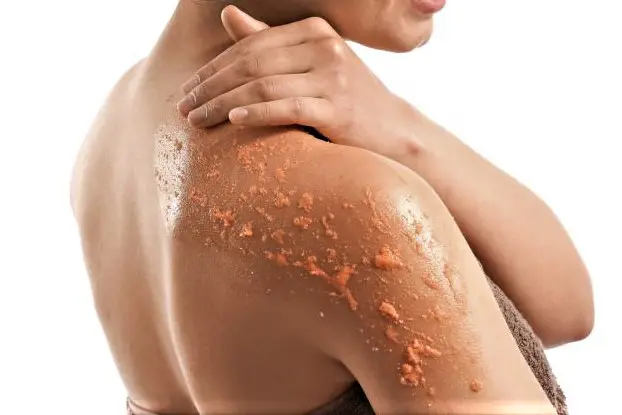 Summer is coming and more of our skin will be on display very soon. As a woman over 60 your skin may be looking particularly gray and tired (like ours) because it hasn't shed old skin cells. Fortunately, there is a simple solution. Exfoliation.
While healthy young adults naturally shed skin cells approximately every 20 days, the rate that our skin cells proliferate slows down after age 50.  In fact, women like us, women over 60, may not shed skin cells for 30 days or more. It's the old skin cells that tend to make our skin look tired and dull. By exfoliating, old skin cells are sloughed off, revealing new skin underneath. You can get brighter, healthier looking skin by helping the cell shedding process along.
Obviously, sloughing off old skin cells will not reveal a younger body, free of wrinkles. But simply exfoliating once or twice a week can help you to surface new skin cells, and give you smoother, more vibrant looking skin on your face and body. Today we're talking about body skin.
There are two types of exfoliants.
Before you run to the store to stock up on exfoliants, it's important to know there are several different kinds of skin exfoliants. For full body exfoliation manual exfoliants should be your choice.
Manual exfoliants
Manual exfoliants are scrubs that you apply to your face and body using a gentle circular motion.  Not only do manual exfoliants remove dry skin cells on the surface, but they also bring healing blood to the skin's surface. At their core, manual exfoliants contain an abrasive, often from natural sources like sugar or ground fruit pits.
The advantage of manual scrubs is that they are relatively inexpensive and can be used all over the body.  A drawback of manual scrubs is that you can injure your skin (remember they contain abrasives) if you rub too enthusiastically or too often.
Chemical exfoliants
Chemical exfoliants come in creams and lotions you apply to the skin for a period of time.  The best chemical exfoliants contain alpha-hydroxy acids and beta-hydroxy acids.  AHAs and BHAs help to dissolve the intracellular glue that holds dead skin cells together on the skin.  Once those bonds are broken, skin naturally sheds its spent cells. Over time you will see and feel smoother, younger-looking skin.
Chemical exfoliants are much more effective than manual exfoliants because they can get down to a deeper level of the skin. The drawback of chemical exfoliants is that they are typically too expensive to be used all over the body.
Get your skin ready for the summer  
To get your body skin summer ready, we've chosen eight manual exfoliating products that will help you bring your skin back to life.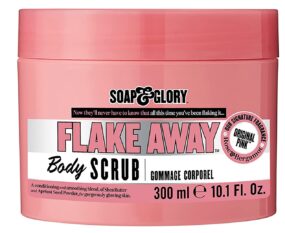 Why we like it: While most scrubs contain a moisturizing component, Flake Away is one of a handful of scrubs where the moisturizing effect lasts well into the next day without the need for body lotion.  And an added bonus: while we don't like strong scents, the lovely fresh clean smell of Flake Away, subtle but inviting, lingers on after your shower.  Available at Amazon.com and Ulta.com.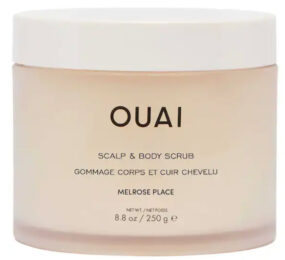 Why we like it:  This scrub is the only one we found that was designed to be used on the scalp as well as the body. Scalp rubs have a reputation for being therapeutic.  They bring blood to the brain and the brain is fed by blood.  Ouai's scrub turns into a foam after contact with water, making the scalp scrub process easier than you might expect. Apply it all over your body to help your skin feel squeaky clean.  Available at Sephora.com and Ulta.com.
Why we like it: First of all, revel in the name of this product.  Could anything sound more inviting—or more motivating to get you scrubbing?  One reviewer calls the fresh scent "like salty waves after the rain."  It brings out fresh, new skin.  Available at Bath and Body Works.com and Amazon.com.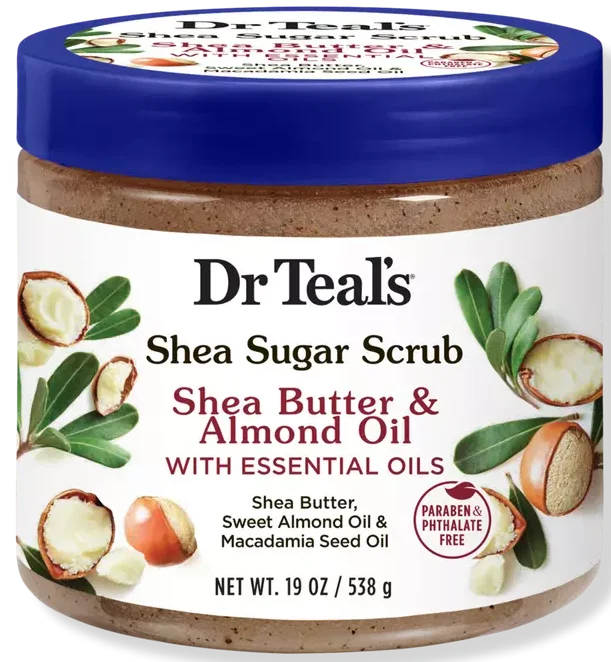 Why we like it: Dr. Teal's, known for his naturally scented Epsom salts, also offers this wonderful sugar scrub in a range of luscious scents such as almond oil and shea butter, lavender and chamomile, rose, and lemon balm and coconut oil. It's probably too rough for your face and neck, but a 58-year-old woman Amazon reviewer with, as she describes it, wrinkles, sun damage, aged décolleté, and upper thigh/ knee crepe noticed a difference within a couple weeks of using it every time she showered.  Available at Ulta.com and Amazon.com.
Why we like it: One of the best deals around is this Equate scrub from St. Ives. Ground apricot pits act as the abrasive.  It is unscented, incredibly inexpensive and very effective. Available at Amazon.com and Walmart.com.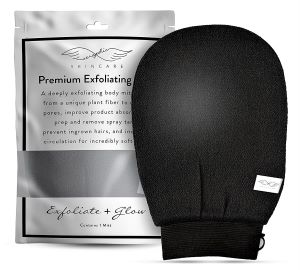 Why we like it: Korean beauty (K-beauty), an integral part of Korean culture for centuries has recently gained popularity in the West because of its more natural and holistic approach to beauty. These Korean body-exfoliating scrub mitts offer you the experience of Korean spa treatment at home. Microdermabrasion visibly lifts away dead skin leaving your arms, legs, and body smoother and fresher than ever before. Available at Amazon.com.
Products that come from jars and tubes aren't the only way to exfoliate.  In Asia, women have revved up their circulation and shucked old skin cells for centuries using exfoliating towels like these.
Why we like them: You won't have to keep buying product; you'll feel so good after an invigorating rub with these towels, they will become a permanent occupant of your shower.  Available at Amazon.com.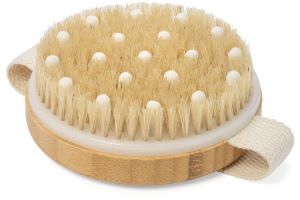 Why we like it: Dry brushing provides the exfoliation you need for the whole body (except for sensitive areas). These brushes by CSM are crafted with superior boar bristles that will not fall out; the bristles are soft but stiff enough to exfoliate dead skin without scratching or irritation. Dry brushing stimulates circulation, encourages collagen production, deeply cleanses the pores, removes of flaky skin, and improves skin's overall appearance. Available at Amazon.com.
As an affiliate of various retailers, Blue Hare may make a commission on purchases made through qualifying links on this page. Thank you for supporting Blue Hare.
  *   *   *