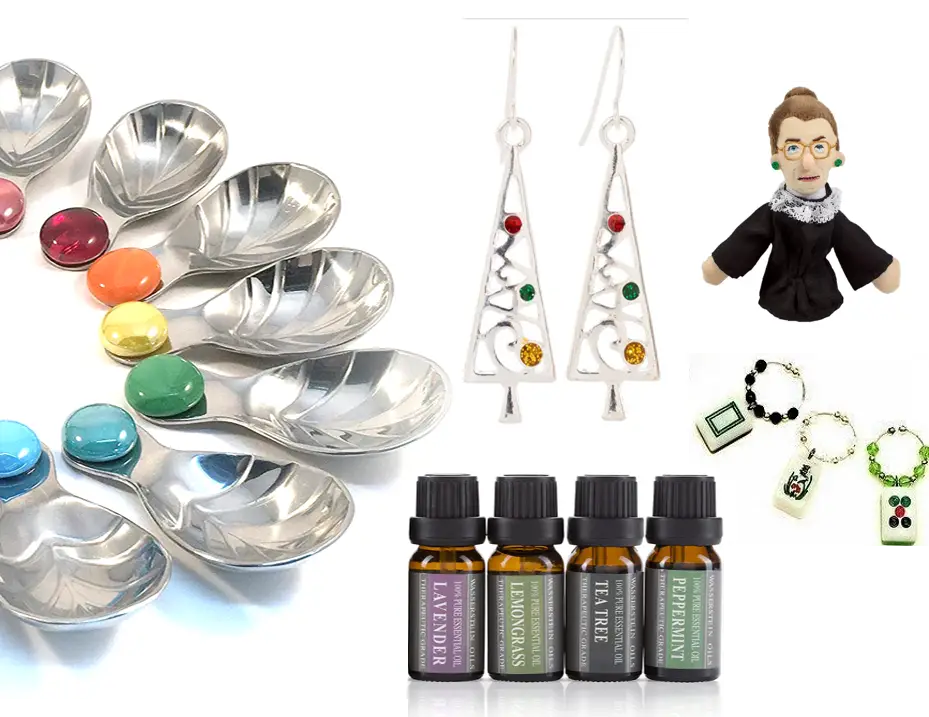 Best friends from high school, spin cycle pals, walking partners–there are always people in your life that you want to remember at Christmas with a small gift, a little something, a "stocking stuffer."  But small doesn't have to be boring, nor do these gifts need to break the bank. This is our list of the interesting, useful, and surprisingly inexpensive stocking stuffers we'll be giving our friends and family this Christmas–all for around $10.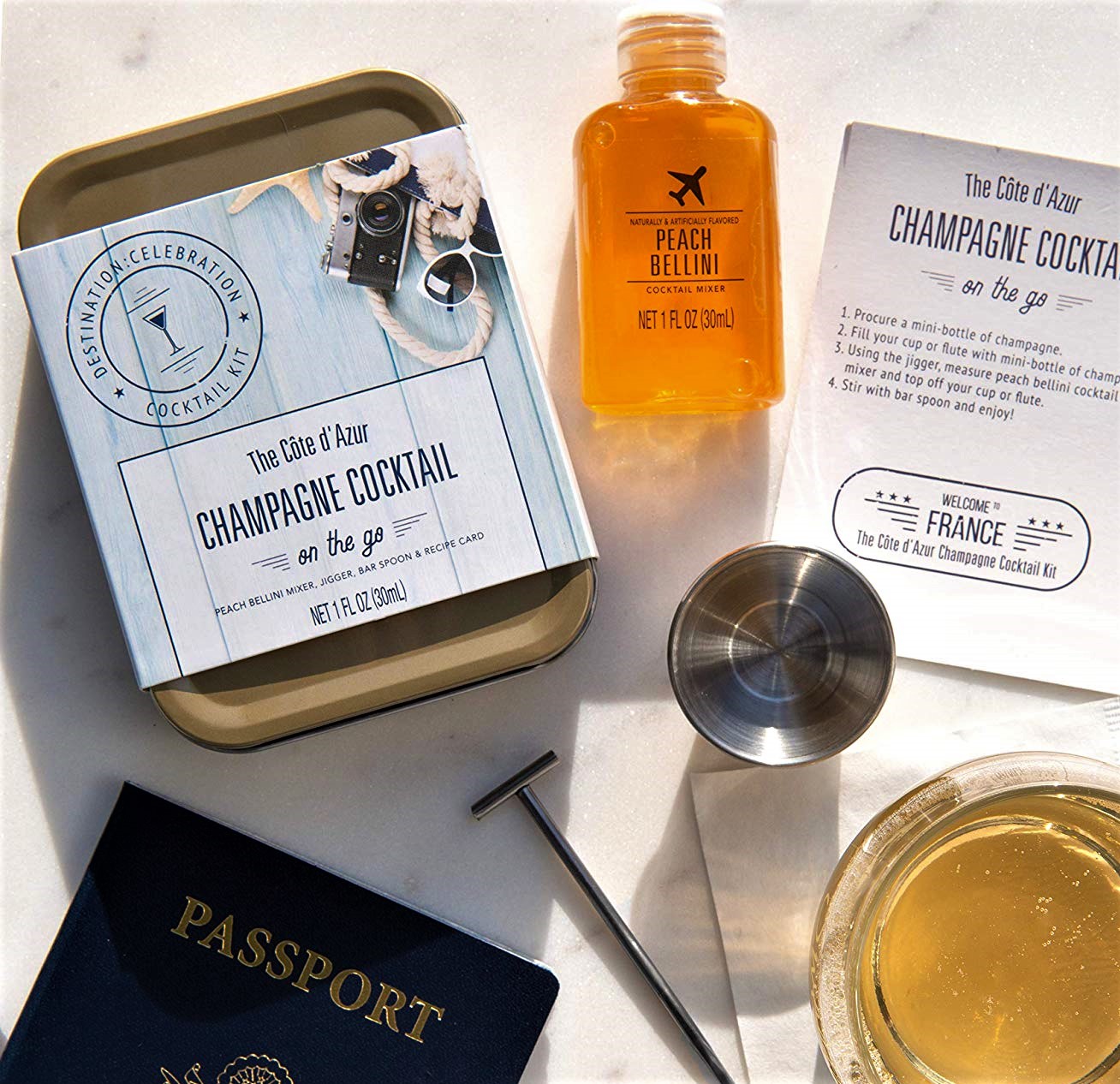 Throw one of these tins into your pocket or bag to enjoy a sophisticated inflight cocktail in your economy seat. Each kit includes 1 oz. mixer, jigger, bar spoon, and recipe card. Just add spirits. Your choice of Cosmo, Bellini, or Margarita. $9.99 at Amazon.com.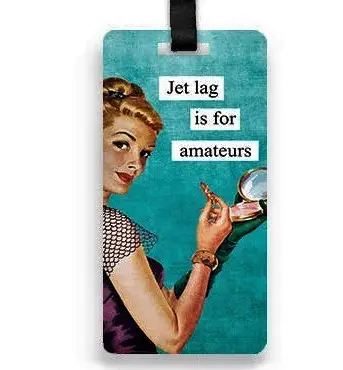 The perfect luggage tag  for the well-traveled woman who knows how to span time zones. Certain to end confusion at baggage claim. Personal information is printed on the back.  $9.50 at Etsy.com.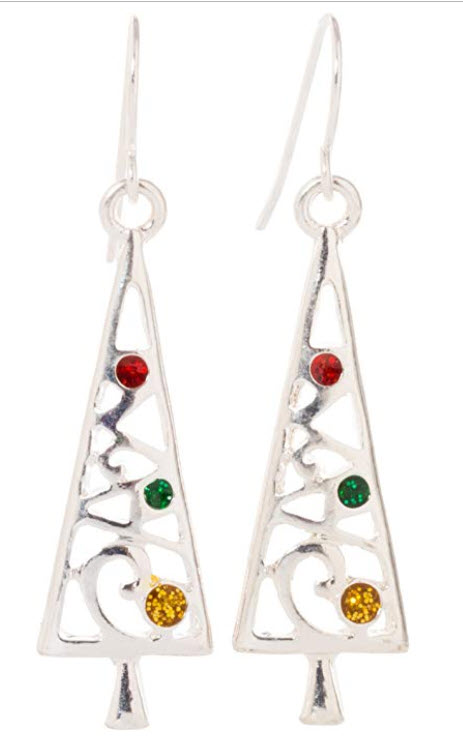 These Christmas tree dangling earrings make a festive addition to any outfit. Large enough that they are noticeable but small enough to be tasteful. $10.99 at Amazon.com.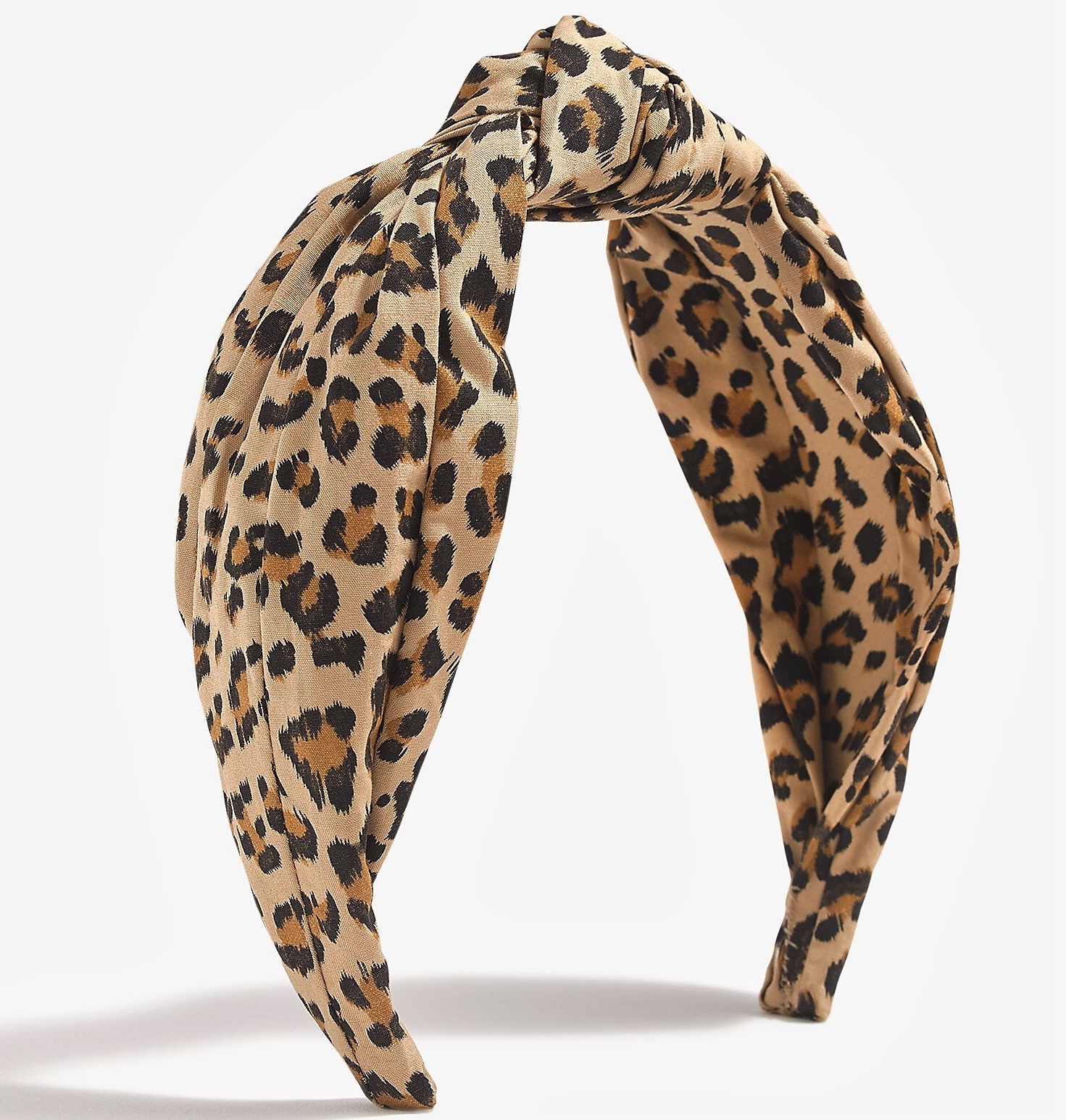 Headbands are back as a popular fashion accessory. Just slide one on to add a little polish to your appearance–especially in a sassy leopard print.  $7.99 at J.Crew Factory
No more standing on the bathroom scale trying to peer over your hefty bag to see your, and your suitcase's, combined weights. This hanging baggage scale makes it so easy. Weighs bags up to 110lb/50kg. $9.99 at Amazon.com.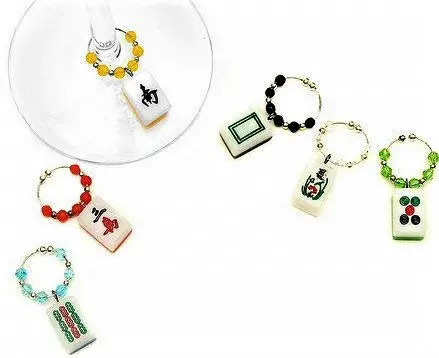 Mahjong mavens the world over will love these mahjong wine charms. Use on stemmed glasses filled with wine or a creative mocktail at your next mahjong party. $9.95 at Amazon.com.

Eat your vegs? These kale candy canes may not be as healthy as the real thing but they're a lot easier to swallow. $6.50 at Mcphee.com.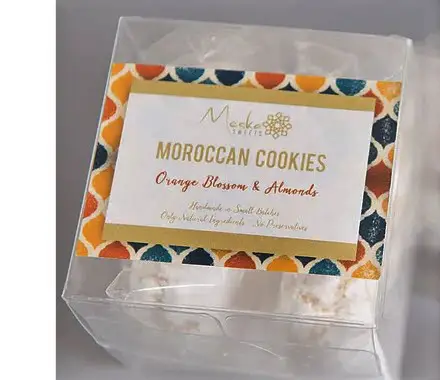 Based on the same recipes their mothers, grandmothers, and generations of women before them used, the tam at Meska Sweets  make perfect artisanal cookies with the authentic tastes and flavors of Morocco.  Orange Blossom and Almond Moroccan Macarons are pictured here.  $9.00 for a four-cookie treat box at meskasweets.com.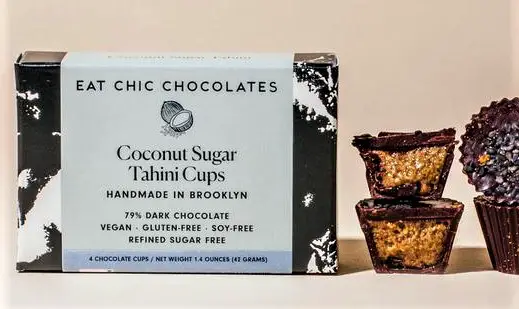 A luxurious blend of tahini and coconut sugar, enrobed in rich 79% dark chocolate, with a pinch of pink Himalayan salt. Eat Chic Chocolates is a woman-owned, Brooklyn-based confection brand.  $7.95 for a box of four at eatchicchocolates.com.
Double layer 6mm Chakra beads are designed for stress relief, meditation, yoga, and essential oil diffuser. $9.99 at Amazon.com.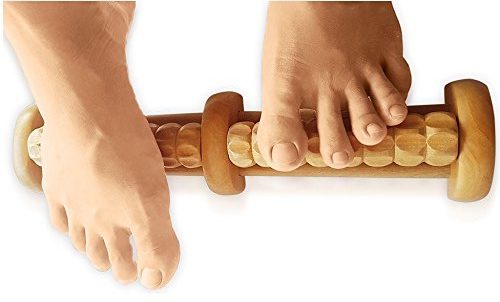 This simple roller stimulates and relaxes soft tissue on feet, hands and body to help relieve aches and soreness. $8.95 at Amazon.com.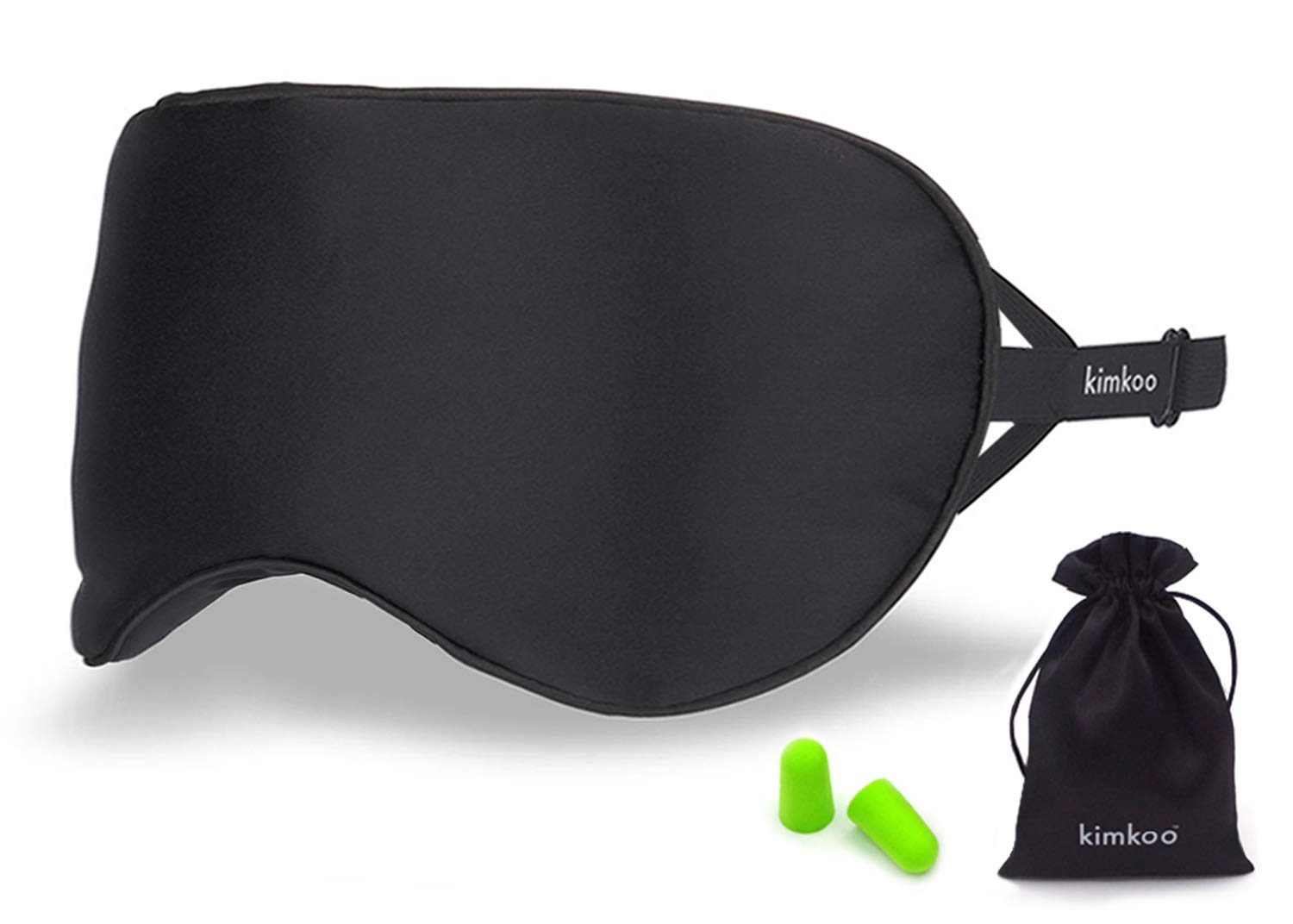 This natural silk mask hugs your face gently to block out unwelcome light and get a good night's sleep. $8.84 at Amazon.com.
This beautifully illustrated deck of fifty yoga poses and meditations gives detailed instructions, benefits, and an affirmation. These portable cards are perfect for stress relief, promoting strength and energy, and relaxation–anytime, anywhere. $8.51 on Amazon.com.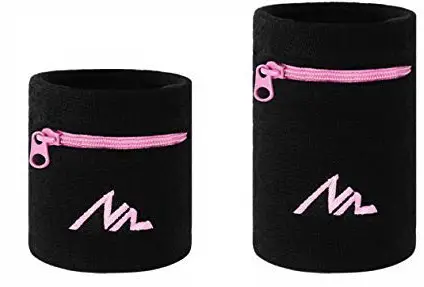 A zipper wristband is a convenient place to stash cash, keys, lip balm, etc., while you're at yoga, walking, playing tennis, cycling, and otherwise active. Available in small and large sizes. $7.99 at Amazon.com.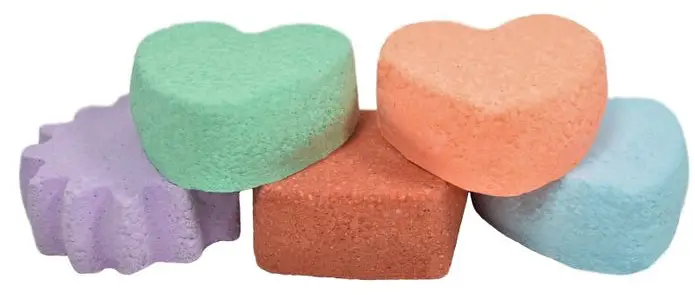 This handmade aromatherapy shower bomb produces a refreshing fragrance that enticingly uplifts your spirits, deeply cleanses the palette, and quickly melts away stress. As soon as a bit of water hits the shower bomb, it will release the aroma to fill your shower with the tantalizing scent. $5.56 at Etsy.com.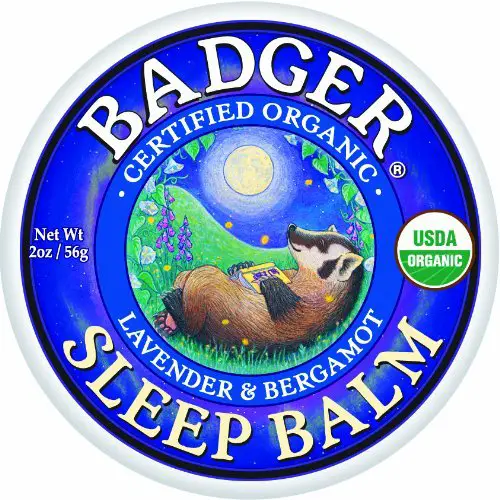 The gift of sleep is the perfect stocking stuffer. This blend of lavender and bergamot essential oils promotes a sense of well-being so sleep can come naturally. $9.45 at Amazon.com.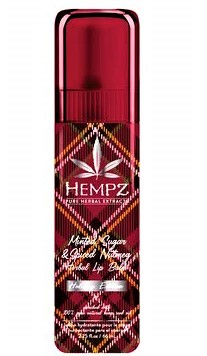 Herbal Lip Balm by Hempz helps hydrate lips in need of moisture. Lips feel soft, smooth and conditioned, ideal for chapped lips. Enriched with 100% pure natural hemp seed oil. $6.99 at Ulta.
Once available exclusively at Selfridges in London, Vaseline Pink Bubbly lip therapy is one of our favorite beauty products. This luxurious gel is enriched with champagne grape extract to pamper and moisturize dry lips. $8.34 at Amazon.com.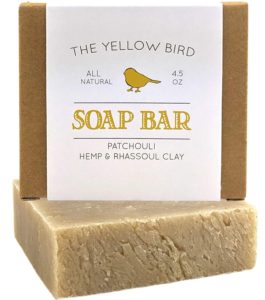 Patchouli and geranium essential oils have a long history in traditional medicine for treating many skin problems. Rhassoul Clay is known to purify and clear clogged pores, and hemp oil is  sought after for its moisturizing and skin calming attributes. $9.95 at Amazon.com.
This set of essential aromatherapy oils is ideal for trying different essences.  Scents include lavender, tea tree, eucalyptus, lemongrass, orange, and peppermint.  Packaged in dark amber bottles.  $10.99 on Amazon.com.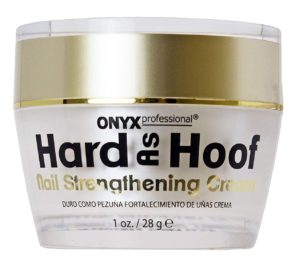 A tonic for nails that split, chip, peel, and crack. This coconut scented cream has been strengthening nails and conditioning cuticles for over 25 years.  $7.94 at Amazon.com.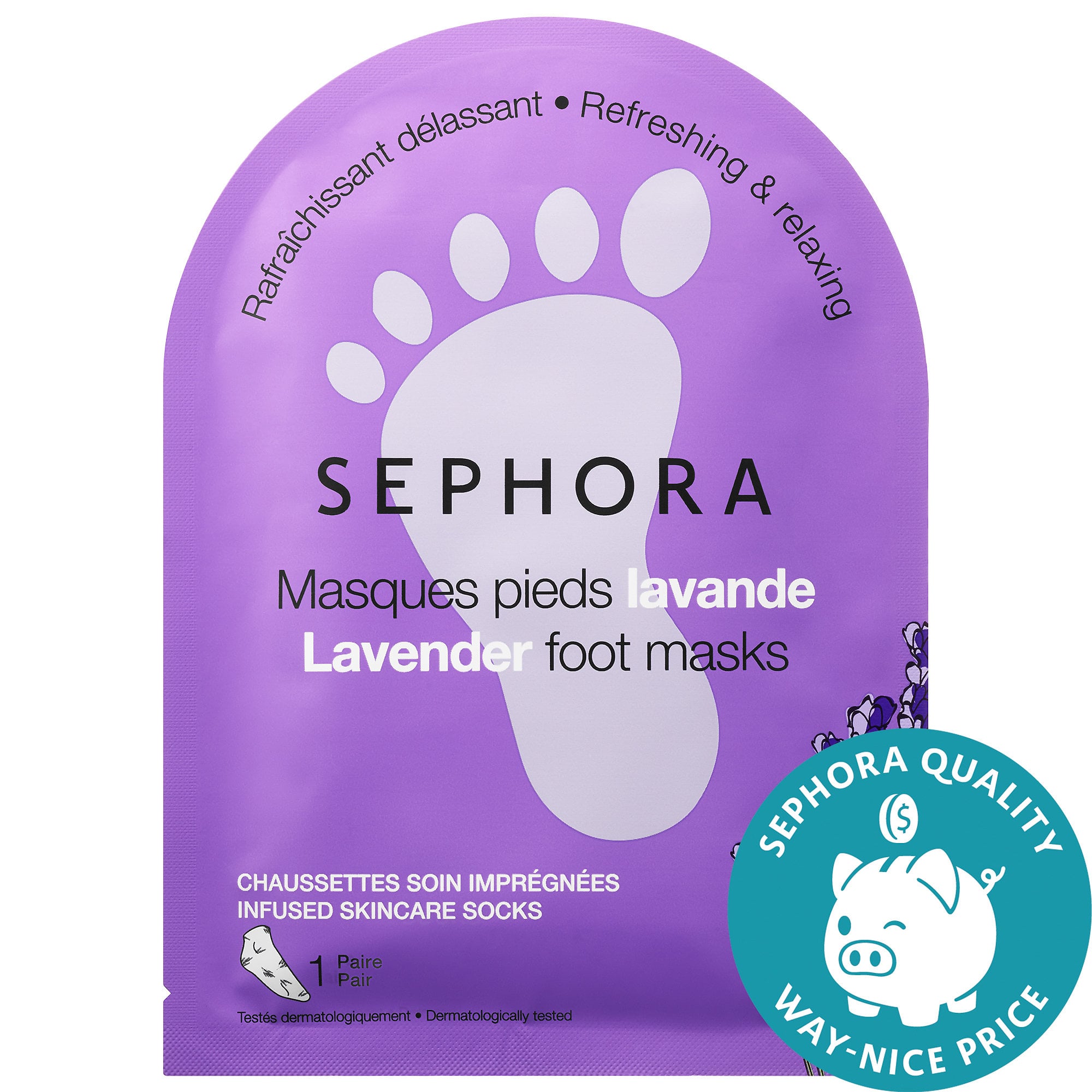 This gentle lavender and menthol foot mask is a welcome antidote for tired and aching feet. Alleviates fatigue, soothes, and refreshes in as little as 20 minutes thanks to lavender extract and menthol.  $5.00 at Sephora.com.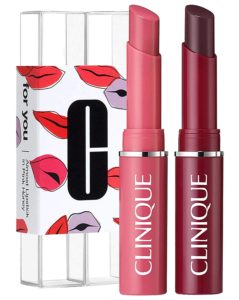 These two lip balms moisturize while delivering just the right amount of color for a natural look. Black Honey is a buildable color. Pink Honey is very sheer with a tiny bit of a tint. $9.50 at Sephora.com.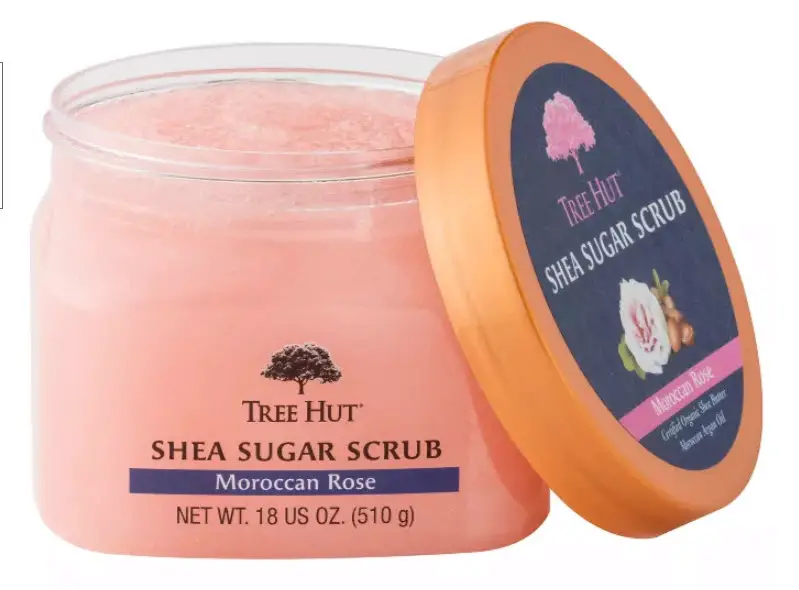 Skin will feel soft and smooth after using this gentle, floral-scented sugar scrub. It's formulated with certified shea butter and an array of natural oils, including evening primrose, safflower seed, sweet almond, avocado, and orange oil.  $6.49 at Target.com.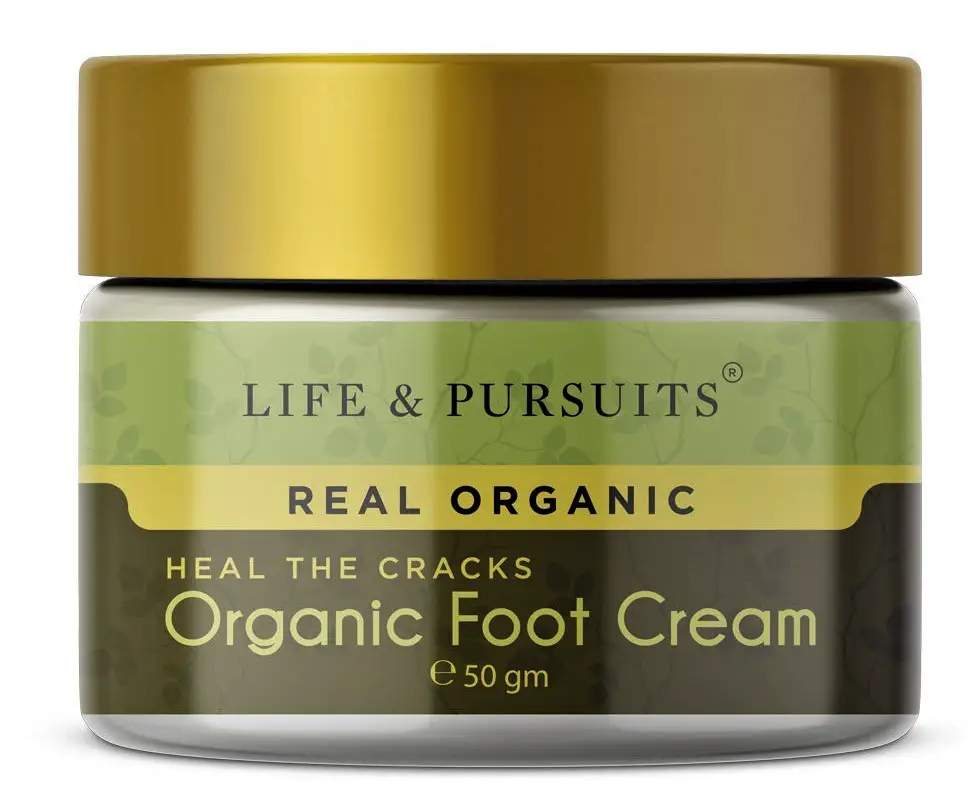 Are those 10,000 steps a day playing havoc with your feet? Life & Pursuits Organic Foot Cream with essential Ayurveda herbs heals and soothes affected areas by reducing cracks and roughness and sealing moisture in the skin.  $7.99 on Amazon.com.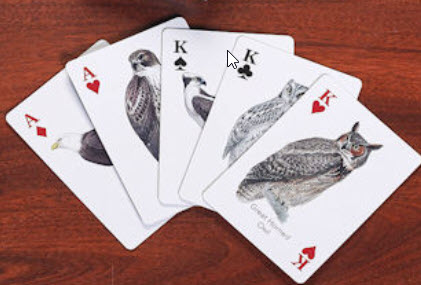 For the budding bird watcher on your list, this colorful deck of playing cards features 54 different birds, from the Red-bellied Woodpecker to the Purple Martin. $9.95 on Acornonline.com.
Help save the bees by adding these plants in your landscape. Because many flowering plants typically have a brief but specific flowering time, offering a range of plants provides needed sustenance for bees and butterflies in spring, summer and fall.  $3.95 for the small packet, which covers 100-200 sq. ft., from Burpee.com.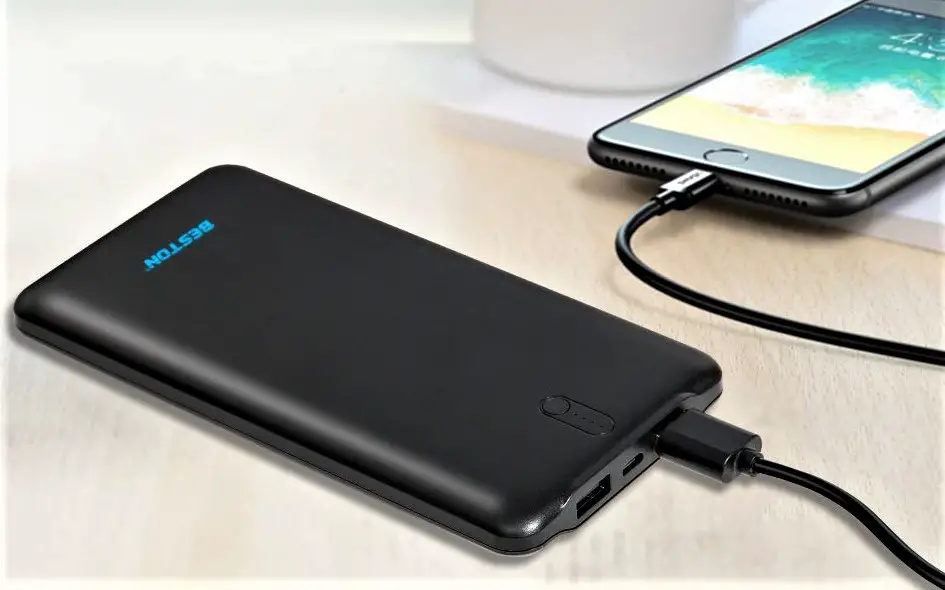 Your phone will never die on you again. This ultra slim external cell phone battery charger has two USB ports to quickly charge your electronics. An Amazon's Choice product. $9.99 at Amazon.com.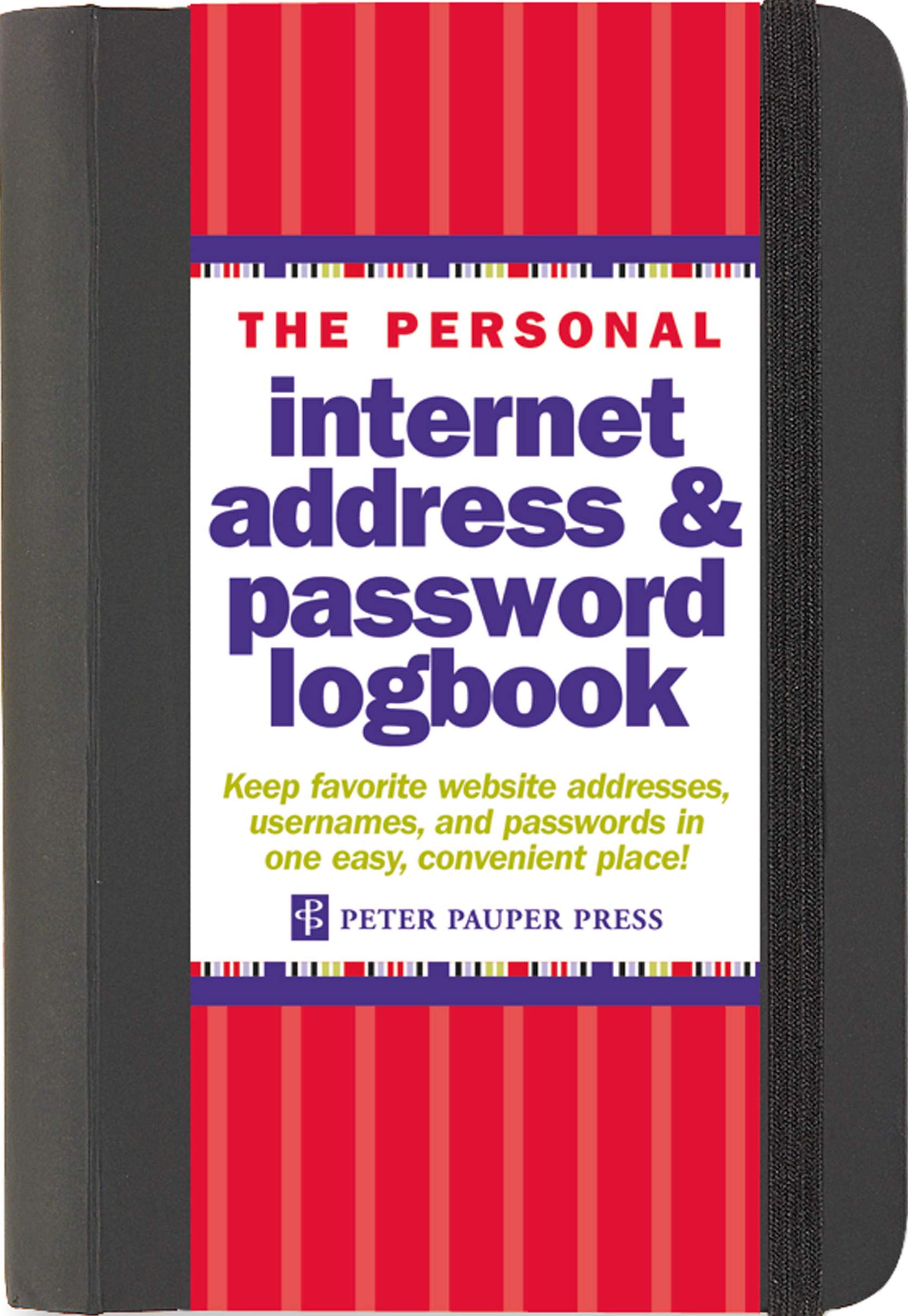 Tired of losing track of the websites you visit, along with all those usernames and passwords? Now you can keep them all in one convenient place. $6.33 at Amazon.com.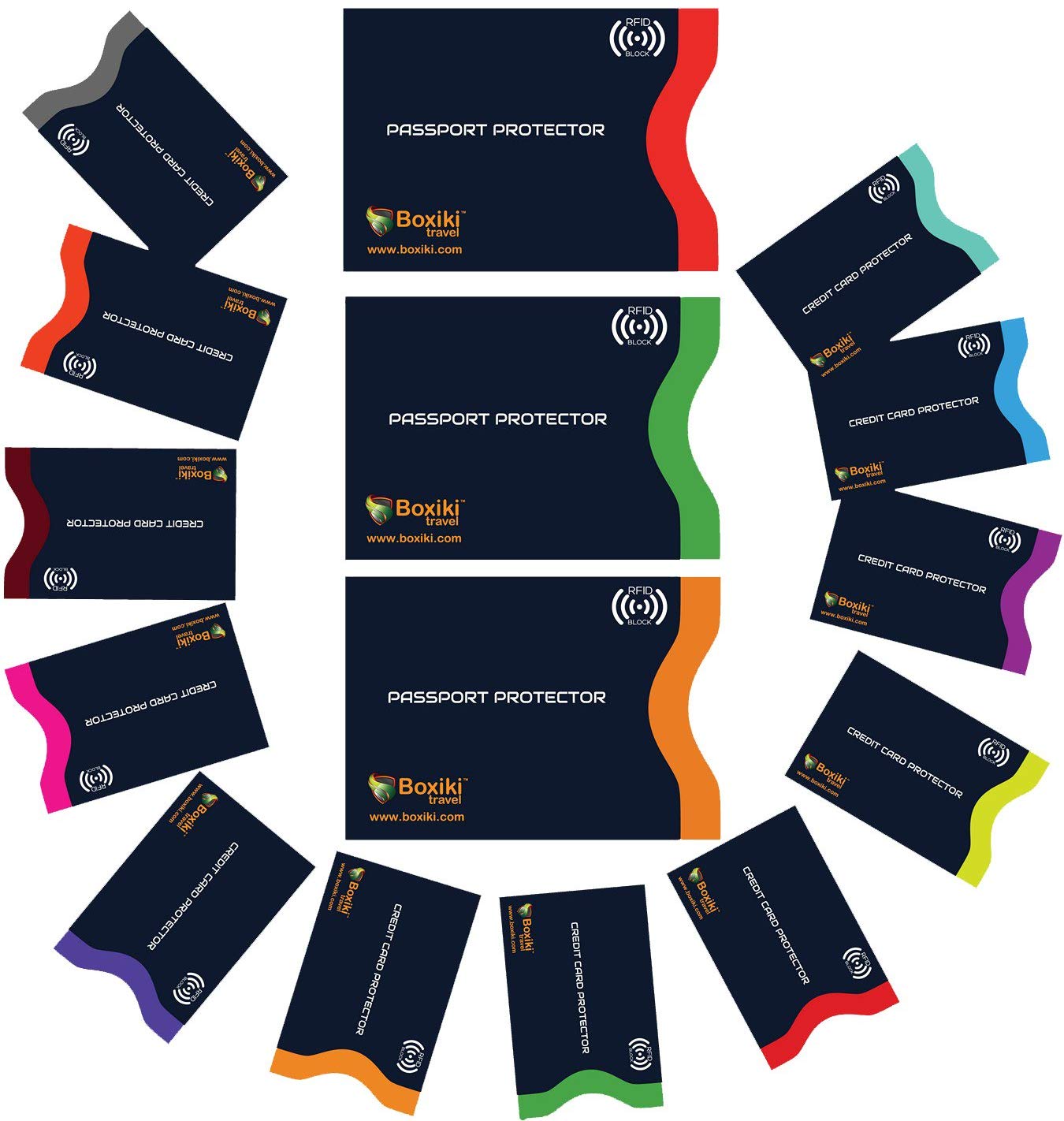 Identity protection is a necessity these days, whether traveling or at home. RFID secure sleeves are designed to protect credit cards, money cards, identification cards, and passports from electronic fraud or theft. $9.85 at Amazon.com.
These dainty stainless-steel scoops are perfect for scooping out candy, tea, jelly beans, nuts, and anything small from a bowl. In your choice of colors. $6.50 at Amazon.com.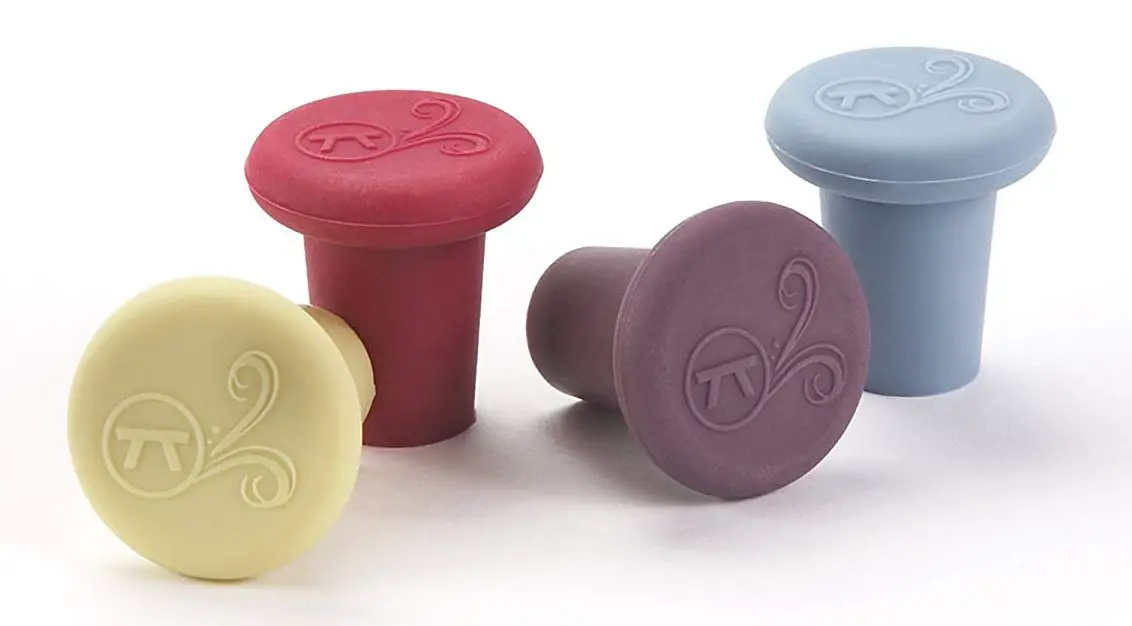 The best thing about these silicone stoppers is that they lie flat, so your half-consumed bottle of wine can fit in the refrigerator. Air-tight seal keeps opened wine and champagne from going bad. Easy to remove, they come in random colors. $10.45 at Amazon.com.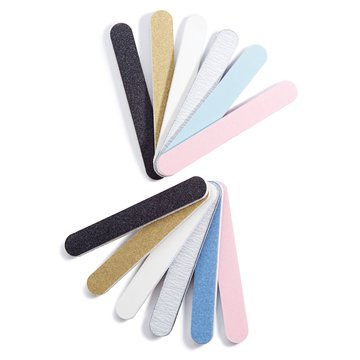 For purse, desk, car, or home, this set of mini emory boards offers a variety of colors and grits so you will have everything you need.  Their convenient size will allows you to take them when you travel. 12 files, six combinations. $5.99 at Amazon.com.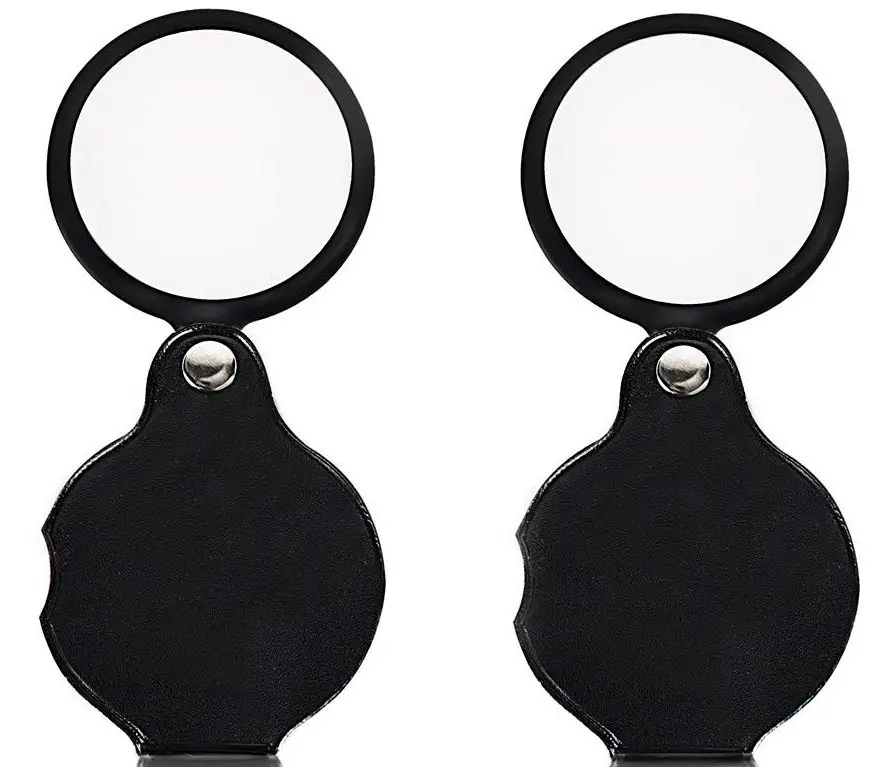 This handy magnifying glass helps with the fine print when grocery shopping–objects are 10x more visible. The glass lens is protected by a soft felt lining covered in vegan leather. $6.69 at Amazon.com.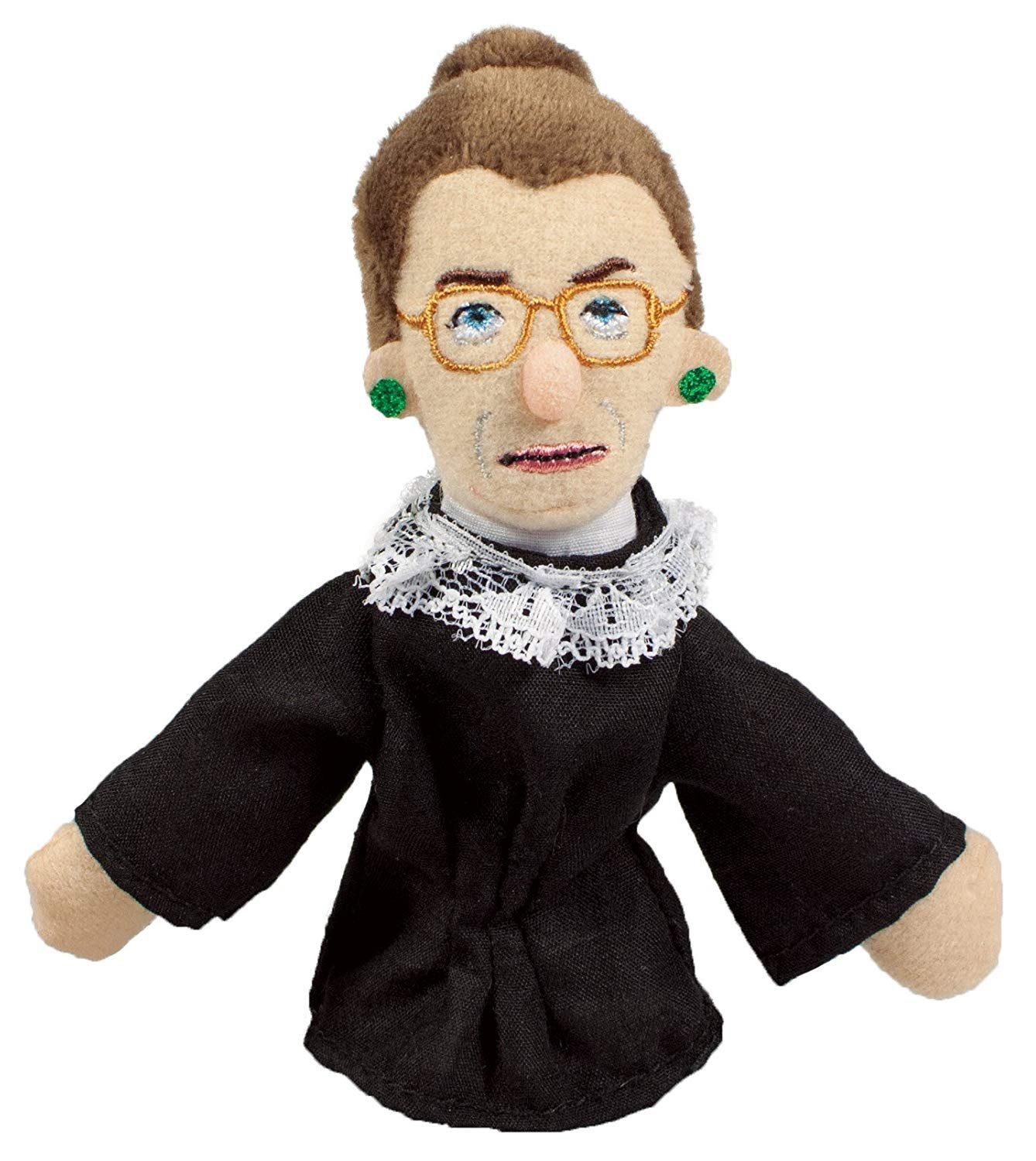 RBG and 100 other artists, writers, scientists, philosophers, and pop-culture icons are here to hold notes on your refrigerator and banter with each other on your fingers. $8.99 at Amazon.com.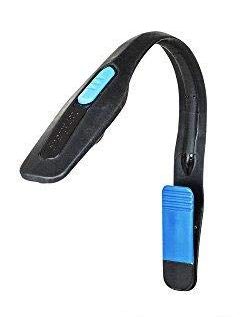 Often it is difficult to get the right light when you're reading in bed. This compact book light has advanced LED technology to create natural reading conditions that go easy on the eyes. Lasts for 25 hours. $6.79 at Amazon.com.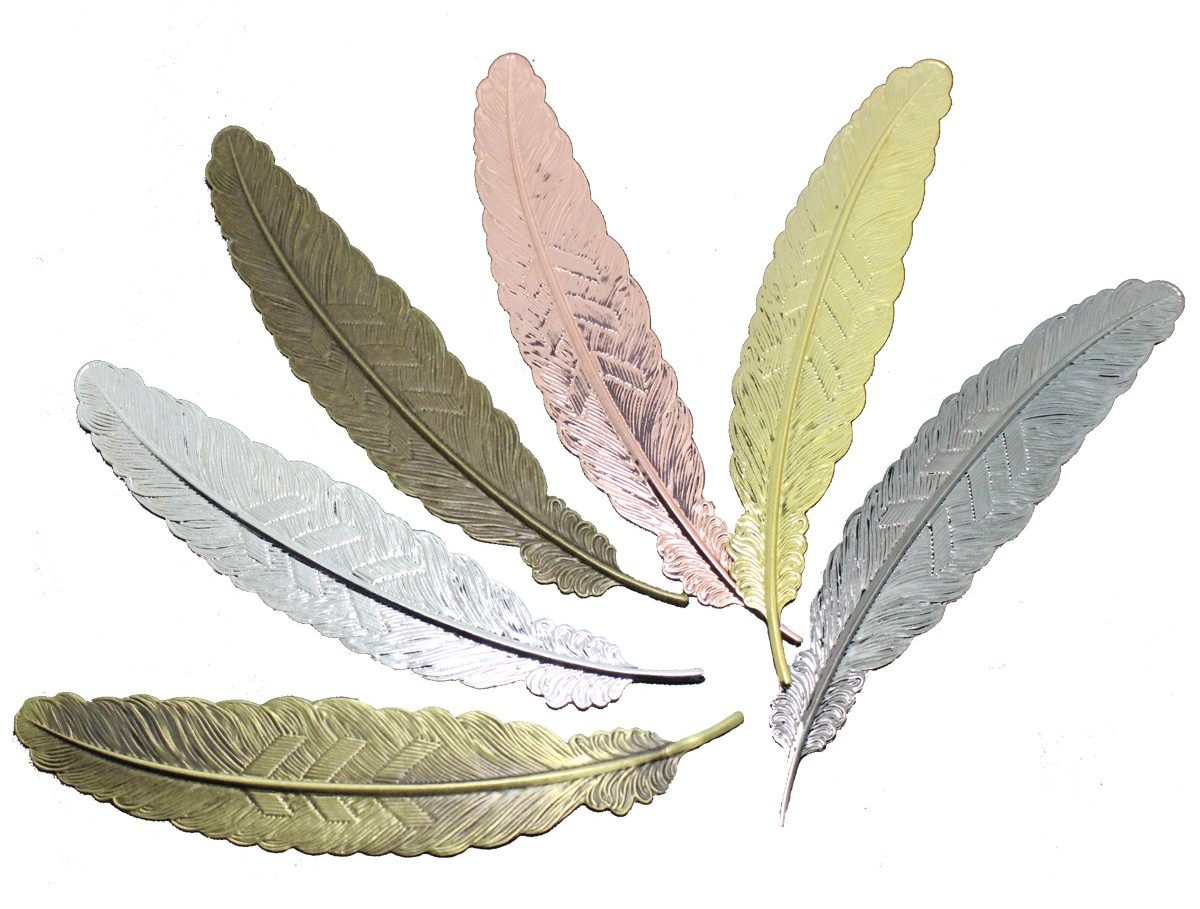 Surprise the members of your book club with this unusual gift for booklovers—metal feather bookmarks. Small, pretty, and colorful, they fit securely into books of any size. $5.99 at Amazon.com.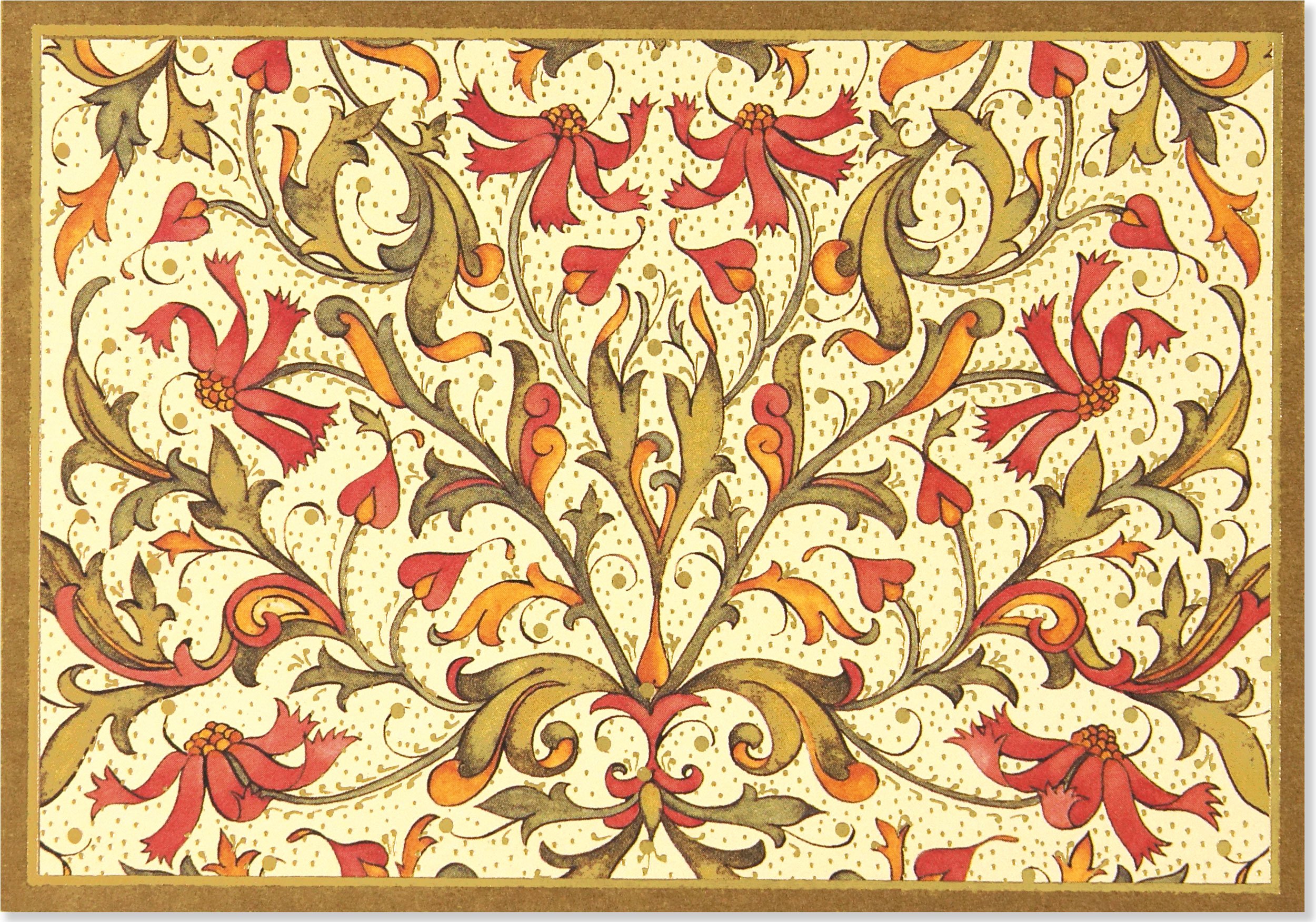 These finely-crafted Florentine inspired notecards feature a Renaissance-inspired floral motif in bold red, brown, and gold. Includes 14 cards and 15 matching envelopes. $8.99 at Amazon.com.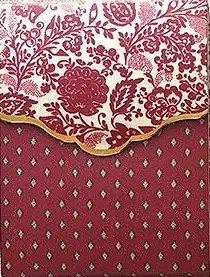 Fabric inspired Chafarcani pocket notepads are the perfect size to carry with you, keep on a side table, or store in a drawer. The 75-sheet pad features a magnetic closure and measures 3″ x 4."  $18 for set of 4 notebooks, each a different design, from French General.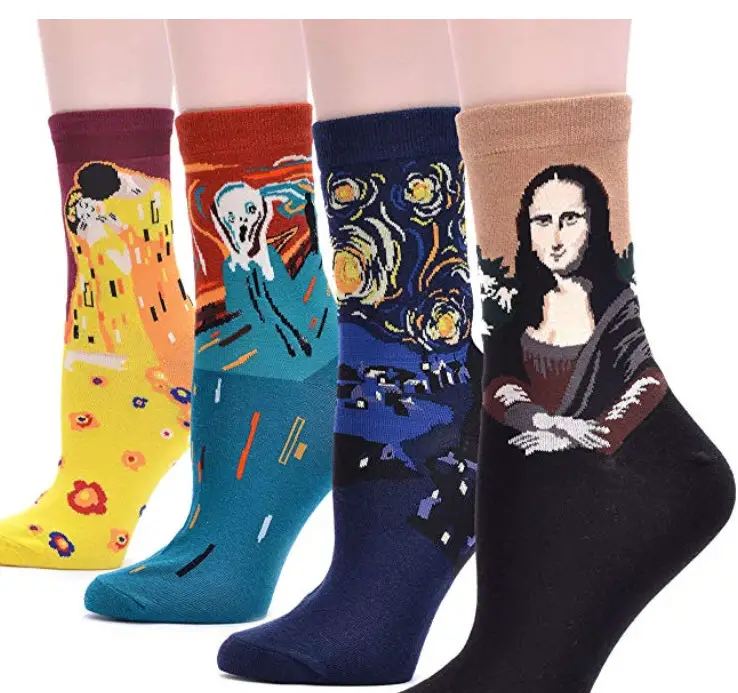 Feel the need to scream? You'll feel better with Edvard Munch on your feet. Famous oil paintings meet fashion and comfort in these snuggly socks, each to match your mood.  Four pairs for $10.99 at Amazon.com.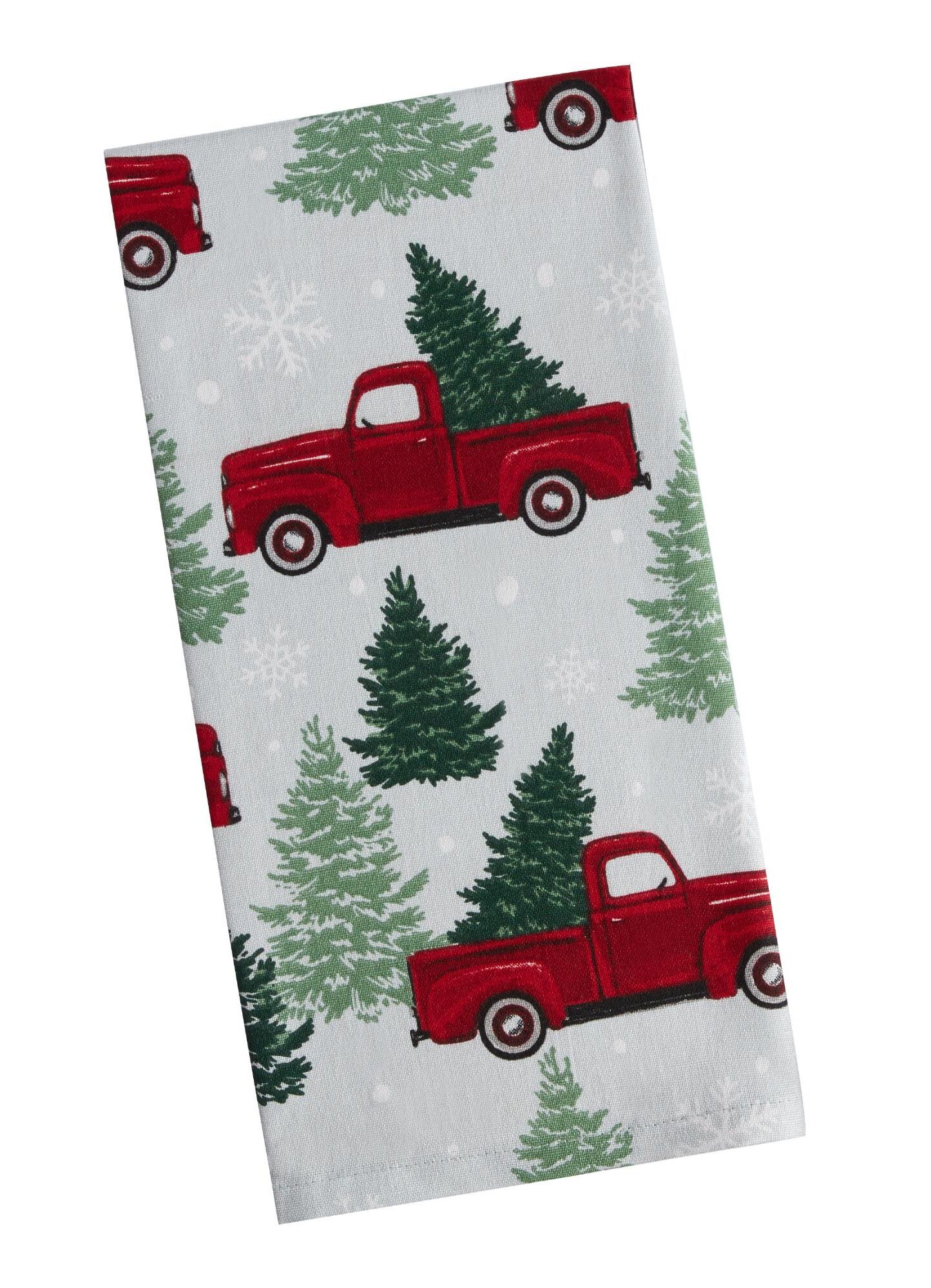 This brightly patterned holiday towel is a favorite of ours. With vintage red pickup trucks bringing the family Christmas tree home, it's sure to get everyone in the holiday spirit. $4.79 at Worldmarket.com.

This is the kitchen gadget you didn't know you needed—skins, pits, and slices an avocado in seconds. $9.99 at Amazon.com.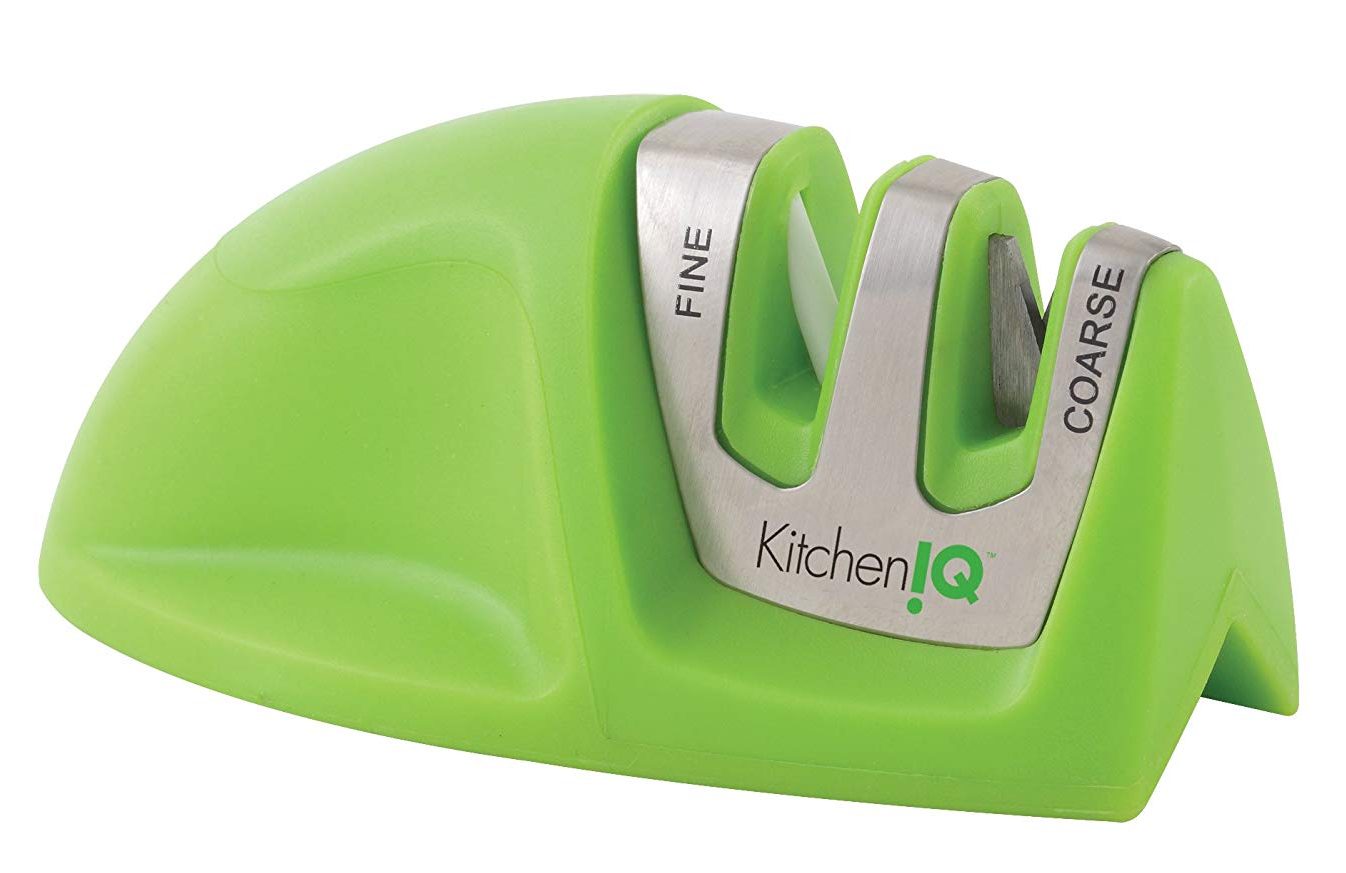 You'll never suffer a dull knife again with this compact knife sharpener. Carbide blades (coarse) quickly set a knife's edge. Ceramic rods (fine) hone the edge until smooth. $5.99 at Amazon.com.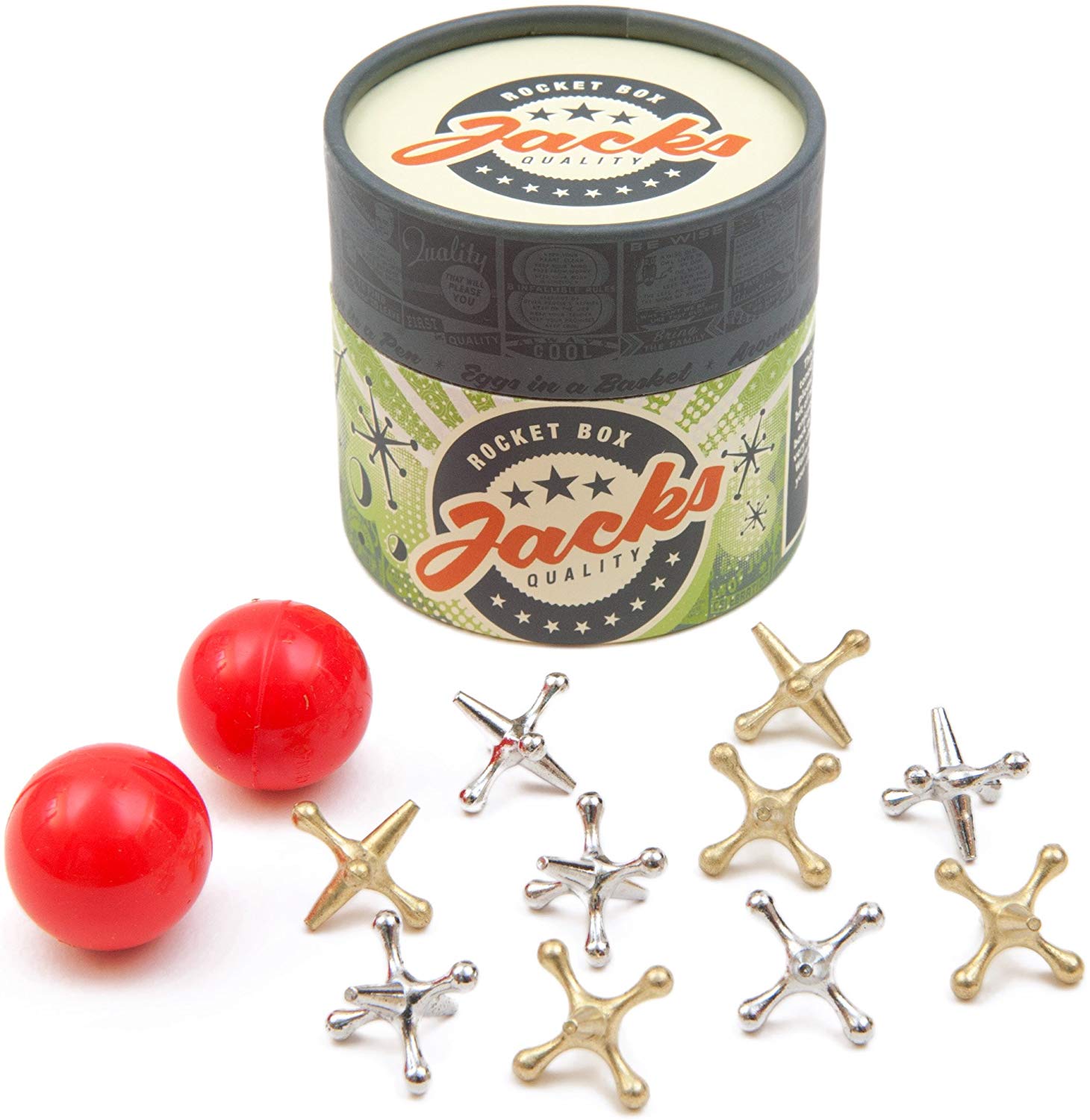 A trip down memory lane. Adults and children alike will enjoy this classic, portable game, also known as onesies, knucklebones, jackstones, jackrocks, and fivestones. $9.99 at Amazon.com.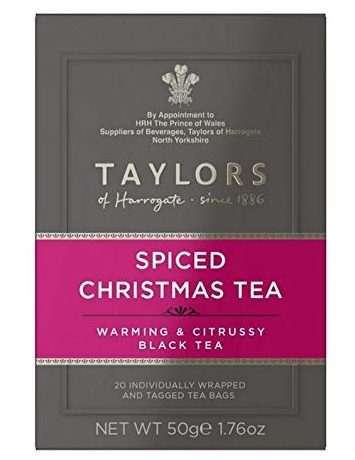 This Spiced Christmas Tea is a special blend of tangy lemon peels, fruit orange peels, and mellow, warming cinnamon–the flavors and scents of the season. It's the perfect treat for a blustery winter afternoon. $9.00 at Amazon.com.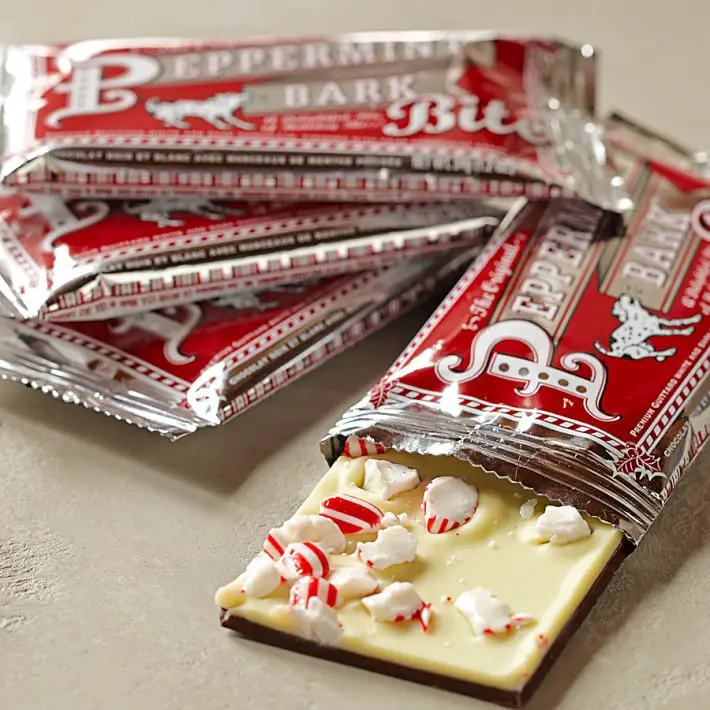 Made according to the original Williams-Sonoma recipe, this nostalgic confection is a heavenly mix of peppermint-infused semisweet chocolate, creamy white chocolate, and crunchy peppermint bits. Four bars for $16.95 at Williams-Sonoma.com.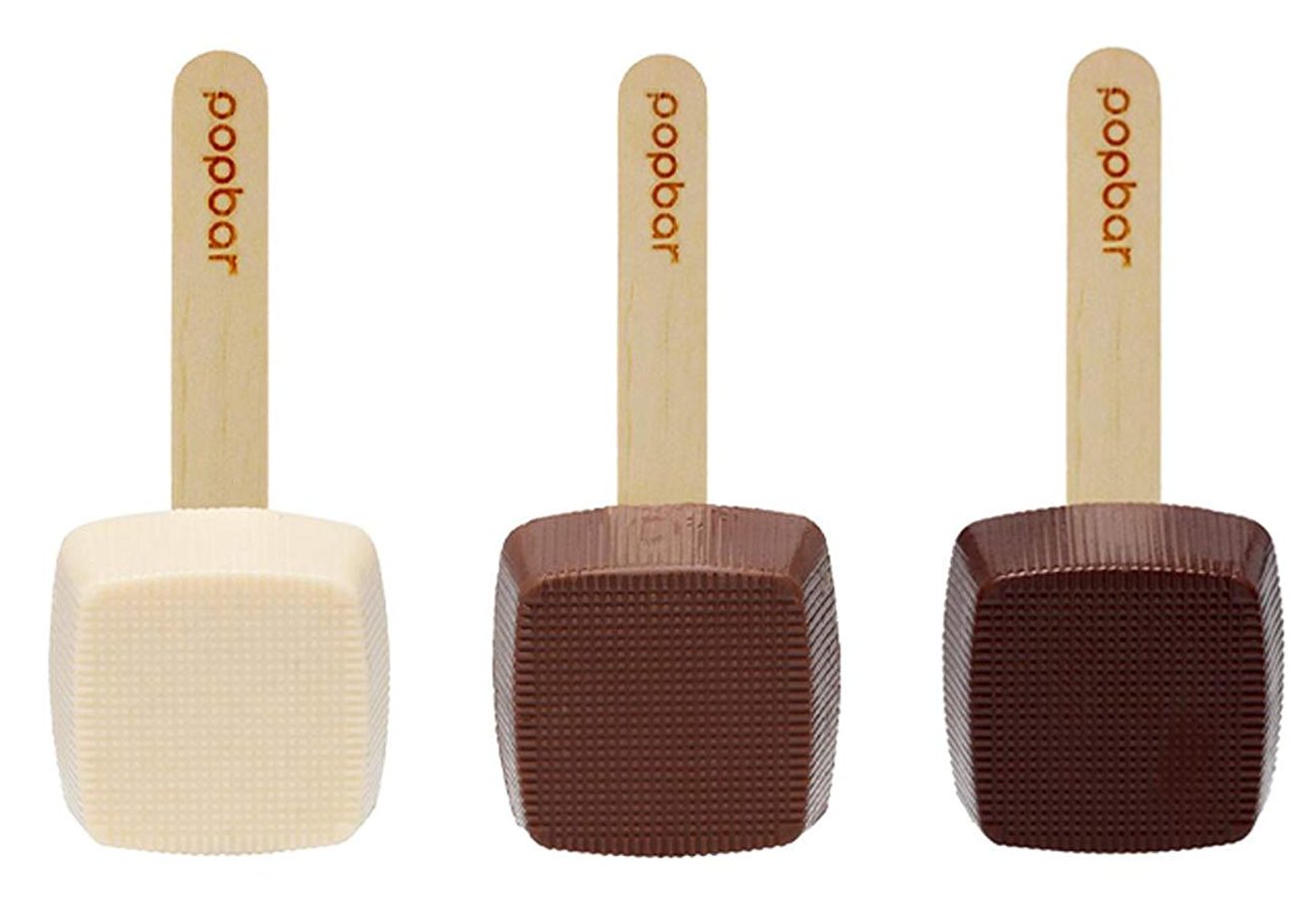 Fill your mug with hot milk, place the hot chocolate stick in, and stir until the chocolate dissolves completely. Simply delicious! $19.99 for six individually wrapped chocolate sticks at Amazon.com.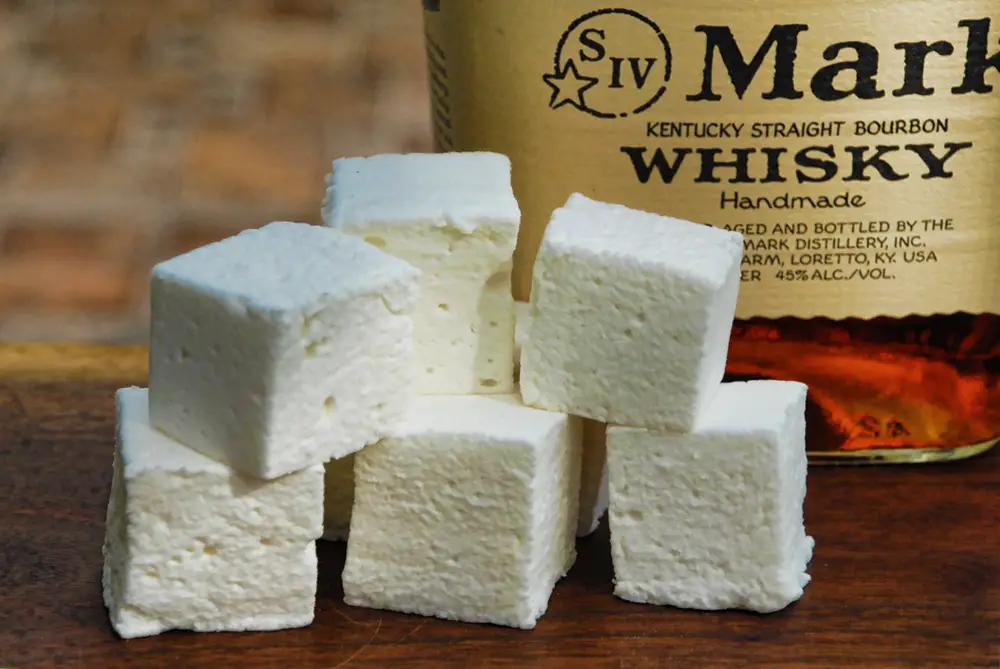 These luxuriously rich marshmallows are handcrafted from the highest quality ingredients and infused with Maker's Mark® Bourbon. A truly adult treat! $5.99 at Viveltre.com.
Let it snow, let it snow. Reach for this mug, fill it with hot chocolate, and curl up with a good book. $7.93 at Walmart.com.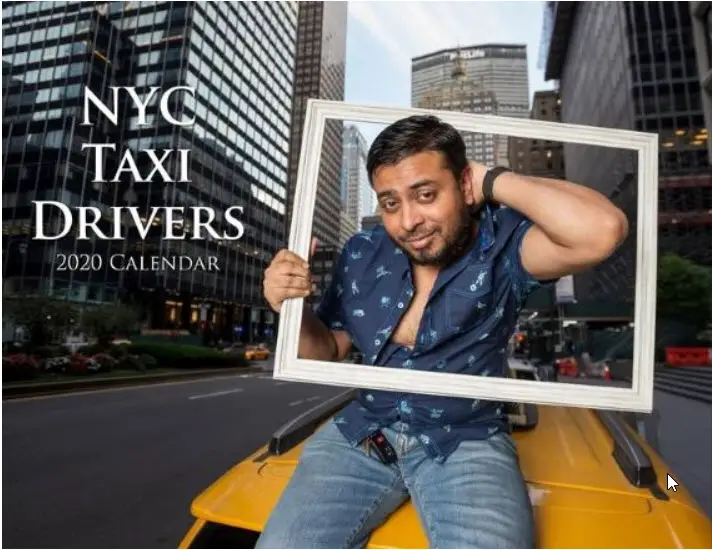 50.  For the woman who has everything
The 2020 NYC Taxi Drivers Calendar features 12 scintillating (and good-humored) yellow cab drivers, eager to enhance your daily living experience.  You'll feel a sense of solidarity when you get splashed with black slush trying to hail a cab this winter. A portion of each calendar sale benefits University Settlement, which serves over 40,000 immigrant and working individuals and families in New York City every year. A budget busting $14.95  from nyctaxicalendar.com.
As an Amazon affiliate Blue Hare makes a small commission on purchases made through the links on this page. It helps us keep the lights on. Thank you for supporting Blue Hare.
* * *
You might also like
Go to the BLUE HARE home page for more articles for fabulous women