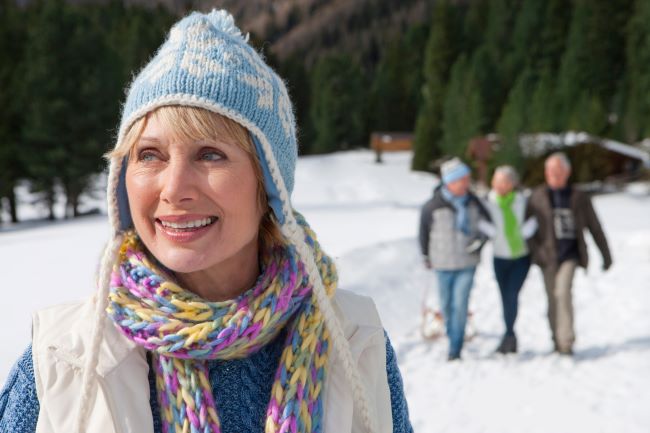 With its long nights and fleeting days, the peoples of Denmark, Finland, Norway, and Sweden have turned dreaded winter on its head and into a way of life that makes every moment a celebration. They have made winter less miserable, even joyful. They've learned to embrace winter in their own special way.
As women over 60 it is tempting to hunker down and isolate, counting the days until spring. Instead of sinking into depression and eating boxes of chocolate, we can embrace winter by adopting some tried-and-true Scandinavian practices into our lives.
Find the small joys in every day
Rather than thinking of winter as a season of limitations, think of it as a season for new opportunities. Winter is a special time. It's when we make steaming pots of soups and stews, drink hot chocolate, enjoy parsnips and Brussels sprouts (can you imagine having a plate of those in August?)
Think of blizzards as Earth's big scouring brush. Soft snows as magical. Rainy days as…well, that's when you stay inside. More on that later.
It's an opportunity to be mindful, to be here now, to notice the little things.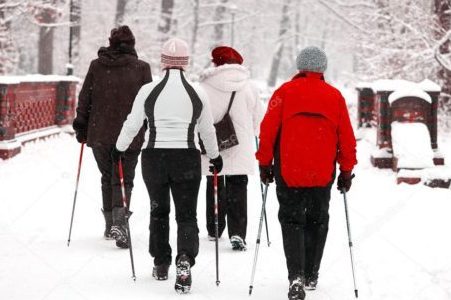 Embrace winter and get outside
Get out and get some sun, if only for 10 or 15 minutes a day. Fresh air and sunlight do wonders for your mood and help regulate your sleep rhythm. How often have you looked at the clock, only to discover it's only 8:30 pm–yet you feel ready for bed?
Moving—perhaps a brisk walk–is good for your body and soul. And, once you get going, you may even decide you are more ambitious and want to try out a new winter sport. It's up to you. There are plenty of options for women over 60.
Norway has a concept, friluftsliv, which translates roughly to "open air life." According to Per Kare Jakobsen, a researcher at the University of Tromso who studies open-air tourism "the way Norwegians are brought up with the strong cultural tradition of friluftsliv is key to understanding our (generally quite positive) mind-set." This means getting outside.
______________________________________________________
______________________________________________________
Once you're out there, something rather magical happens. Verily, the cold is energizing and makes you feel good.  Medical News Today cites research that suggests cool temperatures could bring a range of health benefits, and that we shouldn't always shun exposure to cold.
Wear the right clothes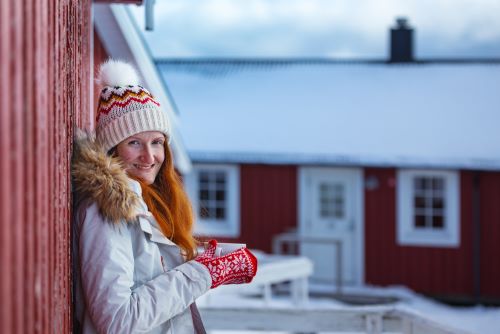 Of course, you won't enjoy the cold if you are actually cold.
Wearing the right clothes is the key to enjoying winter.  There is a Swedish saying, "there is no bad weather, only bad clothes." For Scandinavians that translates into wool, wool, and more wool—even underwear—and layering.
We may shrink at the idea of layering, but at our age we know there are times when being comfortable is more important than looking stylish. Not to say the two can't be combined. Skiers do it all the time. But off-piste is more of a problem.
At Blue Hare we love winter and have, over time, built up wardrobes that help us look as au courant as one can in subzero temperatures. These are a few of the winter clothing pieces we recommend:
Base layer: Merino wool long underwear from LL Bean.
LL Bean's Women's Cresta Ultralight 150 Pants are made of itch-free 100% merino wool, nature's best insulator. Its lightweight fabric provides warmth and comfort during a range of activities and temperatures. Fine-gauge knit and with flat-lock seams make for a remarkably smooth fit.  Frankly, they look more like leggings than long johns. And will fit underneath all but the skinniest pants. Shop long underwear.
Cashmere or Smartwool socks
If you want warm feet in winter, cashmere or Smartwool® socks are the way to go. Keep your extremities (hands, feet) warm and the rest of you will be warm.
Cashmere socks are a bit pricey but for the benefit they are not at all an indulgence. Garnet Hill and Quince stock them, both at about the same price. Smartwool® has a range of socks for outdoor activities. The key is for the socks to keep your leg warm, as well as your feet. If you are wearing a wool long john layer, socks need only to overlap the cuff of the pants. Otherwise, look for knee highs.
______________________________________________________
______________________________________________________
Knee length down coat
Where those northern dwellers say wool, wool, wool, we say down, down, down. As in goose down.
A good, warm, long jacket is an essential tool for being comfortable, even toasty, on a cold winter day.  Not only does it keep your upper legs warm, it keeps cold air from sliding up your back.
The Mountain Croo from Columbia checks all the boxes. It's made of waterproof-breathable fabric, has 650-fill-power down insulation and reflective lining, ribbed cuffs, and—this is important—a wind-break placket to cover the zipper. It's also stylish and looks great with jeans and boots.
A warm hat
Hat hair be damned. This is not the time for vanity. Fortunately, there are plenty of choices that offer both the kind of warmth needed now and a bit of flash.
More often than not it's the ears that are overlooked when buying a hat. But for frigid temperatures ear coverage is key. The warmest fabrics will be wool or cashmere. Look for a tight weave to block the wind, or boiled or felted wool. The Pana Face Wool Beanie and The Foster Merino Wool Beanie from Nordstrom combine both warmth and style.
Amazon has a number of jaunty knit beanies with poms that will keep your head—and the rest of you—warm.  Creative, artistic wool felt hat styles can be found on Etsy.
Gloves that keep your fingers warm
In our experience the best gloves for a cold winter day are cashmere-lined leather. They can be pricey (like everything on this list) but if you buy a quality pair they will last for years. We found these Lands' End Women's EZ Touch Screen Cashmere Lined Leather Gloves on Amazon.
If you want really, really warm hands the U.S. Olympic Team Mittens are for you. Made of 100% Merino wool they are perfect for the chilliest of days. Available exclusively at teamusashop.com.
Yaktrax or MICROspikes®
Traction gear for your feet is indispensable when you want or need to walk on hard packed ice and snow. Fortunately, you don't need special shoes or boots to keep you upright.
Yaktrax and MICROspikes® are two brands that offer cleats, spikes, or grips that slip on over your own shoes or boots. Both are designed to provide stability when you are hiking, working, or walking in some of the most challenging winter conditions. Both Yaktrax and MICROspikes® are available on Amazon.
______________________________________________________
______________________________________________________
Entertain outside
Covid sparked sales of firepits last year and ushered in outdoor gatherings of all types. An afternoon by the fire, dinner under sparkling lights, plenty of fleece blankets, sheepskins, outdoor rugs, string lights, lanterns, candles and good food and drink are all pre-requisites to a cozy evening al fresco – no matter the weather.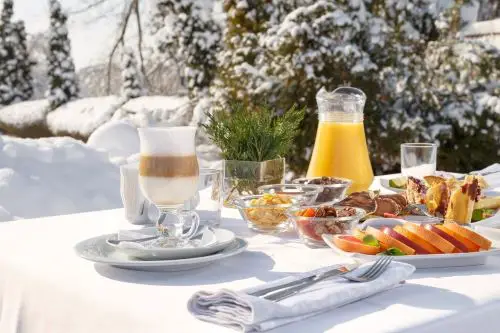 Creating a welcoming venue for friends and family is a way to express your creativity in new ways. A post on My Scandinavian Home showcases some beautiful outdoor transformations, some little inspiration to get you started.
If you are short on time, Amazon has many of the items you need to create your winter oasis.
Eat more cake
This is a tradition we (and Marie Antoinette) can get behind. Kakkukahvi is Finnish, fika is Swedish but both Scandinavian words generally mean the same thing: enjoying a cup of coffee and a piece of cake. It's more than that, though. It's an invitation to pause and indulge in something enjoyable with a few friends and family.
We would warm up the kitchen by baking an Italian Pear Almond Cake or Greek Yogurt Pear Coffee Cake, make a delicious pot of coffee, and invite our best friends over for a leisurely morning or afternoon.
Make your home cozy and welcoming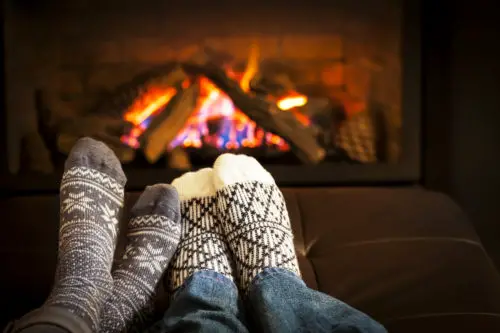 It's also possible to embrace winter inside. Known as hygge in Danish, koselig in Norwegian, the tradition of making home cozy uses light to celebrate the darkness of winter. Indoors, families gather around the fireplace. Rooms may glow from string lights and candles.
Making things hygge or koselig is not just about fuzzy blankets and warm beverages. It's about feeling content — a sense of coziness that is not just physical, but psychological. Of being in your home with your loved ones, warm and cozy while temperatures drop outside.
Snuggle under a blanket, light some candles, and wrap up warm. Find a good book and have a cup of hot chocolate.
Fill your home with flowers
Winter can often seem bleak and gray. By bringing bright, colorful flowers into your home, you'll keep it looking cheerful no matter whether the weather outside is frightful.
The Swedish phrase Tulpanens dag literally translates to "tulip day" and refers to the tradition of keeping your home decorated with fresh flowers.
It need not cost much.
A few bunches of flowers from your grocers or corner bodega can brighten a room. For the best look buy several of the same flower, e.g., tulips in different colors, or mix same-color flower types. Choose your flowers according to your mood. Try some yellow for happiness, blue or pink for soothing and calming, and green for stress relief.
Or you can grow some flowers from bulbs indoors, in winter, by using "pre-chilled" bulbs.
All you have to do is trick the bulbs into believing winter has come and gone, and they will present their hidden spring delights in any season. The most commonly forced flower bulbs are amaryllis, hyacinths, paperwhites, muscari (grape hyacinths), tulips, and crocus. Pre-chilled bulbs can be ordered from Tulip World and White Flower Farm.
Protect your skin
Moisturizing your skin is a high priority if you plan to spend some time outdoors when temperatures dip.
We like La Roche Posay products. They're Swiss, so they get cold weather.
La Roche-Posay Toleriane Double Repair UV Face Moisturizer with SPF 30 will protect your skin and keep you moisturized all day. It's lightweight yet works like a barrier cream. It provides up to 48-hour hydration, won't clog pores, and is easily absorbed. It's not greasy, so when the wind blows your face won't be a magnet for dirt and grime.
Importantly, the blend includes a sunscreen: UV rays still reach Earth's surface in winter, and they reflect off snow and ice.
Make an attitude adjustment
Changing your mind-set can start with, well, changing your mind. Try appreciating winter in your thoughts and your speech.
Start by figuring out what you like about the winter. Maybe it's the chance to light fires, even during the daytime. Maybe it's an opportunity to get absorbed in cooking, or reading, or art. Maybe it's the way the world goes quiet just after a fresh snowfall.
Then, whatever it is, try to consciously focus on those things. Let your smile bring warmth to your heart.
As an affiliate of Amazon and other retailers, Blue Hare makes a commission on qualifying purchases made through the links on this page. 
 *  *  *