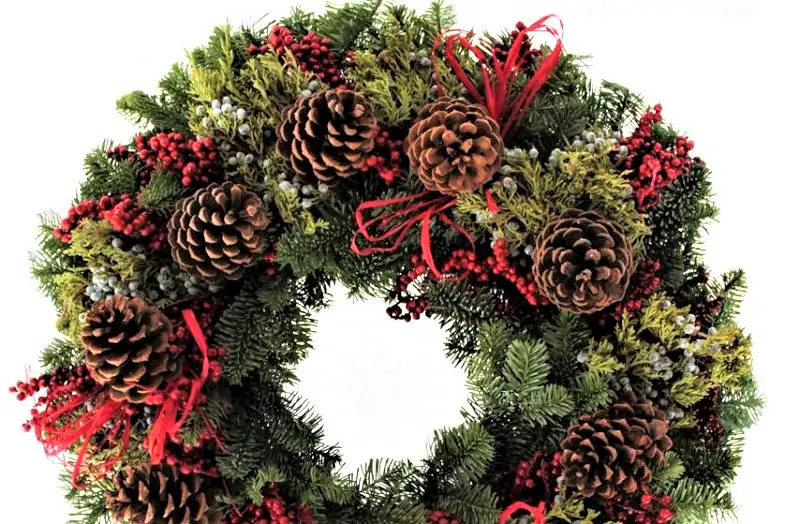 Wreaths have been a decorative symbol of the Christmas season for hundreds of years. Wreaths can adorn any area of your home, inside or out.
The holiday wreath has its roots in multiple religions and cultures. Some see the wreath as being entirely secular and simply decorative. Others associate the evergreen branches with Christianity. There is even symbolism to be found in the structure of the traditional wreath itself.
Its circular shape represents eternity, for it has no beginning and no end. From the Christian religious perspective, it represents an unending circle of life. The evergreen, most frequently used to make wreaths, symbolizes growth, and everlasting life.
Wreaths are also connected with the pagan holiday of Yule to mark the winter solstice. Yule was celebrated by ancient Germanic and Scandinavian peoples to honor the return of the sun and the seasonal cycle. These Yule wreaths symbolized nature and the promise of spring.
These days it's common to find any number of wreaths on doors, over the mantle, or hung in windows. They can be made of real or artificial materials. While the artificial ones don't infuse the air with the same fresh fir scent as an authentic wreath, they can take on a form of high art—and can cost about the same.
There is a wreath out there to appeal to every taste and spirit. Just looking at the 25 on this list fills us with cheer. Find yours, break out the eggnog, and look forward to all the holiday season has to offer. Cheers!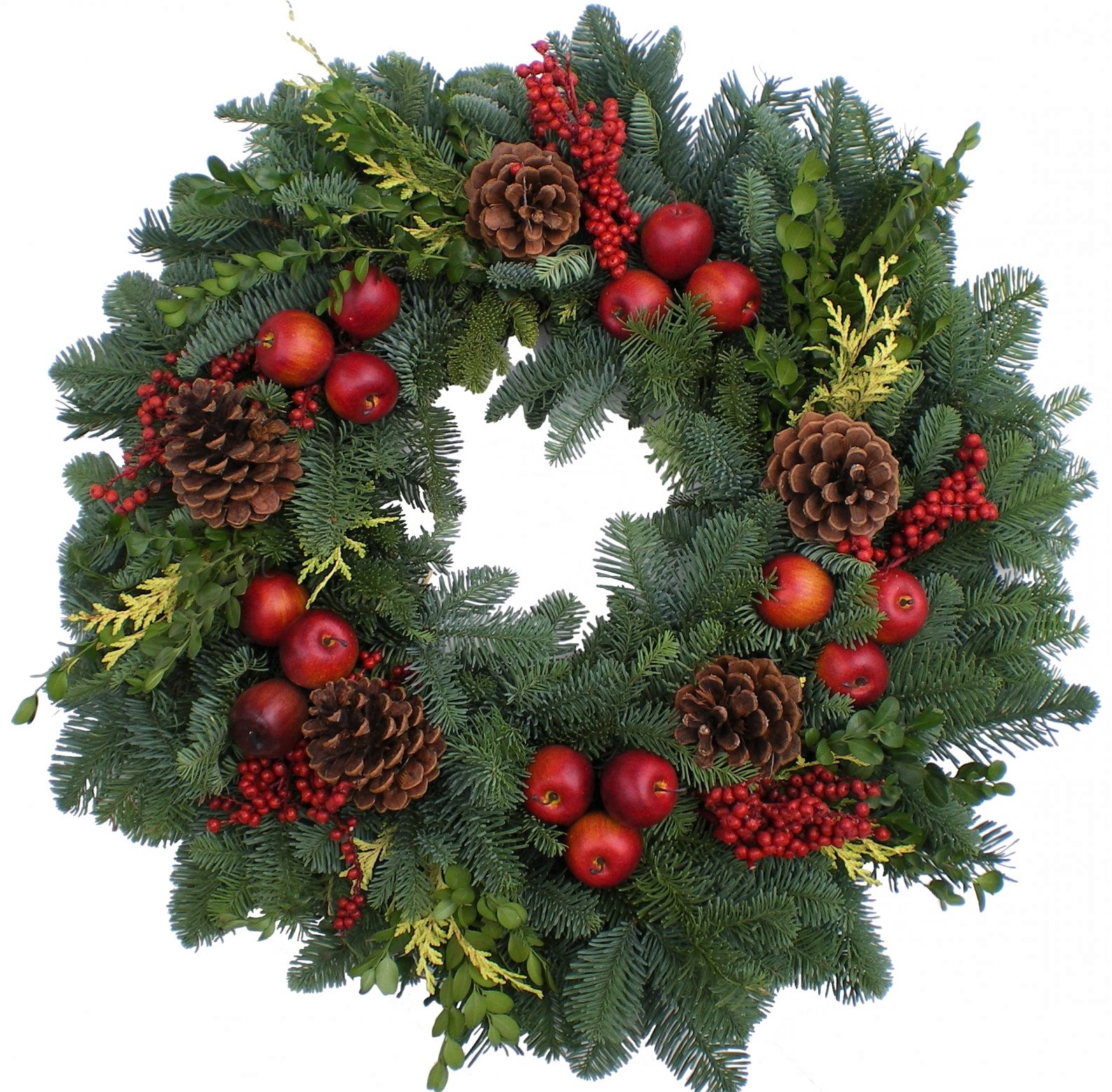 1. Regal Fruit Wreath
Fernhill Holly Farms
$59.95
Faux apples, cones, boxwood, cedar, and canella berries are smartly arranged on a base of noble fir. Learn more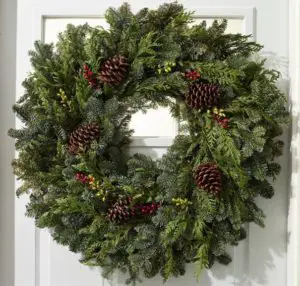 2. Christmas Woodland Berry Wreath
L.L. Bean
$59.95
L.L. Bean's  Christmas berry wreath is beautifully crafted from fresh, sustainably-sourced noble fir and western red cedar. Adorned with natural pinecones, plus faux green and red berries.  Learn more.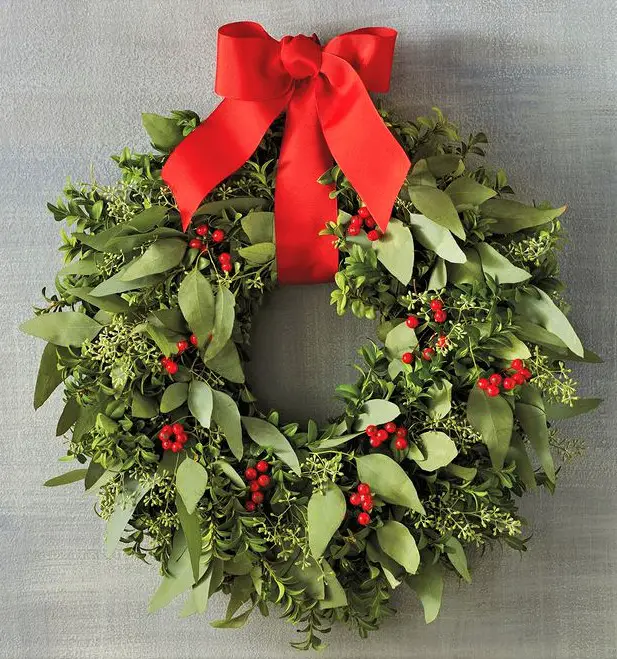 3. Boxwood Wreath
Harry and David
$79.99
Handcrafted from boxwood and seeded eucalyptus greens, this wreath is decorated with red faux berries and a bright red ribbon. Each wreath is expertly woven by hand. Learn more.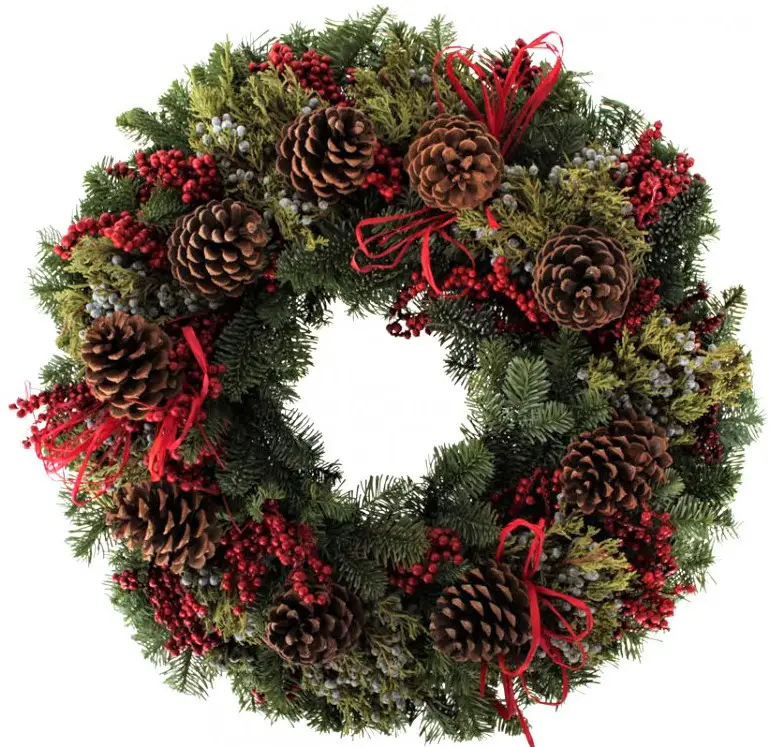 4. Enchanted Forest Wreath
Fernhill Holly Farm
$59.95
A collection of rich noble fir, fragrant berried juniper, festive Ponderosa pinecones, and elegant canella berries. Learn more.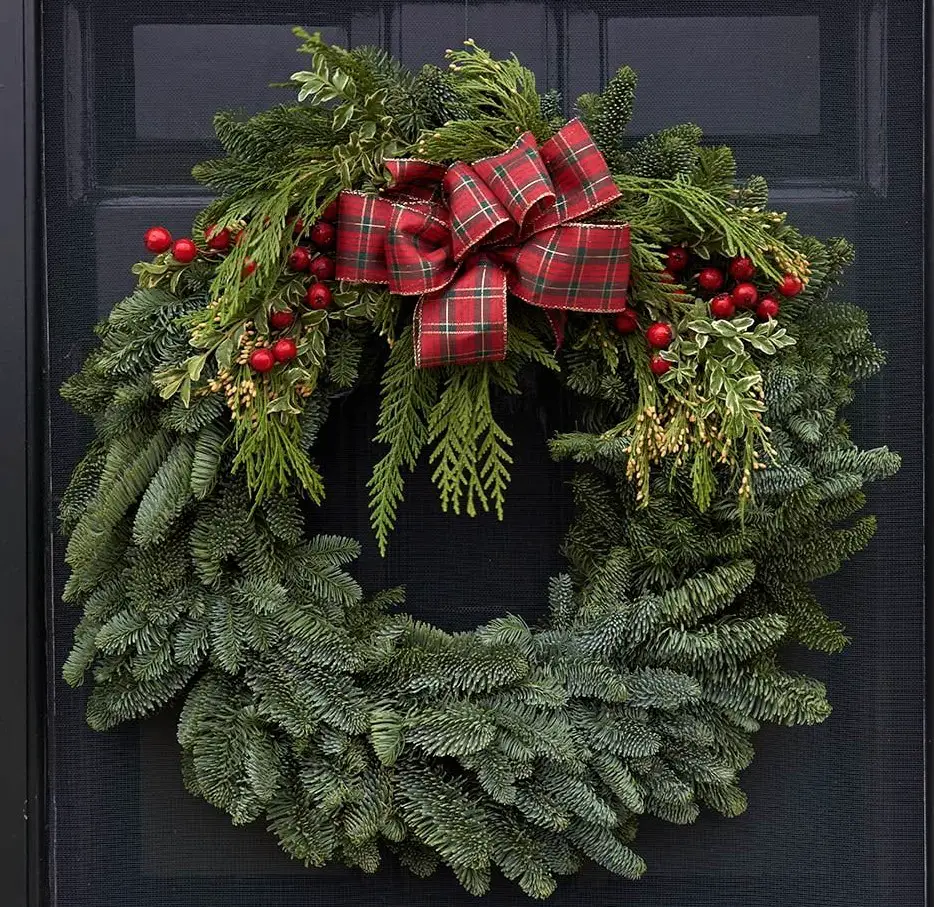 5. Fragrant Tartan Wreath
White Flower Farm
$79.00
This fragrant Christmas wreath is made from organically grown greens. Sprigs of Western Red Cedar, Incense Cedar, and variegated Oregonia join a ring of fragrant Noble Fir. The finishing touch is bunches of bright red faux berries and a jaunty tartan bow. Learn more.
6. Eucalyptus & Magnolia Wreath
White Flower Farm
$79.00
Steep your fall holiday traditions in the deep, rich aromas of two varieties of Eucalyptus embellished with tawny Magnolia leaves. This stylish wreath is crafted from sustainably harvested greens from the Pacific Northwest. Learn more.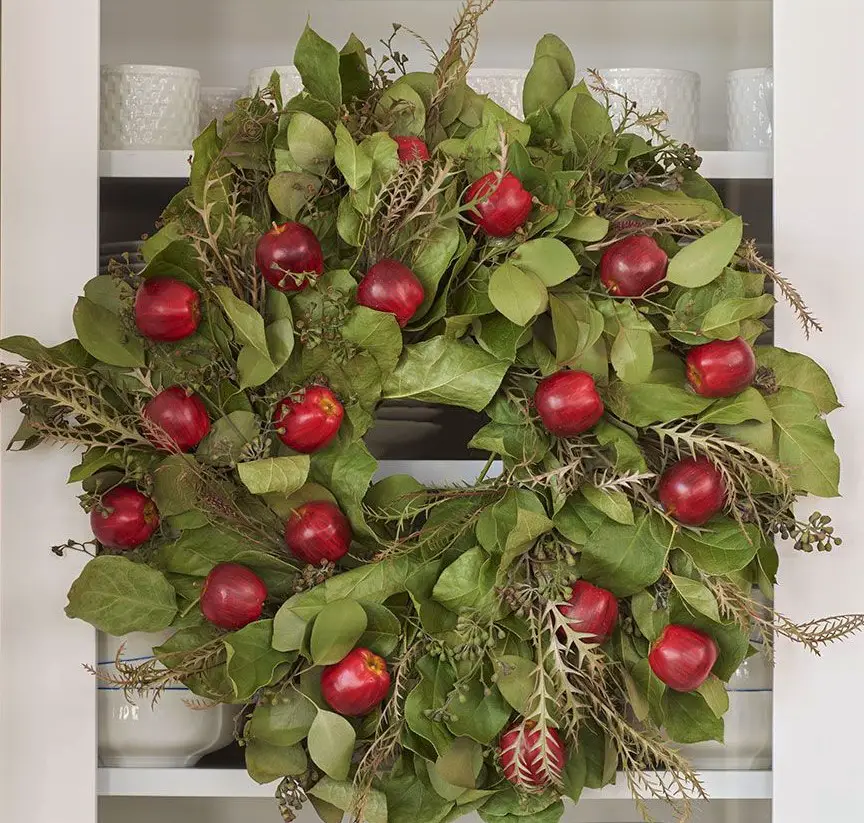 7. Red Delicious Harvest Wreath
White Flower Farm
$79.00
Bright red shiny faux apples festoon this harvest-themed wreath, adding bright pops of seasonal color to lush layers of green salal leaves. The seeded Eucalyptus and serrated foliage of Grevillea add textural accents. Learn more.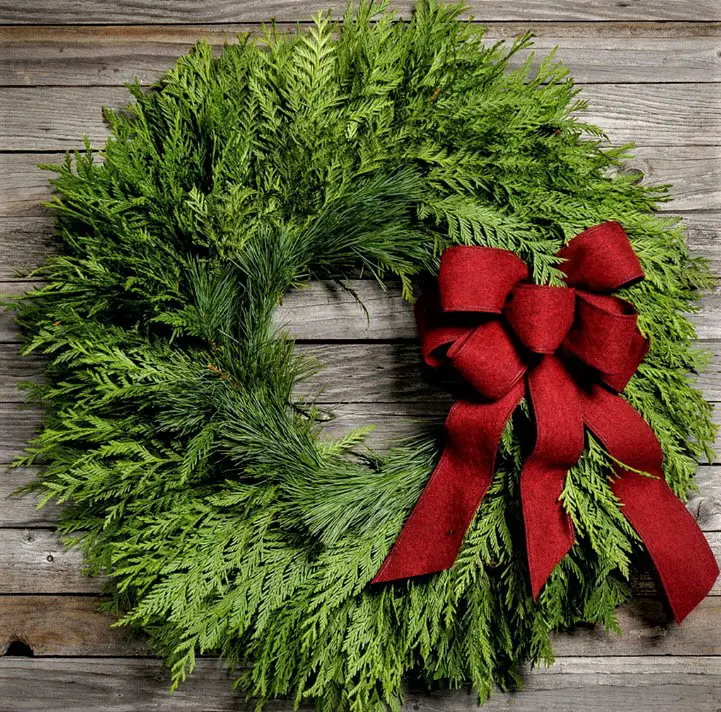 8. Three Cedars Wreath
Lynch Creek Farm
$44.95
This Christmas wreath is made fresh daily with cedar picked from the foothills of the Olympic Mountains in Washington state. It's made of Western Red, Incense, and Port Orford cedars and finished with tightly woven white pine. Learn more.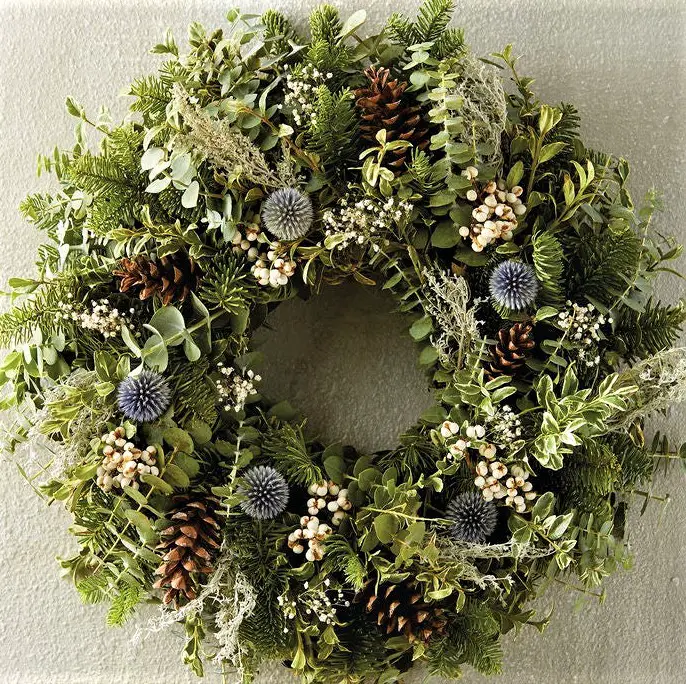 9. Winter Wreath
Harry and David
$89.99
This beautiful holiday wreath is expertly handcrafted at the family-owned Creekside Farms in California. The fragrant eucalyptus and fir base is accented with natural elements–artemisia, tallow berries, pinecones, and thistle.  Learn more.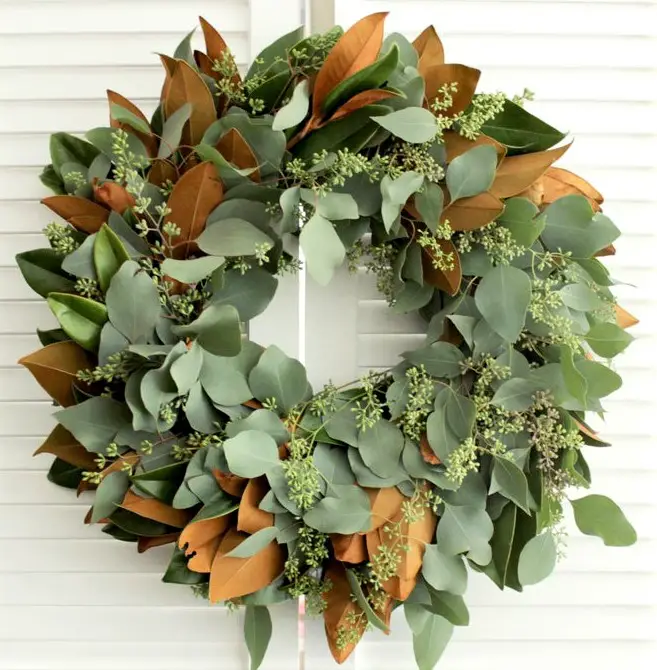 10. Fresh Handmade Magnolia + Seeded Eucalyptus Wreath
Etsy
$56.99
This fresh magnolia and seeded eucalyptus wreath makes a stunning decoration for your front door or a thoughtful party gift. All magnolia and eucalyptus are local to the foothills of Northern California and freshly picked to order. Learn more.
11. Flocked Pinecone & Berry Wreath
Pier 1
$55.99
For the free spirit, this mixed berry Christmas wreath includes large pinecones, mixed types of tree needles, and red berries all on a natural twig base, with snow covered branches. Learn more.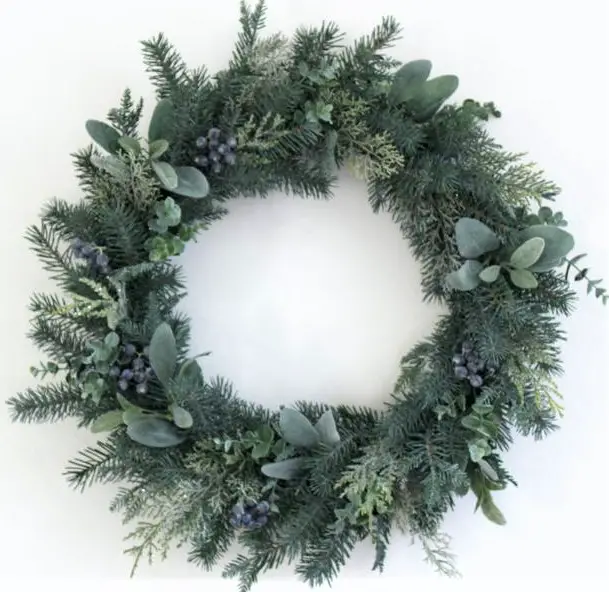 12. Blueberry Willow
Etsy
$118.00
A beautiful gray-green winter wreath full of realistic foliage and accented with frosted blueberries and a touch of sparkled cedar. Crafted from premium, high quality faux florals. Learn more.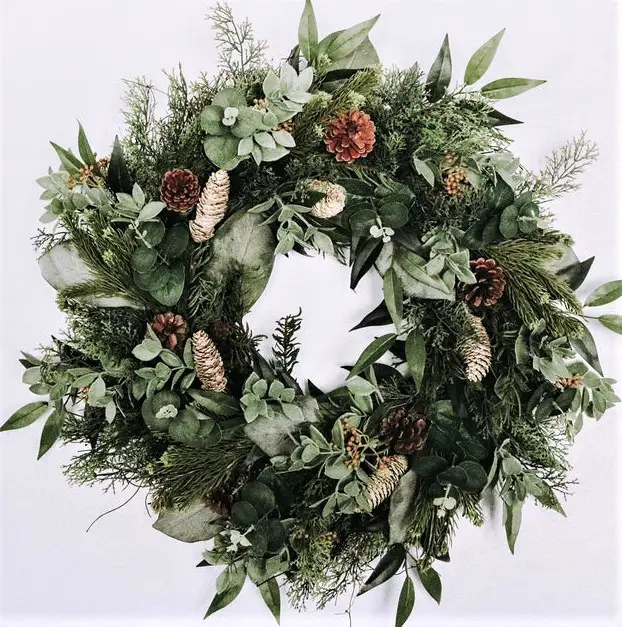 13. Eucalyptus Pinecone Wreath
Etsy
$160.00
A realistic faux cedar, eucalyptus, and pinecone front door wreath, with large luscious holiday juniper greenery wreath. Learn more.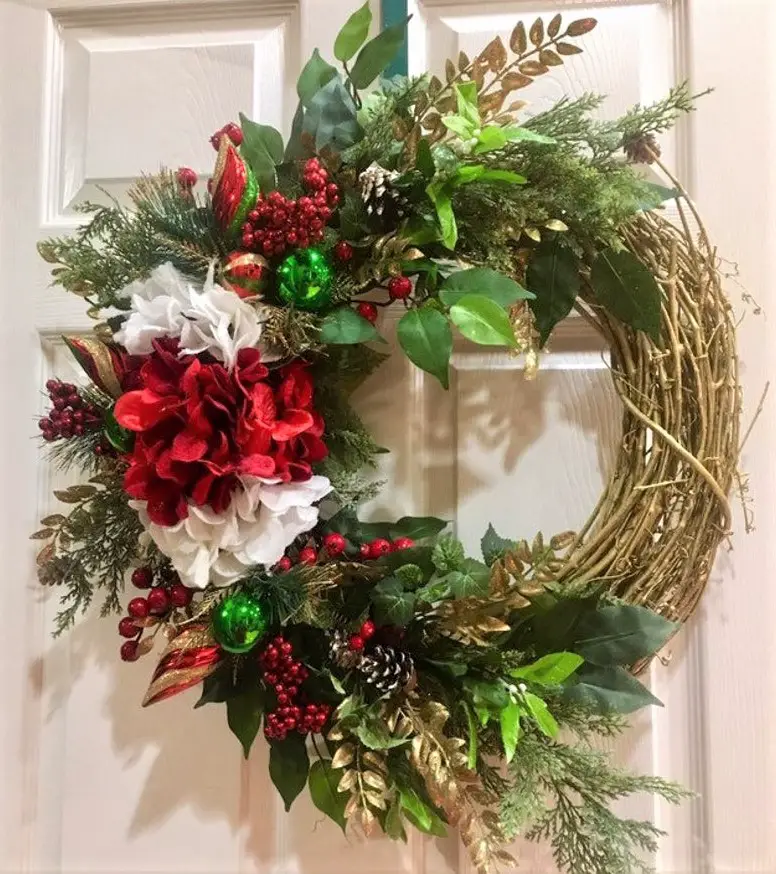 14. Hydrangea Christmas Wreath
Etsy
$170.00
This gorgeous wreath is made on a golden grapevine wreath form and decorated with artificial red and white hydrangeas, berries, Christmas picks, and Christmas greenery. Learn more.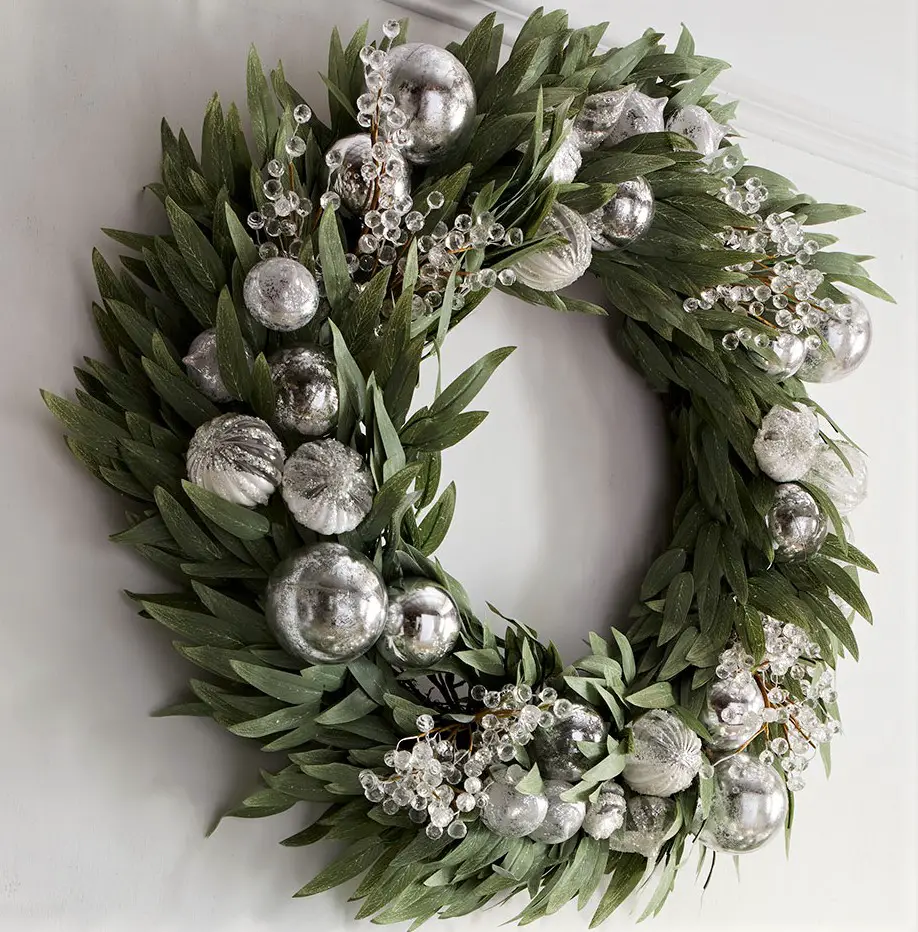 15. Crystal Wreath
Nieman Marcus
$275.00
This sparkling Neiman Marcus wreath is embellished with ornaments and crystals. Learn more.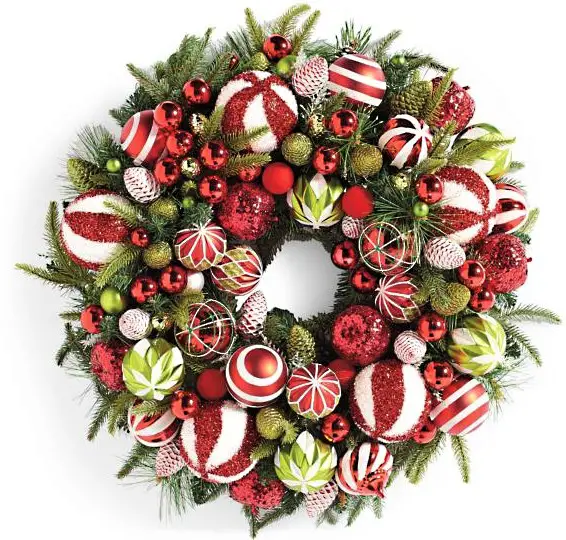 16. Deck the Halls Wreath
Grandinroad
$229.00
This colorful Christmas wreath is fun and festive, and overflowing with a generous abundance of bright, glitter-sprinkled shatterproof ornaments. Also in the mix are rich life-like greenery, red berries, and fanciful pinecones. Learn more.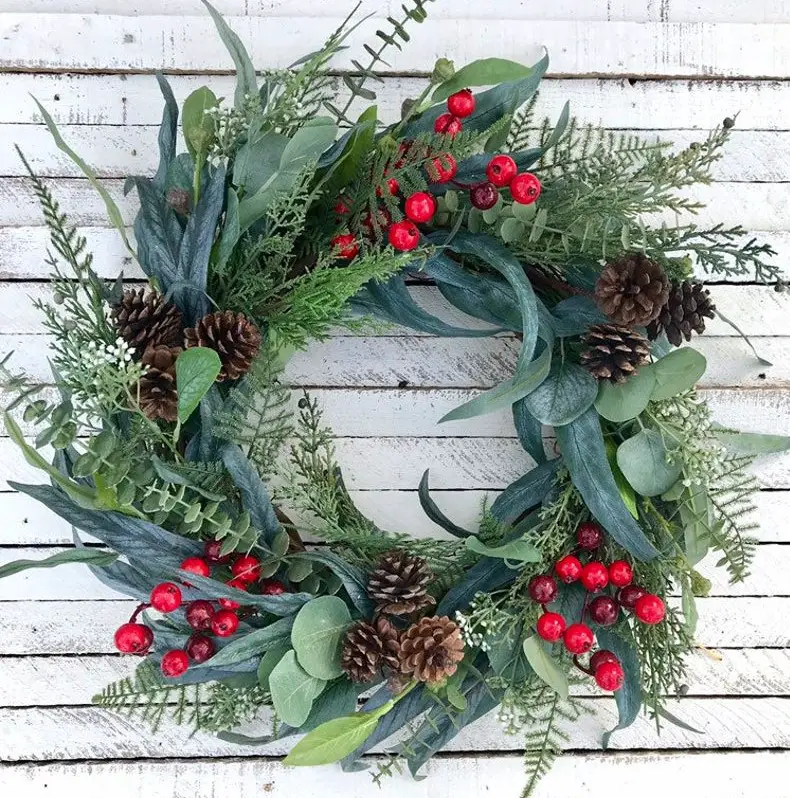 17. Eucalyptus Christmas Wreath with Red Berries
Etsy
$99.99+
This mixed eucalyptus and evergreen Christmas wreath with pinecones and red berries is the perfect decoration for your front door this holiday season. Learn more.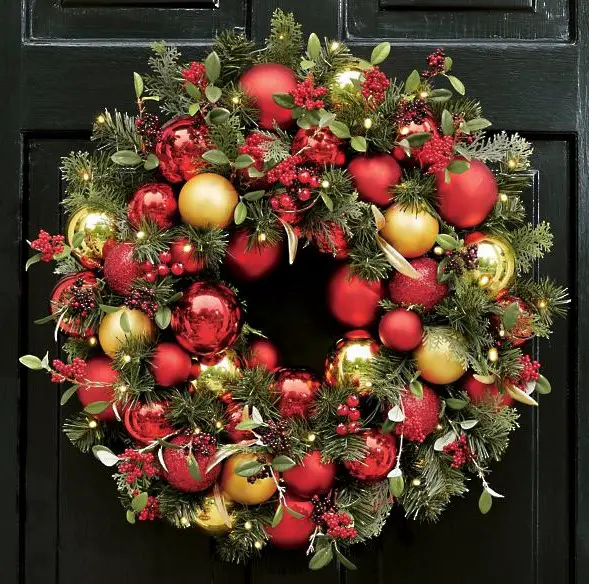 18. Holiday Tradition Cordless Wreath
Grandinroad
$179.00
This wreath is a virtual sleigh full of shiny and matte red and gold ornaments and is sure to keep spirits bright. Learn more.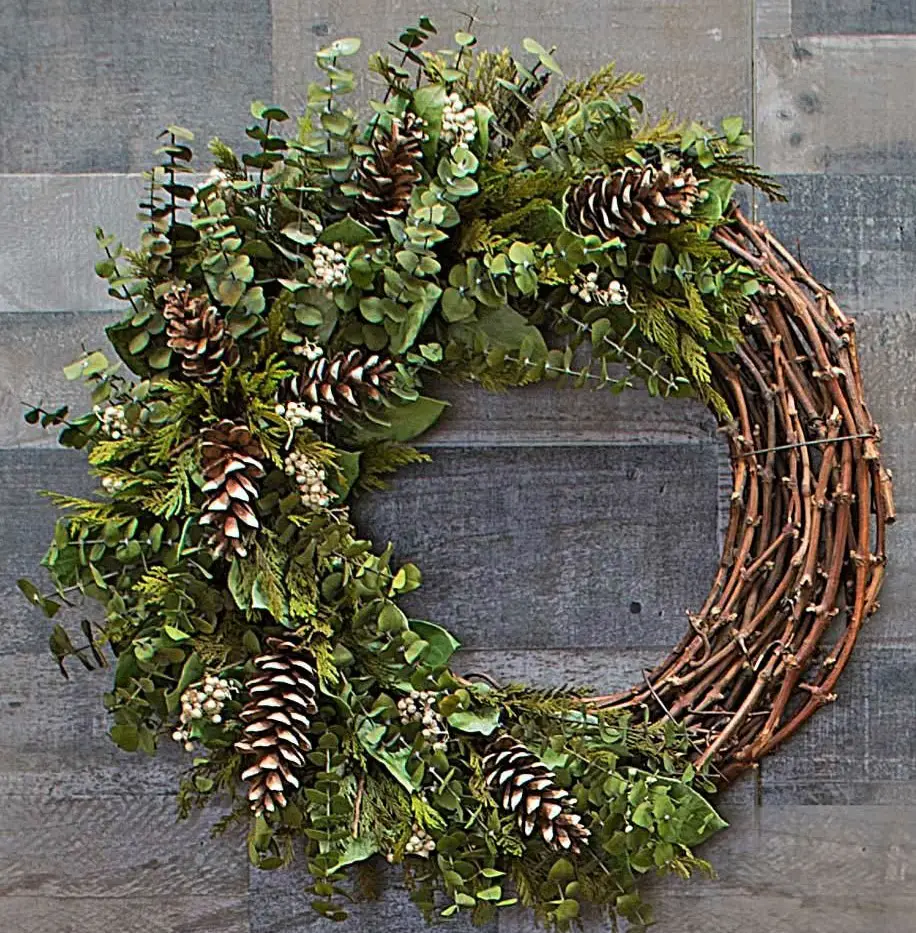 19. Hope Ranch Holiday Wreath
White Flower Farm
$89.00
Sprigs of preserved eucalyptus, clusters of white pepperberries, and classic pinecones come together amid the greenery of cedar and salal to create this lavish holiday wreath, arranged on a natural grapevine base that adds textural contrast and rusticity to complete the look. Learn more.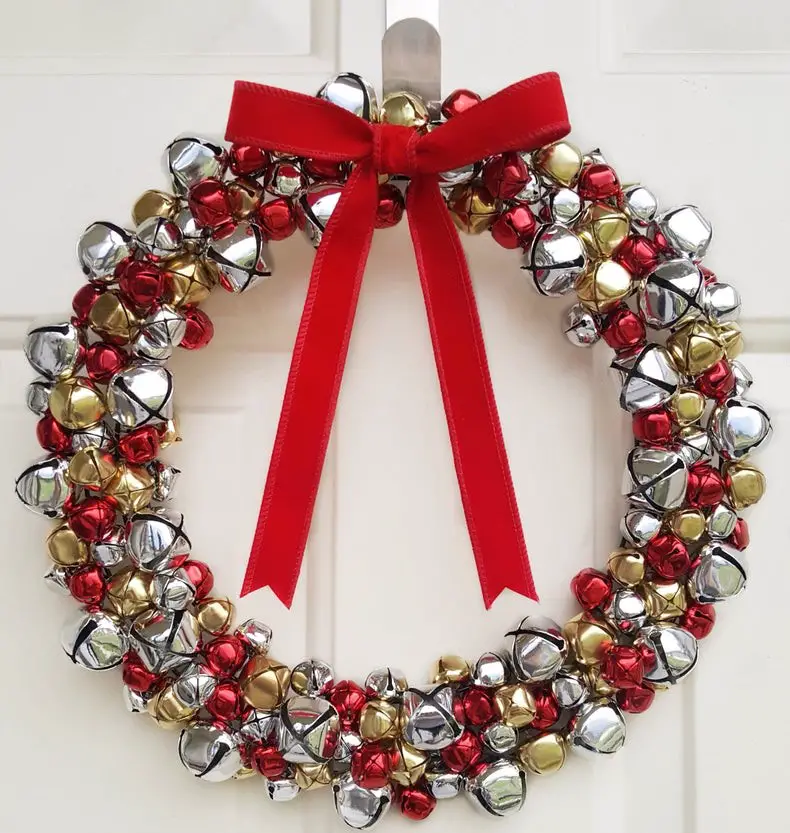 20. Jingle Bell Wreath
Etsy
$64.00
You'll be tempted to ring these bells every time you open your door. The modern take on the Christmas wreath features real jingle bells in red, gold, and silver as well as a velvet red ribbon bow. Each bell is hand-tied onto a wire base. Learn more.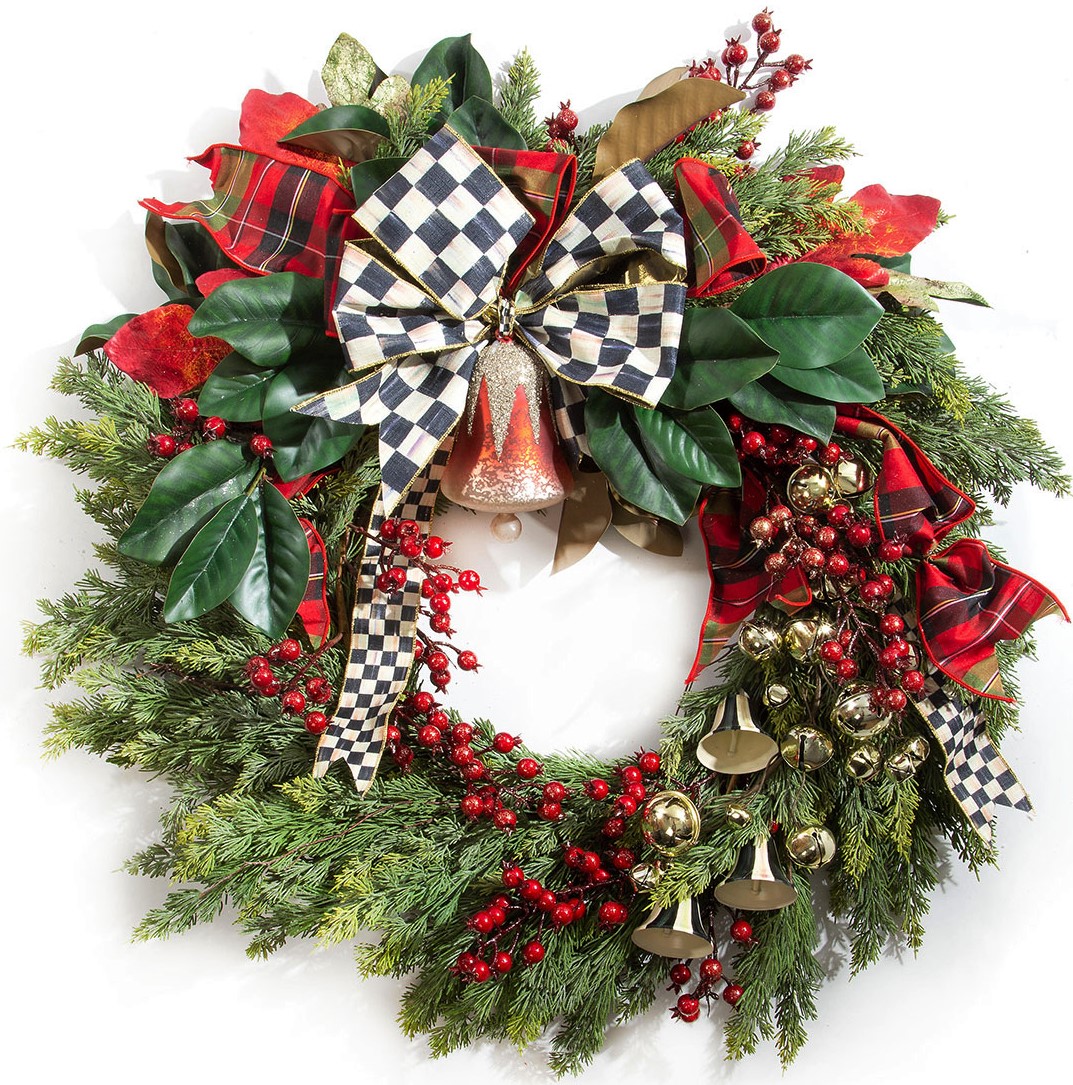 21. MacKenzie-Childs Deck the Halls Wreath
Nieman Marcus
$495.00
If you're looking for something a little quirky, this artful MacKenzie-Childs wreath is just the ticket. It's decorated with glass bells, signature checked fabric, metal bells, faux berries, and ribbon. Learn more.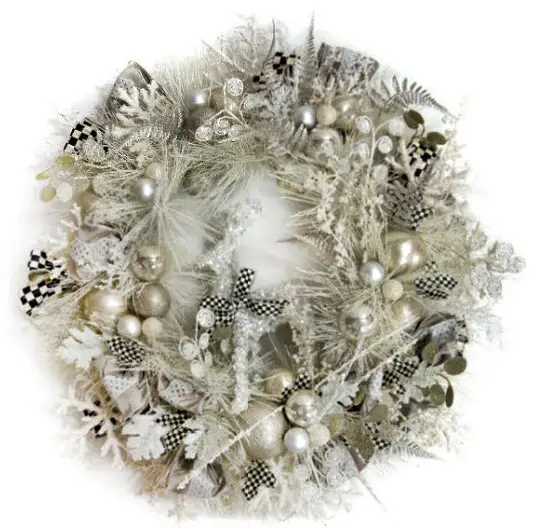 22. MacKenzie-Childs Snowfall Wreath
Nieman Marcus
$495.00
If you're dreaming of a white Christmas, this wreath will keep the dream alive. White on white on white tonal wreath decorated with ornaments of assorted hues and sizes, a plastic-crystal reindeer, and MacKenzie-Childs signature fabric and ribbon. Learn more.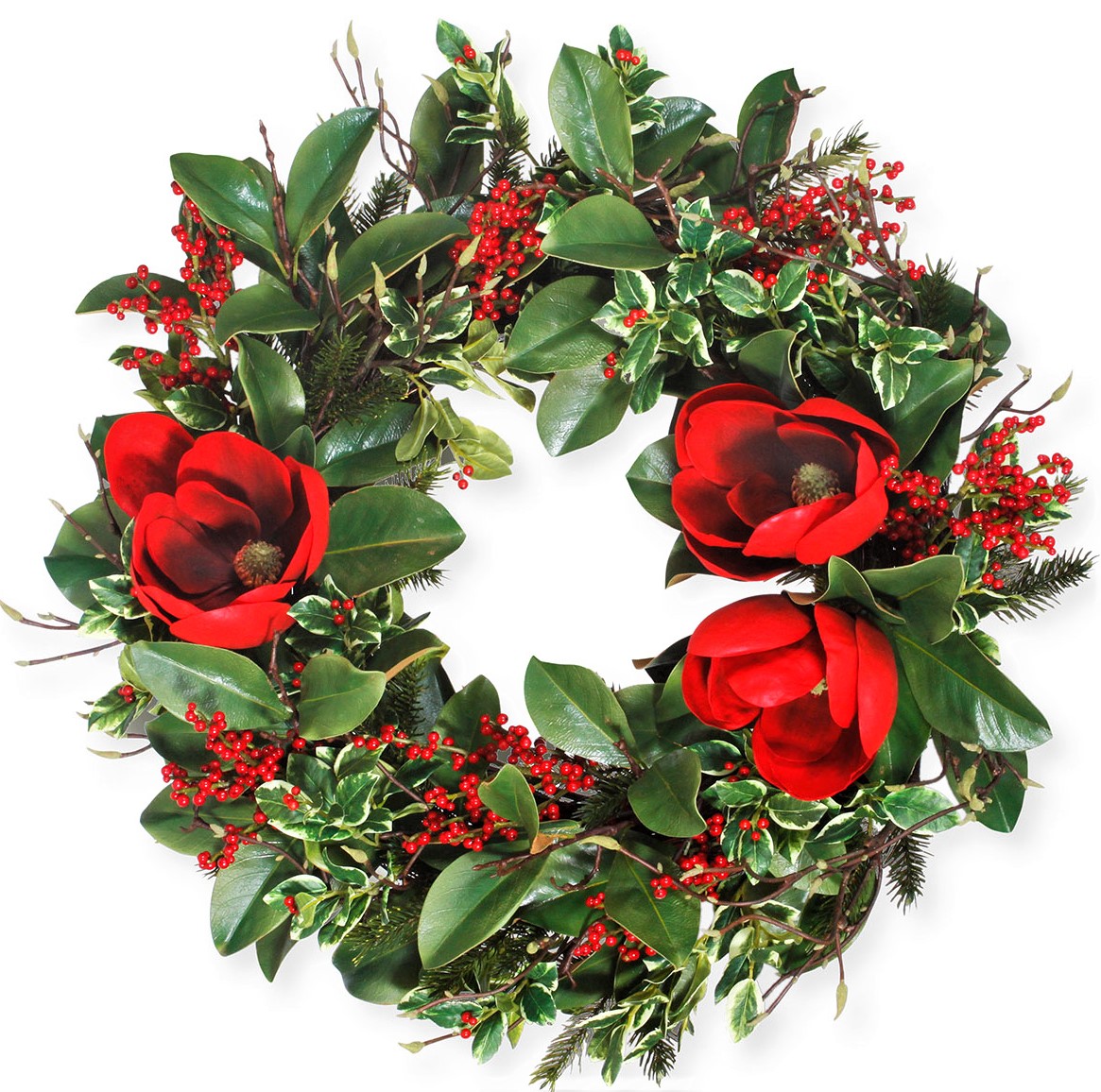 23. Jim Marvin Grandiflora Magnolia Wreath
Nieman Marcus
$425.00
This wreath practically jumps for joy. Realistic, hand-assembled assorted faux greens and bright red berries and magnolias. Learn more.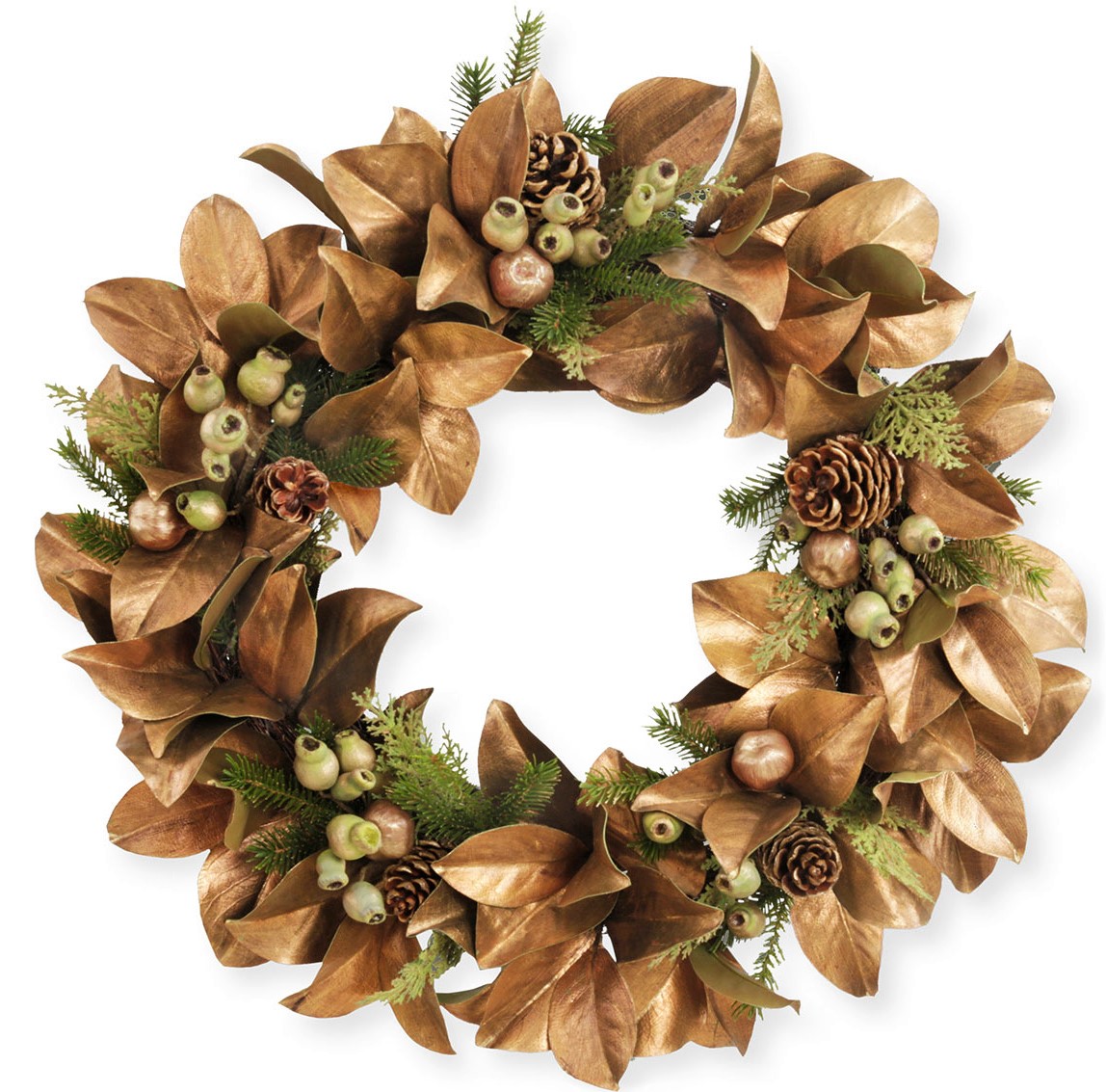 24. Jim Marvin Magnolia Leaf Wreath
Nieman Marcus
$350.00
Simply gorgeous. This wreath incorporates high-quality, realistic gilded magnolia leaves studded with pinecones, nuts, and greens. Hand assembled. High quality material and craftsmanship. Learn more.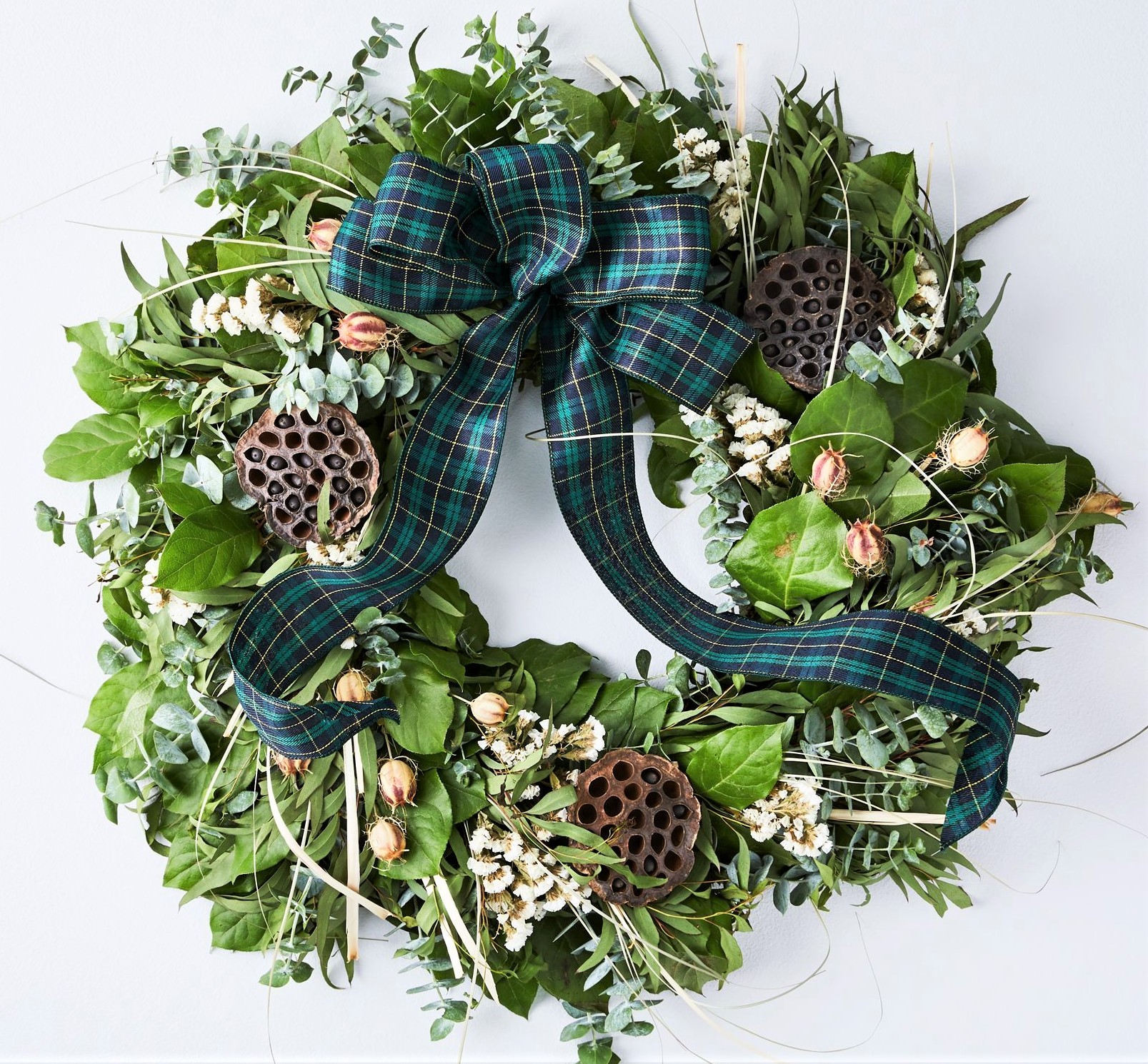 25. Fragrant Pod Wreath, 20" and 26"
Food 52
$68.00–$136.00
Three kinds of eucalyptus and salal leaves make up the base of this Fragrant Pod Wreath, setting a lush stage for olive-colored bear grass, nigella flowers, and hefty lotus pods, topped with a festive tartan ribbon.  Learn more
* * *
You might also like
Go to the BLUE HARE home page for more articles for fabulous women