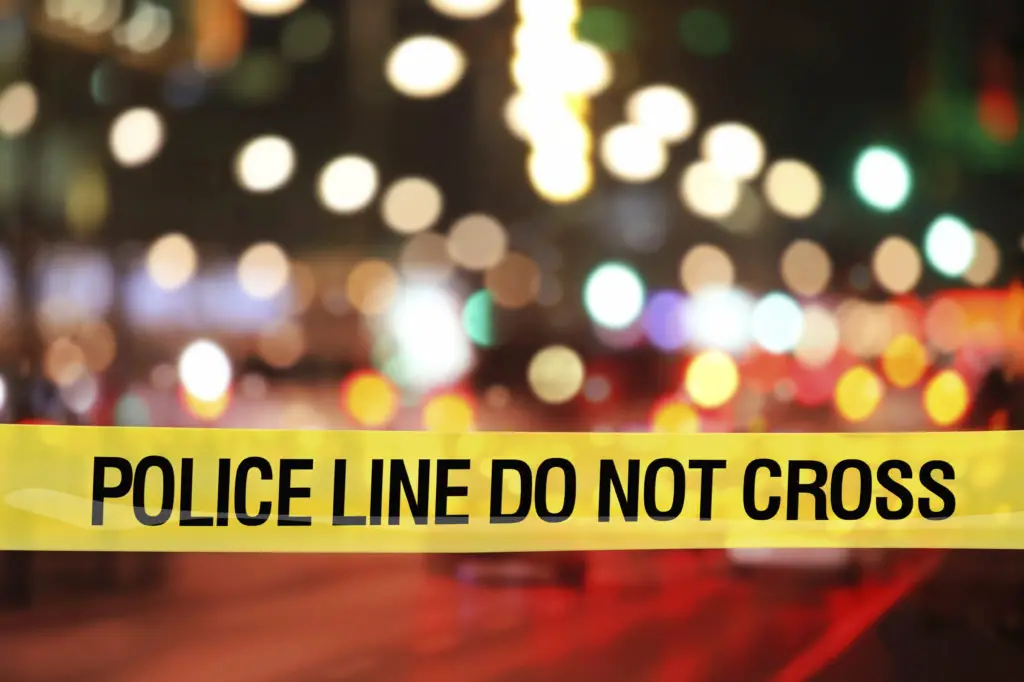 Ever feel like murdering someone during the holiday season? Be honest. How about that person who nabbed 'your' parking space when you'd been circling the lot for ages? Or that chatty someone ahead in line who is going on and on with the cashier and you're in a hurry? Or perhaps that careless guest who breaks your $$$ wine glass? Yes, while we may plaster on a smile and wish everyone good cheer, there are times when all we want is…murrrrrder.
Yoga can help, ommmm. But who has time to be centered during the holidays? Instead, put down that knife and crack open any one of these Christmas mysteries and start reading.   Agatha Christie, Dashiell Hammett, Georges Simenon, and many other masters of mystery found that crime visits even during the season of goodwill towards men. We're sure you'll find one or more books to capture your imagination and transport you away—to England, Paris, Venice, Scotland, and other corners of the underworld.  Read full-length novels or select an anthology of short stories. Sometimes there's nothing like a good murder to calm the soul.
The Nine Tailors is Dorothy L. Sayers's finest mystery, featuring British gentleman detective Lord Peter Whimsey, and is a true classic.  The ancient country church bell tolls out nine times to announce the death of an unknown man and call the famous Lord Peter Whimsey to investigate.
This is a tale of suspense, character, and mood by an author considered to be a great master of the mystery novel. It is truly one of the best-researched mystery novels of all time. Dorothy Sayers was, among other things, a classical scholar as well as one of the first women to be awarded a degree by Oxford University.   On Amazon.com.
At the pub, The Man with a Load of Mischief, a dead body is stuck in a keg of beer. At another watering hole, the Jack and Hammer, a body is stuck on the beam holding the pub's sign. Two pubs. Two murders. One Scotland Yard inspector called in to help. Detective Chief Inspector Richard Jury arrives in Long Piddleton and finds everyone in the quaint village looking outside of town for the killer. Except for one–Melrose Plant. A keen observer of human nature, he points Jury in the right direction: into the darkest parts of his neighbors' hearts.  From Goodreads.com: "You know you are in the hands of a master when a mystery is simultaneously complex, lyrically-written, character-rich…and hilarious."  On Amazon.com.
It's Christmas in Scotland, 1933, and Lady Georgiana Rannoch cannot wait to celebrate the New Year—until a Christmas killer strikes again. It had seemed like a Christmas miracle when she managed to land a position as hostess to a posh holiday party in the tiny village of Tiddleton. But soon after she arrives, events start to take a deadly turn when a neighborhood nuisance falls out of a tree.  On day two, another 'accident' results in death—and there's yet another on day three, making her wonder if there's something wicked happening in this winter wonderland…  So begins the sixth mystery in the New York Times bestselling Royal Spyness series.
"Brilliant…This is so much more than a murder mystery. It's part love story, part social commentary, part fun and part downright terrifying. And completely riveting."—#1 New York Times bestselling author Louise Penny.  On Amazon.com
________________________________________________________
________________________________________________________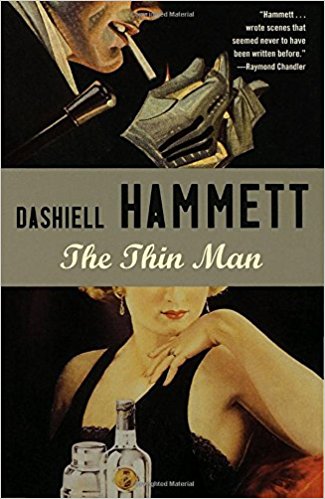 Nick and Nora Charles are a wealthy, glamorous couple who solve homicides in between wisecracks and martinis. The Thin Man is a murder mystery that doubles as a sophisticated comedy of manners. The story takes place in New York City in 1932, during the last days of Prohibition.  Nick and Nora, and their Schnauzer, Asta, are lounging in their suite for the Christmas holiday when wealthy Clyde Wynant vanishes and his girlfriend turns up dead. Nick investigates, his wife gets involved, crime and comedy ensue.  This was Dashiell Hammett's fifth and final novel. The book, a classic, was made into a popular film starring William Powell and Myrna Loy.
From The Caffeinated Symposium:  "A thick web of lies and deceit. Bullet-riddled corpses. Mobsters knocking on one's door, packing heat. Police suspicion. A fortune in cash and bonds. Dope fiends and morphine addiction. Hysterical women and cunning femme-fatales." On Amazon.com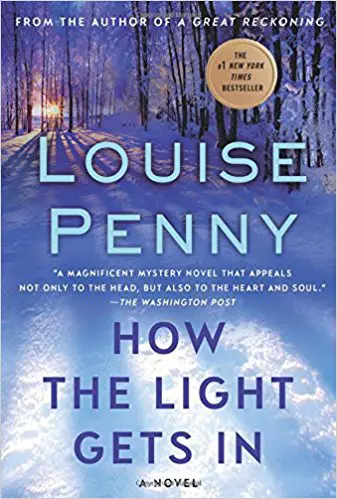 "There is a crack in everything. That's how the light gets in." ―Leonard Cohen
Christmas will soon be here. In Québec it's a time of glittering snow, glistening lights, and getting together with friends. But shadows are falling on the usually festive season for Chief Inspector Armand Gamache. Most of his best agents have left the Homicide Department, his old friend and lieutenant Jean-Guy Beauvoir hasn't spoken to him in months, and hostile forces are lining up against him. When Gamache receives a message from Myrna Landers that a longtime friend has failed to arrive for Christmas in the village of Three Pines, he welcomes the chance to get away from the city. Mystified by Myrna's reluctance to reveal her friend's name, Gamache soon discovers the missing woman was once one of the most famous people not just in North America, but in the world…
The #1 New York Times Bestseller; one of Publishers Weekly's Best Mystery/Thriller Books of 2013; one of The Washington Post's Top 10 Books of the Year; an NPR Best Book of 2013.  On Amazon.com
G.K. Chesterton's beloved character Father Brown encounters his nemesis, the thief Flambeau, in this short novel that takes place in an English manor home on Boxing Day. At the heart of the story is a set of diamonds, called The Flying Stars, which go missing. As in other stories in which he is featured, Father Brown uses his insight into human nature, both good and bad, to solve the crime.  It can be read for free online here.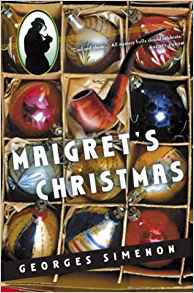 With more than 500 novels and numerous short stories, Georges Simenon is recognized as one of the most captivating European authors of the 20th Century. He is best known for his fictional detective series featuring Commissaire Jules Maigret of the of the Direction Régionale de Police Judiciaire de Paris.  In "Maigret's Christmas," Inspector Maigret is called away from his morning croissant to solve some very unusual mysteries.
From Goodreads.com: "Many of these stories feature observant and resourceful children, frightened yet resolute, who bring out a paternal streak in the childless Maigret. The rapport between the inspector and these youthful heroes imparts a delightful freshness to this holiday collection–a cornucopia for fans of Maigret and mysteries."
To buy: The book is out of print in the United States but is available through third parties on Amazon.com.  UPDATE: "A Maigret Christmas," which includes three of Simenon's Christmas tales, was published in November in the U.K.  It is available at bookdepository.com, with free shipping worldwide.
It's Christmas Eve and the victim—a mean old man—has gathered his family for the first time in years to discuss changing his will. The reunion is shattered by a wailing scream. Upstairs, the tyrannical Simeon Lee is found dead in a pool of blood, his throat slashed. When Hercule Poirot offers to help, he finds an atmosphere not of mourning but of mutual suspicion. It seems everyone had a reason to want the old man dead.  Hercule Poirot's Christmas is a detective novel written in 1938 by "Queen of Crime," Agatha Christie.
"How dreadful that the holidays should begin with a wailing scream and a deathly gurgle! Never has Poirot's mighty brain functioned more brilliantly than in 'Hercule Poirot's Christmas.'"–The New York Times.  On Amazon.com
Being a twice-divorced, happily independent loner has worked like a charm for P.I. Kinsey Millhone―until holiday weekends like this one roll around. What she needs is a little diversion to ward off the blues. She gets her much-needed distraction with a case that places her career on the line. And if that isn't enough to keep her busy, her ex-husband, who walked out on her eight years ago, pops back on the radar…
"Lord, how I like this Kinsey Millhone…The best detective fiction I have read in years." ―The New York Times Book Review.  On Amazon.com
_______________________________________________________
_______________________________________________________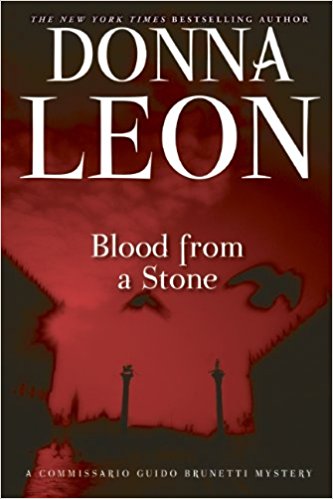 On a cold night in Venice, days before Christmas, a street vendor is killed in Campo San Stefano. Commissario Brunetti wonders why anyone would kill an illegal immigrant. Once he starts to investigate this unfamiliar Venetian underworld, he discovers that important issues are at stake within this secretive society.
"The evocative Venetian setting and the warmth and humanity of the Brunetti family add considerable pleasure to this nuanced, intelligent mystery; another winner from Venice-based Leon. Highly recommended" –Library Journal. Buy now on Amazon.com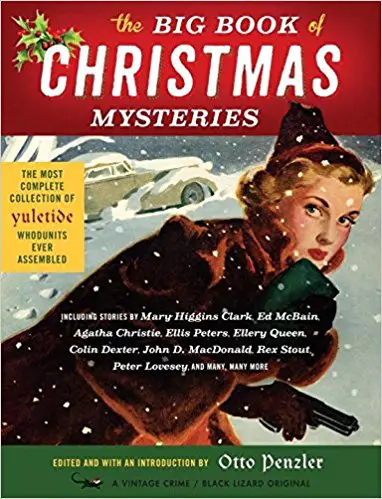 Edgar Award-winning editor Otto Penzler collects 60 of his favorite holiday crime stories–many of which are difficult or nearly impossible to find anywhere else. From classic Victorian tales by Arthur Conan Doyle, Robert Louis Stevenson, and Thomas Hardy, to contemporary stories by Sara Paretsky and Ed McBain, this collection touches on all aspects of the holiday season, and all types of mysteries. They are suspenseful, funny, frightening, and poignant.
"A future classic. . . . Penzler, the prime minister of crime fiction, delivers the goods once again with . . . a collection of holiday whodunits that'll have you eyeing the department-store Santa with suspicion."—Book Page.  On Amazon.com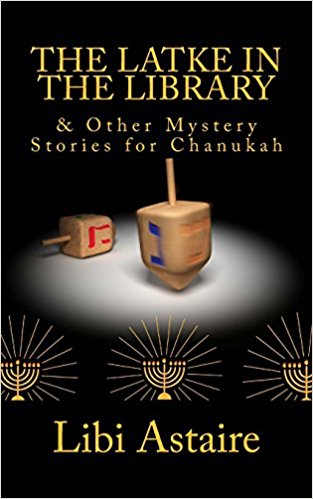 Oy vey! When elderly mystery writer Agatha Krinsky falls for the fifth time, her nephew Sheldon insists she move into an assisted living facility. True to form, on her first day in her new home Agatha discovers a body in the library. But the staff won't take her seriously, and even her elderly luncheon companions — Herschel Perlow, Miss Eppel, and Ronny and Rubles Bernfeld — are more interested in talking about bodies they encountered in their earlier careers than helping Agatha solve her mystery.
Included in this humorous Chanukah-themed homage to Dame Agatha Christie are these four short mystery stories: The Latke in the Library, Evil Under the Wick, And Then There Were Gornisht, and The Olive Cracked.
From Goodreads: "In this gentle parody of Agatha Christie's short story collections, Libi Astaire has lovingly trotted out caricatures of the Dame of Mystery's most famous detective characters, together for the first time in a posh assisted living facility. There, at the luncheon table, they embark on a reminiscent journey through murders past which took place during Chanukah…"  On Amazon.com
 *  *  *
As an affiliate of Amazon and other retailers, Blue Hare makes a small commission on qualifying purchases made through the links on this page. 
Read more on BLUE HARE: Home