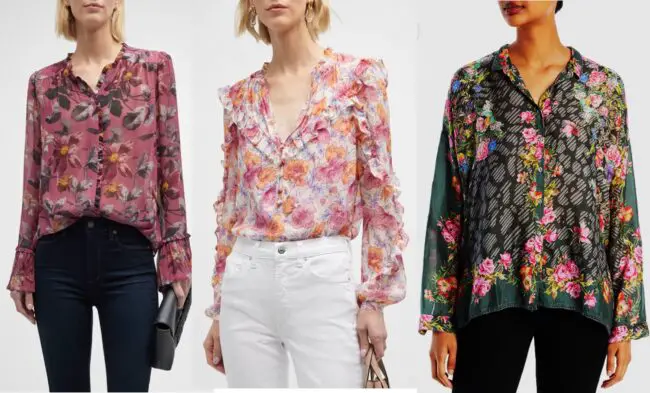 The buds had barely formed on trees when we were overcome with a desire to be enrobed in flowers. But instead of dresses, we're opting for floral tops this year. We like the flexibility a statement top gives the 60+ woman. In the form of blouses, casual tops, and tunics, floral tops can be dressed up or down–worn with a suit, with dressy pants for a night out, or with jeans for casual activities. Fortunately, there is a wide selection in stores and online this spring.
Soft and elegant blouses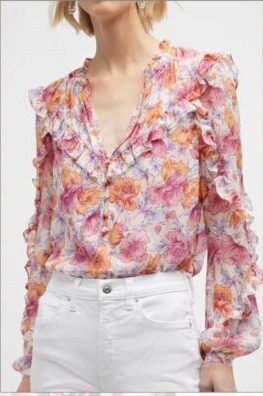 For when you really need a touch of spring.  Veronica Beard Abra Floral Ruffle Blouse, Neiman Marcus, $428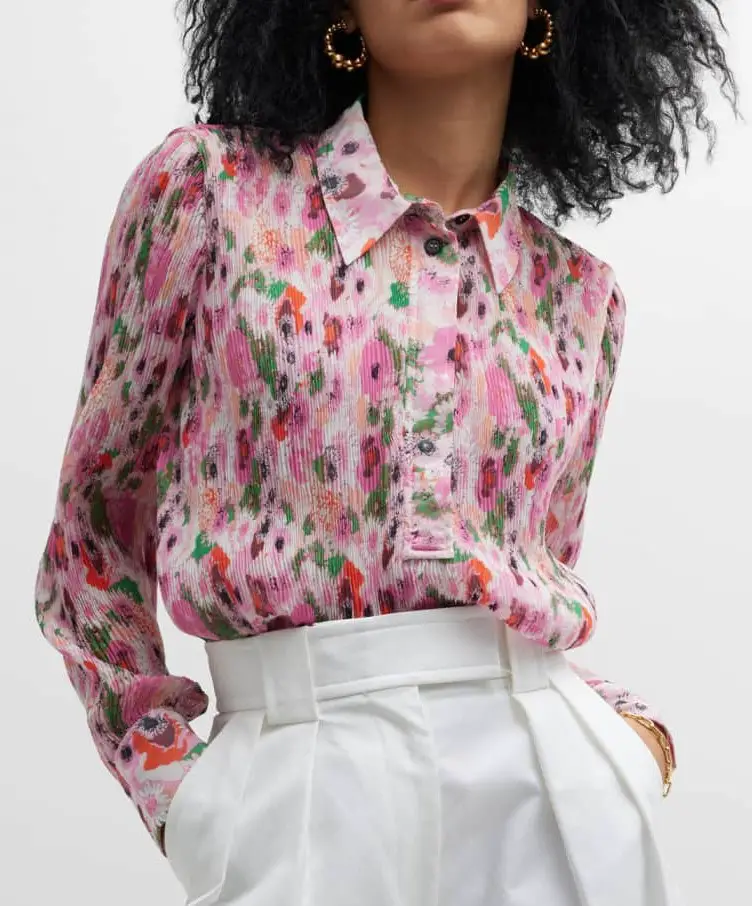 This soft watercolor print is asking to peek out from under white jacket.   Ganni floral pleated half-button blouse in Sugar Plum, Neiman Marcus, $191.25 (sale price; reg $255)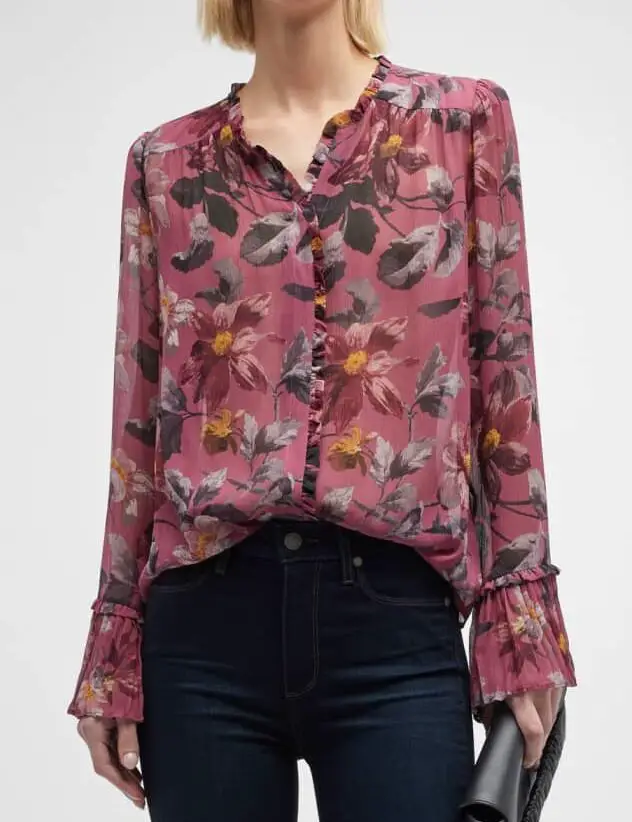 Florals on muted raspberry are ready for an evening out. The pleated cuffs take it to a new level. PAIGE Palma Floral V-Neck Blouse, Neiman Marcus, $299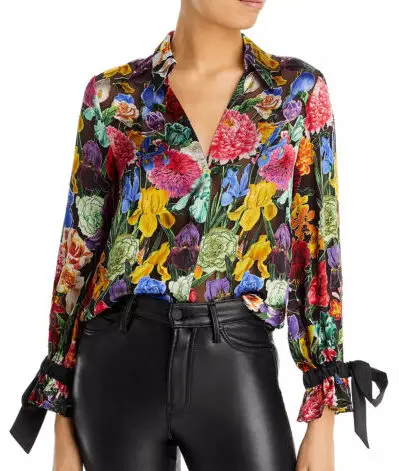 This romantic blouse takes on an edgy look when paired with black leather. Ribbons on the sleeves are genius. Alice + Olivia "Randa" blouse in a bold, artful Botanical Garden print. Bergdorf Goodman, $395. May be available at other retailers.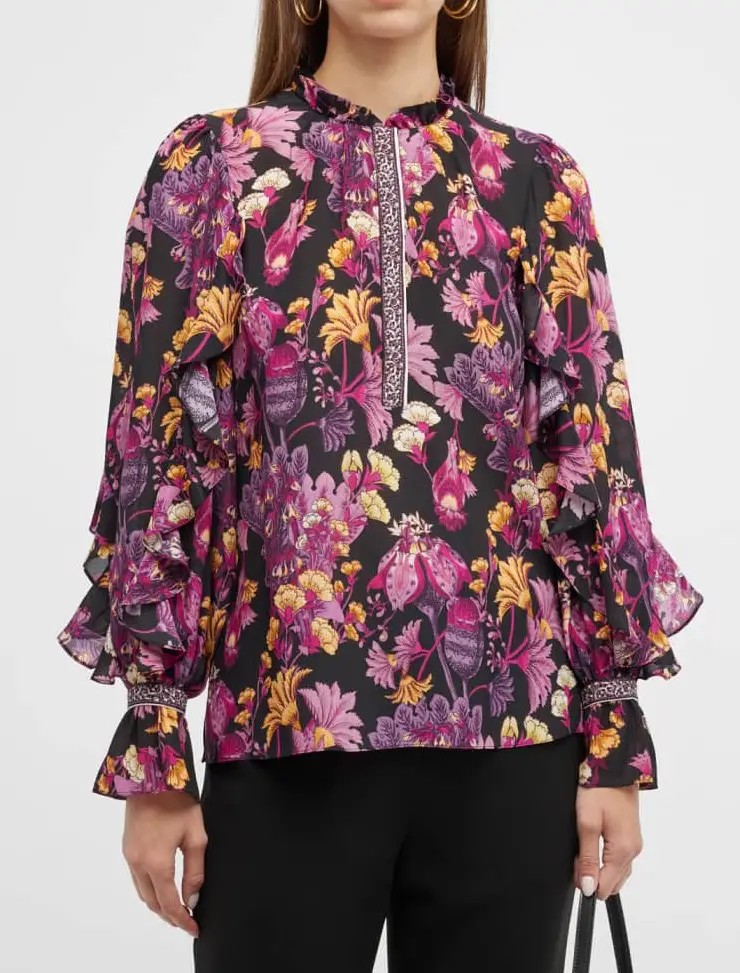 Bring these sleeves to a party or girls night out.  Kobi Halperin Arden floral print, ruffle-trim blouse. Neiman Marcus, $192 (sale price; reg $458)
Too pretty for words. Make a statement by wearing it with black jeans.  Alice and Olivia Ilan floral check print blouse. Bloomingdales, $395.00
Cool and casual tops
We like the juxtaposition of delicate florals and utility pants.  PAIGE Nadja floral ruffle blouse in Mint Multi. Neiman Marcus, $194.25 (sale price; reg $259)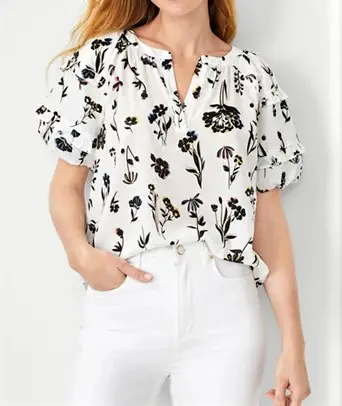 Florals take a crisp turn here with a black and white print. Wear with white jeans or black pencil skirt and a red bag.  Ann Taylor floral split neck ruffle sleeve top in winter white. Ann Taylor, $69.50 (sale price; reg $79.50)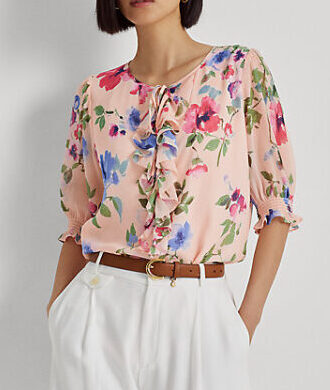 A cool top for a warm spring day. Pair it with slouchy trousers. Lauren Ralph Lauren floral elbow sleeve ruffle top in pink multi. Bloomingdale's, $125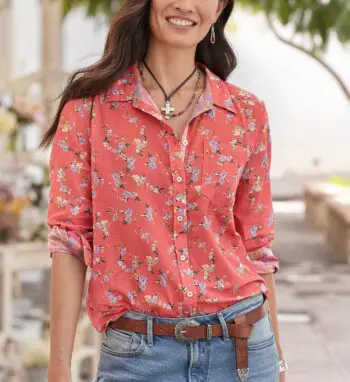 This western take on florals is a natural with your favorite jeans.  Newcastle Bloom shirt in coral floral. Sundance, $98.00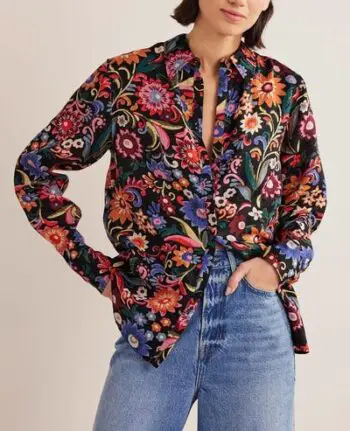 Remember Peter Max? Or Hieronymus Bosch? We imagine this is how they would design a floral shirt for this millenium. Looks great with black or well-worn blue jeans. Boden New Linen Shirt in black gardenia pop. BodenUSA, $95
Bold and beautiful prints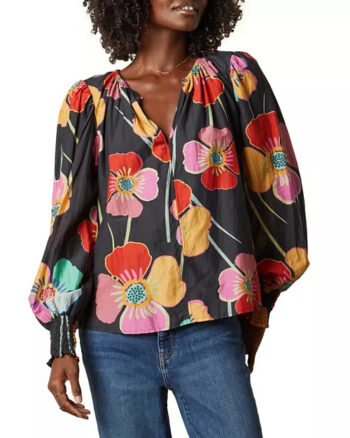 No shrinking violet here. This bold print says "I've arrived." Pants or jeans needed only in a supporting role.  Velvet by Graham & Spencer Avery Boho Top in black floral. Bloomingdale's, $198.00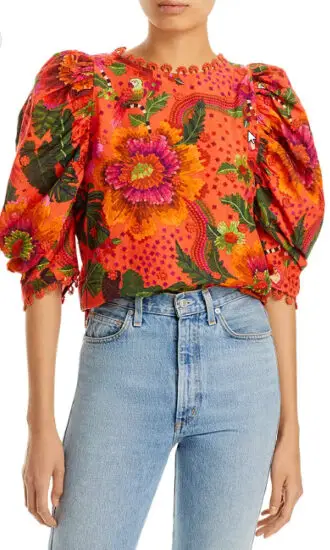 Hot tamale! A stunning interpretion of the floral top in vivid summer colors. Wear with dark jeans or straight leg pants for dramatic effect. FARM Rio, Cotton Blooming Garden Blouse. Bloomingdale's, $185.00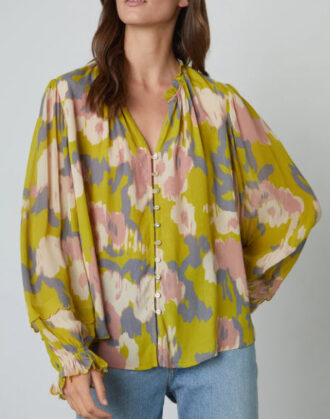 A blousey blouse in the emergent colors of spring. Medium-dye jeans or tapered pants in a blue-gray pull the look together. Velvet by Graham & Spencer, Colby Printed Button-up Top in Citron. Velbet-tees.com, $76.00 (sale price; reg $189.00)
Pull on this field of poppies with your most comfy jeans for a morning at the farmer's market.  Kobi Halperin Cassie Floral Voile Blouse in a vivid floral print. 
elizabethkenny.com, $69.00 (sale price; reg $175.00)
Tunics for leggings and skinny jeans
Evoking an Asian silkscreen, this golden top looks regal with slim white pants. Johnny Was Mara Silk Floral Print Popover Top. Bloomingdale's, $255.00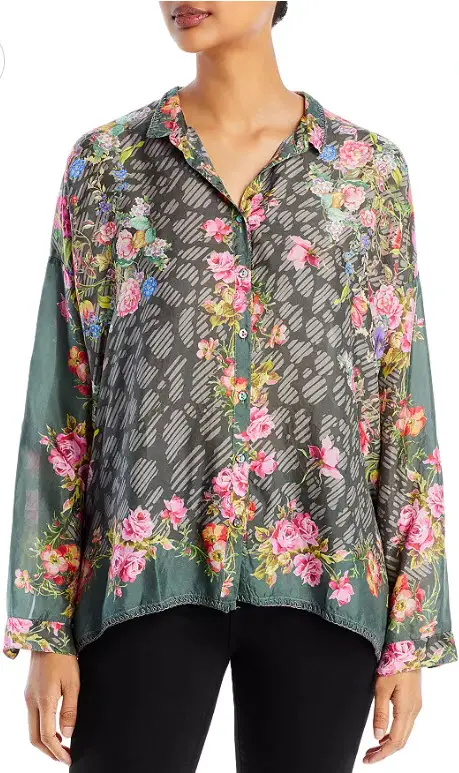 Layered images add depth to this smokey gray and pink rose top. Change the look with black jeans one day and flowing white trousers on another. Johnny Was Rosey Jordan Blouse. Bloomingdale's, $255.00
Shades of burgundy and rose populate this breezy tunic, made for walks in the garden. Op Art Organic Cotton Tunic Top in Block Floral Dulse. Seasalt Cornwall, $88.00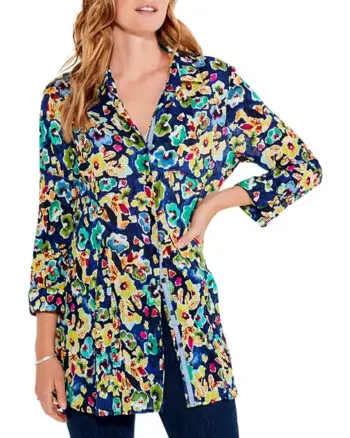 Audrey Hepburn-style cigarette pants provide a perfect balance to this lively top.  NIC+ZOE Bold Blossoms Crinkle Shirt in Blue Multi. Bloomingdale's, $96.20 (sale price; reg $148.00)
*     *     *
As an affiliate of various retailers, Blue Hare makes a commission on qualifying purchases made through the links on this page. 
 *     *     *
You may also like
Go to the Blue Hare home page for more articles for fabulous women