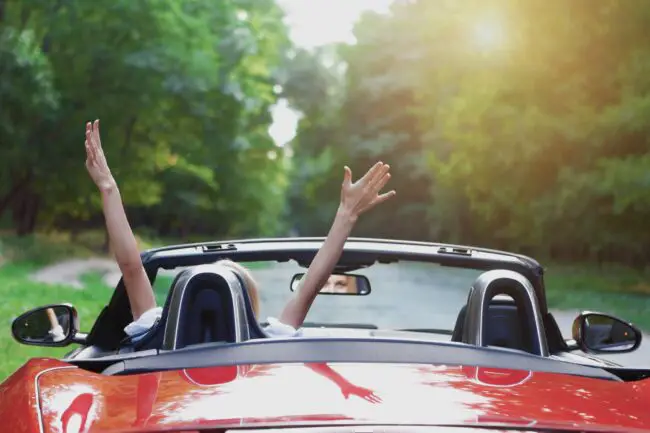 If you are a true New Yorker, there is nowhere else on earth like New York City.  But that doesn't mean that you don't enjoy the occasional escape, particularly when the cooler weather makes you crave open spaces and fresh air.  When summer crowds die down and before autumn leaves drop, early fall is the perfect time for women our age to get away from the bustling metropolis and enjoy the country and seaside.
Getaways that are just a car ride away
We have long weekends in mind. Or a midweek getaway. The six destinations were chosen because of the variety of experiences they offer, from invigorating outdoor activities to cultural exploration and relaxation. Choose one or plan a series of trips around the greater New York metropolitan area.
Greenport and the North Fork of Long Island
Newport, Rhode Island
Finger Lakes, New York
Cape May, New Jersey
Mohonk Mountain House, New York
Saranac Lake and the Adirondacks, New York
They are near enough to reach by car yet off the beaten path–the furthest, the Finger Lakes and the Adirondacks, are about a five-hour drive from New York City.
1. Greenport and the North Fork of Long Island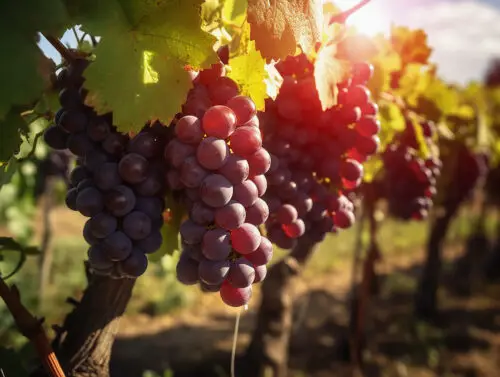 Greenport, on the North Shore of Long Island, was overlooked for a long time as all eyes were on the South Shore and its toney Hamptons villages and beaches. That allowed towns like Greenport to retain a quiet, laid-back village-y feel, For the past 400 years.
Named by Forbes as one of the prettiest towns in the United States, Greenport is a lovely town known for its abundance of restaurants, great shopping, attractions, and more. It's a perfect destination for an over-60 girls getaway.
Green port is one of the towns and villages that line the North Fork and that should be included in your visit. They are Wading River, Baiting Hollow, Calverton, Aquebogue, Jamesport,  Laurel, Mattituck, Cutchogue, New Suffolk, Peconic, Southold, Greenport, East Marion, Orient, and Orient Point.
What to do in and around Greenport
Visit the wineries
The first grapes were planted in 1973 by Alex and Louisa Hargrave, who believed the climate of the East End would favor the growth of world-class wine grapes. They became pioneers of the viticulture industry of the East End, breaking ground for the more than 50 other vineyards and wineries that now shape the region.
Most of the wineries are open for visits, tours, and tastings. You can make your own itinerary and go on your own or take advantage of several tour companies that operate in the area.
New Vine Wine Tours offers a Wine & Dine tour package that includes tours and tastings at two vineyards and lunch at a third. The company will work with you to customize your tour. A more affordable option is Main Street Drivers, which uses your own car and assigns a knowledgeable local driver who will help you plan the perfect wine, beer, cider and distillery tour.
A more invigorating option is to take a guided bike tour organized by East End Bike Tours.  Seasoned guides enhance your understanding of the North Fork and the vine-to-bottle process. Along the way visit one of the North Fork's original farm stands for amazing fruits, veggies, pies, and other farm products. Tours are led at a casual pace covering 14 to 19 miles over five and a half hours.
Long Island Wine Country has assembled a list of East End wineries, a good place to begin your explorations.
Take a walk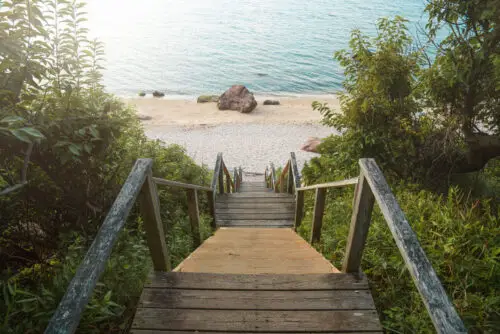 The North Fork is a great place to walk along the water. Downs Farm Preserve has a 0.8-mile loop located on Main Road in Cutchogue offers views of scenic woodlands and tidal wetlands. Because the terrain is mostly flat, the trail is good for all skill levels–including women over 60. In Greenport, Inlet Pond County Park has a 1.5-mile hiking trail through woodlands, open areas of shrubs and vines, and a mature oak forest that leads to Inlet Pond and a tranquil beachfront along the Long Island Sound.
Hallock State Park Preserve is a 225-acre state park and nature preserve situated along the Long Island Sound. It offers four hiking trails, one of which takes you directly to the shore, and nearly one mile of beachfront.
Buy fresh produce directly from the growers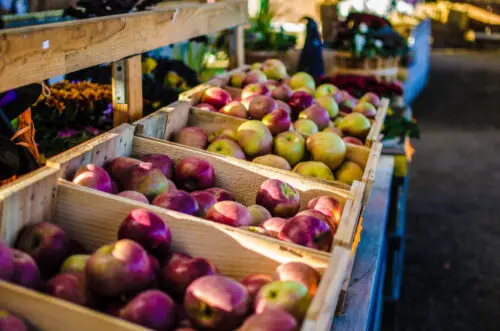 The North Fork is home to more than 100 active farms and farm stands. Find crisp and tasty apples ready to pick, eat or drink. Savor delicious treats from fresh-baked apple pies, apple donuts, and fresh-pressed cider and more. In addition to apples, this is the time of year you'll find a bounty of just-picked (or picked-yourself) pears, eggplant, butternut squash, acorn, spaghetti squash, pumpkin, tomatoes, dumpling squash, kabocha, potatoes, cauliflower, brussels sprouts, cabbage, broccoli, and Romanesco–wonderful produce you won't find at the supermarket.
KK's the Farm Stand in Southold uses biodynamic and organic methods without any harmful chemicals.  Deep Roots Farm in Southold offers a varied selection of fruits, vegetables, herbs and flowers. Deep Roots also sells pasture-raised chickens and eggs that range from different shades of brown, blue green, and the occasional white egg.
Dahlia fans might head to Latham Farms in Orient, which has been growing flowers and dahlias for over 30 years. They sell their own grown dahlia tubers, which you order for spring delivery. Open daily thru late November.
Pick a pumpkin
When the leaves start to turn the North Fork's pumpkin patches draw hundreds searching for the perfect pumpkin. Local farms grow a range of varieties, from large to small and bumpy to smooth. If you're looking for a pie pumpkin, though, you'll want the Long Island Cheese Pumpkin. (No cheese is involved.) It's an heirloom variety with a slightly sweet, creamy texture that makes it an excellent gourd for baking and pumpkin pies.
Harbes Family Farm in Mattituck offers some of the best on-the-vine pumpkin picking on the North Fork. The pumpkin field lies across the road from the Harbes Family farm stand, one of the North Fork's most popular farm destinations.
Bring home some pies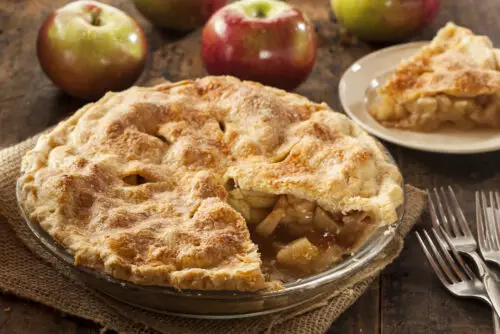 Pick up a fruit pie at any of the many farm stands that dot the North Fork. One of our favorites is Briermere Farms in Riverhead. No pre-prepared ingredients or fillings are used and most of the fresh fruit used in the bakery is grown on the farm. But don't limit yourself to fruit pies. Briermere is noted for its specialty pies: Fresh Fruit Strawberry Cream Pie, Chocolate Cream Pie, and Lemon Meringue are just a few on the list.
Dining that celebrates local produce, surf, and turf
A trip to the tip of Long Island requires sampling local seafood, and there is no shortage of options from which to choose.
Braun Seafood Co. in Cutchogue has been supplying the finest fresh seafood to customers throughout New York from Orient to Manhattan for more than 90 years. You can enjoy the catch of the day, and lobster rolls, at their restaurant, Braun's Kitchen, before heading next door to fish market to bring home a selection of fresh seafood.  Or head to North Fork Table & Inn in Southold, where restaurateur & Michelin-starred Chef John Fraser opened his dream farm-to-table restaurant surrounded by farms, vineyards and fisheries. Try The Southold Grill for fresh-caught local seafood, or Roasted LI Duck that's been raised on local farms.
In Greenport head to Noah's, where you can order several small plates or a main course. The menu offers, e.g., a Seafood Tower, Tasmanian Red Crab Tacos, Local Seafood Stew, and Duck Confit from Crescent Farm, served with local mushrooms and roasted corn.
Where to stay
From top-rated B&Bs and Inns to a renovated 1950s motel there are a number of choices for your stay. The lovely Harborfront Inn in Greenport is steps away from the LIRR train station and the village's restaurants and shops. Many rooms look out over Peconic Bay, hotel and its grounds, lobby, common areas and ADA rooms are accessible and inviting. A mile down the road is the Sound View, a newly renovated hotel and restaurant. Located
on 14-acres of private, waterfront land it's one of the best places to get stunning views of the Long Island Sound.
For a more DIY trip Airbnb and VRBO list homes, condos, apartments, and rooms in and around town.
2. Newport, Rhode Island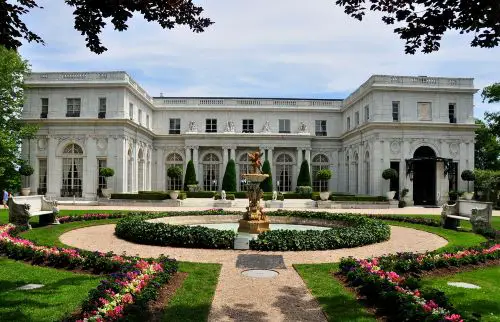 Newport is famous for its historic mansions, its rich sailing history, clam chowder and oysters, sea air, soft sand beaches, and fabulous ocean-view walks.  When you walk in Newport, the walk in the footsteps of American royalty: First Lady Jacqueline Kennedy Onassis spent childhood summers at Hammersmith Farm, a Victorian estate that was the site of her wedding reception when she married John F. Kennedy.
Newport is a renowned sailing center, having hosted the America's Cup yacht race 12 times between 1930 and 1993. Yachts still find a home here, as well as sailboats of all shapes and sizes. Perfectly nautical.
What to do in Newport
Gawk at and tour the mansions
During The Gilded Age, titans of industry from New York and Philadelphia built their summer "cottages" on cliffs overlooking the ocean. Their cottages were, of course, grand mansions, modeled on Italian villas and French chateaus, with landscapes designed by Frederick Law Olmstead and such. They held fabulous balls, intimate dinners, and grand picnics on their lawns. By the end of the era more than 60 such homes were built.
Now 11 of these historic properties and landscapes–seven of which are National Historic Landmarks—are owned and maintained by the Preservation Society of Newport County and open to the public. The Breakers, Marble House, The Elms and Green Animals Topiary Garden are open daily. More information can be found on the Preservation Society website.
There's an app for that! Go to your app store, and search for "Newport Mansions" identified with the green pineapple icon.
Cruise along Ocean Drive
If you are up for it, you can hike the ten miles of coastline on Newport's iconic Ocean Drive—or take a Sunday driver excursion with the windows down so you can smell the sea air and catch the sound of the waves.  You'll pass by incredible estates Hammersmith Farm, where Jackie Kennedy grew up, Brenton Point State Park, Fort Adams State Park, and Gooseberry Beach.
Breathe in the sea air on the Cliff Walk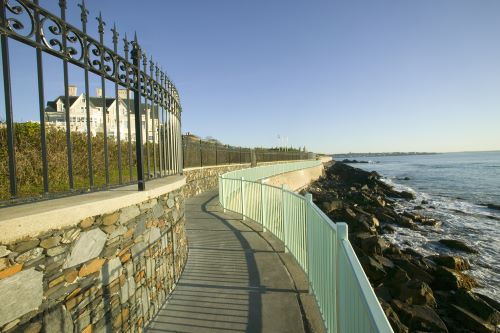 Less ambitious but just as enchanting is the 3.5-mile Cliff Walk.  You will lose yourself in nature—ocean views, crashing waves, the smell of the sea—and ogle mansions that transport you to another era, when people had staff in their homes.  America's wealthiest families flocked to Newport and made it their summertime playground.  There is no access to the interiors of the mansions during Covid but simply having access to and enjoying the breathtaking grounds and cliff side vantage points is worth the visit. Download the official Cliff Walk Commission's map here.
Dine on local far

e

Lobster rolls, clam chowder, and oysters are the delicacies you would expect in a seaside wonderland.  There is good dining galore in Newport but if you want to experience the three favorites in a relaxed and casual setting,

Try The Easton Beach Snack Bar for mouthwatering lobster rolls.  A clam chowder that has been winning awards for years can be found at the Newport Chowder Company.  This chowder is so good that the company actually caters weddings for locals who insist on the best chowder on their special day.

If you love fresh oysters pulled out of local waters, there's a Rhode Island Oyster Trail that leads straight to all of the best restaurants in the state that pride themselves on serving the freshest local oysters around. Try the Greenwich Bay Oyster Bar with its incredible selection of oysters, including Beavertails, East Beach Blondes, Hope Islands, Umami, Salt Ponds, Rome Points, Moonstones, and more.

COVID can't take this away: the pure bliss that comes from drinking on a rooftop. From an elevated experience to kicking back with some oysters and a cocktail, Newport restaurants such as the Roof Deck at The Vanderbilt and Midtown Oyster Bar offer outdoor dining with spectacular views.
Sail with the best
Newport is considered one of the sailing capitals of the world. Among its many claims to that title is the fact that it is home to the largest fleet of America's Cup 12 Meters in the world, most of which are available for charter.
Sightsailing of Newport is the oldest, locally-owned company offering sailing cruises in Newport. There are daily scheduled public sailing cruises, sunset sails, and private sailing charters aboard its fleet of schooners and smaller boats.
For more information about things to do in Newport visit discovernewport.org.
3. Finger Lakes, New York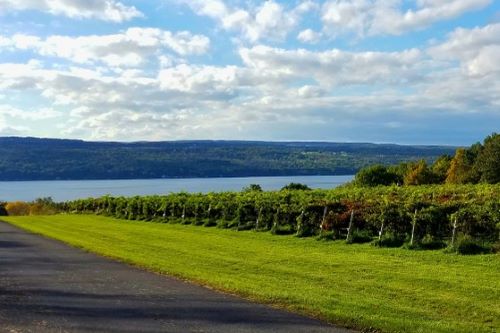 The Finger Lakes are a group of eleven long, narrow, roughly north–south lakes in an area called the Finger Lakes region in New York.  If you love the outdoors, the Finger Lakes offer hiking and biking, boating, and fishing and incredible scenic beauty.  There are a number of state parks that feature awe inspiring waterfalls.  Though most noted for its wine tours—and its incredible Rieslings—the Finger Lakes Region is also host to a number of other tours including boat tours and food tours.
What to do in the Finger Lakes
Visit the wineries
There are over 100 wineries in the Finger Lakes and this is just a short getaway for you. Make your winery visits all the more enjoyable by visiting the 34 vineyards on the shore of Seneca Lake, called the The Seneca Wine Trail.  This picturesque trail around the lake draws more than half a million visitors each year to sample the fruits of the local vintners' labors.
Participating wineries host tasting events throughout the year, including food and wine pairings.  (Download your trail map here.)  The region also boasts a number of breweries, distilleries, and hard-cider producers.
Immerse yourself in cliffs, gorges, and waterfalls
The Finger Lakes area has literally hundreds of waterfalls so it is hard to visit them on a short getaway.  Some visitors have narrowed their visit down to 50 and documented their adventure.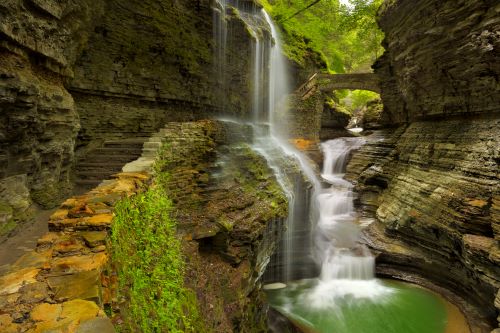 One of the most awe inspiring sights in the Finger Lakes is the award winning Watkins Glen State Park. Within two miles, the glen's stream descends 400 feet past 200-foot cliffs, generating 19 waterfalls along its course. The gorge path winds over and under waterfalls and through the spray of Cavern Cascade.  In 2015, Watkins Glen State Park was chosen from more than 6,000 state parks across the country as a contender in the USA TODAY Readers' Choice Poll for Best State Park in the United States.  Watkins Glen won third place.
Bathe in the Finger Lakes forests
No, this is not an early season Polar Bear swim in a cool lake.  Forest bathing, also known as shinrin-yoku in Japan, where it has been popular for 30 years, is a slow walk through the woods to immerse yourself in the forest and allow your senses to take in the natural environment.
Japanese research suggests there are powerful emotional and physical benefits of being in the forest. And what better time to be in the forest than amid Nature's change of color in the fresh, cool air.  Sign up for Finger Lakes Forest Therapy and experience the woods like never before.
Watch birds that you may never have seen before
The Finger Lakes area is great for birdwatching, especially in spring and fall.  One of the better known bird-watching sites is The Cornell Lab of Ornithology/Sapsucker Woods Sanctuary.  Affiliated with Cornell University, this sanctuary is located in the beautiful 220-acre Sapsucker Woods Sanctuary.  Your visit will include hiking wooded trails, learning about rare and endangered birds and watching movies in the observatory.  The Cornell Lab of Ornithology is a world leader in the conservation, appreciation, and study of birds. Book your visit here.
Take a paddle: canoeing and kayaking in the Finger Lakes
There are many places to paddle in the Finger Lakes, but some of them will leave a lasting impression on you.  Irondequoit Creek runs through Ellison Park and you can enjoy a peaceful paddle through reed-lined canals. You can paddle for miles through reed-lined canals and see wildlife at every turn, including swans and beavers.
Sodus Bay is another popular paddling spot.  A lot of creeks spill into the bay and attract all kinds of wildlife. And when you are finished on the water, the Sodus Bay area is perfect for swimming, picnicking, camping, hiking, and biking while nearby are wineries, farm markets and antique stores along with marinas, cruises and fishing charters, quaint shops, and restaurants.
Honeoye Lake is one of the smaller lakes (4.5 miles long and 8 miles wide), and at 30 feet deep, it is the shallowest of the Finger Lakes with possibly the warmest water in the summertime. When you are paddling, you will always see shore so you may spot some local wildlife–white-tail deer, raccoons, skunks and other members of that family, fox, coyotes, beavers, other smaller rodents, as well as a wide variety of reptiles and amphibians.
Take a bike: cruising or serious biking
There is biking and there is biking in the Finger Lakes.  You can cruise around the pretty towns or you can go in for some hardcore biking like the 101 mile circuit around Lake Cayuga.  Either way, the bike shops are set up to fit you with just the type of bike and equipment you need to suit your motivation.
Get well: spas and wellness centers
End your getaway with a visit to a wellness spa, of which there are many in the Finger Lakes.  One of the best known is Mirbeau Resort & Spa in Skaneateles on Skaneateles Lake. You can book to stay overnight or longer and enjoy the Spa, with its hot massage pool and exercise and wellness programs. Or you can enjoy the day resort. The new Spa Mirbeau day resort concept provides a location for guests to get away, relax and enjoy the Mirbeau sense of sanctuary and peace for a few hours or for the entire day and before returning home.
4. Cape May, New Jersey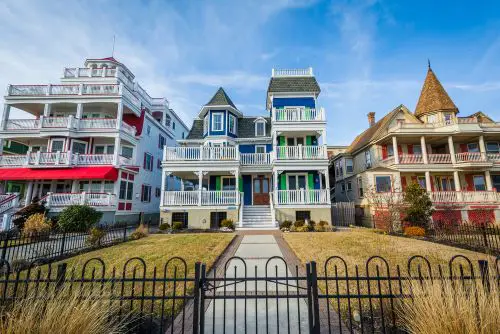 Cape May is a Victorian seaside town, reportedly the oldest seaside resort in America. It is known for its Victorian homes and buildings, many of which have been turned into B&Bs and inns. The Victorian buildings were saved from redevelopment when the area was designated a National Historic Landmark District of 380 acres and 600 buildings. The town has one of the largest collections of late 19th century frame buildings left in the United States.
Cape May is transformative.  You feel as if you should pick up your skirt as you cross the road or twirl your parasol as the handsome gentleman lifts his hat to you.  You expect to see the artist Trisha Romance studying her easel as she paints one of the beautiful Victorian homes.  The feeling of coziness and simplicity is everywhere.
What to do in Cape May
Loll in the sun
In late September, the air and water temperatures are still warm enough for sunbathing and swimming.  Cape May's second season begins right after Labor Day Weekend.  The September season means nice and warm ocean temperatures, no humidity, fall breezes and fewer people.  And you don't have to pay to park near the beach.
Tour the Victorian neighborhoods
The Victorian homes are spectacular and you can spend an entire day ogling them.  You can choose either a guided tour or self-guided tour with free app, or house tours.  You can tour by walking or by trolley.  You can even choose a theme for your tours, for example, the Magic & Mystery House Tour or the Historic Haunts Tour or the Graveyards, Ghosts & Mansion Tour.
Watch the birds as they migrate south
The National Geographic lists Cape May as one of the best destinations in the world for birding. Due to Cape May's small peninsula, the area draws in a wide variety of birds during spring and fall migrations. Migration of songbirds begins around the beginning of August and through mid-November.  Every fall, beginning in September and lasting through the end of November, visitors can watch as thousands of raptors crowd the sky during their southbound migration.  Use this Audubon calendar to book your birding experience at the Cape May Bird Observatory's Northwood Center.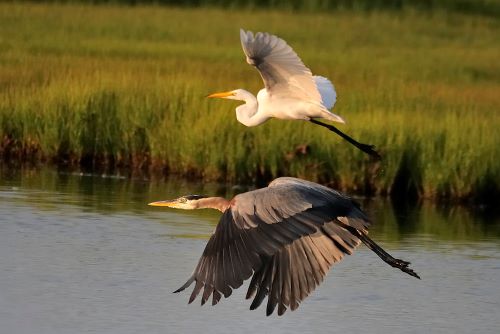 Experience the monarch butterfly migration
Did you know that Monarchs are endangered and they are completely dependent on milkweed for survival?  Cape May has the Monarch Monitoring Project that begins on September 1st and ends on October 31st. Large numbers of these butterflies can often be seen during the early evening in vegetation behind the dunes in Cape May Point as they prepare to roost for the night. Learn more here.
Take to the sea: whale and dolphin watching
New Jersey waters are home to a number of humpback whales throughout the year. But when migrating whales and dolphins arrive in the spring and fall months, the chance of spotting them is much greater.  New Jersey boat tour operators offer several types of dolphin and whale watching trips. Breakfast and sunset cruises are also available.
Harriet Tubman lived in Cape May in the early 1850s, working to help fund her missions to guide enslaved people to freedom.  After her initial journeys conducting freedom seekers to Canada, her friend and abolitionist leader Franklin Sanborn wrote, "She returned to the states, and as usual earned money by working in hotels and families as a cook. From Cape May, in the fall of 1852, she went back once more to Maryland, and brought away nine more fugitives."  Juneteenth, 2021 (the third Friday in June) was when the Harriet Tubman Museum opened in Cape May.
Shop 'til you stop
Cape May is home to the Washington Street Mall, an outdoor walking mall spanning three blocks, with brick pathways, decorative fountains, and wooden benches surrounding garden planters. Most shops are open until late October.
Two standout shops for women our age are Caroline Boutique, whose motto comes from Oscar Wilde's famous saying: "You can never be overdressed or overeducated."  Their website is striking and beautiful.  Another shop for us is Miss Demeanor (don't you love that name?)  Their website states: transparently manufactured goods made in house and by other small businesses.  You can't beat that.
5. Mohonk Mountain House, New York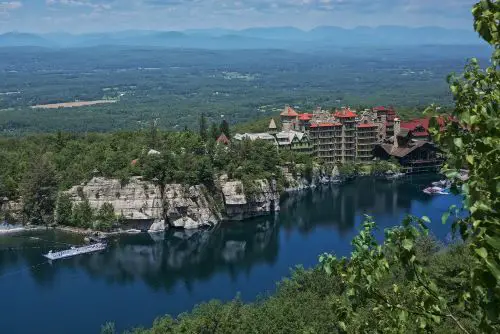 The name Mohonk Mountain House, for those who have never seen the pictures, would suggest a cozy, timber house nestled in the mountains of upstate New York.  Mohonk is, in fact, a huge, sprawling Victorian castle resort, surrounded by 40,000 acres of pristine forest in the Hudson Valley, is only 90 miles north of New York City. The rustic luxury lodge (yes, it's possible) is designated a National Historic Landmark.  It offers farm-to-table cuisine and an award-winning spa as well as numerous activities.
What to do at Mohonk
Stay in rustic luxury and indulge at the spa
The only thing rustic about the accommodations at Mohonk is what you see out of the window.  Inside, the rooms are luxurious Victorian splendor.
There are more than 80 spa services to choose from and many more wellness experiences, including yoga, meditation, fitness and mindfulness.  The latter is a program created by Nina Smiley, PhD., whose family owns the estate.
Take a hike—on your own or guided
There are over 85 miles of hiking trails, ranging from beginner to advanced levels of difficulty. (Download the hiking map here.)  Guided long, brisk hikes start at 10 am and slow and leisurely hikes start at 2 pm. The knowledgeable guides will point out local flora and fauna and share stories about the land, people, and wildlife of the Hudson Valley.
Throw a tomahawk or shoot an arrow
Tomahawk throwing is no longer a means of survival but it is an effective tool for enhanced concentration.  Archery is a superb skill that teaches you to quiet your mind in a tranquil, natural setting. A certified instructor will help you to hone your hand/eye coordination.
Rock scramble or try rock climbing
Rocks and mountains surround Mohonk and the facility has taken full advantage.  You can rock climb or try the Lemon Squeeze, which lies within the Labyrinth rock scramble. Climb through naturally-formed boulders to see iconic views of the Hudson Valley.
Take a guided nature tour
Naturalist Michael Ridolfo will take you for guided nature walks, an early morning canoe tour, or bird walks. Ask questions, discover (and taste!) edible plants and flowers, and learn to identify local wildlife.
The Mohonk Mountain House website has details on all of the events and activities available for your stay,
6. Adirondacks: Saranac Lake, New York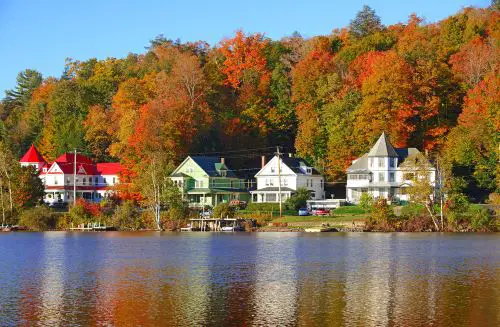 Saranac Lake, New York, considered one of the most idyllic places in upstate New York, is an all-seasons area but it comes into its own in the crisp, cool autumn air. There are eateries, galleries, and shops to enjoy. There are colorful, fragrant forests to explore.  World-class eateries to savor.  Music festivals and events to take in.  And there are lots of outdoor activities.
What to do in Saranac Lake
Luxe or rustic: choose your experience
Are you looking for beautiful rooms and modern amenities after a day of hiking or kayaking? Then make your base one of Saranac Lake's beautiful hotels, such as Saranac Waterfront Lodge. Saranac Waterfront Lodge offers modern, luxe facilities at water's edge. Hotel Saranac, constructed at the height of the Roaring Twenties, reopened in 2018 after a head-to-toe renovation. The hotel now offers a fitness center, spa, salon, and restaurants.
If it's a rustic Adirondack experience you seek, White Pine Camp may be for you. Choose from 13 distinctive cabins and cottages with soaring roof lines, hand-built Adirondack style furniture, stone fireplaces or wood stoves, and breathtaking views. As a guest, you have total and unlimited access to the Great Room, Japanese Tea House, Bowling alley and Pool room, Tennis House, Boat houses and Outdoor Decks.  For readers there are dozens of indoor and outdoor hideaways to while away a lazy afternoon.
Go for an invigorating hike
Saranac Lake is the ideal spot for beginner and experienced hikers alike. Gently meandering paths, trails to lake-side views, and mountaintop vistas all await anyone who hikes here.
Take a meditative walk in the forest 
Forest bathing is not pleasant if you are constantly bothered by biting insects.  But the cool fall air means the insects are gone and you are free to enjoy the six million acre wilderness preserve of the Adirondack Park. There are a variety of travelled trails or ones off the beaten path.  Forest bathing is not a fad; in fact, the practice, pioneered by the Japanese Ministry of Health, is several decades old. It has been shown to lower stress hormones and blood pressure and relieve anxiety and depression.
Revel in nature while you walk
If you're looking for the level below a hike–in other words, a walk–there are lots of outdoor nature trails.  With comfortable shoes and an enquiring mind, you will be ready to be charmed by the Saranac Lake area.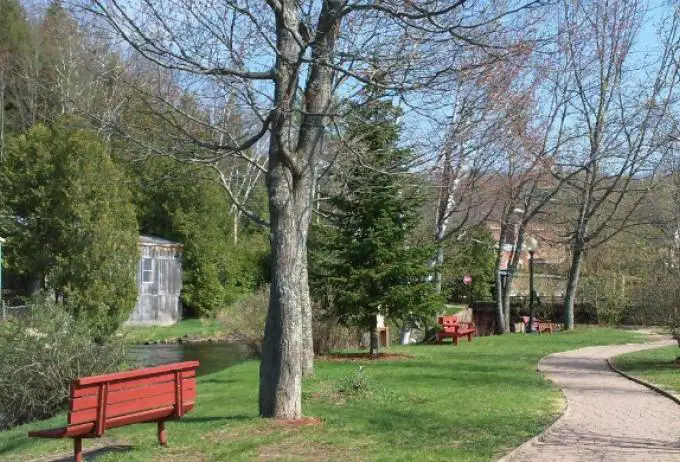 The lovely Riverwalk (1-mile round trip) encourages a stroll through town along a brick-paved path beside the Saranac River.  You can look in gallery windows and choose your dinner spot for the evening.
A paddlers paradise
There are actually three Saranac lakes–Upper, Middle, and Lower–and they're all connected by the Saranac River, which flows right through downtown. Saranac Lake is a stop along the epic 740-mile canoe trail that takes paddlers across the Northeastern United States and parts of Canada. For shorter excursions local outfitters will hook you up with the everything you need, from kayaks to canoes to stand up paddle boards. If you are interested in longer trips, a licensed guide can lead the way or help plan a multi-day outing.

Spend time with loons
The Adirondack Center for Loon Conservation leads small groups on 4-hour paddle tours of an Adirondack lake to visit with some of the loons they study. Learn about the fascinating lives of loons that travel to the Adirondacks each year to nest and raise their young. The tour also covers conservation concerns that affect these beautiful birds and the aquatic ecosystems where they live.
Step back in time: Taking the Cure
At the turn of the 20th Century, Saranac Lake was a world famous center for tuberculosis care (known as Taking the Cure) and research. Exposure to fresh air and sunshine, regardless of weather, was a key element of Taking the Cure.
While there were many local sanatoriums, some people were able to "take the cure" in a private home. To meet demand, many of Saranac Lake's homeowners converted their dwellings into Cure Cottages. At one point, half of all Saranac Lake residences were caring for tuberculosis patients.
You can spot the cottages while exploring the town, but keep in mind that they are private residences that can be viewed only from the outside. Visit the Saranac Laboratory Museum to find out about Saranac Lake's unique history as a world-wide center for TB research and patient care,
It was also during this time that the Adirondack Chair was created. Also known as a Cure chair, it was based on a sanatorium chair from Germany.
Visit the galleries
Saranac Lake is full of art because the environment is heaven for creative individuals.  Artists have left their marks by painting, collaging, photographing, assembling, writing, and sculpting, and it enhances the area for future generations.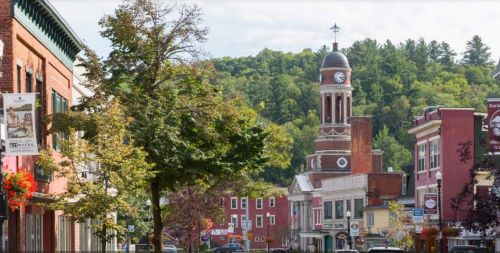 This article has been updated. It was originally published in September, 2021. The locations were chosen by Blue Hare editors, who always look for an opportunity to get out of town.
*     *     *
You may also like
Go to the BLUE HARE home page for more articles on travel, health, beauty and more. For fabulous women like you.