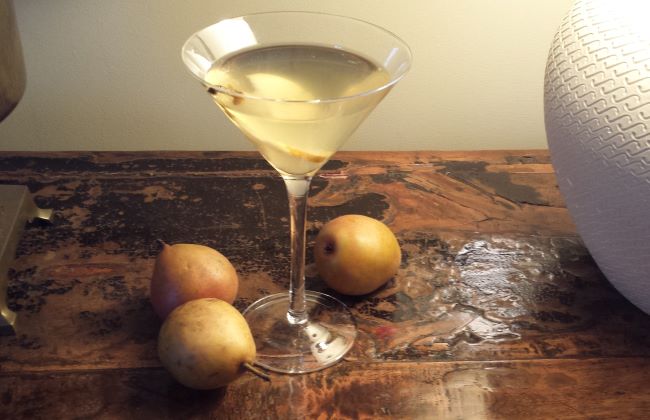 Your family and friends are mingling, the doorbell is still ringing, and the turkey is waiting to be carved. Instead of the usual "white or red?" glass of wine, offer guests a "house cocktail" as an aperitif to enjoy before the feast. Turning the pre-dinner time into a mini-cocktail party brings a diverse group of guests together to mingle and converse while enjoying your creative concoction. And, with a bit of luck, will distract them from arguing about politics or the economy. (Just sayin'.)
Cocktails with fall flavors
To make this a truly Thanksgiving event we wanted to find cocktails with fall flavors–apple, pear, and spices—so Blue Hare conducted an extensive web search that uncovered 35 candidates. In addition to using seasonal flavors we wanted to find cocktails that took our age group into account—nothing too sweet, not overly alcoholic, easy to assemble, and made without grapefruit juice (for the Lipitor set).
The list was winnowed to twelve that sounded so delightful we had to try them. We assembled a test panel to make and taste the cocktails and give us their opinion. Our panel took their assignment seriously: they mixed, stirred, tasted, compared, took notes, and suggested changes that would remedy shortfalls. Some were deemed unimpressive. But seven of the 12 were winners, with some tweaking. Today we explore a pair of pear cocktails, a peartini and a spiced pear gin fizz. (Recipes are at the end of the article.)
Secret sauce: simple syrup
We found the secret to easy, crowd-wowing cocktails: simple syrup imbued with fruits, herbs and spices. Simple syrup is, simply, sugar dissolved in water and boiled down to syrup consistency. Adding some fruit like pears, or spices like ginger and cardamom, and even herbs like mint and rosemary, to the simmering process extracts and concentrates their flavors.
A splash or two of this simple syrup takes an ordinary drink to the next level. The two pear cocktails below share a spiced pear simple syrup, so by doubling a batch you can master two house cocktails that will take you well into the holiday season.
First up: Peartini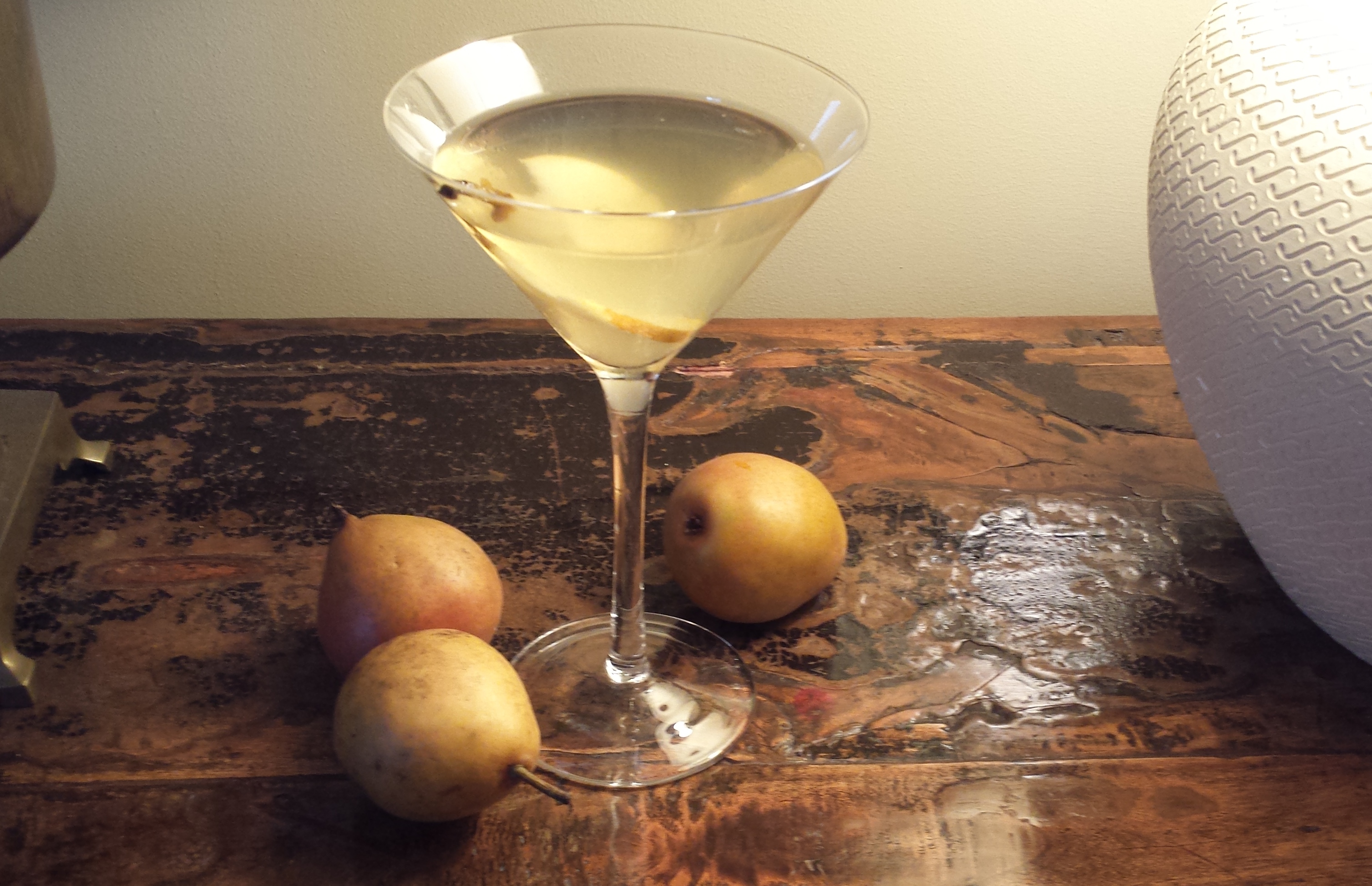 Not just any peartini. The Blue Hare Peartini. We wanted a cocktail that had the sophistication of a James Bond martini but with just enough pear flavor to match the warmth of autumn leaves. Lesser known cousin to the appletini, peartinis are coming into their own. And they are pretty! The recipes we found ranged from spare to overly complicated. It was time to strike out on our own, combining elements of several that had promising elements.
The Blue Hare Martini is made with pear vodka, which has a hint of pear flavor. Pear vodka is available from Absolut and other vodka producers. To bump up the pear flavor of the vodka, we tested both pear nectar and pear juice. Pear nectar made the taste too cloying; pear juice—which we found in perfectly sized juice boxes at the supermarket—added more of the pear essence we were seeking. A splash of lemon juice cut the sweetness.
Squeezing fresh lemons for one or two drinks isn't much bother. For a crowd, though, it can be a lengthy and messy task. We wondered whether there was an alternative that would provide juice in bulk and still have the taste of fresh squeezed lemon. Another internet search turned up Lakewood Organic PURE Lemon Juice, which got rave reviews on several websites.
The secret ingredient in a Blue Hare Peartini is spiced pear simple syrup, which adds a subtle note of sophistication. Some recipes called for chopped pears to make the syrup, but we skipped that step by using pear nectar, cooked down with some sugar, star anise, cardamom and cloves. A proportion of ½ ounce syrup to 3 ounces of vodka produced a nice balance of flavor to alcohol.
Mix together in an ice-filled shaker and strain into chilled stemmed martini glasses. Garnish with a thin slice of pear. Serve with attitude.
And then there's the Spiced Pear Gin Fizz  

Our tasting panel gave this cocktail an enthusiastic thumbs up. It was beautiful and unctuous and the herbal undertones of gin played well with the spices in the simple syrup—the same spiced pear simple syrup used in the Peartini. The panel noted that the pear flavor could be bumped up a bit so we added a splash of pear juice, and that seemed to do it.
Egg whites provide the creamy frothiness. We opted to stay away from raw eggs, so we looked for an alternative. Options included aquafaba, the viscous brine in canned chickpeas, gelatin, even pineapple. Hummus- or jello-salad- or Hawaiian flavored Fizzes didn't seem appealing. Instead we selected a less weird product, pasteurized egg whites, which are widely available in supermarkets. Shaken with the other ingredients, these egg whites produced a smooth drink with a light foamy top. Our search also turned up a new vegan option that got high marks from mixologists: Ms. Better's Bitters Miraculous Foamer, which can be ordered from the company's website. So shake it up, garnish with a star anise or two, and serve.
Recipes
Spiced Pear Simple Syrup
• 1 cup pear nectar
• 1/2 cup sugar
• 3 star anise
• 4 cardamom pods
• 3 whole cloves
Combine pear nectar, sugar, pear, star anise, and cardamom pods to a small sauce pan. Bring to a simmer over medium heat; stir to dissolve sugar. Allow mixture to simmer over low heat for about 5 minutes. Remove from heat and allow to cool completely. Strain out spices. Pour into a nonreactive container (a glass jar is best) and refrigerate until ready to mix the cocktails. Once strained the syrup will keep, refrigerated, for a week or more.
This recipe will produce between one-half to two-thirds cup of syrup, enough for about 4 cocktails. The recipe can be doubled or even tripled, but must be boiled down sufficiently to a syrupy consistency. Store extra syrup in the refrigerator.
The Blue Hare Peartini
Making the spiced pear simple syrup in advance makes the final assembly of the Peartini so easy.
• 3 oz. pear vodka
• ½ oz. spiced pear simple syrup (recipe above)
• 2 oz. pear juice + more to coat pear slices
• 2 splashes lemon juice
• Seckel pears for garnish
Make the spiced pear simple syrup several hours before preparing the Peartinis. Cut the Seckel pear into thin slices and place in a small bowl with some pear juice; set aside.
Make the peartinis: Pour vodka, spiced pear simple syrup, pear juice, and lemon juice in a cocktail shaker then fill with ice. Cover, shake well, then pour into chilled martini glasses. Garnish with a thin slice of Seckel pear.
Serves 2
To make in quantity in advance: Follow the proportions in the recipe, shake in batches over ice, then strain into a glass or other nonreactive container and refrigerate until ready to serve. Then give another good shake over ice, strain and pour into chilled glasses.
Spiced Pear Gin Fizz
• 2 oz. gin
• 1 1/4 oz. fresh lemon juice
• 1 oz. pear juice
• 1 oz. pasteurized liquid egg whites or equivalent Ms. Better's Bitters Miraculous Foamer
• 3/4 oz. spiced pear simple syrup (recipe above)
• 1-2 oz. club soda
• Star anise for garnish
Fill a cocktail shaker with ice. Add gin, lemon juice, pear juice, egg white (or substitute), and Spiced Pear Simple Syrup to cocktail shaker. Replace lid and shake for 20 seconds or until shaker becomes frosty. Strain into a coupe or double old-fashion glass.
Top with club soda, garnish by floating star anise on top of the foam, and serve.
Makes one serving.
To make in quantity and in advance for a gathering: Mix together the gin, lemon juice, pear juice and spiced pear simple syrup in proportions listed above and store in a glass jar or pitcher, refrigerated, until guests arrive. Two Fizzes can be assembled at a time. Measure two servings of the pre-made mixture into an ice-filled shaker, add 1+ oz. egg whites, shake (and shake and shake). Strain into double old-fashion glasses, add club soda and garnish. Repeat.
 *     *     *