Aquavit, literally "water of life," is the signature spirit of Scandinavia. We first encountered it when friends from Denmark were visiting. Little glasses were filled with a clear icy liquid, followed by a toast that included the words "Danish dynamite" and ended with "Skål!" Other memories of that evening are fuzzy.
In those days, aquavit was treated like schnapps or other questionable flavored liquors, thrown back and followed by a beer. We're happy to report that in the new cocktail culture today, aquavit is making a comeback, this time in sophisticated cocktails.
What is aquavit?
Aquavit (or aqvavit, as it is sometimes spelled) is a neutral spirit, made from potatoes or grain like vodka. It is infused with herbs that are typical to Scandinavian cuisine, such as caraway, dill and fennel.  In concept, it is much like gin, a neutral spirit infused with juniper berries and other botanicals. In our minds, Aquavit is more herbalicious and food friendly.
With the rise in popularity of Scandinavian cuisine and all things 'hygge', mixologists in the Nordic countries and in North America have been experimenting with aquavit as a base for cocktails.
Aquavit comes in many variations
Aquavits vary in their flavor profile.  The website Liquor.com explains:
The specific herbs and spices used to flavor aquavit are determined by local preference and cuisine. Swedish and Danish aquavit is usually distilled from grain, while Norwegian aquavit is traditionally made from potatoes. Danish aquavit leans heavier on dill, coriander and caraway and is enjoyed as a quick chilled shot at midday lunch. Swedish aquavit features more anise and fennel favors, but is also downed in one go, often followed by a beer and meal of pickled herring. It's quite different in Norway, where aquavit is meant to be sipped slowly to experience its barrel-aged quality and diverse aromatics like cumin and citrus peel.
While imported aquavits like Norwegian Linie and Danish Aalborg have been available in the U.S. for years, a home-grown industry of artisanal distillers like North Shore, House Spirits, and 45th Parallel, are crafting distinctive versions like Krogstad Festlig Aquavit, using traditional methods and adding some nontraditional herbs and spices to caraway and dill. Today more than forty aquavit brands are available in the U.S., from the small batch American craft to quality imports from Scandinavia.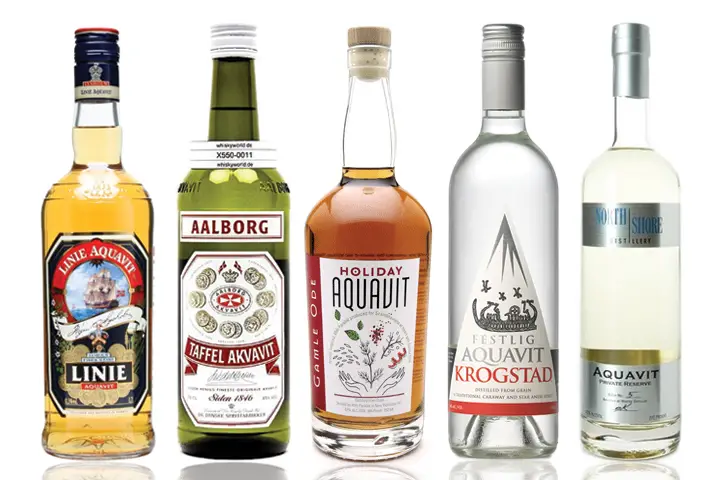 Aquavit, like hygge, has already become popular in the U.K., as evidenced by articles in The Telegraph and the Evening Standard.  Food and drink "thought leaders" in the U.S. like Eater and Food 52 in 2015, and Bon Appetit in 2016, have been proclaiming the return of aquavit for several years but it's been more of a sputter than a take-off.
An aquavit cocktail like the Tomas Collins (recipe below) is a perfect aperitif to serve with rye crackers and smoked salmon; steaming new potatoes and caviar; salmon rillettes; smørrebrød, the open-face Danish sandwich; and herring, of course. It complements menu items like beef in a potato-dill crust; blackened cod with leek; grilled salmon; a Norwegian risotto with beets; rutabaga puree with bacon; and meatballs in a brown sauce.
Tomas Collins
The ingredients for the Tomas Collins likely seem like odd fellows, but together they produce an enjoyable, crisp, and savory drink that could become addictive.
Makes 1 serving
Ingredients
2 t. simple syrup
¼ cup aquavit
2 T. fresh lime juice
1 t. dill pickle brine
Seltzer
Pour simple syrup, aquavit, lime juice, and dill pickle brine into an 11-ounce highball glass.  Fill glass with ice then top with seltzer. Stir lightly to combine. Garnish with a sprig of dill.
Cel-Ray and Aquavit
New Yorkers know that the best beverage to have with a Reuben sandwich or hot pastrami on rye is a cold bottle of Dr. Brown's Cel-Ray soda. This Cel-Ray and Aquavit is genius!
Makes 1 serving
Ingredients
2 oz. aquavit
Dr. Brown's Cel-Ray soda
Celery stalk and cucumber slice
Place aquavit in a highball glass. Fill glass with ice, then top with soda. Garnish with celery stalk and cucumber slice.
A note about cocktail glasses—we found a good discussion on Serious Eats about the best size glass for various cocktails.
The cocktail team at Serious Eats generally follows an oft-quoted motto, attributed to barman Harry Craddock, of the American Bar in London and author of the Savoy Cocktail Book: "The way to drink a cocktail is quickly, while it's still laughing at you."
The problem with large cocktails, they observe, is that large cocktails get warm in the glass long before it's finished, "unless you guzzle the bloody thing."  We agree. A cocktail should be special, a celebration, to be savored, and a smaller glass sets it apart from, say, a glass of milk. So cheers! Or should we say, skål!
*   *   *