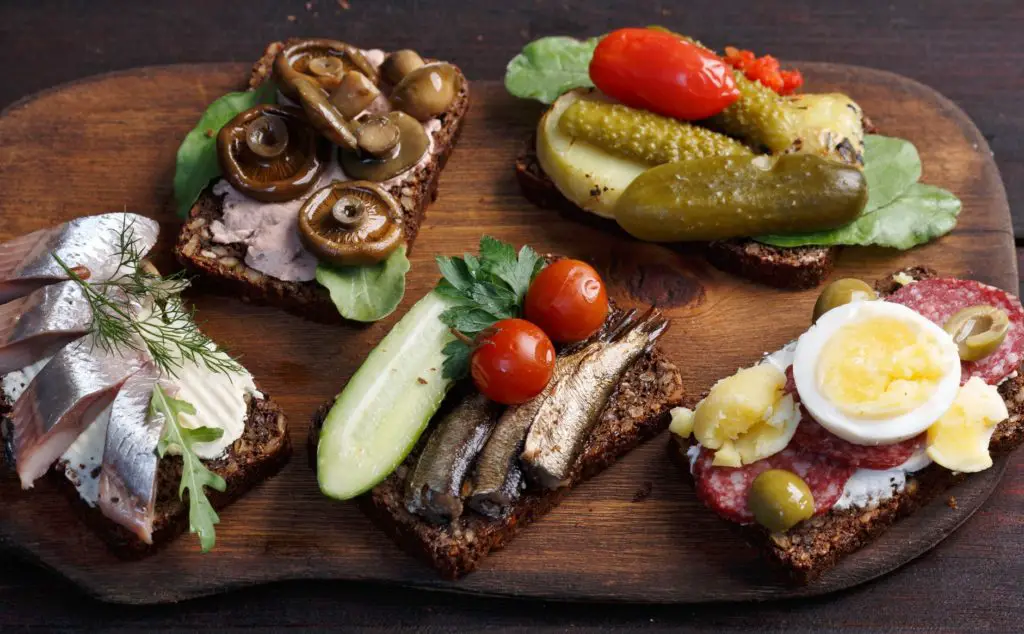 Legend has it that smørrebrød, the Danish open-face sandwich, had its origins in the Middle Ages when a piece of stale bread was used as a plate to hold food, then discarded. Today that bread serves as a canvas upon which culinary works of art are created.
A slice of dark rye bread is slathered with butter, then topped with thinly sliced cold cuts or fish or cheese and finished with garnishes—greens, vegetables, fruit, pickles, sauces, pickles, nuts in tasty combinations—until they are turned into visually splendid sandwiches.
Smørrebrød makes us happy
They are colorful and fun, and the combinations are endless. They're like an edible plaything that can brighten up a dark, dreary day. There are some rules, though, as outlined by NPR in its story, "The Art Of The Danish Open-Face Sandwich":
Smørrebrød is eaten in only one order: Herring first, followed by other fish, then meat, then cheese.
Before adding a topping, smear the bread with butter or duck fat. It must completely cover the bread.
Use only rye bread with herring.
Do not eat with your hands; only a knife and fork will do.
Toast frequently. (The Danish toast is "skål", pronounced "skoal".) Not only is this expected, but if you are a smørrebrød rookie, this will calm your nerves and ensure that your table companions will not be inclined to remember your gaffes.
For your herring course, seriouseats.com has a recipe for a smørrebrød of pickled herring, onions and dill with rich butter and dense, tangy sourdough rye bread. Learn to pickle your own herring here. Or try some of these combinations from Copenhagen's Restaurant Schønnemann:
Marinated herring with onions, capers, curry salad and soft-boiled egg
Pickled herring in mustard cream, with bacon, fried capers and soft-boiled egg
Herring marinated in ginger, cardamom and anise vinaigrette; served with onions, capers and pickled ginger
Pickled spicy herring with sour cream, onions, and capers
But keep reading.
Other smørrebrød
We spent hours looking at photos of the most beautiful, appetizing smørrebrød in preparing this story. Which made us hungry. So off to the supermarket we went, in search of ingredients to replicate some of the choice selections in the main categories of meat, seafood, eggs, and cheese.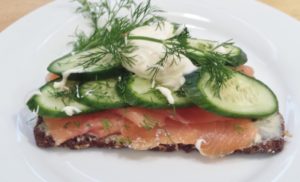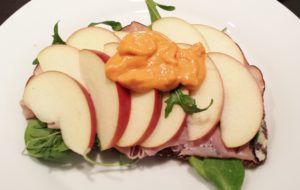 Many different types of fish and seafood are used for smørrebrød. Use gravid laks, like gravlax but Danish (make your own), shrimp, or fried fish. Embellishments should offer a contrast of flavors and textures. Cucumbers add crunch and tomatoes or capers have just enough acid to cut through the silkiness of cured salmon. We did not make gravid laks for ours, instead layering smoked salmon with Persian cucumbers, crème fraîche, and dill—more global than Danish but in the spirit.
Ham is another favorite—it's been preserved in Denmark since 1,000 AD—and makes a quick smørrebrød, here topped with sliced apples and siracha mayonnaise.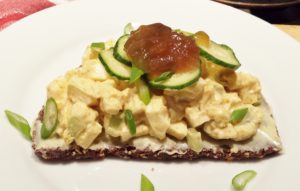 Vegetarian options include curried egg salad, many varieties of cheese, hummus, nut and vegetable spreads, fruit…the possibilities are endless. These folks "love a good ol' potato sandwich," and offer their recipe for a new potato and pickled onion smørrebrød. In our photo, we topped curried egg salad with a dollop of Major Grey's Chutney, an addition that was suggested on several sites. And we like it! We also made one with blue cheese, walnut, and pear—blue cheese being very popular in Denmark, although we had Stilton on hand. The cheddar cheese smørrebrød in the photo was topped with honey-roasted cherry tomatoes.
We had a yummy spread and a fun lunch, but unfortunately missed the drinking and toasting that would have created real hygge.
If you can't make it to Copenhagen or Aarhus this winter, make a batch of smørrebrød and invite your friends over. Or keep them all to yourself. We won't tell.
Need some inspiration?
Here are some combinations listed on menus in Copenhagen. If they're a little too Scandi for you, the smørrebrød page on Pinterest will give you ideas to create your own.
Greenland shrimps in Pyramid–freshly peeled Greenland shrimps with white and red mayonnaise, dill, and lemon; served on white or caraway bread
Simon's favorit–smoked salmon with creamed spinach and poached eggs; served on butter-fried toast
The Mermaid–smoked salmon with potatoes and smoked halibut garnished with lobster-tomato- mayonnaise salad with apples and celery; served on white bread
The Cairman's snack–hot-smoked salmon with pickled vegetables and lemon cream; served on toasted rye bread
Kongens Have (King's garden) –potato sandwich with smoked mayonnaise, fried onions, and chives
Mr. SCHØNNEMANN–boiled salted duck breast with apple / root beet salad, horseradish, and chives
Rosenborg–smoked cured ham with spinach a la créme and poached eggs; served on butter fried toast
Tenderloin steak of pork–with soft roasted onions and cucumber salad
Asaa Danbo (mild cheese) –served with pickled fruit and toasted rye bread
Camembert frites–served with blackcurrant jam and toast
Organic egg and shrimps, lemon mayonnaise, dill, and cress
Tartare of salted salmon, lime, cucumber, goat cream cheese, burnt garlic and cress
Fried flounder, tartar sauce, raw radish, dill, and vinegar powder
Terrine of pork confit, mustard, pickled onion, and chestnut
Chicken salad and mushrooms, apple, celery and parsley and lardons
Beef tartare, raw beetroot, horseradish, pickles, and egg yolk (fresh)
Roast beef, grated horseradish, roasted onions, and pickles
Roast beef with pickle sauce and roasted onion
Smoked filet of pork with scrambled egg
Corned brisket of beef with horseradish
Raw beef tartare with egg yolk
Sausage of rolled pork with jelly and red onion
Pickled salty beef with liver paté
Boiled ham with fried egg
Danish chicken salad with bacon and toast
Header photo credit: maxsol7