It's cold outside. The snow is piled high.  You crave something warm to drink as you settle in front of the fireplace. Suddenly it comes to you: a cup of fragrant hot chocolate will quell your craving for something rich but not over the top. And you might get the added bonus of a good night's sleep. 
Rather than make it from scratch–grating blocks of chocolate or worrying about the proportion of unsweetened cocoa to sugar–we would rather reach for a tin of hot chocolate mix that has already been prepared by experts. Connoisseurs who travel the world in search of the best cocoa beans, turn those beans into rich chocolate or cocoa, and work until the proportions of dark to sweet and rich to light are perfect.
Mouth appeal: cocoa or hot chocolate?
Before you decide on which hot chocolate to make, consider this background info on chocolate beverages.  For instance, do you know the difference between cocoa and hot chocolate? 
"Hot chocolate is made with finished chocolate and milk," explains master chocolatier Jacques Torres. "Hot cocoa is made of cocoa powder, a by-product of chocolate and usually some sugar and milk. It has a thinner consistency, and it's often served with marshmallows to help thicken it." (Watch Jacques Torres make hot chocolate from scratch.)
There is some debate whether hot chocolate or cocoa (as long as it is made with milk) can help you sleep at night.  Both contain tryptophan, as does milk. Chocolate contains a small amount of caffeine, which may bother some who are sensitive to caffeine.
The sleep and fitness experts at Maybe.Yes.No explain: "Tryptophan is essential for the production of serotonin, which is a neurotransmitter. Serotonin is a crucial component with regard to our moods; how we feel, how we sleep and so on. It's possible that eating foods high in tryptophan with a healthy serving of carbohydrates can increase your serotonin levels. It's said to help produce healthy sleeping patterns as well as boost your mood. Tryptophan rich foods tell our brains to feel happy and sleep happy."
Hot cocoa/chocolate is one of the best ways to get antioxidants: one cup has three times more antioxidants than the equivalent of green tea. 
To find the very best hot chocolate/cocoa on the market we asked friends and chocoholics (usually the same persons) and scoured store shelves and the internet. After hours of rigorous tastings, we found the best you can make at home in minutes.  Our choices run the gamut from deep, dark drinking chocolates, to some with a kick of spice, to others that showcase the talents of some regional chocolatiers in the States.
_________________________________________________________
_________________________________________________________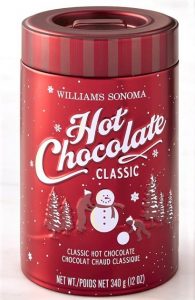 This rich hot chocolate–the original from Williams-Sonoma–was inspired by the hot chocolate served in Parisian cafés. The Classic is made with Guittard's artisanal bittersweet chocolate, which is transformed into delicate shavings that melt in hot milk.
The result is an intense chocolate beverage with a rich, complex flavor, velvety smooth texture, and exquisite aroma. It reminds us of the hot chocolate we've had at Angelina's on rue de Rivoli in Paris. (Good news for New Yorkers: In November 2020 Angelina New York opened near Bryant Park in Midtown.)  If you can't make it to either Angelina, a cup of Williams-Sonoma hot chocolate is a fine substitute.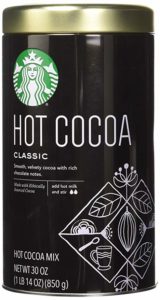 Starbucks Classic Hot Cocoa is made with rich Dutch-process cocoa with decadent bits of real dark chocolate blended in. Each 30-ounce tin makes 30 servings from high-quality, premium ingredients.
Like their coffee, Starbucks Cocoa was designed to ensure a long-term supply of high-quality, ethically sourced cocoa while contributing positively to the environment and to cocoa-farming communities.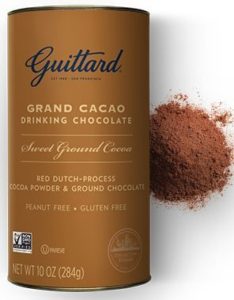 Guitard's Premium Collection Etienne chocolate is finely ground and added to fine-quality, old-fashioned, Dutch process cocoa powder to achieve an intense chocolate flavor and a full-bodied, creamy texture. When brewed, its Grand Cacao Drinking Chocolate produces a "comforting, homemade, pudding-like, baked chocolate aroma."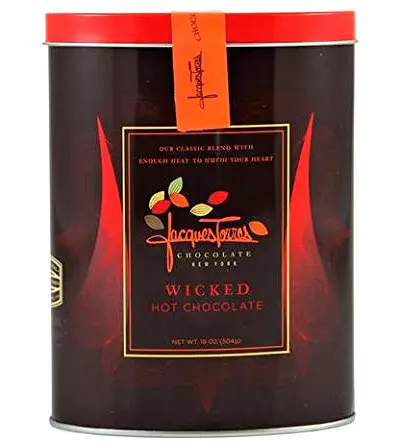 How do you make the world's best hot chocolate? Torres is emphatic about using 60-70% dark chocolate of the best quality—all you need to do is add milk.  If you're feeling really daring you can try the Wicked Hot Chocolate which features allspice, cinnamon, ground ancho chili peppers, and smoked, ground chipotle chili peppers. It's like eating a melted chocolate bar but a really good dark one. Each tin makes 8-10 cups of hot chocolate. If spicy isn't for you, you can enjoy Jacques Torres Classic Hot Chocolate sans the spicy kick. Or, if you can't decide, try this set that includes one canister of each.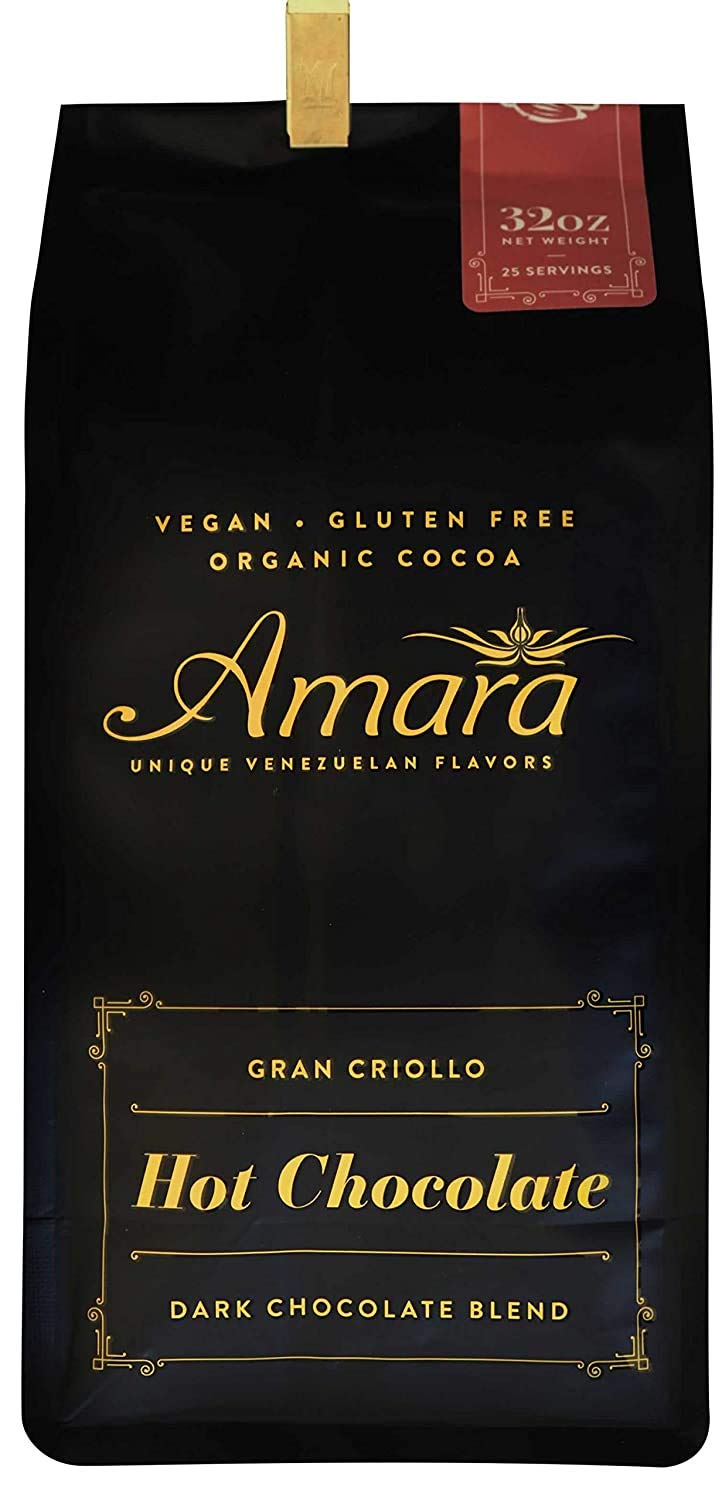 Hot chocolate in Central America evolved from a mix of Aztec, Mayan, and European cultures. Gran Criollo is the artisanal mix that earned Amara Café in Pasadena, California a reputation as a destination for hot chocolate lovers.
This small-batch blend is crafted from the finest cocoa beans and premium ingredients. The result? A hot chocolate with complex aromas, rich texture and a dark-red full body that, with a little imagination, will transport you to the 18th century haciendas of Caracas.
Amara "Gran Criollo" Hot Chocolate won a bronze medal at the International chocolate awards (Germany) and an award for best taste and ingredients at the International chocolate salon (USA).
One reviewer confessed,"Several months ago, I had the pleasure of drinking this beautiful stuff at their brick-and-mortar shop. That experience was so life-changing that I knew I had to have it on hand for urgent cravings. Not just because I'm a chocolate fiend, but because, after trying it, I can no longer drink regular ol' hot chocolate. I have to have THIS."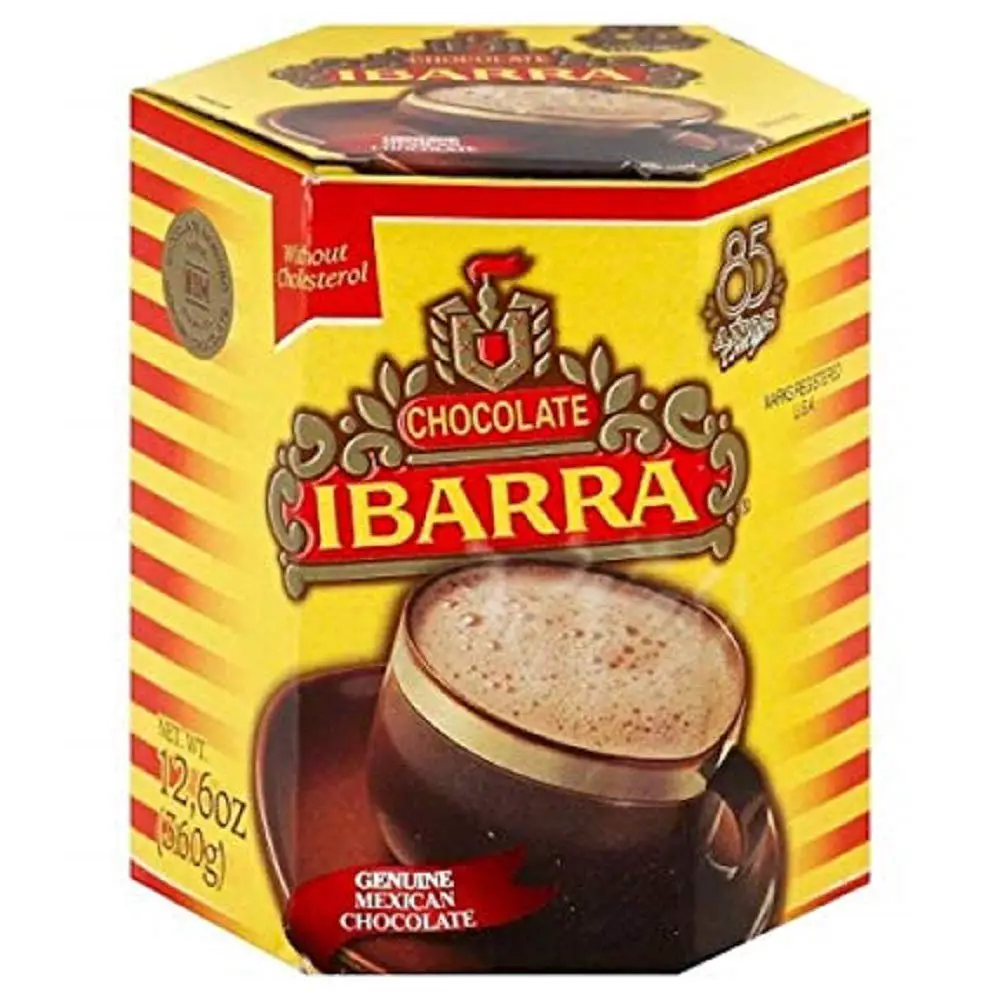 Mexican hot chocolate differs from European-style hot chocolate, which uses unsweetened cocoa powder, dark chocolate, or bittersweet chocolate. Instead, Mexican hot chocolate uses chocolate de mesa, literally "table chocolate," which contains sugar, cinnamon, and cacao, and is formed into tablets.
Brands like Ibarra and Abuelita are easily found in supermarkets and on Amazon, making it easy to enjoy a cup of Mexican hot chocolate north of the border. Just cut off a few triangles from the tablets, drop into warm milk, and heat until they dissolve into a delicious chocolate beverage accented by cinnamon. 
_________________________________________________________
_________________________________________________________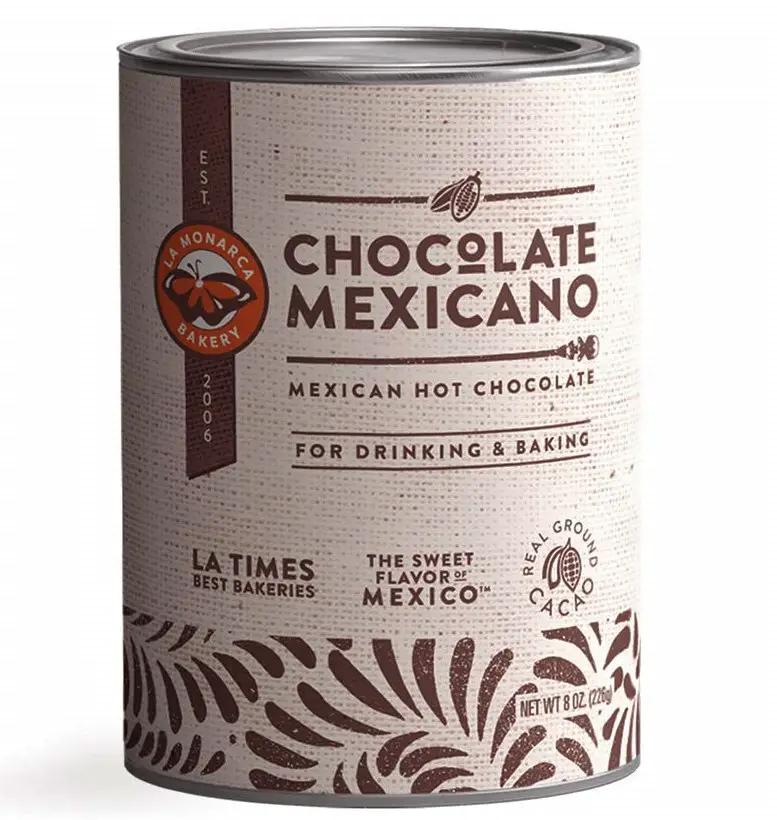 La Monarca Bakery owners Ricardo Cervantes and Alfredo Livas met at Stanford Business School. After discovering they were both from Monterrey, Mexico, they developed the concept for L.A.-based bakery/cafes that specialize in pan dulce and other sweet Mexican pastries.
The outstanding hot chocolate (says the Los Angeles Times) served at their cafes is made from scratch: ground in house, starting with fair-trade cacao, and blended with their signature blend of spices and sugar. Serve with cinnamon cookies. Or add a splash of tequila for a Chocolate Mexicano cocktail.
A package of La Monarca chocolate can be ordered from La Monarca's site or from Amazon, where shipping is free. 
Another reason to love them: La Monarca partners with Ecolife Conservation in their efforts to save the monarch butterfly.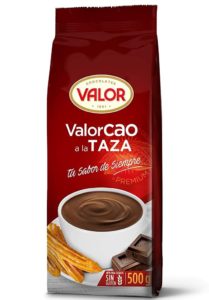 Spanish explorers were the first to bring chocolate to Europe–more than 500 years ago. And the Spanish were the first to transform a bitter Mayan drink into the sweet, thick, frothy hot chocolate often served with churros today. 
Valor Chocolates has been in the artisanal chocolate-making business for more than 125 years, sourcing the best cacao beans from around the world. Their Valorcao chocolate powder makes a cup of hot chocolate quickly and easily with the authentic chocolate flavor you would find in any Spanish home.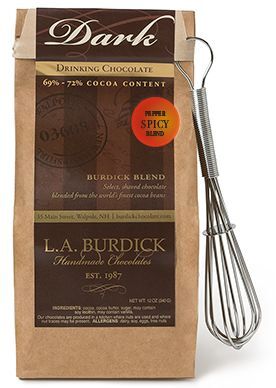 This spicy dark drinking chocolate from L.A. Burdick is the real thing, a drinking chocolate so rich it'll coat your spoon. Made with shaved chocolate in the classic Swiss style, just add steaming milk to the shavings to create a voluptuously rich cup of hot chocolate.
This drink is hot chocolate, not cocoa, and that's why it's so rich: chocolate bars have a high percentage of cocoa butter, while all of the cocoa butter has been removed from pulverized cocoa powder. The chocolatier blends high quality South American and Caribbean cocoa beans with a hint of piquant heat from chili peppers.  
In England and around the world the Cadbury name means the most delicious milk chocolate. Many of Cadbury's products in the UK are By Appointment to Her Majesty the Queen. 
The Cadbury hot chocolate comes as a powder that becomes smooth and creamy when prepared with warm milk. It's perfect for cozying up near the fire, or a bedtime story ritual, and any occasion that calls for sweet celebration. If you like a Cadbury Dairy Milk chocolate bar, this concoction is like drinking it warm.  
* * *
As an Amazon affiliate Blue Hare makes a commission on purchases made through qualifying links on this page. 
This article has been updated. It was originally posted on December 13, 2018.
You may also like
Go to the Blue Hare homepage for more articles for fabulous women