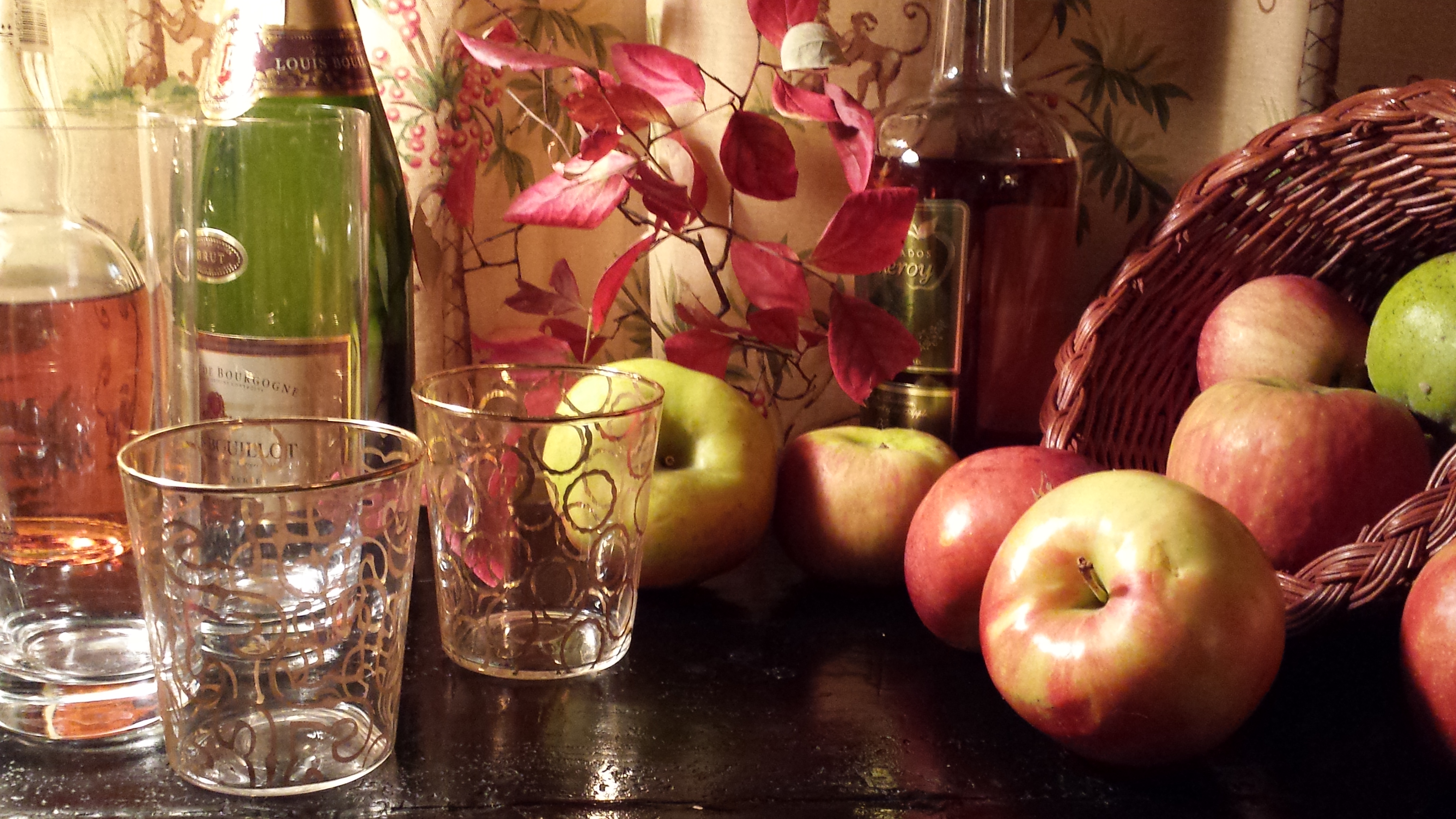 One of the pleasures of autumn is the abundance of apples and apple cider that appears in our markets. But why confine our apple tasting to pies and sauce?  We found several apple cider cocktails that are most enjoyable in the fall. They stimulate the appetite, warm up the crowd, and serve as a harbinger of Mom's apple pie to come.
Mulled Apple Cider Royale: an elegant aperitif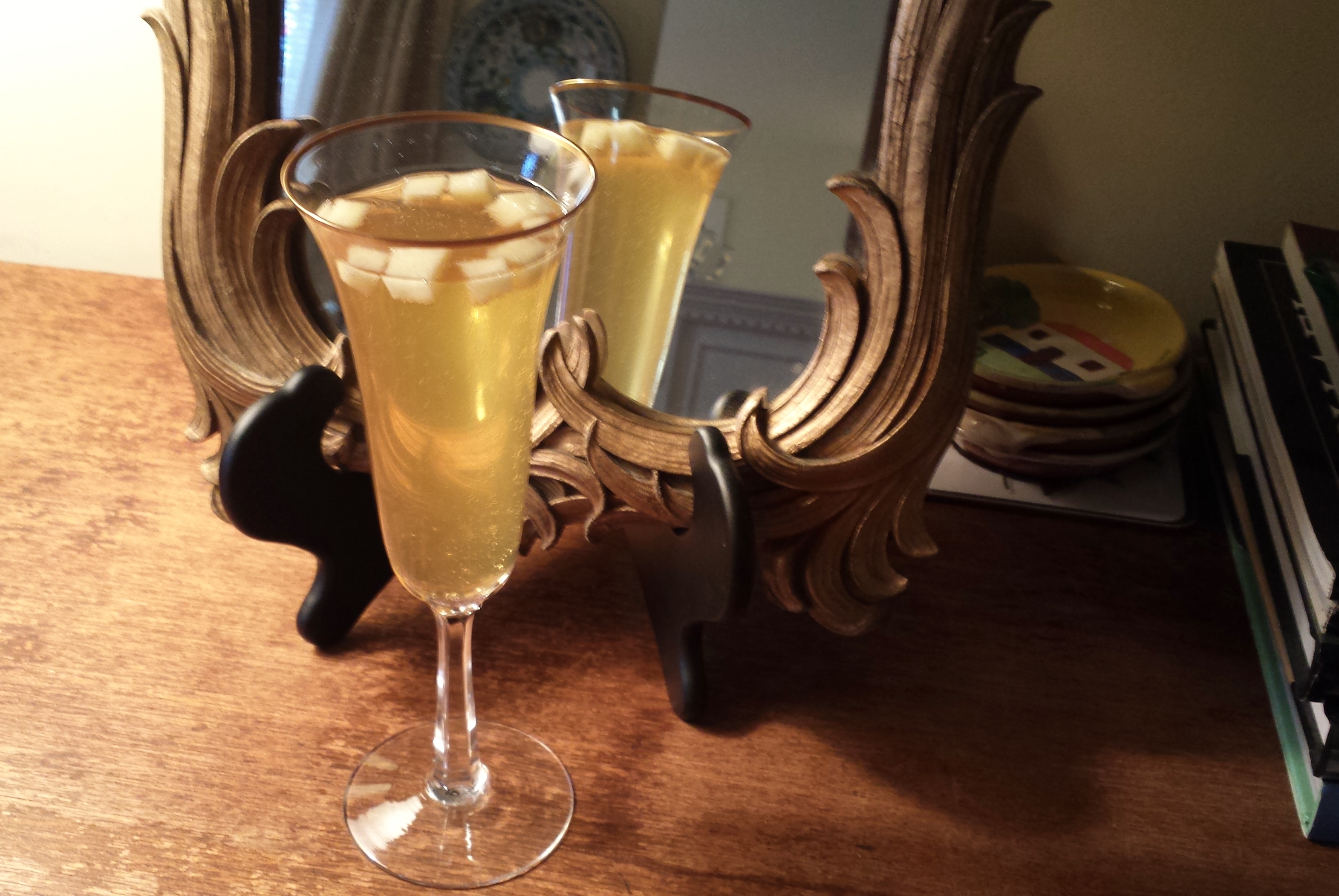 This beautiful combination of a spiced apple cider syrup and sparkling wine couldn't be easier or more impressive, and a nice departure from cider-and-rum. Take a quart of apple cider, add mulling spices—you can make your own combination of cinnamon, ginger, and cloves (we took a shortcut and used Williams-Sonoma's premixed mulling spices) and reduce the mixture to a syrup.  (Ladle a cup of spiced cider for yourself early in the process.)
The syrup can be made several days in advance and once the spices are strained out, refrigerated until needed. Before guests arrive add some syrup and apple garnish to champagne flutes, then top with Cava or Champagne when you're ready. Keep a small pitcher of syrup on the side for refills.
It is beautiful in the glass. Imagine a roomful of people milling about with stemmed flutes while the scent of spiced apples floats in the air, speaking of art and poetry. Yes, that can be your party.
Normandy Landing Cocktail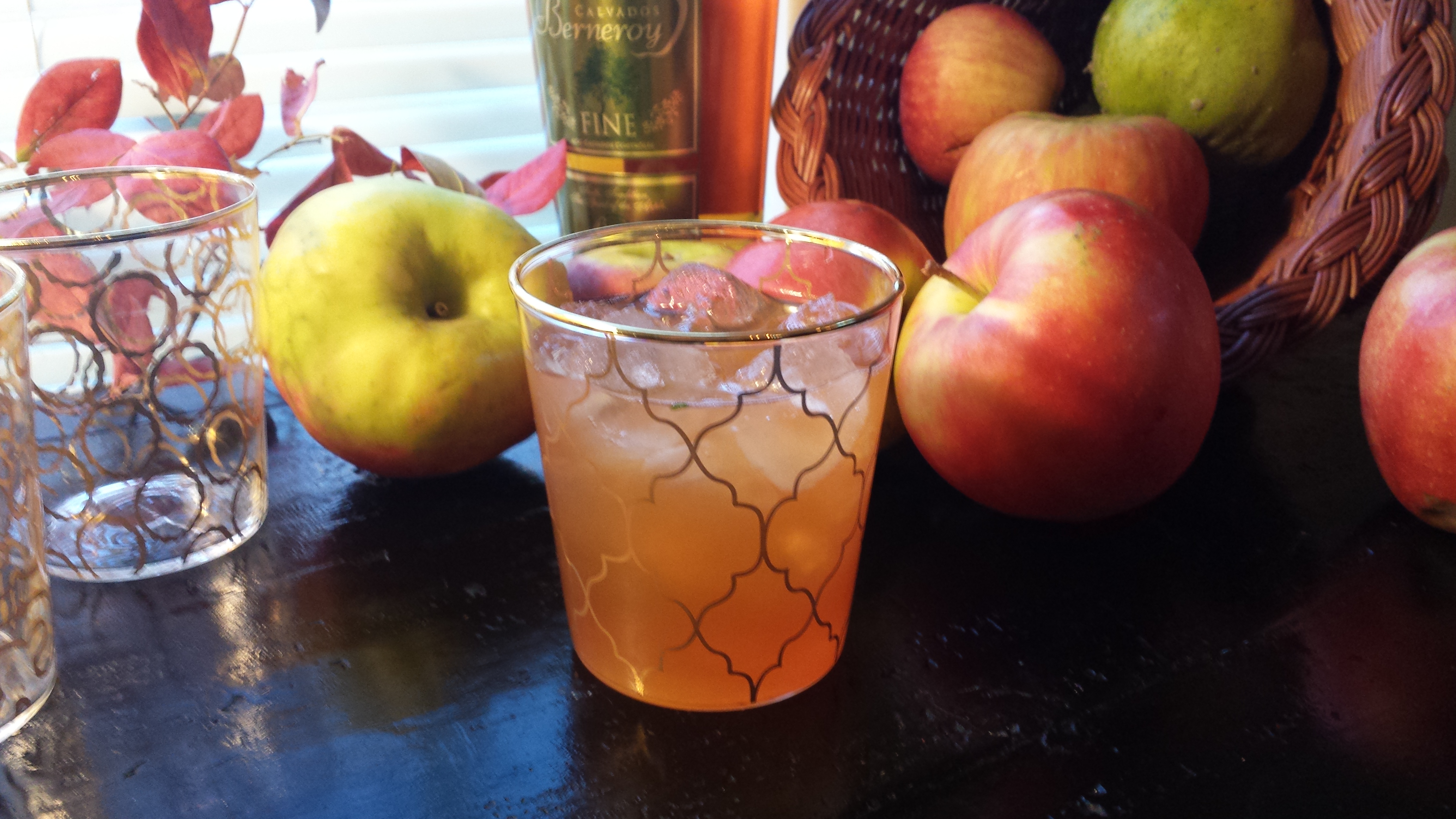 The French Norman countryside is filled with apple orchards, so it was natural that we found this apple cider cocktail in the French magazine, Cuisine Actuelle. The translation threw us at first but after a few trials we landed on the right combination of ingredients, some French, some American. They produce a drink that is a truly brilliant combination of apple in three forms: Calvados, apple cider, and hard cider. We call it the Normandy Landing, in honor of the D-Day invasion of German-occupied French Normandy in WWII.
Calvados–the other brandy
Normandy is famous for its fermented apple cider production; more than 60% of France's marketed cider production comes from Normandy.  Cider provides the basis for producing Calvados, an apple brandy. Cider is transformed into calvados via distillation. To be called AOC Calvados, double distillation is required.
____________________________________________________
____________________________________________________
The Calvados Tourism Board estimates that it takes 40 pounds of apples to produce a little less than four gallons of cider with a 5% alcohol content that, in turn, produce a liter of 70% Calvados. Calvados can be found at many fine liquor stores, or applejack or apple brandy can be substituted.
Our tasting panel gave this drink ten thumbs up, enjoying the slight sweetness and fruitiness of the fresh cider, warmth from the Calvados, and herbal note provided by the fermented/hard cider. "This is a cocktail!" they cried with glee.
The Calvados and natural apple cider can be mixed ahead of time and kept chilled. Just before your guests arrive fill festive lowball glasses half full with the Calvados-cider mix, then top off with chilled hard cider when ready to serve.
Recipes
Mulled Apple Cider Royale
Makes 4 to 6 servings
Ingredients
1 quart apple cider
1/2 cup mulling spices, or a combination of cinnamon sticks, fresh ginger slices, and whole cloves
2 firm, crisp apples, washed, cored, skin-on and cut into small cubes
1 firm green apple, washed, cored, skin-on and cut into small cubes
1/2 cup lemon juice
1/4 cup granulated sugar
1 bottle Champagne, Cava or other dry sparkling wine, chilled
 Directions
Add cider and spices to a medium saucepan. Stir to blend. Bring to a boil and reduce the heat to a simmer. Reduce by half, taste for seasoning. Set aside to cool, then refrigerate.
In a small bowl add the apples, lemon juice and sugar. Toss to coat and set aside. Refrigerate.
When ready to serve the cocktails, pour an ounce of the cider syrup and a spoonful of apple pieces into champagne flutes. Top with Champagne or sparkling wine. Serve while fizzing.
To make ahead for a gathering, add the cider syrup and apples to champagne flutes up to 30 minutes before guests arrive. Add the Champagne as each guest is served.
Normandy Landing Cocktail
Makes 1 serving
Ingredients
1 oz. Calvados or brandy
A few drops of vanilla extract
1 oz. natural apple cider
4 oz. hard cider (to fill the glass), chilled
Ice cubes
Preparation
Pour the Calvados, vanilla extract, and apple cider into a 10-oz. cocktail glass. Fill with ice. Top off with the hard cider.
To prepare for a gathering add the Calvados, vanilla extract, and apple cider into the cocktail glasses; keep chilled. When guests arrive add ice and hard cider.
This article was updated on October 2, 2021
 *     *     *
You might also be interested in
…and more on the BLUE HARE home page.