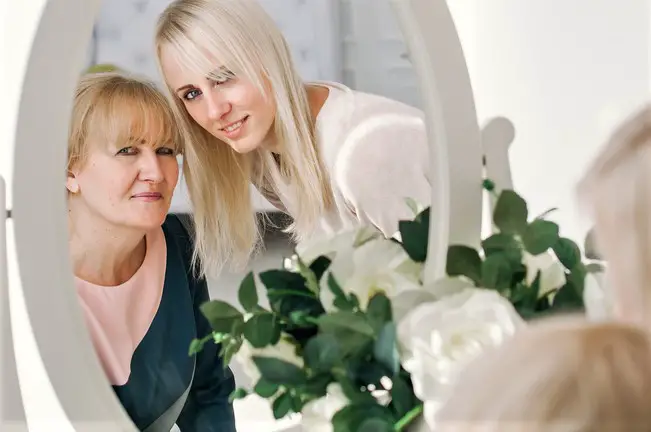 Beauty gifts are the perfect Mother's Day gifts for older (but not old) moms. They are easy to buy, they are definitely a 'treat' to receive, and most of all, they say "you deserved to be pampered."
Beauty gifts spur the imagination—the lucky recipient will picture herself relaxing in a sumptuous bath, or looking fabulous with perfect nails or skin or otherwise just luxuriously pampered.  For your mom (or yourself), we chose 10 beauty gifts that are sure to be enthusiastically received.

Leave this mask on overnight to give your skin a long, refreshing drink of moisture.  It's made with watermelon, hyaluronic acid, and Alpha Hydroxy Acids (AHA) to hydrate, smooth and perfect skin.  The lovely jar, the appealing pink color, and the promise of glowing skin make this the perfect gift. And the best thing? No seeds. $45 at Sephora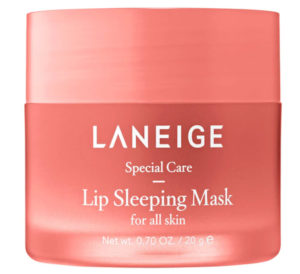 This is daily lip treatment coats lips in nourishing hydration, visibly smooths lip wrinkles, and boosts the look of lip fullness. Its plumping treatment is formulated with coconut oil to moisturize and peptide and adenosine to help visibly smooth and firm lip wrinkles.  And it's pina colada scented, a gentle reminder that summer is only weeks away.  $25 at Sephora
_______________
_______________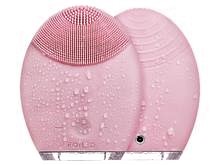 It's almost criminal to call this a brush. Easy-to-use, reliable, and durable, FOREO's LUNA™ products are in a category of their own. The hand-held devices deliver a gentle, yet efficient deep cleanse and a momentary look of rejuvenated skin–and who doesn't want that?
Ultra-hygienic silicone bristles pair with a T-Sonic™ massage to remove up to 99.5% of impurities* while providing a pro prep for enhanced absorption of your favorite skincare. A truly luxurious gift, one that Mom probably wouldn't buy for herself. Prices range from $90 to $160, depending on the model. Order one for Mom on the FOREO website.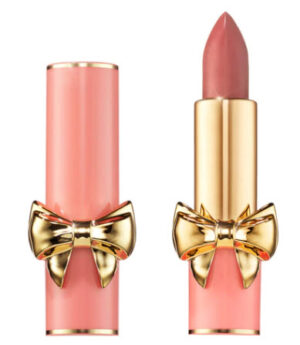 If your mother is burning for Bridgerton she can virtually join the cast with this lipstick inspired by the steamy series. Pat McGrath makes the most beautiful cosmetics in the world. This is her Bridgerton lipstick offering in Vesuvian Peach, a light peachy nude, but the Bridgerton line comes in a variety of colors–and the finish is perfect for age group. The tube is decorated with a flouncy bow, ready for the next ball. Buy for $28 from the Pat McGrath website.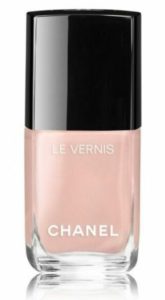 LE VERNIS Nail Color is a classic from Chanel. Ballerina is the universal shade that speaks class, wealth, and privilege, and rumored to be the favorite of Queen Elizabeth.  Even if your mother isn't any of those things, she can flash her nails as if she does. Enriched with bioceramics and ceramides, LE VERNIS helps strengthen and improve the quality of nails over time. There are 28 shades to choose from. $28 at Chanel and Nordstrom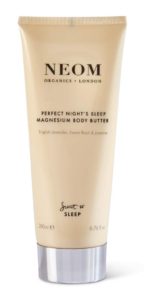 Magnesium is sleep inducing and relaxing.  This moisturizing and soothing body butter relaxes the mind and body for a perfect night's sleep. In addition to magnesium, it contains pure essential oils like English lavender, sweet basil, jasmine, and chamomile, all sleep inducing as well. Who doesn't need a restful, relaxing sleep with wonderfully moisturized skin.  $41 on Amazon
_____________
_____________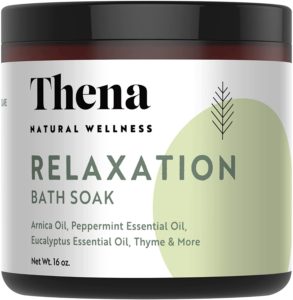 What better time than Mother's Day to give a gift of bath soak, one that promises to relieve feelings of fatigue, tiredness, and stress, and revitalize mind and body?
Therapeutic organic peppermint, rosemary, eucalyptus essential oils help soothe stiffness and tension. Thyme, rosemary, wintergreen and sage help boost energy and promote a sense of balance and calm.  Arnica oil is known to gently relieve and soothe tired muscles.  Give the gift that says, take care of yourself during the holidays. Thena Natural Wellness Relaxation Bath Soak, around $27 on Amazon
Treat Mom with the fabulous fragrance of this luxury soap from Floris London, which has been serving its distinguished customers at its shop on London's Jermyn Street since the 18th century. This gift box of three finely fragranced signature soaps, triple milled with a vegetable base to produce a rich creamy lather are enriched with shea butter to keep the skin hydrated and moisturized.
Marilyn Monroe, Princess Diana, and other notables and nobles have been charmed by Floris's sophisticated scents. Edwardian Bouquet has notes of hyacinth combined with a touch of bergamot and mandarin, a grand floral heart of jasmine, rose and ylang ylang, with bottom notes of patchouli and sandalwood, accented with moss, musk, and soft powdery notes.
Buy the set of three on the official Floris website for $45
. Each bar is individually hand wrapped at Floris's facility in Devon.
Christophe Robin Nutritive Hair Mask
A mask for hair? Mais oui. As women our age know all too well, our blonde or brunette or ash brown hair–colored or natural–can turn gray or yellow or dull over time. Paris-based
Christophe Robin
's rich, velvety color revival mask nourishes and enhances the beauty of hair's natural shade or refreshes color-treated and highlighted hair.
The mask comes in a variety of shades, with ingredients tailored for each color. Formulas are available in baby blonde, golden blonde, warm chestnut, and chic copper. This may be the best gift you can get your over-60 mother this year. P:rices range between $30 and $50 depending on the shade.
You can buy it for your mom, or yourself, on Amazon
.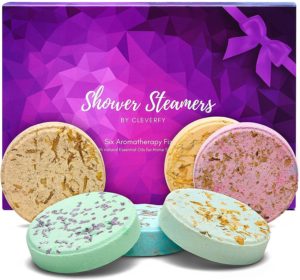 Shower steamers are genius.  Before now, bath bombs—which fizz away and relax us and make us feel wonderful–were only for the tub.  Enter the bath bomb's cousin, shower steamers.  With shower steamers Mom will enjoy a similar spa experience as a bath, only standing up.
The Cleverfy's Shower Steamer set includes six steamers: lavender, menthol/eucalyptus, vanilla, watermelon, grapefruit and peppermint. $22 on Amazon.
As an affiliate of Amazon and  other retailers, Blue Hare makes a small commission on qualifying purchases made through the links on this page. 
 *     *     *