Wearing strong reds can present a dilemma when choosing a lipstick that complements, and does not compete, with your outfit.
The most crucial part of pairing lipstick with red clothing–especially when it's close to your face– is to ensure that both flatter the undertone of our skin. Do you have cool undertones or warm undertones?
Let the seasonal palette be your guide
The best test is by looking at color wheels that roughly adhere to the spring/summer/fall/winter matrix. (Remember Color Me Beautiful?) Spring and autumn colors are for warm skin undertones, summer and winter have cool undertones. And their are sub genres in each. Once you find the season/palette that makes you look awesome, you can determine the red that suits you best and the lipstick to wear with it.
Spring colors are warm and bright and have a clear yellow undertone. No cools in this palette, which includes warm greens, yellows, orangey reds, peachy pinks (and more). Spring reds will be bright and warm–poppy red, fiery red.
Summer colors are soft and cool with a clear blue undertone. Not a hint of warmth in this palette. Neutrals are cool browns and greyish accented by brighter but (soft) hues, like pinks, purples, and greens. Summer reds will be cool, with the slightest hint of purple. Think of a young pinot noir vs. a well-aged Bordeaux.
Cool or warm?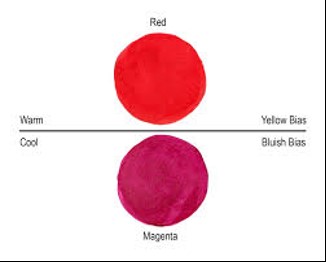 In the diagram you can see that warm reds have a yellow undertone, ideally suited to warm skin undertones, and cool reds have a blue undertone, ideally suited to cool skin undertones.
Autumn colors are warm with a clear yellow undertone. The palette contains warm greens, golden yellows, orangey reds and lots of golden browns, muted, dense, rich, warm. The palette is toned down in appearance compared with the bright colors of warm Spring. Again, not a hint of coolness. Autumn reds will have hints of rust and brick.
Winter, the last season, is the bold counterpart of summer. Its colors are cool, bright and deep, giving Winters a highly contrasted, brilliant appearance: dazzling blues, emerald greens, deep violets, fuchsia. Winter skin tones look best in intense hue: true red, cardinal, claret, crimson.
Obviously there are exceptions and variations. If you are interested in learning more about the most flattering palette for you theconceptwardrobe.com has comprehensive guides to the warm and cool skin undertones.
Lower the intensity of your lip color
If your red clothing is close to your face, don't match its intensity with your lipstick.
Notice that we didn't say tone; we said intensity. If you look at models online and in magazines, their lipstick often has the same intensity as their clothing. But these models are typically young. They can pull off the drama of this look with their perfect skin and bone structure.
But at our age, we've left the drama behind and we're going for a more polished, understated look. If you are wearing a warm red jacket use a lipstick in the same tone as the jacket, but in a lighter shade that doesn't compete with the intensity of your jacket.
How to pick the right lipstick for your red outfit
Lipstick has undertones as well, either blue or orange. If you are wearing cool red tones, your lipstick would also be cool, the same with warm colors. And like their seasonal palettes, Spring and Winter women will be able to wear bold reds while muted shades will flatter Summers and Autumns.
Lipsticks with cool undertones for cool complexions
Lipsticks with warm undertones for warm complexions
For women with warm undertones L'Oréal's Colour Riche Satin Lipstick in British Red provides a rich warm tone that slightly backs off the intensity. $9.49 at lorealparisusa.com.
Givenchy's creamy Rouge Interdit Intense Silk Satin Matte Lipstick in Carmin Escarpin (bright warm tomato red) looks stunning on light, medium, and darker skin tones. It's a silky satin-matte-finish lipstick that is lightweight and comfortable. Imagine yourself at your couturier fitting in Paris. Find it at Sephora, $42.00.
Clinique'sPop Plush™ Creamy Lip Gloss in Juicy Apple Pop coats lips with high shine, hydrates, and delivers a  and soothing hydration, all while delivering a pop of red with a hint of orange. $22.00 at Clinique.com
For a lighter feel there is the Cream Lip Stain Liquid Lipstick in Chili Pepper (matte red orange.)  From the Sephora Collection it is a creamy, weightless, liquid lip stain. $15 at Sephora.com.
Swinging both ways
If you find your self in a red that isn't quite in your seasonal palette (it happens) a lipstick that can swing both ways is what you will want. Revlon's Super Lustrous Lipstick in 775 Super Red will pick up both warm and cool tones. Find Revlon's 775 Super Red at Target, $6.49.
Tone it down
Tone down the intensity of red lipstick by using a stain or a gloss in the same cool or warm tone instead. Stain and glosses tend not to look as dramatic and intense as lipstick.
And now for the rest
Neutral makeup is a must
Red clothing looks best with toned down makeup.  An article of red clothing paired with the right red lipstick forms a balanced look. To keep the rest of your makeup neutral:
Keep eye makeup minimal—a neutral shadow and mascara should be enough.
A light brow and softly blushed cheeks also help carry off the red lipstick/red clothing look.
For those of us who tend to wear more eye makeup, now's the time to go for a less made-up look.
Always use a lip pencil
Most women over 60 can benefit from a more defined lip line.  Here is the way to get a perfect defined lip:
Choose a lip pencil in the exact color of the red lipstick you choose.  Do not go lighter or darker with the lip liner—the color needs to be an exact match.  Others should not see a lip liner—only a very precise, well defined lip line. This can only be achieved with a pencil.
Apply lipstick before using a pencil in a magnifying mirror. Apply lipstick as close to the lip line as possible.
Then, with a very sharp point on the lip liner, draw a line around the lip line's natural boundaries.  (The lipstick will help the liner to flow smoothly).
Red-toned clothing should not compete with lipstick intensity.
Notice that we didn't say tone; we said intensity. Many models online and in magazines wear a bold lipstick that matches the intensity of their clothing. But the models are typically young, and their makeup is done by a professional to show up on a brightly lit runway.
As women over 60, we're going for a more polished, understated look that works in the environments we really live in. That calls for dialing back the intensity, but still with a vibrant color.
 *     *     *