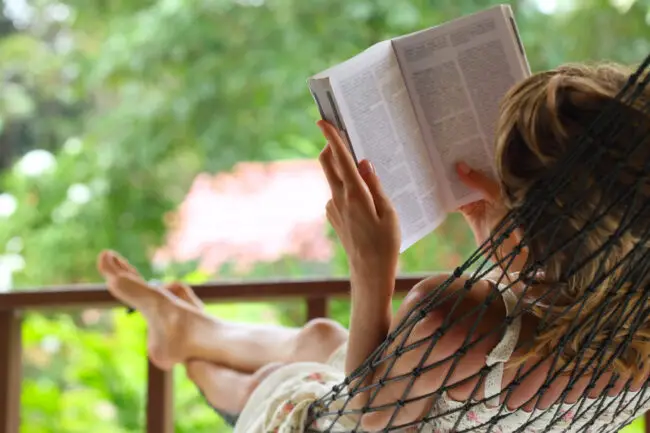 After a long winter reading history, travel, and decluttering books, we're looking forward to changing direction during the warm, lazy summer. Our plan: find a nice spot in the shade, pour a tall, iced tea, and escape into the pages of these books.
In this beautiful novel, Barbara Kingsolver, weaves together three stories of human love within a larger tapestry of lives inhabiting the forested mountains and struggling small farms of southern Appalachia.
During one humid summer, as the urge to procreate overtakes the lush countryside, this novel's intriguing protagonists—a reclusive wildlife biologist, a young farmer's wife marooned far from home, and a pair of elderly, feuding neighbors—face disparate predicaments but find connections to one another and to the flora and fauna with whom they share the land.  Find it on Amazon.
The Reading List by Sara Nisha Adams is an unforgettable and heartwarming debut novel about how a chance encounter with a list of library books helps forge an unlikely friendship between two very different people in a London suburb.
Widower Mukesh lives a quiet life after losing his beloved wife. He shops every Wednesday, goes to Temple, and worries about his granddaughter, Priya, who hides in her room reading while he spends his evenings watching nature documentaries.
Aleisha is a bright but anxious teenager working at the local library for the summer when she discovers a crumpled-up piece of paper in the back of To Kill a Mockingbird. It's a list of novels that she's never heard of before. Intrigued, she decides to read every book on the list. As each story gives up its magic, the books transport her from the painful realities she's facing at home.
When Mukesh arrives at the library, desperate to forge a connection with his bookworm granddaughter, Aleisha passes along the reading list. Find it on Amazon.
Set during the height of the women's suffrage movement and with the Great War looming, The Dictionary of Lost Words reveals a lost narrative, hidden between the lines of a history written by men. Inspired by actual events, author Pip Williams has delved into the archives of the Oxford English Dictionary to tell this highly original story. The Dictionary of Lost Words is a delightful, lyrical, and deeply thought-provoking celebration of words and the power of language to shape the world. Find it on Amazon.
In The Echo of Old Books by Barbara Davis, we meet rare-book dealer Ashlyn Greer. Her affinity for books extends beyond the intoxicating scent of old paper, ink, and leather. She can feel the echoes of the books' previous owners—an emotional fingerprint only she can read. When Ashlyn discovers a pair of beautifully bound volumes that appear to have never been published, her gift quickly becomes an obsession. Not only is each inscribed with a startling incrimination, but the authors, Hemi and Belle, tell conflicting sides of a tragic romance. Find it on Amazon.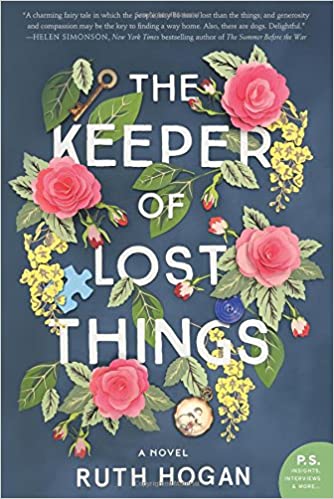 Lime green plastic flower-shaped hair bobbles—Found, on the playing field, Derrywood Park, 2nd September. Bone China cup and saucer—,Founs on a bench in Riveria Public Gardens, 31st October.
In The Keeper of Lost Things by Ruth Hogan, Anthony Peardew is the keeper of lost things. Forty years ago, he carelessly lost a keepsake from his beloved fiancée, Therese. That very same day, she died unexpectedly. Brokenhearted, Anthony sought consolation in rescuing lost objects—the things others have dropped, misplaced, or accidently left behind—and writing stories about them. Now, in the twilight of his life, Anthony worries that he has not fully discharged his duty to reconcile all the lost things with their owners. As the end nears, he bequeaths his secret life's mission to his unsuspecting assistant, Laura, leaving her his house and all its lost treasures, including an irritable ghost. Find it on Amazon.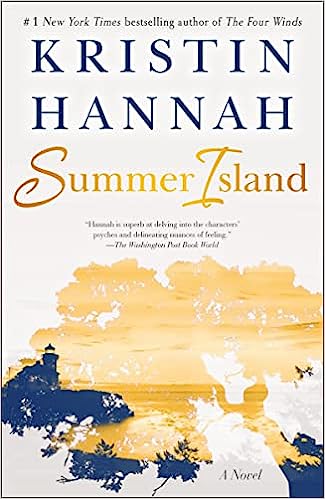 Years ago, Nora Bridge walked out on her marriage and left her daughters behind. She has since become a famous radio talk-show host and newspaper columnist beloved for her moral advice. Her youngest daughter, Ruby, is a struggling comedienne who uses her famous mother as fuel for her bitter, cynical humor. When the tabloids unearth a scandalous secret from Nora's past, their estrangement suddenly becomes dramatic: Nora is injured in an accident and a glossy magazine offers Ruby a fortune to write a tell-all about her mother. Under false pretenses, Ruby returns home to take care of the woman she hasn't spoken to for almost a decade. Find it on Amazon.

Nuri is a beekeeper and Afra, his wife, is an artist. Mornings, Nuri rises early to hear the call to prayer before driving to his hives in the countryside. On weekends, Afra sells her colorful landscape paintings at the open-air market. They live a simple life, rich in family and friends, in the hills of the beautiful Syrian city of Aleppo—until the unthinkable happens. When all they love is destroyed by war, Nuri knows they have no choice except to leave their home. But escaping Syria will be no easy task: Afra has lost her sight, leaving Nuri to navigate her grief as well as a perilous journey through Turkey and Greece toward an uncertain future in Britain.
Moving, intimate, and beautifully written, The Beekeeper of Aleppo is a book for our times: a novel that at once reminds us that the most peaceful and ordinary lives can be utterly upended in unimaginable ways and brings a journey in faraway lands close to home, never to be forgotten. Find it on Amazon.
Even through the roar and effervescence of the 1920s, everyone in New York has heard of Benjamin and Helen Rask. He is a legendary Wall Street tycoon; she is the daughter of eccentric aristocrats. Together, they have risen to the very top of a world of seemingly endless wealth—all as a decade of excess and speculation draws to an end. But at what cost have they acquired their immense fortune? This is the mystery at the center of Bonds. Yet there are many versions of this tale of privilege and deceit. Hernan Diaz's Trust elegantly puts these competing narratives into conversation with one another.
At once an immersive story and a brilliant literary puzzle, Trust engages the reader in a quest for truth while confronting the deceptions that often live at the heart of personal relationships, the reality-warping force of capital, and the ease with which power can manipulate facts. Winner of the Pulitzer Prize for Fiction. Find it on Amazon.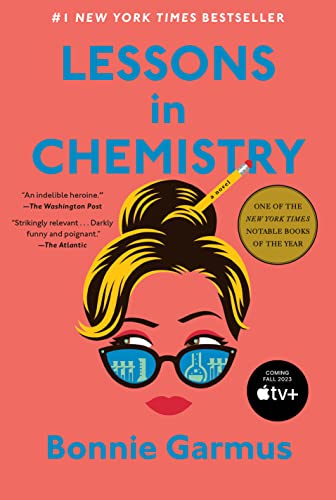 In this New York Times best seller, chemist Elizabeth Zott is the first to point out that there is no such thing as an average woman. But it's the early 1960s and her all-male team at Hastings Research Institute takes a very unscientific view of equality.
But like science, life is unpredictable. A few years later Elizabeth finds herself not only a single mother, but the reluctant star of America's most beloved cooking show, where her unusual approach to cooking ("combine one tablespoon acetic acid with a pinch of sodium chloride") proves revolutionary. But not everyone is happy. Because she isn't just teaching women to cook. She's daring them to change the status quo.
Laugh-out-loud funny and shrewdly observant, Lessons in Chemistry is as original and vibrant as its protagonist. Buy it on Amazon.
Before Owen Michaels disappears, he smuggles a note to his beloved wife of one year: Protect her. Despite her confusion and fear, Hannah Hall knows exactly to whom the note refers—Owen's sixteen-year-old daughter, Bailey. Bailey, who lost her mother tragically as a child. Bailey, who wants absolutely nothing to do with her new stepmother.
As Hannah's increasingly desperate calls to Owen go unanswered, as the FBI arrests Owen's boss, as a US marshal and federal agents arrive at her Sausalito home unannounced, Hannah quickly realizes her husband isn't who he said he was. And that Bailey just may hold the key to figuring out Owen's true identity—and why he really disappeared. The Last Thing He told Me by Laura Dave is "page-turning, exhilarating, and unforgettable." Find it on Amazon.
Somewhere out beyond the edge of the universe there is a library that contains an infinite number of books, each one the story of another reality. One tells the story of your life as it is, along with another book for the other life you could have lived if you had made a different choice at any point in your life. While we all wonder how our lives might have been, what if you had the chance to go to the library and see for yourself?
In The Midnight Library, Matt Haig's enchanting blockbuster novel, Nora Seed finds herself faced with this decision. She must search within herself as she travels through the Midnight Library to decide what is truly fulfilling in life, and what makes it worth living in the first place. Find it on Amazon.
Whose truth is a lie? Lowen Ashleigh is a struggling writer on the brink of financial ruin when she accepts the job offer of a lifetime. Jeremy Crawford, husband of bestselling author Verity Crawford, has hired Lowen to complete the remaining books in a successful series his injured wife is unable to finish.
Lowen arrives at the Crawford home, ready to sort through years of Verity's notes and outlines, hoping to find enough material to get started. What Lowen doesn't expect to uncover is an unfinished autobiography Verity never intended for anyone to read. Page after page of bone-chilling admissions, including Verity's recollection of the night her family was forever altered. Verity, a psychological thriller by Colleen Hoover, promises to keep you up all night. Find it on Amazon.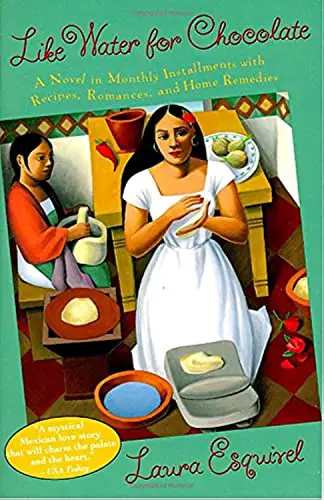 This classic love story takes place on the De la Garza ranch, as the tyrannical owner, Mama Elena, chops onions at the kitchen table in her final days of pregnancy. While still in her mother's womb, her unborn daughter weeps so violently she causes an early labor, and little Tita slips out amid the spices and fixings for noodle soup. This early encounter with food soon becomes a way of life, and Tita grows up to be a master chef, using cooking to express herself and sharing recipes with readers along the way.
We like it because, among other things, it's about chocolate.  Find it on Amazon.
As an Amazon Affiliate, Blue Hare makes a commission on qualifying purchases made through the links on this page. 
*   *   *
You may also like
Go to the Blue Hare home page for articles on beauty, entertaining, health and more for women over 60.