With autumn days upon us, it's time to check our faces and refocus our skincare. After a long hot summer, it's the rare woman over 60 who won't benefit from a little extra TLC.
Fortunately, there are a few powerful tools that will help our post-summer skincare rescue.
Why the need for a post-summer rescue?
As the body's protective barrier to the outside world, skin is continuously exposed to external stresses–micro-organisms, air pollutants, cold, heat, dryness, humidity, sun, wind, snow, etc.
Skin also reacts to seasonal changes. Summer's higher temperatures and humidity lead to  more oils, changes in melanin, and dehydration. Even if you conscientiously applied sunscreen throughout the season, swimming and sweating can strip skin of its natural moisture defenses.
The main difference between skin on our face and the rest of our body is that our faces are more exposed to the elements.  It is also the area of skin that is most visible so we pay more attention to it.
While we can't do much about the aging processes that lead to wrinkles, crow's feet, and sagging neck and jowls, we can help our skin recover from the stresses of summer by preventing further evaporation of natural moistures and exfoliating to promote skin cell renewal.
When you exfoliate the top layer of skin cells, you remove the older, grayer-looking cells to reveal the newer, brighter skin underneath.  Obviously, Mother Nature does skin renewal best but you can help her along with some excellent face products.
Preparing your face for winter
While cosmetic companies may extoll the benefits of their expensive facial creams, our approach to skincare is simple. All you really need are two products: a good barrier cream and an exfoliator.
_____________________________________________________
_____________________________________________________
Use a good barrier cream
Barrier creams contain occlusive ingredients that increase the skin's moisture by acting as a physical barrier that discourages water loss. The classic cosmetic occlusive agent is petrolatum, or petroleum jelly (like Vaseline).
It is a by-product of petroleum products and was first used as a cosmetic ingredient in the late 1800s. The most effective occlusive agent, it can prevent up to 98% of water loss from the skin.  Occlusive ingredients are ideal for dry and very dry skin types.
Some occlusive ingredients can clog the pores.  One of the advantages of being over 60, however, is that we can use these rich night creams and generally not have to worry about breakouts.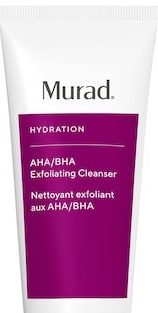 It's always a good sign if "barrier cream" appears in the name of the product.  Epionce is a medical barrier cream that contains petroleum and glycerin and a host of natural oils.  It has an 85% rating on Amazon.  Many of the Amazon reviewers maintain that Epionce is the best barrier cream they have ever used and, as evidence, there are numerous repeat buyers.  Available on Amazon.com.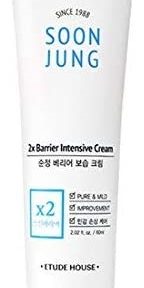 This product comes in a small tube that belies its powerful effect on the skin.  It is free of animal materials, mineral oil, color additives, synthetic perfume, polyacrylamide, silicone, imidazolidinyl urea, triethanolamine, surfactant and parabens. Panthensoside helps protect the skin barrier and maintain hydration, while madecassoside is particularly soothing for irritated skin.
When you wake up the morning after using this product, you'll notice that your skin still feels moist, even clammy. This is a sure sign that you haven't lost any moisture while sleeping.  Etude House is a Korean company.  This product comes very highly reviewed on Amazon.  Available on Amazon.com
Epionce and Etude House are barrier creams designed to apply as night creams.
Both are heavy on occlusive ingredients.  Your daytime moisture won't need to be a barrier cream as this would be too rich to wear under makeup. Just be sure that your daytime moisturizer has an SPF of at least 15 or higher, even if you wear a foundation.
Exfoliate two to three times a week before bedtime
You can exfoliate facial skin with either a scrub (manual exfoliation) or a Retin-A cream (chemical exfoliation).  Chemical exfoliation doesn't mean that the product contains chemicals. It simply means that it stays on your skin for an extended period rather than being rinsed off like the manual products.
____________________________________________________
____________________________________________________
Even though exfoliating dry skin may seem counter-productive, it's not.  A gentle scrub or Retin-A cream three times a week actually stimulates oil glands.  Just as important, they will help to slough off the outer layer of skin, revealing newer skin cells underneath.  Just remember to use your barrier cream before going to bed and a moisturizer with SPF during the day.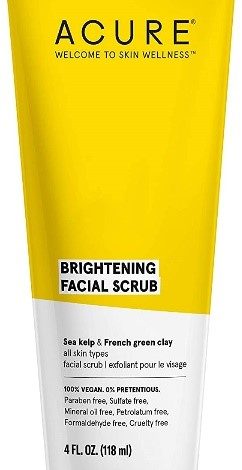 Micro-pulverized walnut shells and other plant-based ingredients give this scrub its exfoliating properties. Acure is a relatively new company based in Florida, known for its vegan and organic products. It bills itself as 100% vegan and 0% pretentious.  Acure's products are paraben free, sulfate free, mineral oil free, petrolatum free, formaldehyde free and cruelty free.  This is clean skin care at its finest.  Available on Amazon.com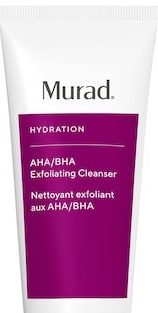 Dr. Murad is a pioneer in research into helping the body hold water in the cells more efficiently.   His scrub allows for gentle exfoliation, helping to reveal softer, smoother skin, and encourage cell turnover.  Available on Amazon.com
Alternate your thrice-weekly exfoliation with a Retin A cream
Retin-A also sloughs off dead cells but unlike a scrub, it has also been shown to eradicate surface lines on the skin.  A 2006 New York Times article called The Thing About Retin-A: It Works by Sally Wadyka says that "within the walls of products and tiers of claims, one ingredient still stands out: Retin-A."
Remember that prescription Retin-A will be the most potent and OTC Retin-A creams will be less effective because they contain less of the product.   However, if you haven't used a Retin-A cream before, it is better to start with a milder drugstore version.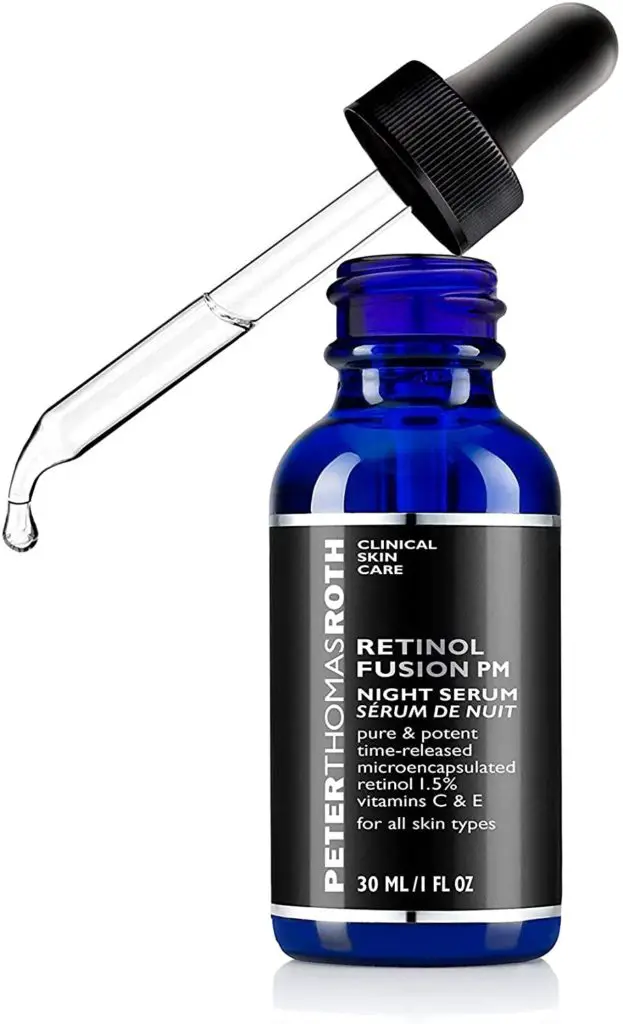 This retinol product is well known to beauty editors and aficionados because of its unique, potent solution of time-released Microencapsulated Retinol. At 1.5% strength, it helps to gently exfoliate the skin with a continuous burst of retinol all night long.  Available on Amazon.com

RoC was one of the first companies to use retinol in its products and its anti-aging retinol night cream is a best seller. RoC is very popular in Europe.  It makes the unique claim that its products can make the skin look 10 years younger.   This cream is non-greasy and non-comedogenic.  The company maintains that users will see results in 12 weeks.  Available on Amazon.com
And finally, don't forget the water…
Earlier we talked about water being the only true moisturizer and how barrier creams prevent it from evaporating from your skin.  But you need to be well hydrated first.
If you don't like drinking flat water, we've come up with a whole host of inventive and enticing ways to get your daily requirement in our article, Thirsty? Easy ways to stay hydrated if you don't like water.
As an Amazon Associate BLUE HARE earns a commission from qualifying purchases of products in our articles.
*  *  *
.